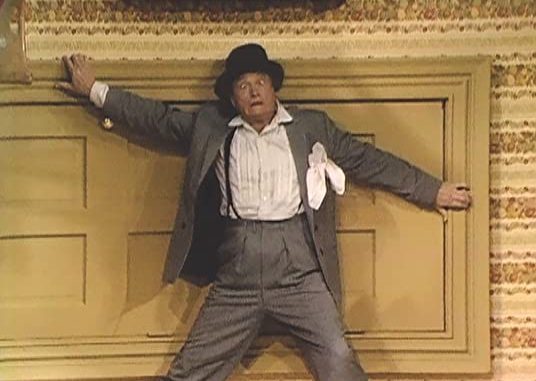 The Red Skelton Scrapbook 66 – The Red Skelton Hour, season 15, originally aired March 1, 1966
In The Red Skelton Scrapbook 66, Red Skelton reprises several of his most beloved routines, including 'Dunking Doughnuts'. The second annual Red Skeltop Scrapbook is hosted by Red's friend John Wayne. And Red teases his friend with jokes about Duke, and how they first met.
Opening monologue
Stork: What I'm nervous about is flying over those senior citizen villages. They put up anti-aircraft guns!
Hospitals
You know, talking about hospitals, I was in the hospital, four years ago, I had a little operation. Nothing trivial. Seven doctors removed my wallet!
You wanna know something? I reached a decision. You hang around a hospital long enough, they'll drive you nuts! You know, with me it's not a drive, it's a short put to begin with!
With the nurses, they mean well, bless their little hearts, but they drive you batty, you know. "Wake up, wake up, wake up! Time for your sleeping pill!"
I had this one nurse that took a liking to me. She'd come in and fluff up my pillow, and come in, put another pillow and fluff it up, few minutes later come in with another pillow … At the end of the day I was standing up in bed!
And my morning nurse, I'll never forget her, there was something about her …. I don't know what it was. I know what it was, I just don't like to think about it! She was the … I never saw such a crowd of people in one person all my life! She came in this one morning, and she's wearing a dyed mink coat … And it died a terrible death! She would walk in and, great big, she had a little medal, used to say "Angel of Mercy". I used to look up at that thing and think to myself, "Oh, boy. If this angel had wings, she'd look like a Boeing 707"! She's walk n and she'd say, "Well, how are we today? Did we have a good night's sleep? Did we have our breakfast? Shall we have our bath?" Oh, we almost fainted on that one!
Hospital gowns
And they way they give you a bath in the hospital, isn't that awful? This nurse gave me a bath in bed, the idiot, and I fell out of the pan!
Hey, and one night I got real cold through the night, and I got up and put on a big angora sweater. and one of those gowns they give you that tie in the … They ain't made for tall people, boy! You ever notice people around hospitals, they walk around and say "Hi". For a long time, I thought everybody was weak. [pantomimes holding the gown together]. You wave like this [one arm up] and you're dead, boy! Anyway, I put on this air conditioner and this angora sweater, I get back into bed and I go to sleep. Now when I wake up, some idiot's shaving my sweater!
Doctors
And the old doc, I wasn't too sure about him, either! He'd walk in and say, "Oh, it's three o'clock. I wonder what time it is?"
He'd take his stethoscope and say, "Now cough. Cough again. Now, cough again. Now cough real hard. Tell me, how long you had this cough?"
But this old doc saved my life, you know. Last summer I had an asthmatic attack, and I sent for him, and he didn't come."
And around hospitals, the silly conversations you hear going on at night. I heard these two doctors talking. One of them says, "Why, this is the strangest cae I've ever seen. It's all head an no body." The other one says, "Yeah, what are we going to do about it?" The other guy says, "We send this beer back first thing in the morning."
The Silent Spot – The Elopement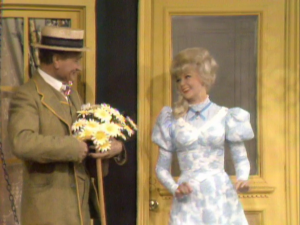 Red plays the part of a bachelor in the 1890's courting his lady love (Chanin Hale), But her father doesn't approve. It's frankly hilarious! Wonderful slapstick humor, where he keeps running afoul of the father, a chubby neighbor (Peggy Rea), the local police …
The Quick Blackout comedy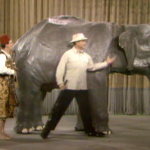 For those who don't know, in vaudeville, very short comedy bits, normally 1 minute long, were called "quick blackouts". These include:
The elephant gun.
Red plays a man at a bar, having "one for the road".
Red plays Thomas Alva Edison, trying to perfect his great invention.
A short, but hilarious bit, as a kettledrum player.
A brilliant mathematician. "What a brain, what a brain!"
Take one spoonful in water.
Spectre of the Rose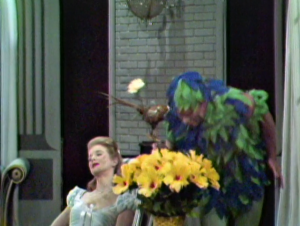 Red spoofs Michael Fokine's ballet. Spectre of the Rose, with Roberta Lubbell. It's equal parts touching and hilarious, as Red plays the spirit of her lost love. With a bad case of allergies!
Dunking Doughnuts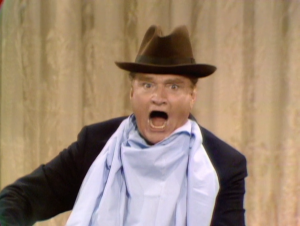 Red has done the Dunking Doughnuts routine many times, in vaudeville, on screen, and on his television show. But never funnier than here! It's literally laugh out loud funny!
Red and John Wayne on stage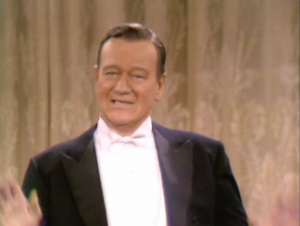 John Wayne gives Red tips on how to court a beautiful girl, Western style. With the help of the lovely Chanin Hale; who gets to slap Red twice!
Upside Down Room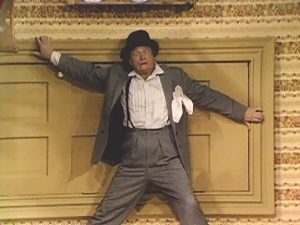 One of Red's classic — and expensive to produce — routines. The perpetually inebriated Willie Lump-Lump's wife (Chanin Hale) has decided to teach him a lesson. She's hired someone (Ray Kellogg) to modify a room. So, it looks like Willie's sleeping on the wall! And everything is 90 degrees off! There's a reason that Red included this in his movie, The Clown.