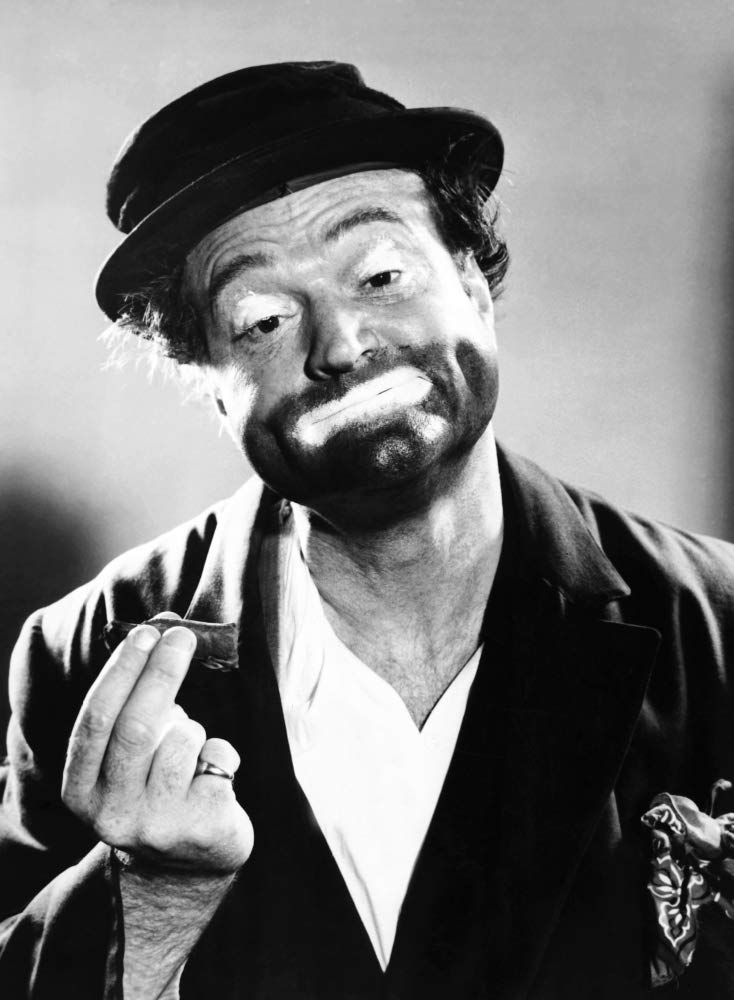 Red Skelton's most famous character, Freddie the Freeloader, is a happy hobo clown. Unlike Emmett Kelly's Weary Willy tramp clown, Freddie the Freeloader had a perpetually upbeat personality, sure that good fortune awaited him just around the corner. He typically (depending on the need of the skit) lived in a ramshackle shack in the garbage dump, where he slept in a bathtub. Although it was a running joke that he didn't bathe regularly. For instance, in several episodes of the Red Skelton Show, someone asked Freddie the Freeloader if he was alone. Freddie the Freeloader would scratch himself, pantomiming that he had fleas, and reply that he wasn't totally alone.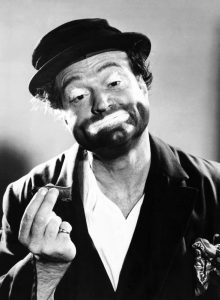 Freddie the Freeloader was a generous soul, always willing to share his meager possessions. For example, a guest star might need a place to stay, and Freddie the Freeloader would pull out another bathtub for them to sleep in. Other examples include his willingness to share his little food with others, help orphans with annual hobo fundraising efforts, or simply offer to help strangers – often to his own discomfort.
There was a reason that Freddie was a Freeloader, of course. He had an ongoing allergy to work in any form. One example of this was when Freddie the Freeloader, asleep in his bathtub, was awoken by his alarm clock. He awoke, looked at the clock and exclaimed, "Great Scott! It's Thursday! I've overslept and missed my unemployment check! [pause] Oh, well, easy come, easy go."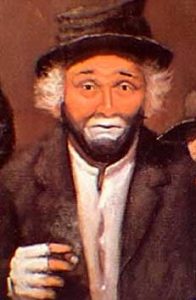 In addition to his laziness, Freddie the Freeloader is remembered for his ingenuity, such as using the radiator of an old car to boil water for tea, or pulling a bathtub down from the wall as his "Murphy bed". He had a genuine warmth and concern for people, especially for children or people in need. He was not, however, above deflating a pompous individual, or someone else that he felt had it coming, such as a criminal.
As part of Red Skelton's Funny Faces video, Red Skelton had this to say about Freddie the Freeloader:
"I get asked all the time; Where did you get the idea for Freddie the Freeloader, and who is Freddie really?

Well, I guess you might say that Freddie the Freeloader is a little bit of you, and a little bit of me, a little bit of all of us, you know.

He's found out what love means. He knows the value of time. He knows that time is a glutton. We say we don't have time to do this or do that. There's plenty of time. The trick is to apply it. The greatest disease in the world today is procrastination.

And Freddie knows about all these things. And so do you.

He doesn't ask anybody to provide for him, because it would be taken away from you. He doesn't ask for equal rights if it's going to give up some of yours.

And he knows one thing … that patriotism is more powerful than guns.

He's nice to everybody because he was taught that man is made in God's image. He's never met God in person and the next fella just might be him.

I would say that Freddie is a little bit of all of us."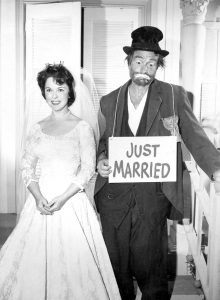 Some outstanding episodes with Freddie the Freeloader include:
Red Skelton's Christmas Dinner
The Cop and the Anthem

One of my favorite Red Skelton episodes of all times.  Based on O. Henry's short story, Freddy the Freeloader is desperate to get arrested for 30 days ("30 days hath September, April, June and Freddy the Freeloader!") to get refuge from the winter cold.  But despite his best efforts, he can't get arrested.   Very funny, and very uplifting as well.

Freddie and the Yuletide Doll

Another classic Christmas episode, entirely in pantomime, where A lonely Freddy the Freeloader dreams that a rag doll comes to life, and the couple dances, skate and play … until the dream ends.

Freddie and the Spies

A truly classic episode, where Freddie is entrusted by a "scientist" (Richard Deacon) to keep a "little black box" safe.   Edward Everett Horton guest-stars as another hobo, and the pair of them are truly hilarious.

The Plight Before Christmas

Another Christmas episode that highlights Freddie the Freeloader's generosity.