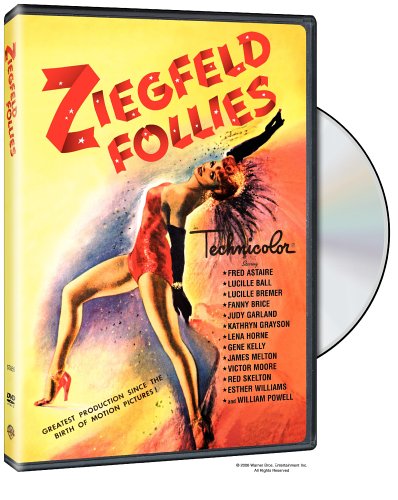 Ziegfeld Follies (1945) starring Red Skelton, Fred Astaire, Gene Kelly, Lucille Ball, Lena Horne, Kathryn Grayson, William Powell and many more
Ziegfeld Follies is an attempt at recreating the spectacle of Flo Ziegfeld's famous Broadway shows. And so the film is a series of unrelated musical and comedy routines. They're unconnected except by the narration of the ghostly Flo Ziegfeld. The part is played by William Powell. He sits back in Heaven, thinking of the spectacles that he could create with then-current stars.
The various acts include: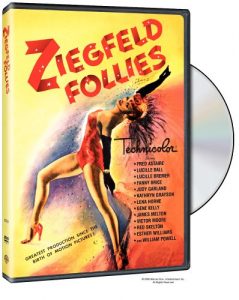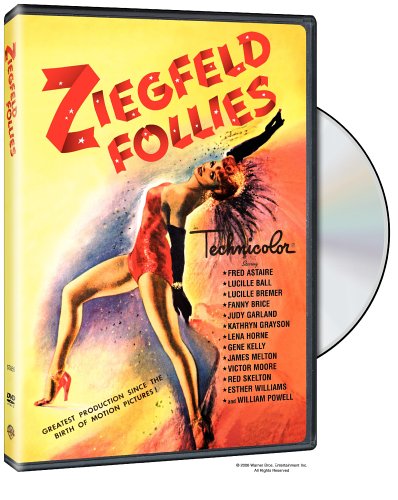 Here's To The Girls, sung by Fred Astaire with a short solo dance by Cyd Charisse. This is followed by Lucille Ball cracking a whip over  chorus-girl panthers (seriously). Finally Virginia O'Brien spoofs the scene by singing Bring on those Wonderful Men
This Heart of Mine: written especially for Fred Astaire who sings it to Lucille Breme. He then leads her in a romantic dance.
Love: sung by Lena Horne
Limehouse Blues. Conceived as a dramatic pantomime. It stars Fred Astaire as a proud but poverty-stricken Chinese laborer. His infatuation with the unattainable Lucille Bremer leads to tragedy. The story serves as bookends for a dream ballet inspired by Chinese dance motifs.
The Great Lady Has An Interview. Judy Garland spoofs a movie star who can only be cast in Oscar-winning dramas. But she wants to play "sexy" roles. She gives an interview to dancing reporters about "her next picture". Which is a biopic of Madame Cremantante ("inventor of the safety pin").
The Babbitt And The Bromide Fred Astaire and Gene Kelly team up in a comedy song and dance challenge in three sections. With music and lyrics by George and Ira Gershwin. All choreography was by Fred Astaire (third section) and Gene Kelly (sections one and two).
A Water Ballet– Esther Williams does her aquatic swimming.
Number Please– Comedy skit with Keenan Wynn.
La Traviata– Opera number with James Melton and Marion Bell.
Pay the Two Dollars– Another comedy skit with Victor Moore and Edward Arnold.
A Sweepstakes Ticket- Another comedy skit with Fanny Brice, Hume Cronyn, and William Frawley.
When Television Comes– A comedy skit with Red Skelton doing his classic "Guzzler's Gin" routine.
There's Beauty Everywhere. The lovely Kathryn Grayson sings this number, accompanied by a chorus of girls. With Cyd Charisse as the dancer in the bubbles.