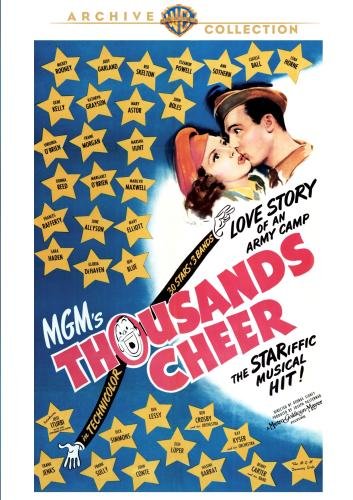 Thousands Cheer (1943) starring Gene Kelly, Kathryn Grayson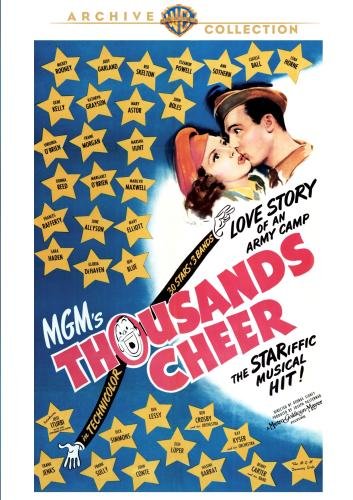 Thousands Cheer is a musical romance, set in the U.S.A. during World War II. The first half of the movie deals with Kathryn Roberts (played by Kathryn Grayson). She's a concert singer who is retiring from the stage to work on putting on shows for the Army, to help morale. This is also designed to let her bond with her father, an Army colonel. Whom she hasn't seen since she was a baby €"after her parents €™ divorce.

A sub-plot running through the film is her desire/attempts to reconcile her parents. Her first attempt at this leads to her mother seeing them off as they embark on a troop train. Where she meets Army Private Eddie March (played by Gene Kelly). As they both watch all of the other G.I. €™s kissing their wives and sweethearts goodbye, kiss each other. Initially, this is meant as a joke. To Gene Kelly €™s surprise, however, the girl has €˜followed €™ him on the troop train. So he follows her into her compartment to tell her that the kiss meant nothing . Only to realize that her father, his colonel, is there.
The romantic musical is on from that point. Gene Kelly is a star of the circus €"an aerialist. He's having trouble adjusting to being just a private in the army. He gives a very good performance, with an excellent dance number with a mop. The movie also gives Kathryn Grayson opportunity to sing €"and she had a beautiful voice. The movie is a conglomeration of :
Boosting morale during World War II
Tthe romance between Gene Kelly and Kathryn Grayson
The need for €œteamwork € that Gene Kelly's aerialist family needs to reinforce to him
And, of course, the €œbig show € that Kathryn is part of €"which is the second part of the movie.
Let's put on a show
Oddly enough, the second part of the movie, which is an excuse for various stars to perform in short skits, was less entertaining for me than the romantic musical.   Although there are some very entertaining skits, such as Lena Horne €™s beautiful singing, a  funny skit with  Red Skelton  as a soda fountain jerk  (no, that €™s not an insult, honest!), a cute routine with Frank Morgan (best remembered as the Wizard in  The Wizard of Oz) with a cameo by  Lucille Ball, etc.
Back to the main story
After the show, the main story resumes, with Gene Kelly (and Kathryn €™s father) going out to war, with a tearful farewell €"and a goodbye kiss, with Gene Kelly promising to come back for the girl who has his engagement ring.   It €™s a sweet movie €"I originally watched it as part of reviewing  Red Skelton  movies, and he has only a very small part €"but I'm glad I watched it, and I think that you €™ll enjoy it too.
Editorial Review of
Thousands Cheer
, courtesy of Amazon.com
The second half of this 1943 Technicolor musical is an excuse for MGM €™s contract talent to perform songs and sketches in a big show at an Army base. Unfortunately, more than an hour passes before the show arrives, stranding the viewer with a thin service comedy about an opera singer (Kathryn Grayson) tagging along to a military camp in hopes of reuniting her estranged parents, whose names are Bill and Hillary (no comments, please).
Romance comes in the form of private Gene Kelly, a former trapeze artist who misses the glory of his former life. Grayson warbles, and Kelly has one nifty solo dance (with a mop and broom), but the all-star revue is the movie €™s main attraction. The song selection is generally poor ("I Dug a Ditch in Wichita € is performed twice), with Lena Horne €™s sultry take on €œHoneysuckle Rose € an exception. She €™s backed by Benny Carter and His Orchestra.
Specialty player Virginia O €™Brien delights with one of her deadpan numbers, Eleanor Powell tap dances, and Judy Garland delivers with a boogie-woogie lilt on €œJumpin €™ Down at Carnegie Hall. € Comedy sketches with  Red Skelton  and Frank Morgan are stubbornly unfunny. Then there €™s José Iturbi, the Spanish-born conductor, making his film debut at the beginning of his run as MGM €™s supposedly cute highbrow. Director George Sidney would team up two years later with Iturbi, Kelly, and Grayson in Anchors Aweigh, a much more enjoyable musical confection. —Robert Horton
Funny Movie quotes from Thousands Cheer
Private Eddie Marsh (Gene Kelly): From now on I only kiss women I know.
---
Hyllary Jones (Mary Astor): Trapeze? Are Eddie €™s parents acrobats?
Kathryn Jones (Kathryn Grayson: Aerialists! And I love him!
---
Frank Morgan: Just checking your pulse. Hmmm €¦ very irregular. Rapid, too!
Lucille Ball: You have your fingers on my wristwatch.
---
Private Eddie Marsh (Gene Kelly): There €™s so much to say.
Kathryn Jones (Kathryn Grayson: Don't say anything. Just come back.
---
Private Eddie Marsh (Gene Kelly): They call me €œThe King of the High Trapeze €
Originally published at Family Friendly Movies, used with permission