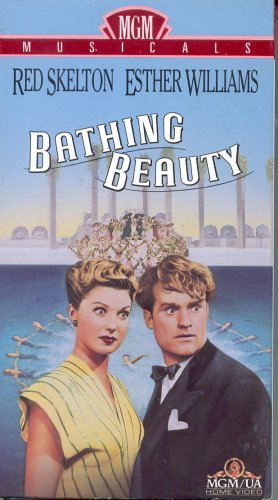 Movie review of Bathing Beauty (1944) starring Red Skelton, Esther Williams, Basil Rathbone
Synopsis of Bathing Beauty
In Bathing Beauty, Swim instructor Caroline Brooks (Esther Williams) angrily returns to her teaching job at a New Jersey girls school when her brand new marriage to songwriter Steve Elliott (Red Skelton) is disrupted by scheming show producer George Adams (Basil Rathbone). In order to speak with his estranged bride, Steve forces admission to the college, which has never been legally declared "all female". To rid the campus of him, Dean Clinton places Steve on two weeks' probation, during which time she plans to hit him with 100 demerits and mandatory expulsion. Steve also encounters heavy resistance from faculty, students and a distant Caroline, who wants their marriage annulled.
Movie review of Bathing Beauty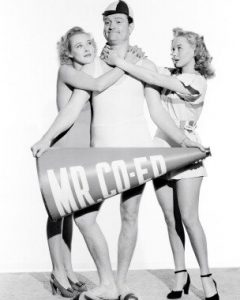 Bathing Beauty is an MGM musical that lives up to its' name, with a great many musical numbers, featuring the talents of Harry James and his Music Makers, Xavier Cugat and his Orchestra, Ethel Smith (formerly the Hit Parade Organist), Carlos Ramirez, etc.   The musical numbers are (for the most part) short and enjoyable, and don't detract from the plot of the movie — although there are one or two exceptions.   At its' core, however, Bathing Beauty is a screwball romantic comedy, starring one of my favorite screwballs, Red Skelton.
Newlywed bliss interrupted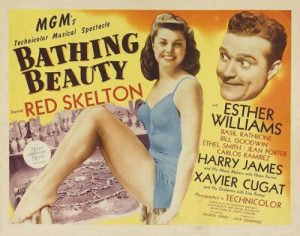 Red plays the part of of Steve Elliot, a songwriter who has fallen in love with Caroline Brooks (played by the lovely Esther Williams), a swimming instructor at an all-girl's college.   Steve intends to forgo writing popular music numbers, and devote himself to writing "serious" music — which displeases his friend, George Adams (played by Basil Rathbone) enough that George intends to break up the marriage before it starts.   With the help of a Latin actress, George succeeds, thinking that Steve will now throw himself into his work; instead, however, he pursues Caroline, trying to prove his fidelity.   In the course of this, Steve enrolls in the all-girl's college, giving Red Skelton plenty of time to do his comedy, and he has quite a few excellent moments, including:
Comedy highlights
Red Skelton playing music on glasses, only to have a drunk "help" him get the glasses in tune.
Red Skelton doing a very funny pantomime of what a woman goes through when waking up
A very funny musical comedy routine performing You Take the High Note
An excellent routine where Red is trapped in Esther Williams' room by a barking Great Dane, and Red has to find a way out in 5 minutes
A well-known routine where "Madame Zarka" is teaching Red Skelton how to dance … in a tutu.
The "sticky paper" routine, part of the ballet dancing, where Red has to lose a sticky piece of paper before the dance ends … or be expelled.   It's a very funny bit, as the various students pass the paper round-robin.
A screwball moment as nearly everyone is hiding, from everyone else, in Red's room at the college
I truly enjoyed Bathing Beauty — it did have too many extraneous musical numbers, but they're short (typically less than 2 minutes) and not distracting from the movie as a whole.
Music from Bathing Beauty
I'll Take the High Note
Trumpet Blues and Cantabile
Tico-tico no fubo
Waltz of the Flowers
Hora Staccato
Bridal Chorus (Here Comes the Bride)
Boogie Woogie
Die Fledermaus Overture
Mucho Mucho Mucho
Editorial review of Bathing Beauty, starring Red Skelton, Esther Williams, Basil Rathbone, courtesy of Amazon.com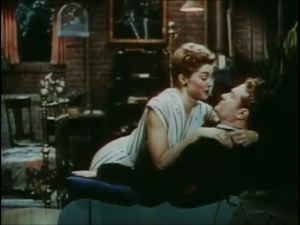 Hoping to win back his estranged swimming-coach wife (Esther Williams), a love-struck songwriter (Red Skelton) enrolls in a women's college, and graduates "summa cum laude" in Comedy! Red's in rare form and Esther's in form-fitting swimsuit in this delightfully dizzy musical farce. BATHING BEAUTY begins with a splash: Xavier Cugat plays, Red clowns and Esther plunges into a pool. From there, things go, well … swimmingly. The college is loaded with pretty MGM starlets. Cugie shakes up more hot South American rhythms. A fine cast, including
The college is loaded with pretty MGM starlets. Cugie shakes up more hot South American rhythms. A fine cast, including Basil Rathbone, Donald Meek, Janis Paige, and Groucho Marx's favorite foil, Margaret Dumont, gives expert support. The finale is a wowser of a water ballet featuring the movies' favoring bathing beauty swimming gracefully along alternating jets of water and flame. But Esther isn't the only artistic lovely. Red dons a pink tutu for a college ballet class and reduces Tchaikovsky to chopped liver. Dive in!
---
Be sure to read funny movie quotes from Bathing Beauty as well.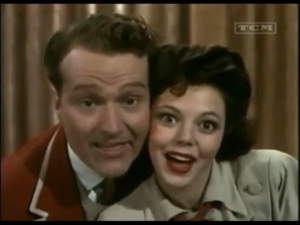 ---
Trivia for Bathing Beauty
In one sequence Red Skelton's character appears in a tutu. In a later interview, Red said it was uncomfortable because he had to have his chest, back and underarms shaved for this costume.
At the time of its release, this was MGM's third-highest grossing film, after Ben-Hur: A Tale of the Christ (1925) and Gone with the Wind (1939).
The movie was initially to be titled "The Co-Ed" with Red Skelton having top billing. However, once MGM execs watched the first cut of the film, they realized that Esther Williams' role should be showcased more, and so changed the title to "Bathing Beauty", giving her top billing and featuring her bathing-suit clad figure on the posters.
In one sequence Red Skelton's character is trapped inside a house by a large dog. He escapes by removing the hinge pins from the door, picking up the door and, as the dog comes inside he holds the door between them and goes out. Red said that they had written themselves into a corner and could not come up with a way for him to get out. They were going to scrap the scene when the comedian Buster Keaton visited the set, took one look and told them how to do it.
Janis Paige's film debut.