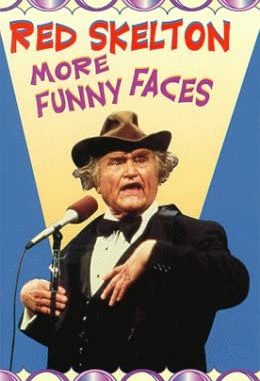 Red Skelton's More Funny Faces (1984) with Marcel Marceau
Red Skelton is joined by world-famous mime artist Marcel Marceau. In More Funny Faces they recreate some o`f Red's funniest routines and exciting skits.
In short, Red Skelton's More Funny Faces is a short (46 minutes) live performance on the stage in Canada. He performs some of his classic jokes and routines. He share the stage with the great mime Marcel Marceau, and one bit with All the Land. It is literally laugh out loud funny, and highly recommended.
Routines and bits
Red's opening monologue
Marcel Marceau's rendition of the Tango

A very funny bit, especially as the "lady" he's dancing with keeps trying to pickpocket his wallet!

Red jokes on driving in Canada
Clem Kadiddlehopper jokes

Clem got married
In-grown hares
Ether bunny
More rabbits than I could shake a stick at
We're brothers, you idiot!

Clem recites the Frogs poem
Mime troupe "All the Land" presenting "family"
Marcel Marceau as the lion tamer

A very funny routine about a reluctant lion who just doesn't want to jump through Marcel's ring!

Red and Marcel on stage. Marcel wants Red's autograph, in pantomime. What could possibly go wrong?
Next, Red pantomimes a piece of bacon frying.
Red pantomimes a little old man watching a parade go by.
Red applies his Freddie makeup while doing his monologue, Who is Freddie the Freeloader?
Sings "The time has come to say goodnight" in closing