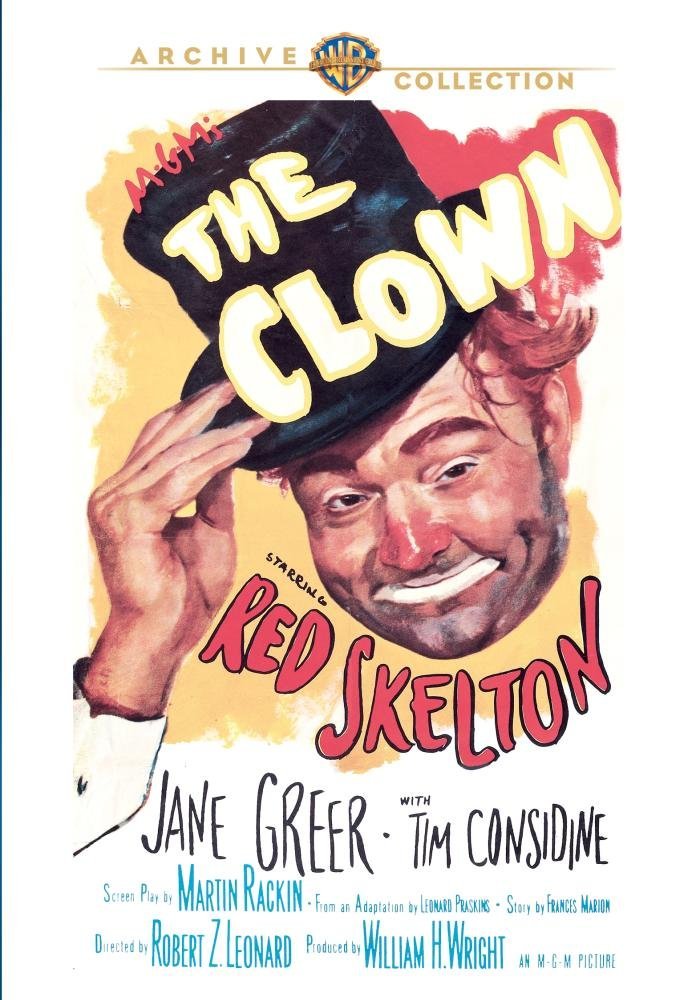 Movie review of The Clown (1953) starring Red Skelton, Tim Consadine, Jane Greer

Having just watched Red Skelton in the serious drama, The Clown, my first reaction is simply, "wow. " Although it stars Red Skelton, and deals with a clown/comedian as the central character, The Clown is not a comedy.  It is a very serious drama, which left me with a new respect for Red Skelton's acting ability.
Synopsis of The Clown
The Clown is Dodo Delwynn, portrayed by Red Skelton.   A formerly great comedian, Dodo has fallen upon hard times, due to his alcoholism.   Although a former headliner for the Ziegfield Follies, he has been reduced to working at carnivals and the like.   The only bright spot in his life is his son, Dink, who provides both motivation and stability.  Until the boy's mother, Dodo's ex-wife, re-enters their lives.  She wants the boy to live with her and her new family, in order to have the stability and opportunities that Dodo cannot offer him.
Review of The Clown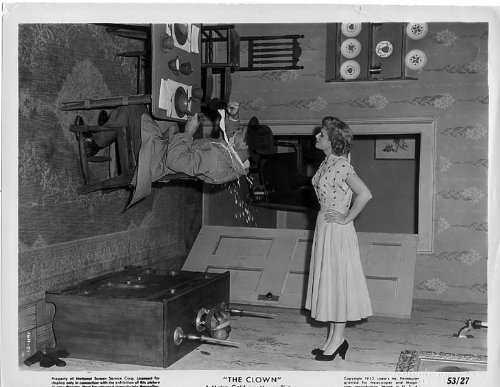 Although there are numerous funny moments,  The Clown is not a comedy.   Those funny moments include  the flashback sequence where Dodo Delwynn has lost a bet and has to attend a ballet class, dressed in a tutu.  Another is at the end of the film where Dodo is filming a pilot episode of a television series.  This is clearly a nod to The Red Skelton Show, complete with Red/Dodo performing some of Red's signature skits.  One example is Red's "walking up the stairs" routine.  Another is the topsy turvy room for "Willy Blotto", a version of Red's inebriate character Willie Lump-Lump.
It's strongest point is clearly the dysfunctional, yet loving, relationship between Dodo Delwynn and his young son, Dink.   Dink often plays the part of the responsible adult.  Examples include:
Trying to hold on to rent money before Dodo can spend it all on a binge.
Getting the besotted Dodo to an audition.
Helping the inebriated Dodo get undressed and put to bed.
One of the strongest moments of the film is when Dodo gives Dink his engraved watch, a gift from Flo Ziegfield himself — only to steal it back later from the sleeping boy, as part of paying off a gambling debt.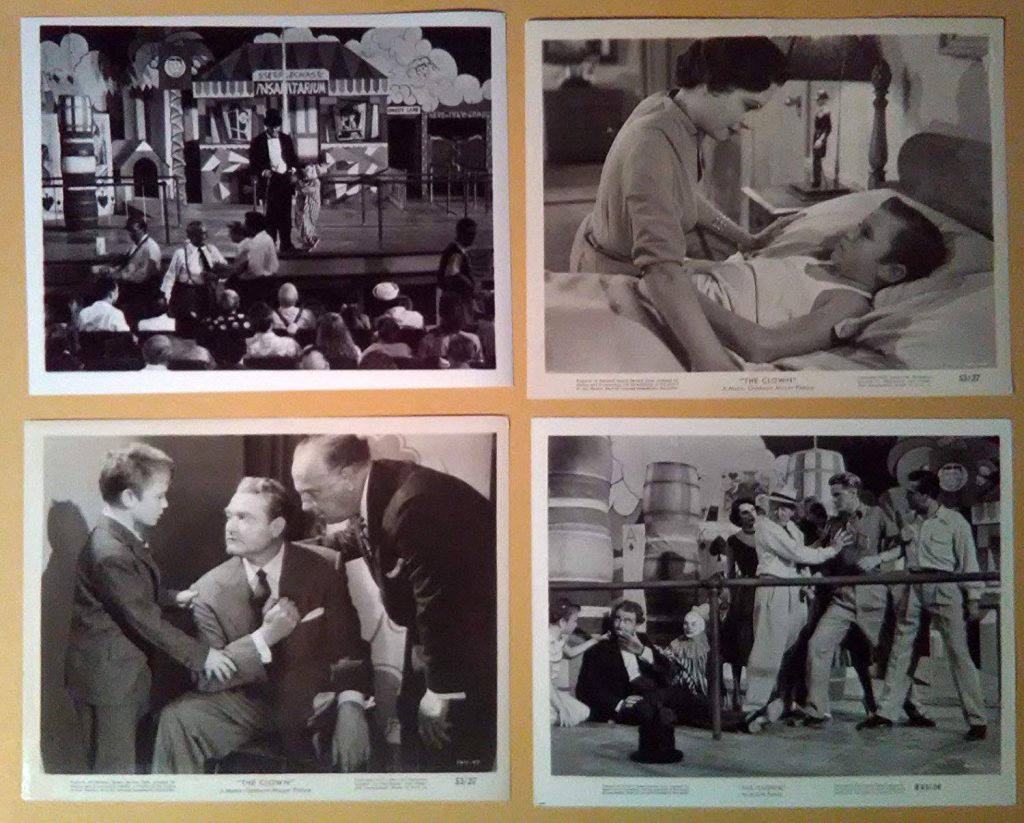 Dodo's love for Dink is clearly real, and the only thing that keeps him going.  At the end of the movie, where Dodo's old agent, Goldie, has lined up a shot at a television show exemplifies this.  Dodo has sent Dink away to live with his mother, and couldn't care less about the possibility of regaining his fame, and self-respect.  Until Dink walks back through his door.
The Clown is a very good film, eminently enjoyable, and I strongly recommend it. I rate it 4 clowns out of 5.
Trivia for The Clown
In part for its obvious publicity value, MGM had interest in casting Jackie Cooper's son John in the role his father had created in The Champ some twenty years before. He was favorably screen-tested and was to be billed as "Jackie Cooper Jr." But his father, well-versed in the pitfalls of child acting, objected to obligating the boy to a contract with the studio. Young Cooper was only six anyway, and his age made the casting a stretch, despite the good screen test. Tim Considine, several years older, was selected.
Look for Charles Bronson in a small role as the gambler to whom Dodo gives his engraved watch … After stealing it from Dink
Look for Billy Barty in an uncredited role as one of the Coney Island midgets