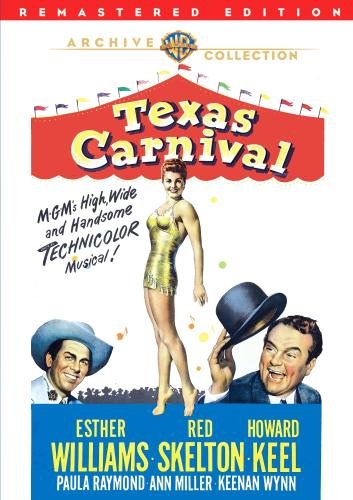 Texas Carnival (1951) starring Red Skelton, Esther Williams, Howard Keel, Ann Miller, and Keenan Wynn
Texas Carnival is an interesting musical, comedy and romance that €™s a little bit different.   It has 4 very different stars €"Red Skelton, Esther Williams, Howard Keel, and Ann Miller. They have four different strengths, and each of them has opportunity to showcase their talents.  
Red Skelton has several very funny moments clowning around.
Esther Williams has one extended swimming sequence.
Howard Keel sings his heart out in several songs.
Ann Miller is showcased in two different dancing routines.
The story begins
The story begins at (where else?) a Texas Carnival. Corny Quinell (Red Skelton) is a carnival barker. He's trying to get people to throw balls at the dunk tank's lovely mermaid Debbie Telford (Esther Williams). The team is far from a success.
They're on the verge of starvation when Red comes across a drunken Texan, Dan Sabinas (Keenan Wynn). The drunken millionaire takes a liking to Red … After Red helps him win a rigged game of chance. This leads to an unintentional mistaken identity. Red and Esther take the drunken Texan's car back to his hotel. Where they're mistaken for Dan Sabinas and his sister.
Mistaken identity
The real Dan Sabinas, meanwhile, has gone off in a cab for a drunken bender in Mexico City. While Red and Esther make the acquaintance of Sabinas' foreman Slim Shelby (Howard Keel). He quickly begins falling heads over heels for Esther Williams/Debbie.
Likewise, Red Skelton/Cornie meets and starts falling for Sunshine Jackson (Ann Miller), the sheriff's daughter. Tensions build as Red Skelton/Cornie and Esther Williams/Debbie begin unintentionally running up the tab for the real Dan Sabinas. Ending with Red accidentally losing a lot of money in a poker game (with jelly beans, no less). And he has to try and win it back in a very funny chuckwagon race at the end of the movie. Where all ends happily.
Highlights of Texas Carnival
Highlights of the movie include
several funny routines by Red Skelton (trying to walk in spurs, and a wonderful silent scene where he tries to roll a cigarette, as well as the funny slapstick chuckwagon race)
Several songs by Howard Keel (Get Along Emma, Deep in the Heart of Texas).
A nicely choreographed dream swimming sequence featuring Esther Williams.
Several dance numbers featuring Ann Miller (I Want That Building to Hit Me, Deep in the Heart of Texas).
My family and I truly enjoyed Texas Carnival, and hope that you do as well.
Don't forget to check out funny movie quotes from Texas Carnival
Editorial review of Texas Carnival courtesy of Amazon.com
Esther Williams dazzles the eye and Red Skelton tickles the funny bone in Texas Carnival, a rootin' tootin' musical "done in such a grand, breezy manner that even Texans are apt to give it a hearty backslap of approval" (Los Angeles Examiner). The two play a down-and-out carnival sideshow team mistaken for a pair of multimillionaires at a swank Texas resort hotel €" a perfect plot for Miss Williams to display both her fine sense of comedy and gorgeous, bathing-suit-clad figure. Skelton is hilarious as a pseudo oil tycoon who can't roll a cigarette, walk in spurs or hold his liquor. His performance, a masterpiece of accurate exaggeration, is a wonderful reminder of why he ranks among the screen's greatest clowns.
Soundtrack for Texas Carnival
The Carnie's Pitch

Music by Harry Warren, lyrics by Dorothy Fields. Performed by Red Skelton

It's Dynamite

Music by Harry Warren, lyrics by Dorothy Fields. Sung and Danced by Ann Miller

Whoa, Emma!

Music by Harry Warren, lyrics by Dorothy Fields. Sung by Howard Keel

Young Folks Should Get Married

Music by Harry Warren, lyrics by Dorothy Fields. Sung by Howard Keel

Deep in the Heart of Texas

Music by Don Swander, lyrics by June Hershey. Sung by Howard Keel