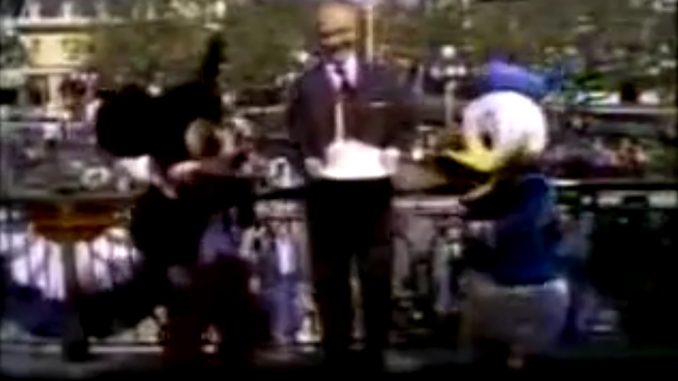 Monsanto Night Presents Walt Disney's America on Parade (1976) with Red Skelton, Freddie the Freeloader, and Deadeye
In short, Monsanto Night Presents Walt Disney's America on Parade is a television special. It was a celebration of the United States' bicentennial, filmed at Disneyland. Hosted by Red Skelton, with segments starring Freddie the Freeloader and Sheriff Deadeye. Red, as "grandpa", does his famous explanation of the Pledge of Allegiance to a group of youngsters, as well.
Watching the parade:
Man sitting next to Freddie: Why don't you shave? You know, I had a beard like that once, and I saw how ugly it made my face, and I cut it off.

Freddie the Freeloader: Well! You know, I had a face like yours once. I realize it was ugly, and I couldn't cut it off, so I grew a beard!
There's a lot of musical numbers, parades, etc. in addition.
At Slue Foot Sue's Saloon:
Bartender (Jan Arvan): Where do you hail from?

Sheriff Deadeye: I'm from [removes hat] Texas. [All the men remove their hats every time Texas is mentioned]. You never ask a man where he's from. 'Cause if he's from Texas, he'll tell ya. If he's not, there's no need to embarrass him.
Routines with:
5 cent or 50 cent root beer.
"Helping" the old prospector out of Deadeye's seat
Red does a pantomime of an old man watching a parade. The special then ends with fireworks at Disneyland, and final words from Red.
Cast of characters
Red Skelton … Host / Freddie the Freeloader / Sheriff Deadeye
Jan Arvan … Bartender
Francine York … Slue Foot Sue
Kate Murtagh … Lady Who Blocks Freddie's View
Arnold Soboloff … Man Sitting Next to Freddie