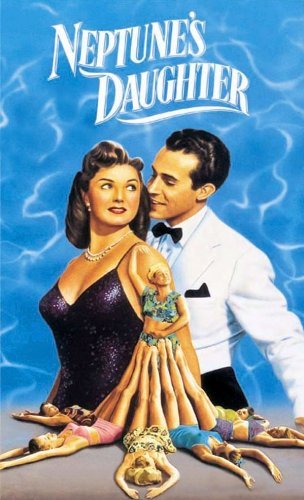 Neptune's Daughter (1949) starring Esther Williams, Ricardo Montalban, Red Skelton
Neptune's Daughter is a laugh out loud funny romantic musical comed. Which I enjoyed immensely. Although the movie stars the beautiful (and aquatic) Esther Williams and the dashing Ricardo Montalban (one of my favorite actors), the movie comes to life when Red Skelton is onscreen.
A guy, a girl, and a bathing suit
The movie begins with Keenan Wynn narrating the story of "a guy, a girl and a bathing suit". He tells how his character, Joe Backett, met Esther Williams' character, Eve Barrett. And how with his business acumen and her face and figure (and swimsuit designs) they created a bathing suit company that soon became big business. € He has a promotional idea that involves the South American polo team that's playing nearby.
Ricardo Montalban plays Jose O'Rourke, the captain of the polo team. At the polo grounds, Ricardo Montalban hurts his shoulder and needs the club's masseuse. Red Skelton (as masseuse Jack Spratt – love that name) is listening to a radio quiz show. One that requires no skill at all. Just the ability to answer the phone. The camera pans back to reveal that Red has nearly a dozen phones on his desk, waiting to win the $10,000 prize.
At that moment, Julio (played by Mel Blanc, the voice of Speedy Gonzales) interrupts. He needs Red to help Ricardo Montalban, head of the South American polo team, whose arm has been hurt. As Jack Spratt/Red Skelton leaves, of course, the phone rings … And the radio announces that they're calling Jack Spratt! Red desperately tries to get back into the room (a hilarious scene) since he can't find the key. Once it's too late, Red Skelton laments to Mel Blanc that something so small cost him a fortune. Only to realize that he had the key in his hand the entire time.
A Case of Mistaken identities
Jack Spratt/Red Skelton begins rubbing down Ricardo Montalban/Jose O'Rourke. In return, he has a very funny exchange with Red, explaining how to romance a woman. Timely advice, since Eve's sister, Betty Barrett (played by the pretty, and very funny Betty Garrett) is on the prowl … € For a South American polo player as a boyfriend. And after a funny scene where she tries unsuccessfully to get direction from Mel Blanc — She opens the swinging door to the room where she thinks the polo captain is. Only to knock Red Skelton/Jack Spratt down, semi-conscious.
The shy Jack takes advantage of the situation to get a date with Betty. Even though she thinks that he's Jose O'Rourke. This sets up the romantic conflict of the movie. The over-protective Eve thinks that Ricardo Montalban is trying to woo her sister Betty. Ricardo Montalban is using the confusion to "blackmail" (in the nicest way) Eve into going out with him instead. At the same time, Betty thinks that she's dating Jose O'Rourke. But she's actually dating Red Skelton's character, Jack Spratt.
Funny moments
Oddly enough, even though I'm a huge fan of Ricardo Montalban …. For me the movie drags during the romantic scenes between him and Esther Williams. When Red Skelton is on the screen, however, especially with Betty Garrett, its non-stop laughter. For example, when Red (disguised as Jose) tries to date Betty, with a constantly-slipping oversized belt. He's wearing a costume that he's "borrowed" from the authentic polo team captain. And trying to court her in Spanish (the "language of love") with a record, its very funny.
Much funnier still is the scene in a nightclub later. Xavier Cugat notices his "countryman" and asks him a series of questions. To which the monolingual Red can only answer "Si?" Building up to a very funny musical routine with Red, Betty and Xavier Cugat's band. Where Red has to pretend to be able to play every instrument in the band. It's truly laugh-out-loud funny.
Romantic triangle
There's also a romantic love triangle between Keenan Wynn's character, Eve, and the real Jose. With much splashing about in the water. And a big musical swimming production at the end. Also gangsters who want to kidnap Jose in order to win a large bet. But I'll let you watch the film for yourself and enjoy it. I did, and rate it a very solid 4 clowns out of 5.
Soundtracks for Neptune's Daughter
Baby, It's Cold Outside

Written by Frank Loesser. Performed by Ricardo Montalban and Esther Williams. Also performed by Red Skelton and Betty Garrett

I Love Those Men
My Heart Beats Faster
Jungle Rhumba
Funny quotes from Neptune's Daughter
Betty Barrett (Betty Garrett): … and a polo player's what I've always wanted!
Eve Barrett (Esther Williams): And last year it was a football player that you'd always wanted, the year before that it was a cowboy.
Betty Barrett (Betty Garrett): Well, I'm flexible.
---
Eve Barrett (Esther Williams): Betty, dear, you've got to stop throwing yourself at men. You're only going to get hurt.
Betty Barrett (Betty Garrett): Not if my aim is good!
---
Betty Barrett (Betty Garrett): Actually, I have a date with him [referring to Red Skelton] tonight.
Eve Barrett (Esther Williams): Can't you get in enough trouble here without going below the border?
---
Jose O'Rourke (Ricardo Montalban): Hasta la vista.
Jack Spratt (Red Skelton): Huh?
Jose O'Rourke (Ricardo Montalban): I'm sorry. In your language, that means, "Adios, amigo."
---