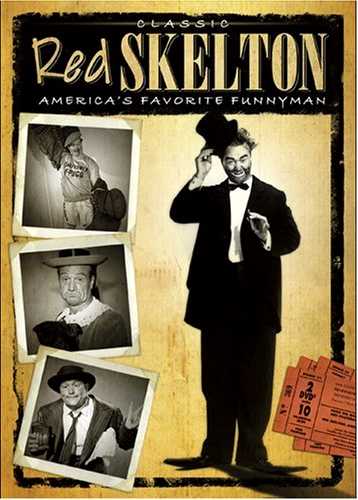 Red Skelton – America's Favorite Funnyman is a DVD collection of 10 episodes of The Red Skelton Show. Not a bad collection by any means, and inexpensive as well ($9.95 U.S. dollars at the time of this writing), and it has a collection of some of my favorite episodes as well. They are:
Clem the Dentist

When a pair of con artists run a diploma mill, they make Clem a dentist! And when the police show up …. The tooth will out!

Clem the Painter

A favorite Clem Kadiddlehopper episode — where Clem, the "country bumpkin" takes the art world by storm – a very funny episode where Red "artfully" mocks the modern art movement.

Deadeye and the Indians

very funny episode that, interestingly enough, runs out of time — and Red plays that for all it's worth. Very rapid-fire, and very funny – a hot stake is better than a cold chop!

Look Awards Show

A very unusual show, where Red presents the Look Awards to various individuals, and performs some short related sketches

Freddie and the Spies

A very funny Freddie the Freeloader episode, where an American agent (played by Richard Deacon of The Dick Van Dyke Show) gives Freddie "the little black box" to hide – and Edward Everett Horton makes an appearance as a fellow hobo who tries to find out why Freddie acts so suspiciously (hilariously funny!) and Freddie eventually gets contacted by the spies, who try to pry the information out of him – also hilariously funny! One of my all-time favorite episodes.

How to Make a Salad

A fairly funny Willie Lump-Lump episode, with Willie in the Army on KP duty.

Mr. Lasagna

Red Skelton (playing a variation on himself, as opposed to one of his many characters) plays with his son Richie's chemistry set, and inadvertently discovers a cure for smog. A gangster, Mr. Lasagna (George Raft) wants the information, and is willing to get rough in order to get it …

Bolivar Goes Hollywood
The U.N. Show

A very special show, where Red Skelton does a "command performance" of pantomime at the United Nations.
Product Description of Red Skelton – America's Favorite Funnyman
A clown with a heart of gold, Red Skelton's mission in life was to make people laugh. A first-class comedian, Skelton won the world over with his legendary alter-egos including Junior the Mean Widdle Kid (famous for the expression, "I dood it"); country bumpkin Clem Kadiddlehopper; clown hobo Freddie the Freeloader; con man San Fernando Red; henpecked husband George Appleby; drunkard Willie Lump-Lump; boxer Cauliflower McPugg; and the not-so-honest lawman, Sheriff Deadeye.
These characters and more made appearances on his popular television series The Red Skelton Show – the second longest running TV show in history at twenty years of broadcasting. For the duration of this time, Skelton's series maintained top ten and top twenty ratings and won several awards. Packed with celebrity guests, pratfalls, pranks, and silly sketches, The Red Skelton Show continues to delight audiences time and time again, proving that Red Skelton is indeed America's favorite funnyman. €