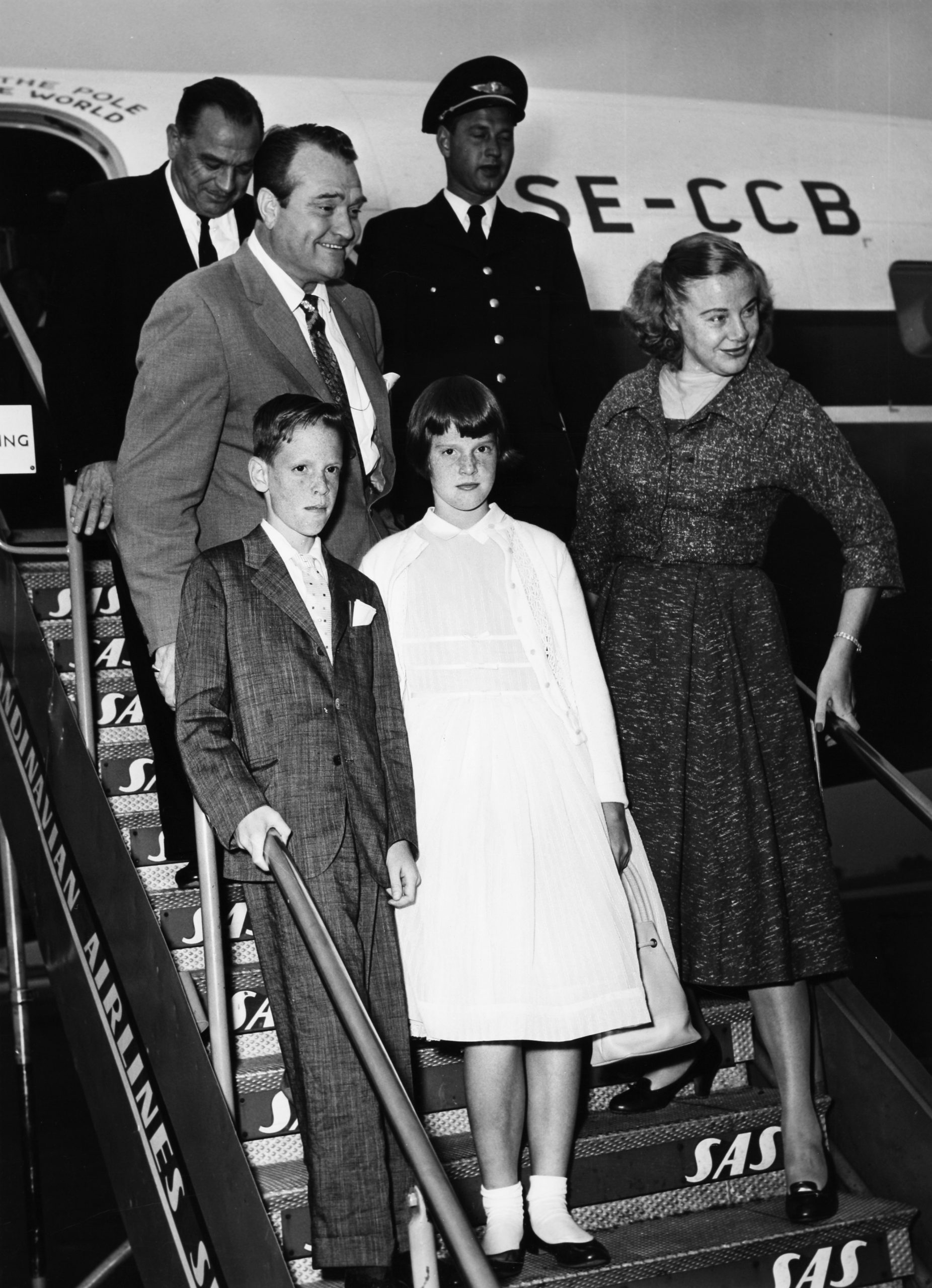 Red Skelton's Son Dies Thinking of Mother – originally published in the Pittsburgh Press-Gazette, May 12, 1958
Writer tells how comedian and wife spent grief-filled hours after death
(Associated Press Hollywood Writer James Bacon is a long-time friend of Red and Georgia Skelton. He was with them Saturday night in their Bel-Air home when they returned from UCLA Medical Center, less than one hour after their son, Richard, lost his valiant fight with leukemiaemia.)
By JAMES BACON
Associated Press Writer
Hollywood, May 11 — "Daddy, will you get Mama that red blanket for Mother's Day? I don't suppose they'd let me out of here with this cut on my leg."
Thus did little Richard Skelton die of leukemia last night at the UCLA Medical Center, thinking about his mother.
Comic Red Skelton was standing in Richard's room at home last night less than an hour an hour after the nine-year-old boy's death from leukemia — a death that had been foreshadowed for more than a year. Richard's toys, a favorite camera and other paraphernalia common to nine-year-old boys was scattered across the room.
"We had asked him if he wanted a party for his birthday on May 20," said Red. "He said no, all he wanted was a cookout with two or three of his friends — So I brought him the Sears-Roebuck catalog today and he picked out a tent and some camping equipment — and the red blanket."
The cut on his leg referred to an incision made for blood transfusions. His veins had been punctured too much with a long series of daily transfusions over past weeks.
Although he was never told of the seriousness of his illness, Richard apparently knew death was near last night. When his sister, Valentina, 11, climbed on a footstool to kiss him goodbye, he murmured: "You'd better hurry up."
Minutes later, a final hemorrhage sent him into a coma. That was about 7:30 p.m. His mother, Mrs. Georgia Skelton, said he awakened an hour later and whispered: "I can't see. Everything is fuzzy."
At 8:35 p.m. the boy died.
Georgia and Red, steeled against the tragedy for over a year, sat in the hospital room for over an hour with their dead son for over a half hour quietly weeping. Then they went home.
"I had to sit there and cry," said Georgia, "Richard wouldn't let me cry before. He always chided me if I came in to see him with my eyes red."
Valentina had returned home before her brother died. When the parents returned home to the big Bel-Air mansion, the family doctor told the girl.
"I wonder what the Big Man looks like," the doctor quoted Valentina. "Richard knows now." Then she added: "By the Big Man, I mean God."
Skelton told of one last wish the boy had made Saturday.
"The highlight of his life was our audience with the Pope last year, so he asked me if I could get him a crucifix blessed by His Holiness." Bo Roos, Skelton's long-time business manager, cabled Father Edward Bates, an American priest stationed in the Vatican. A cable came back that the mission was accomplished.
"Richard seemed happy when I told him that the crucifix was on its way by airplane. It was wonderful of His Holiness to take out of his busy schedule for our boy."
The papal-blessed crucifix was en route over the Polar route from Copenhagen as Richard died.
By Richard's bed was a little overnight case, his parents had given him for Christmas. Georgia opened it. In it were clean underwear, socks and a toothbrush.
"He packed it himself last week before he went to the hospital," said Mrs. Skelton. "He said, 'Mama, you never know when we'll be leaving on a trip. It's best to be ready.'"
Red cried at that and turned toward the door. Georgia followed and started to turn off the light switch. As she looked around at the toys, the happy pictures on the wall, the little stuffed dog has been his constant companion since he was six, she pulled back her arm.
"No," she said, "I can't turn off that light. I don't want it dark in here, not tonight."