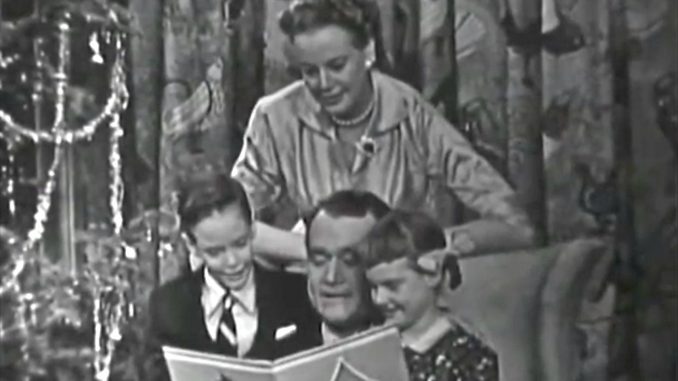 The Unwanted Christmas Tree – The Red Skelton Show, season 4 – originally aired December 21, 1954
In The Unwanted Christmas Tree Red Skelton tells a holiday story to his wife, Georgia, and children, Valentina and Richard. In it, "Chester" is working for a miserly man selling Christmas trees, and takes a sad little tree to a club for young boys. Then …
The Unwanted Christmas Tree is both funny and sweet. It begins with Red Skelton introducing his wife Georgia ("Little Red"), children Valentina and Richard to the audience in a reproduction of the Skelton living room. And the children asks Red to read them a Christmas story, so he opens a book and starts to tell them about "the unwanted Christmas Tree".
Tree salesman
The Unwanted Christmas Tree begins with Red as "Chester", working for a very tight-fisted, grumpy employer – "mean old Mr. Crabclaw" – selling Christmas trees at a lot. There's a fair amount of clowning around, with someone who only wants to pay a tiny amount — so Red shows him a twig with a magnifying glass! But no sale. Then a boisterous man comes by, "recognizing" Red from the college they both went to — but Red didn't go there. Doesn't stop the man in the least, reliving his glory days on the football field, knocking down Red repeatedly. And then he takes the last two Christmas trees — without paying! Throughout, a young boy has wanted to buy a Christmas tree, but only has ten cents. So, Chester pleads with the owner, and buys the tree out of his own pocket. And the owner makes him pay for the stolen Christmas trees as well, confiscating his week's pay!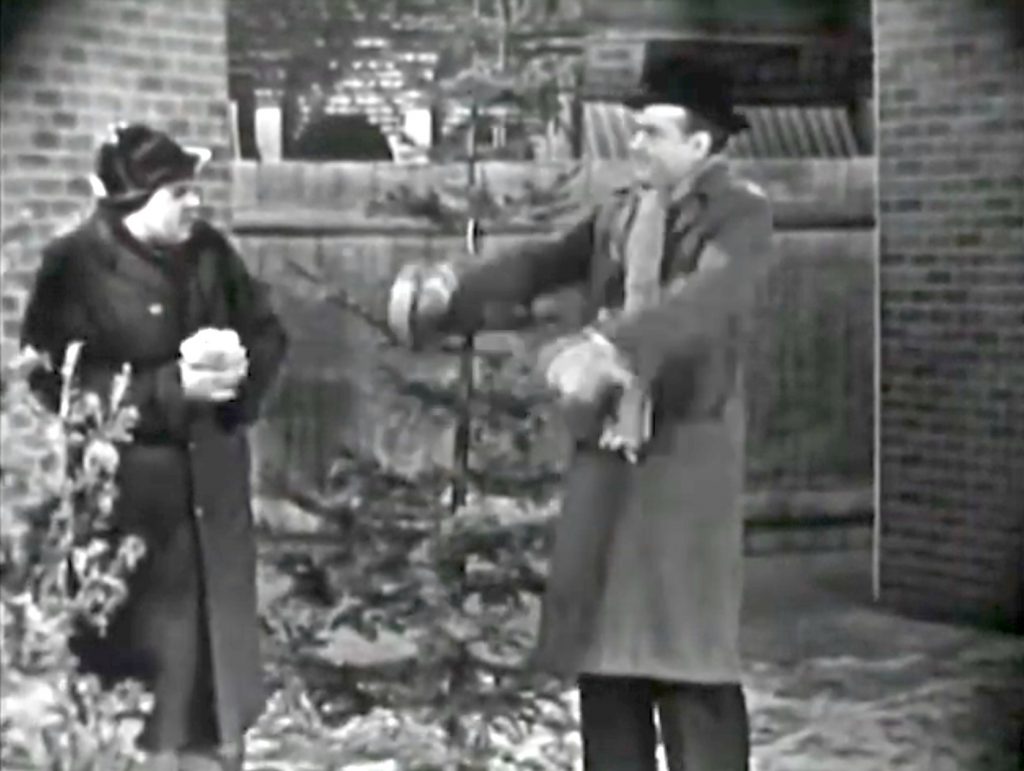 Bus ride
The young boy is a member of the Space Comanches club, and kind-hearted Chester takes them both — and the tree — on the bus to get there. It's as slapstick ride as you might expect. First, Chester pretends that the boy is only six years old, so he rides free:
Bus Driver: When do you turn seven?
Boy: As soon as I get off the bus!
Then he unwittingly assaults the bus driver with the scraggly Christmas tree, pops another passengers balloons, somehow destroys someone's bass fiddle!
Chester: Bass fiddle? Why don't you carry a portable radio like everyone else?
Then the loudmouth with the two stolen Christmas trees gets on the bus, as Chester and the boy are trying to get off!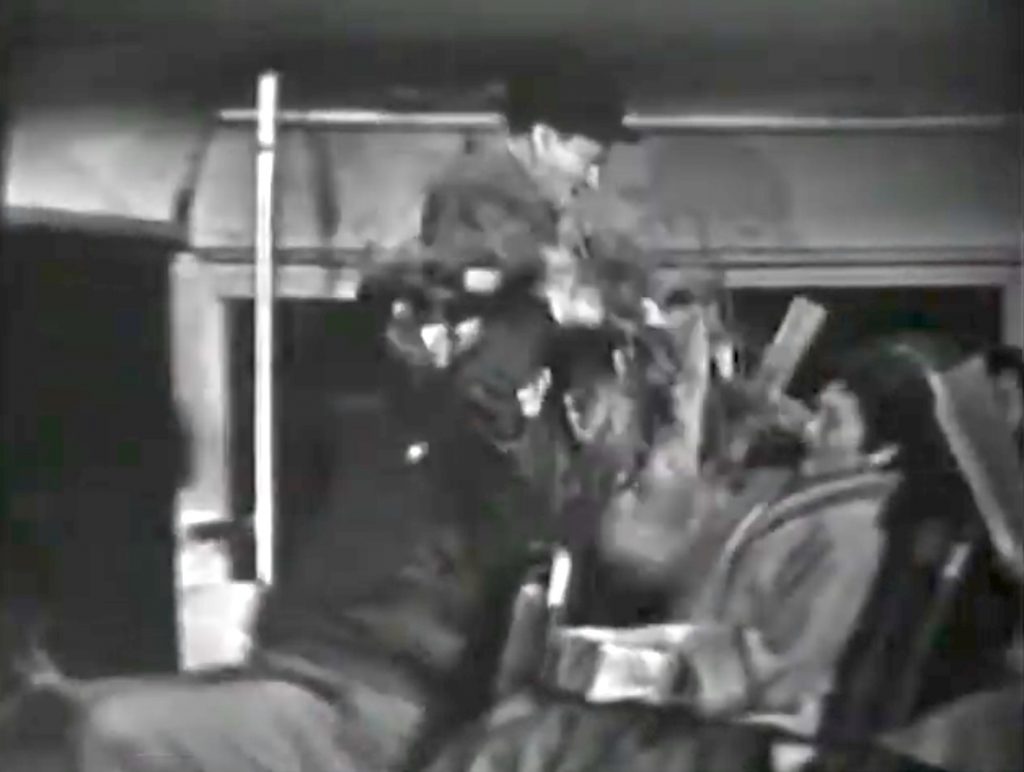 At the Space Comanches clubhouse
Arriving at the Space Comanches clubhouse, Chester and Bobby (the young boy) arrive with the tree. And the tree's in sad shape. As Chester says, it looks like a weeping willow with a nervous breakdown! In a slapstick bit, he acts as tree surgeon, and tries to repair it, followed by decorating it. As he decorates, he's singing "Getting to Know You" – and then doing a short soft shoe routine. Only to be upstaged by one of the boys, clearly a professional dancer!
Then he puts together an imaginary turkey dinner for the boys with his pantomime skills. This leads to him talking to them about belief, singing "When You Wish Upon A Star", and then leading the boys in a short prayer. While they pray, a Christmas miracle occurs – the scraggly tree is replaced by a beautiful tree, complete with presents.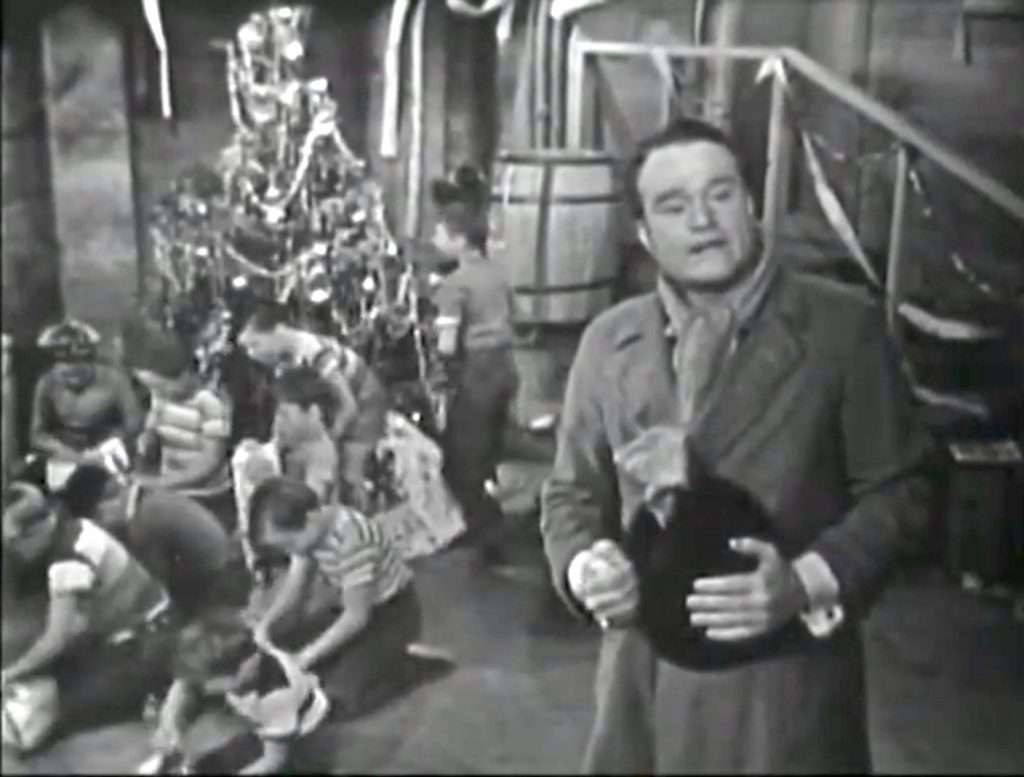 Songs
Getting to Know You

sung by Chester as he's decorating the tree

When You Wish Upon A Star

sung by Chester to the boys after the imaginary turkey dinner

Oh Come All Ye Faithful

Instrumental, played in the background as Red speaks at the conclusion