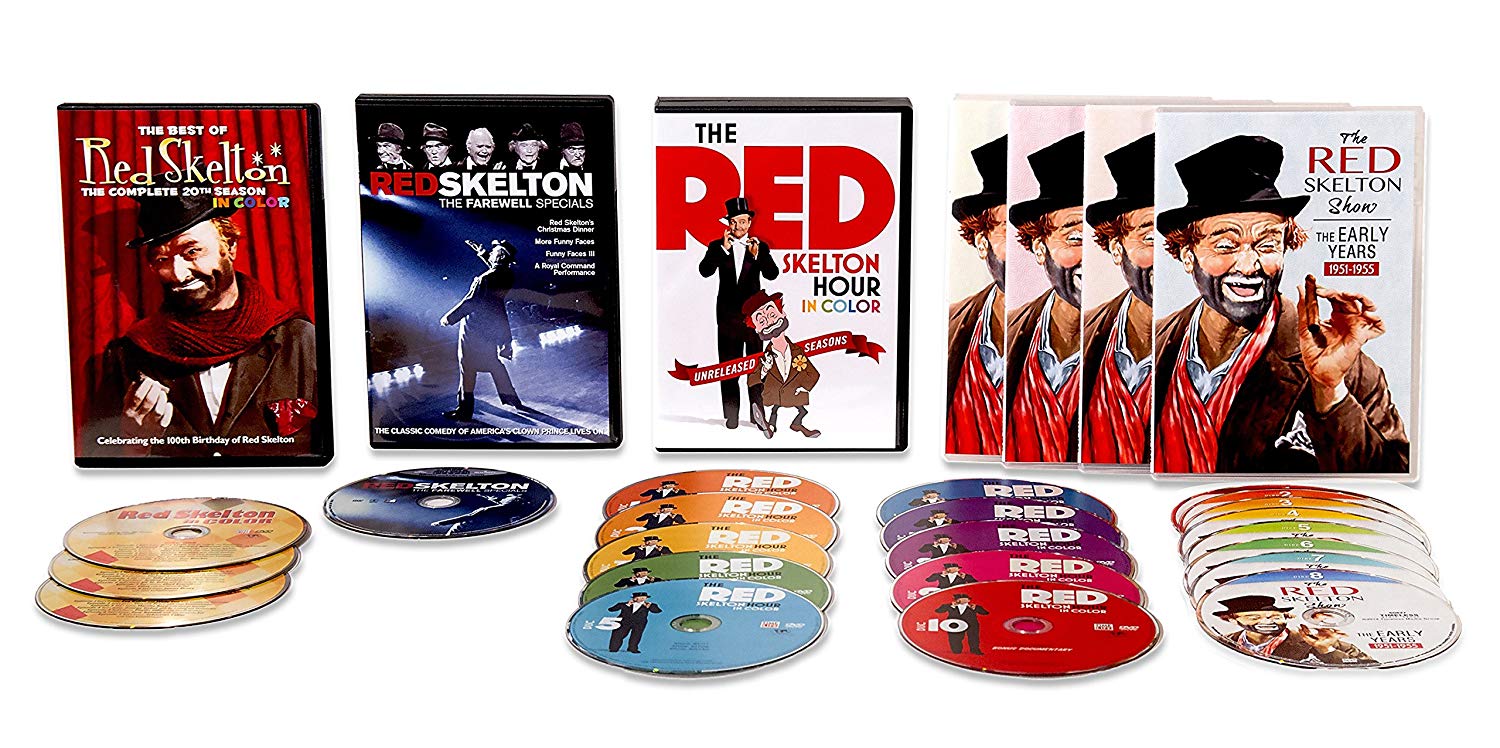 In short, The Red Skelton Hour in Color Collection is … a collection of 4 other collections:
Red Skelton – the complete 20th season in color
In short, if you're a fan of the Red Skelton Show, and you don't already own these, it's a good deal.
Editorial review of The Red Skelton Hour Time Life courtesy of Amazon.com
OVER 65 HOURS OF CLASSIC RED SKELTON COMEDY! Don't miss your chance to experience true RED, White & Blue Entertainment from America's Clown Prince!
Red Skelton was a brilliant performer, a passionate patriot, and a master of simple, classic comedy. Now you can let Red entertain you any time you like with over 65 hours of hilarious, heart-warming humor. All the legendary comedians, incredible music, and classic characters from the iconic Red Skelton Show can be yours to enjoy with the whole family. The vintage, unreleased episodes feature Skelton and his hilarious recurring sketch characters like country bumpkin "Clem Kadiddlehopper," the lovable hobo "Freddie the Freeloader," "Sheriff Deadeye," and "George Appleby," plus guest stars galore.
HIGHLIGHTS:
The best of Red's Early Years featuring appearances by Jackie Gleason, Johnny Carson and John Wayne.
31 never-before-released color episodes featuring Milton Berle, Martha Raye and Mickey Rooney.
And Red's complete final season with Jerry Lewis, Jill St. John and Phyllis Diller.
Plus hours of extras including:

A full-length biography of Red with rare home movies and intimate interviews.
A Bonus DVD of Red's Farewell Specials including a Christmas special written by and starring Red

And a beautiful Memory Book for a closer look at how Red's most beloved characters came to life.
WHY BUY?
Definitive Collection: 22-DVD set featuring America's clown prince.
Includes unreleased seasons and episodes from his iconic series The Red Skelton Show!
Perfect viewing for the whole family—packed with hilarious, heartwarming humor.
Deluxe Set: You may have other Red Skelton collections, but you don't have these episodes!
Red Skelton proven sales.
Supported by a national DRTV campaign launched in October of 2016.
Airings on National cable stations and networks.
Comprehensive advertising and social media campaign surrounding street date.
DELUXE SET INCLUDES:
THE RED SKELTON HOUR IN COLOR: THE EARLY YEARS—8 DVDs: The beginning of Red's legendary two decade television journey is celebrated in this 72 episode set. It's a side-splitting look at a true pioneer of television's Golden Age.
THE RED SKELTON HOUR: IN COLOR—10 DVDs: Features 31 never-before-released episodes in their original, brilliant color. Sealed in a vault for over 50 years these are the "lost" episodes from Red's beloved television show.
THE RED SKELTON HOUR: IN COLOR—3 DVDs: Twenty years after The Red Skelton Show first aired on NBC in 1951, the extraordinary Red appeared in his last season. You'll get all 23 full-color episodes of Red's final season.
THE RED SKELTON HOUR: IN COLOR—1 BONUS DVD: A compilation of farewell specials including a holiday tale featuring Vincent Price and Imogene Coca, "Funny Faces" skits and Red getting silly with Britain's Royal Family