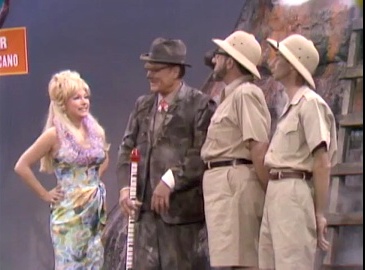 A Beauty Can Skin You Deep – The Red Skelton Show, with Joyce Jameson – season 15, originally aired April 26, 1966
In A Beauty Can Skin You Deep, George Appleby's wife Clara (Joyce Jameson) gets him a new job … measuring the heat of a live volcano! From the inside!
Monologue | A Beauty Can Skin You Deep | On Stage | Silent Spot | Cast
Monologue
I almost caused a traffic accident on Hollywood Boulevard today. There was a car stopped, and they said, "How do you get to Beverly Hills?" I said, "Just follow your nose," and it was Barbara Streisand!
You know, I did a benefit show once Barbara Streisand, Jimmy Durante, Danny Thomas, and Danny Kaye, see. They all sang together. And when they finished, it looked like the end of a yacht race.
I just thought of a funny thing … and it's about time. Can you imagine what would happen if Jimmy Durante tried to kiss Barbara Streisand? They'd set a world record for long-distance puckering!
And I see down in Mexico they won't let Frank Sinatra in down there. One of the Hollywood restaurants here are getting even with them. They're serving Mexican hot dogs here. That's a roll and mustard with no Frank.
Trips
You know it's fun to go on trips, but one thing I can't get used to is packing. There's a neighbor of mine, he says, "You know, I don't like to travel, because when you pack you always take along one thing you don't need." I says, "What's that?" He says, "Your wife."
And there's a lot of things you should know about when you travel. Like in Europe, a lot of those hotels don't give you a towel. And when you step out of a bath over there, you realize that the newest thing that's drip dry is you!
A funny pantomime about an American in Paris, trying to "get something".
Venice
One of my favorite places to travel is Venice. They have those canals, you know. And you should see the traffic signals. They say: Swim, Don't Swim, and Glub-Glub-Glub.
Everything is underwater. The houses are underwater, the basements are underwater, the streets are underwater. And my wife says to me, "They've got the same plumbing we've got."
We went for one of the gondola rides, and those gondoliers are very romantic, they do everything by song. This guy sings, "Should old acquaintance be forgot, and never brought to mind, you wife has fallen overboard, she's a half a mile behind." If you talk to them, they don't understand, you have to sing back: "She's a half a mile behind you say, I need your help my man, please rescue her in time for lunch, we're on the American plan."
Spain
I went to a bull fight in Spain, and a fellow next to me nudges me and says, "You're an American." I says, "Yeah." He says, "You got anything like that in your country?" I says, "What do you mean?" He says, "Just stand there, and a bull rushes at you." I says, "Yeah, we got it, only we call it Congress."
Gertrude and Heathcliffe
Heathcliffe: Did you hear what happened to Cleopatra the Canary? She flew in the meat grinder. Gertrude: She flew in the meat grinder? For heavens sake, what came out? He said: Shredded Tweet.
Pantomime about a fellow trying to save money by hitchhiking.
A Beauty Can Skin You Deep act I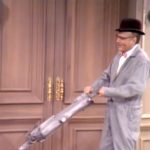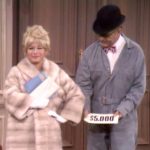 George Appleby is an inept construction worker. After damaging property — including using a jack hammer to make a co-worker bald — his lovely wife Clara comes by. And buys a new $5,000 mink coat! The good news is, she's found a new, better-paying job for him. So she can continue to spend wildly. On a tropical island! Where he has to take the temperature of a live volcano …. From the inside!
A Beauty Can Skin You Deep act II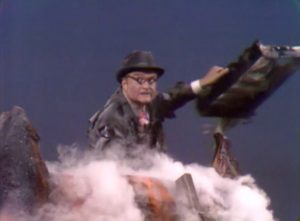 Clara pushes George out of the airplane as it flies overhead …. And he falls directly into the volcano! Surviving this, his supervisor (Henry Corden) tries to show him how to take the temperature of the lava. In the meanwhile, Clara has opened charge accounts at every store on the island! George is about to quit, when the supervisor informs him of a law on the island. Every man must have three wives!
A Beauty Can Skin You Deep act III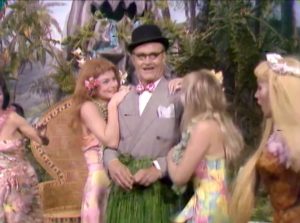 At first, George's head is turned by the attention that the various island beauties are paying him. Until he finds out that the reason they want to marry him is …. So they can open charge accounts across the island! He calls off the weddings. But, Clara is excited to seem him angry … and masterful! So George actually gets a happy ending.
Classic Red Skelton Sketch – The Skylarks
The Skylarks sing I Hate to See the Evening Sun Go Down
Red and Joyce Jameson on stage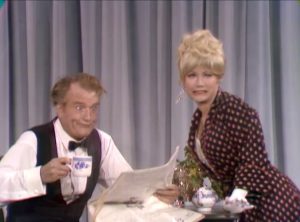 After joking about Joyce's tight dress, and how her kisses can supposedly melt a man's teeth, Red and Joyce recreate a sketch from the first season. Three Stages of Married Life – how the husband wishes it, how the wife wishes it, and how it really is.
The Silent Spot – A Teenager Visits Grandpa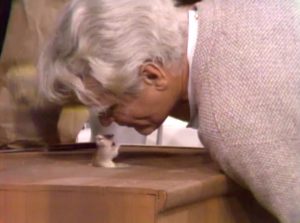 Red plays his old man character, Pops. He's expecting a visit from his teenage granddaughter. She like s her modern music loud! And, he has to deal with a hungry, determined mouse. And the mousetraps that keep catching him, and not the mouse! He fights with an inexhaustible orange juice squeezer, trying to make breakfast for himself and his granddaughter. But she and a hippie boyfriend dance out the door, making a melancholy ending.
Cast of characters
Red Skelton … Self – Host / George Appleby / Gertrude and Heathcliffe / Grandfather-Silent Spot
Patrick Campbell … Assistant Volcano Engineer
Henry Corden … Volcano Engineer
Kathy Gale … Granddaughter — Silent Spot
Joyce Jameson (The Comedy of Terrors) … Clara Appleby
Ray Kellogg … Street Construction Worker, Joyce's boyfriend in Three Stages of Married Life
Abbe Lane … Guest Vocalist
Johnny Silver … Street Construction Worker
Trivia
Abbe Lane sings 'Big Spender.'
The title is based on the proverb: "Beauty is only skin deep."