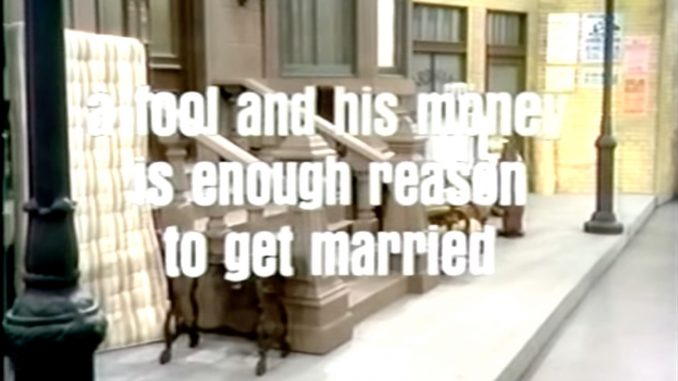 The Red Skelton Hour – A Fool and His Money is Enough Reason to Get Married with George Gobel, season 18. Originally aired October 29, 1968
A Fool and His Money is Enough Reason to Get Married – George Gobel appears in a San Fernando Red sketch, portraying a too-short millionaire who falls in love with a too-tall damsel, Jan Davis.
Monologue
Red begins his monologue with some prop comedy, talking about the upcoming Halloween holiday. He pulls a red wagon on stage, with various props
I love Halloween. It's the only time that Tiny Tim looks good.
[pulls chair out of wagon] This is the chair that rigor mortis set in.
[pulls out an electric blanket] Here's a sheet. See, cold sheets are what makes ghosts shiver. This one has an electric blanket!
[pulls out a prop balloon, that has a smaller balloon attached] Here's a witch's broom for Beverly Hills. You can take a friend with you.
[pulsl out a record] A record of Boris Karloff, Vincent Price, Bela Lugosi and Agnes Morehead singing, "A Haunting We Will Go".
Here's a soap and towel to scare hippies!
Then we have two punch bowls in the wagon. That's in case at the party you want to pull your punches!
When I was a kid, we used to live near a cemetery. You know what I can never understand about a cemetery? They put a fence around it. Now, nobody's coming out, and very few people want to go in!
Halloween is when all the superstitions come you. You know, I have a brother that's very superstitious. He won't work on any week that has Friday in it.
Two drunks were talking. One says, "Did you ever talk to an old witch on Halloween?" The other replies, "I certainly did." "What did she say?" "The same thing she always says – take the garbage out!"
A Fool and His Money is Enough Reason to Get Married
Act I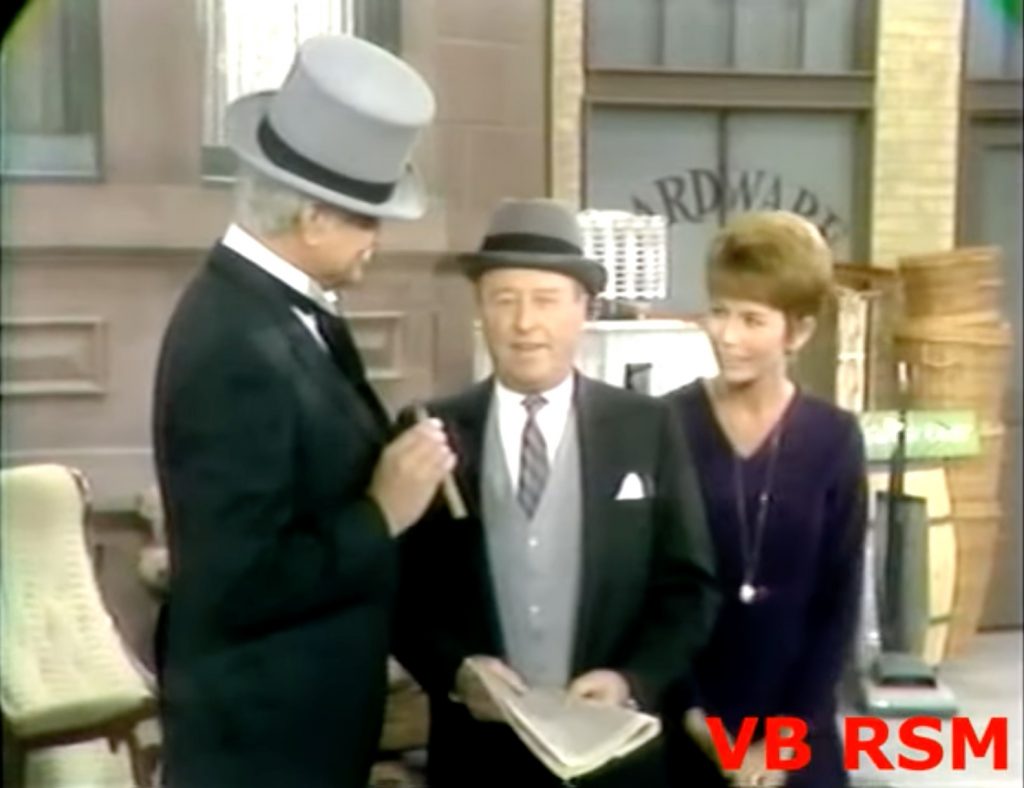 San Fernando Red is being thrown out of his boarding house for failure to pay rent. With the help of his assistant Ruby, and a vacuum cleaner, he scams a passerby out of her groceries! Then, he sees his next mark — a rich man, out jogging. He's a short man, who's been in love with a beautiful, tall woman since infancy. If only San Fernando Red could help him get taller …. Where there's a wallet, there's a way!
Act II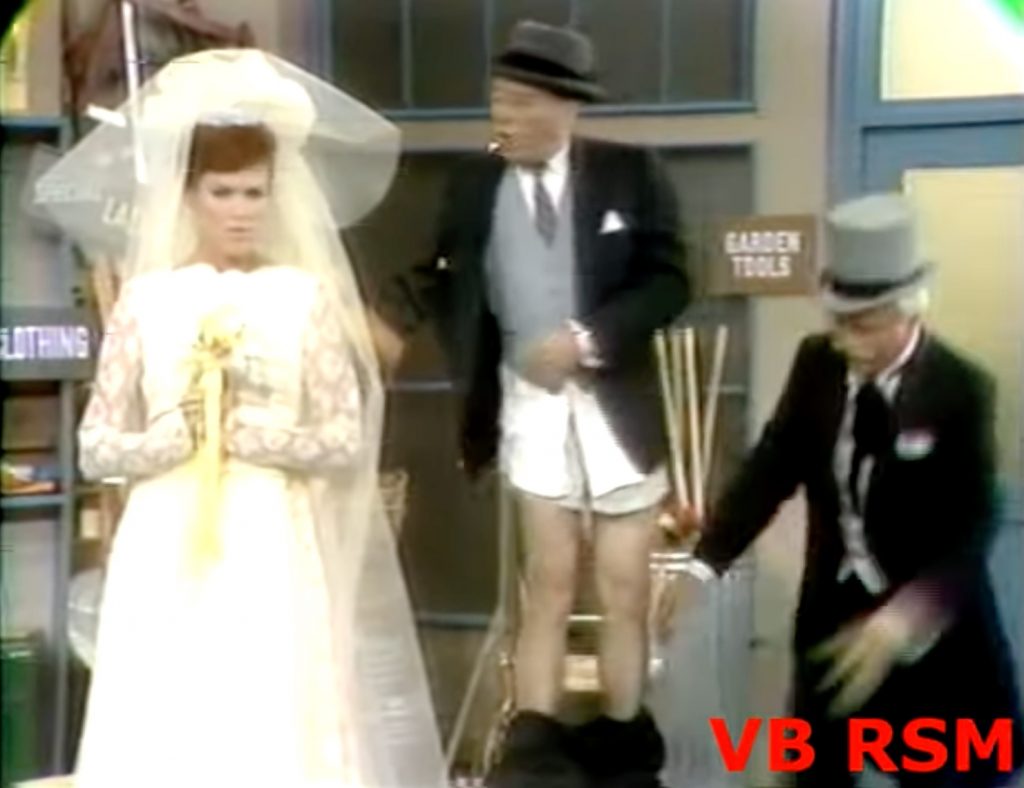 San Fernando Red is trying to help Richard Cornwall III grow taller, quickly. San Fernando Red's neck-stretching drive, although comedic, doesn't make him any taller. So, San Fernando goes to his standard procedure — cheating! He has Richard stand on a box, with a pair of pants with really long pants legs. The type that a stilt walker would use. San Fernando tries to provide music for the wedding, playing (badly, but comedically) on a musical saw.But when the bride-to-be, Penelope, shows up, there's a running gag of the long pants falling down. Following the Rule of Three, on the third time, Penelope turns around and finds out that Richard isn't any taller — the wedding's off!
On stage
Red Skelton (still in his San Fernando Red outfit) and George Gobel meet on stage. After some verbal banter, George decides to prove to Red that he's not afraid of his wife! He calls home, and is very firm! But then …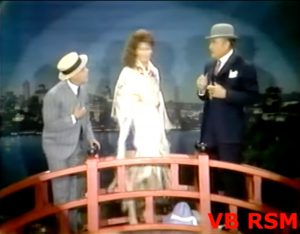 The Olio Spot – The Bridge
In the Olio Spot, Red meets a robber, a cop, and a would-be suicide in the middle of a bridge. It's a funny bit, very fast-paced. It ends with a lovely young woman, about to commit suicide. Because, her lifelong dream of becoming a singer is a failure. But, Red encourages her to sing for him! And, she does …. Singing absolutely terribly! So, red puts her out of her misery!
The Silent Spot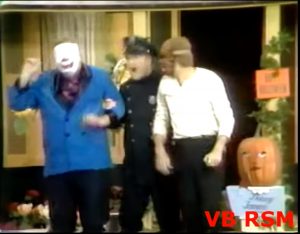 In the Silent Spot, Red plays twins – Prissy Jones and Slob Jones. One is nice, the other nasty. They thoroughly confuse a band of trick-or-treaters. Not to mention fighting with each other! And finally being arrested, while wearing their respective Halloween masks — By police officer Red Skelton!
Cast
Red Skelton … Self – Host / San Fernando Red
George Gobel (The Birds and the Bees) … Richard Cornwall III
The Mills Brothers … Themselves – Guest Vocalists
Barbara Bostock (Visit to a Small Planet) … Ruby
The Alan Copeland Singers … Themselves
David Rose and His Orchestra … Themselves
Jan Davis … Penelope (Tall Damsel)
Bob Duggan Bob Duggan
Art Gilmore … Self – Announcer
Beverly Powers … Girl in Olio skit
Tom Hansen Dancers … Themselves
Fred Villani Fred Villani
Songs
The Mills Brothers perform 'Opus One' and 'Shy Violet.'
Jokes
Richard Cornwall III: I'm only short because of my height.
Richard Cornwall III: I'd shoot myself, but I'm such a small target, I'd probably miss.
San Fernando Red: Your face looks like a rooster at an egg-laying contest