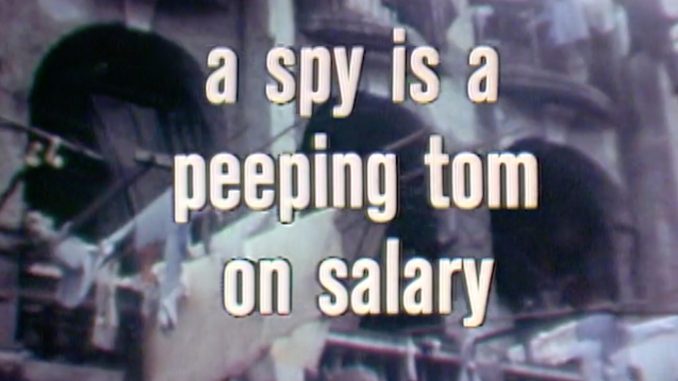 A Spy is a Peeping Tom on Salary – The Red Skelton Show, season 17, with Fernando Lamas – originally aired October 10, 1967
In A Spy Is A Peeping Tom On Salary, George Appleby (Red Skelton) is on vacation with wife Clara (Emmaline Henry) in Hong Kong. They accidentally get wrapped up with Master Spy Harry Sneak (Fernando Lamas) and his secret assignment. To protect Billy Barty!
Monologue
Did you hear what happened this afternoon? It rained out here, and did you hear what happened to the Los Angeles River? Mother Nature spanked it for gettin' its bed wet!
Bingo
And a terrible thing happened. They have a game down there called "Aw, Nuts". A bunch of people sit around, with little pieces of corn on a board, see, and one guy yells out "Bingo!" and everyone else says, "Aw, nuts."
There was one guy, he yelled at the Bingo game, he yelled "1A" and somebody fainted. I turned around, it was George Hamilton.
Gertrude and Heathcliff
There were two seagulls talking. He says, "Um, Gertrude?" She says, "Yes, Heathcliff?" He says, "I'm disgusted with that duck's kid next door. That duck's kid is the stupidest thing I've ever seen. He's a blockhead. He's a blockhead! That's what that duck's kid is, a blockhead." She says, "Well, what did you expect? She married a decoy."
Red pantomimes giving his dog a bath, to get rid of fleas.
A Spy is a Peeping Tom on Salary – Act I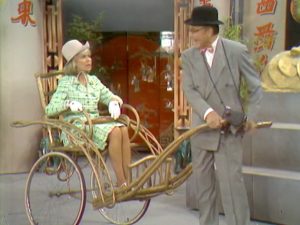 George Appleby and his wife Clara (Emmaline Henry) are on vacation in Hong Kong. First, George looks as a beautiful Chinese girl instead of taking Clara's picture, and gets in trouble. Soon, they stumble into violence! Several thugs are killed — but clean up after themselves! And Master Spy Harry Sneak (Fernando Lamas) mistakes George for his contact …
A Spy is a Peeping Tom on Salary – Act II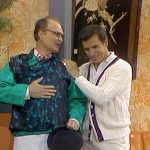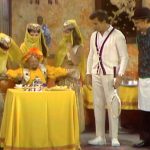 George has been conscripted to work as a waiter in a restaurant. He and Harry are under cover. They're protecting the Maharajah of Kumquat – Billy Barty! George gets a very long fortune cookie, then the Maharajah enters, with a few of his beautiful wives. Soon, Fernando begins playing music on his tennis racket, while Billy dances.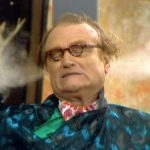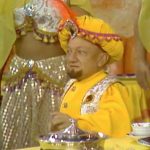 Then, the assassination attempts begin! After Harry does the impossible with his tennis racket, George accidentally swallows an exploding fortune cookie! Fortunately, after twenty years of Clara's cooking, his stomach can stand anything!
Red Skelton and Fernando Lamas on stage
Red Skelton: I'm not bad lookin'. This afternoon, some girls looked and they said, "Boy isn't he good lookin'. He's really handsome, isn't he?"
Fernando Lamas: They did?
Red Skelton: If you don't believe me, you can ask Rock Hudson, he was standing right next to me.
Fernando Lamas: Are you attractive to the opposite sex?
Red Skelton: Why, every time Gigi sees me, she jumps right into my lap.
Fernando Lamas: Does your wife know?
Red Skelton: It's her dog!
Fernando demonstrates his Karate chop by chopping a brick in half. Red tries to one-up him with two at a time. Fernando warns him … but Red's sneeze destroys the two bricks, and the brick background behind them as well!
Red and Fernando then perform some one-minute dramas:
London Bridge: English Bobby Red prevents a woman with her baby from jumping off the bridge. With a very homely baby … A very funny skit.
Death Row: self-service. I have to admit, this left me cold.
Barber Shop: Red, getting a shave in a barber shop. "Mr. Smith, your house is on fire!" Slapstick damage to the shop until he realizes … his name isn't Smith!
The Silent Spot – Two in a Room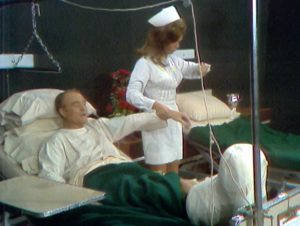 Two in a Room is a very funny silent skit, beginning with Red Skelton being hospitalized for gout … and nerves. He wears a clown-sized "boot" on his foot, that he keeps accidentally kicking, being kicked, etc. There's a lot of funny slapstick with two nurses – one beautiful, one less so.
Eventually, he gets a noisy roommate. And then, the roommate's friends come by for a visit, and a party! Red needs rest, so he tries to leave the room. An unintentionally funny moment happens, when the stage door won't open.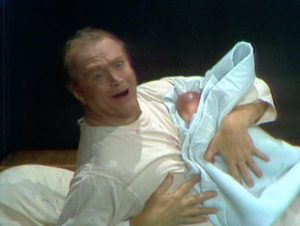 After a few tries, he simply walks around the wall, into the next room, where he lies down. Being medicated, he falls asleep … And then the beautiful nurse brings in a baby that she gives to the sleeping "mother". And when the crying wakes up the sleeping Red … Once he finds it, he's ecstatic — he's a father!
Songs
Cast of characters
A Spy is a Peeping Tom on Salary is available for viewing on TubiTV, Amazon Prime