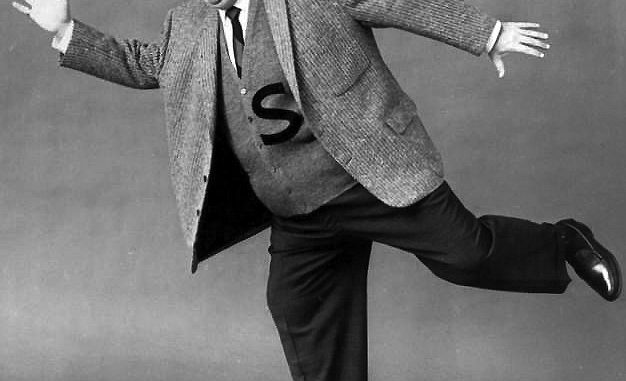 A Thousand And One Arabian Nuts, guest star Stubby Kaye – The Red Skelton Hour season 15, originally aired February 22, 1966
In A Thousand And One Arabian Nuts, carpet manufacturer Abou-Smart (Stubby Kaye) establishes Gazundheit Airlines after his brother Abou-Boob (Red Skelton) invents the flying carpet.
Monologue | A Thousand And One Arabian Nuts | on Stage | Silent Spot
Opening Monologue
Pantomime about how a person' personality changes once he's behind the wheel of the car.
A Thousand And One Arabian Nuts – Act I
Red Skelton as the stupid son of Fatima (Muriel Landers), Abu-Boob. He unwittingly insults one of the Sultan's wives with one of his inventions. Another invention, a turban with a propeller, flies off with a customer's toupee. His mother sends him to his brother's carpet family, in hopes that he can get hired there.
Red Skelton: [starting at harem wife's belly] What a strange place for a button with Richard Burton's picture! It must be a belly Burton!
A Thousand And One Arabian Nuts – Act II
Stubby Kaye as Fatima's other son, Abu-Smart, who successfully runs a carpet establishment. Abu-Smart and Fatima try to hug, but bump off their stomachs. "That's what I call a belly laugh." Stubby and Red do a musical number, "There are Rugs". Abu-Boob grabs a rug that a customer is standing on, and he goes out the window. A sneeze sends a carpet flying, inspiring Abu-Boob to create the first airlines, Trans Gesundheit Airlines.
A Thousand And One Arabian Nuts – Act III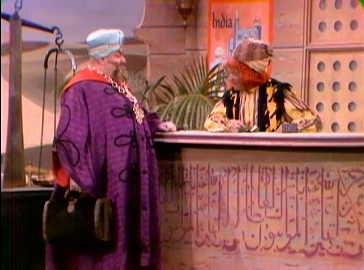 Stubby Kaye, as pilot, sings "Off I go into the Wild Blue Yonder" as he leaves to fly a carpet. Mother Fatima brings a fresh back of homemade pepper.
Fatima: I guess you're the wrong brothers to invent flying,
Abu-Boob: Yes, I guess history will have to wait for the right (Wright) brothers.
Classic Red Skelton Sketch – Clem Kadiddlehopper sells toothpaste & shaving cream
Red Skelton on Stage
Red demonstrates singing in front of a microphone for a commercial.
Do you have variclose veins? Are your veins too close together?Do you see spots before your eyes? And after they're removed, do they leave circles?Do you have halitosis, which is better than no breath at all?Friends, there's no need to suffer. Lay down and die.
Which segues into a commercial for a funeral parlor!
Songs
Stubby Kaye sings a medley of
The Silent Spot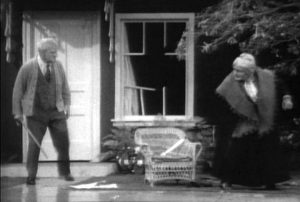 Red pantomimes a mean old man who lives next door to a mean old lady (played by stuntman David Sharpe).
Red's old man character, Pops, is feuding with his neighbor over the falling leaves from her tree. She comes out & starts playing music on her Victrola, walking him up. He throws away her record, kills her flowers, with weed killer, etc. She retaliates by destroying his hat. He goes to put a sprinkler under her seat, but she shoves it down the back of his pants instead!
Pops empties his trash inside her house. When she goes to retaliate, he blocks his doorway — so she throws it through the window instead! Finally, he sprays her tree with weed killer, only for all of the leaves to fall on him.
While they're fighting, a woman abandons an infant on Red's doorstop. For the sake of the baby, they reconcile, and decide to marry in order to raise the child.
Cast of characters
Updated 10/4/2020