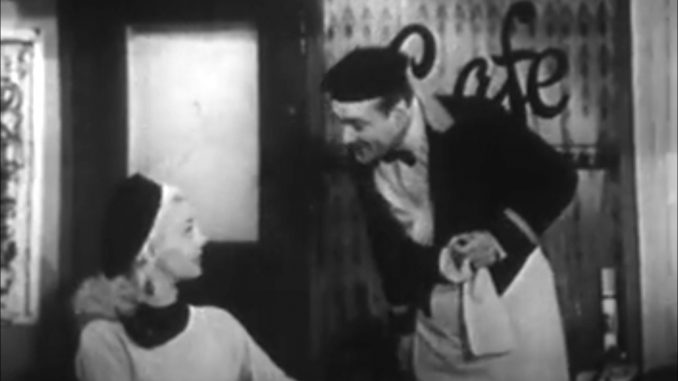 Red Skelton, Clem Kadiddlehopper, and Cauliflower McPugg sing. As do musical guests The Sportsmen. And then, Red tries to track down a spy at the Cafe Paree — which turns into a Tide commercial.
Monologue | Mockingbird Hill | Music | Cafe Paree | Skelton Scrapbook
Monologue
I had a lot of fun this week. I saw Mervyn LeRoy's "Quo Vadis". It's really a wonderful picture. It goes for about three … About close to three hours. I enjoyed every hour of it, though. I didn't see all the picture, the kid in front of me grew up.
Speaking of kids, my little boy, Richard, came in this week and he had a black eye. And I says, "Who gave you the the black eye?" And he says, "Nobody! I had to fight for it."
I said, "What've I told you about fighting?" He says, "Evidently, not enough."
He says, "But it wasn't my fault. This Ira Hawkins, this little boy, he's much bigger than I am. He come over and he did [crying] he hit me, smacked me around." I says, "I wouldn't cry like that if I were you," and he says, "Well you cry your way buster, this is mine."
He wanted to take his tricycle to school with him the other day. I said, "What for?" He says, "Well I let little girls ride on the rumble seat, it's easier to pick up girls that way, you know." I said, "There's no rumble seat on your tricycle." He says, "I know that, you know that, but some of them little girls are pretty stupid."
Mockingbird Hill song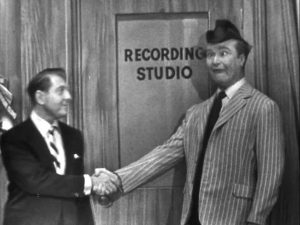 A funny routine, where David Rose has a running joke of going to a music store to buy his own album.
Shirley Mitchell: They've been selling like hotcakes!
David Rose: I wish they'd sell like records.
The set up allows Red as himself, then as Clem Kadiddlehopper and then Cauliflower McPugg, to sing Mockingbird Hill. A funny segment.
Music segment
Musical segment – The Sportsmen quartet perform "Let's Do It Again". Next, they imitate Paul Whiteman's Rhythm Boys, singing "Mississippi Mud".
Skelton's Film Scrapbook – Cafe Paree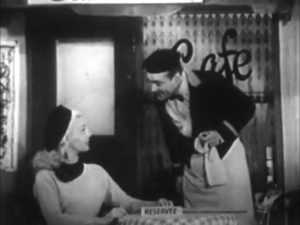 Red Skelton plays a G2 espionage agent, in post World War II Paris. He's trying to track down a French spy. The femme fatale is played by Lucille Knoch. It's a funny skit, as Red's lack of French comes into play. He uses the help of a French gendarme to help translate. At first, this is strict comedy. But later, Lucille's boyfriend comes in … He thinks that Red is hitting on his girlfriend, and tears Red's waiter costume apart! After, the boyfriend has a secret coded message that the gendarme translates … into a Tide commercial. The skit ends with Red opening a bottle of the "good stuff" for the foursome … spraying them all!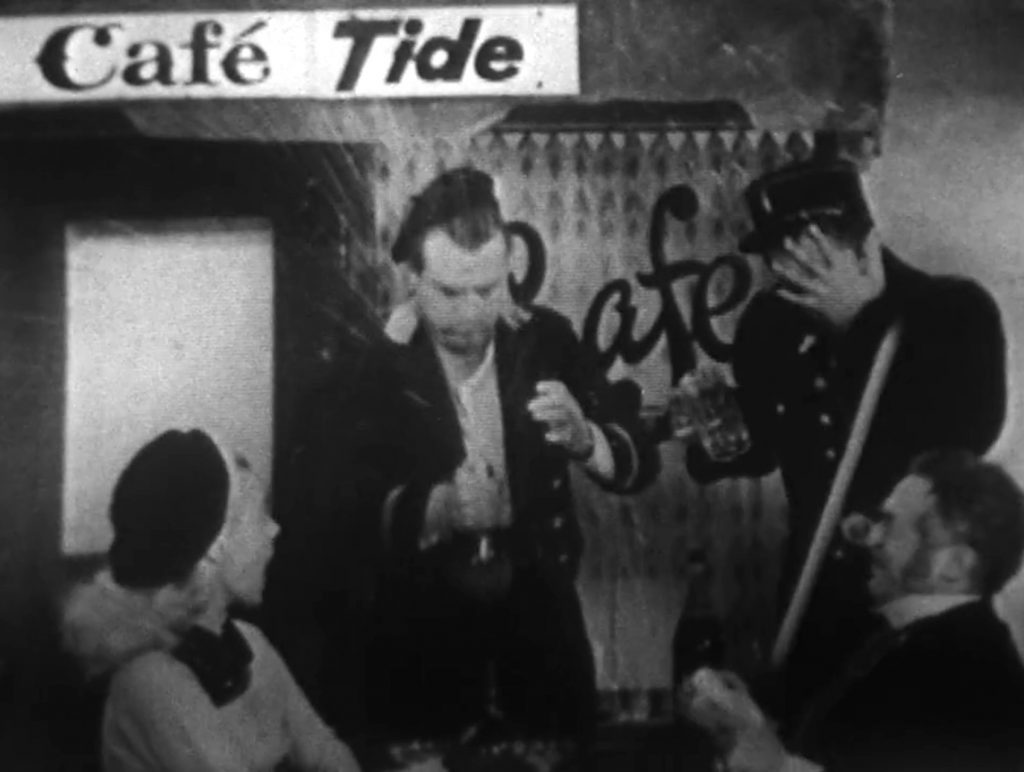 Skelton Scrapbook – If Adults Acted Like Kids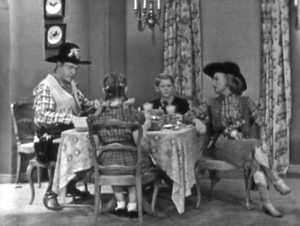 Red and Shirley Mitchell play parents acting the way their children act. At the time, television was heavily into Cowboy shows.
Shirley Mitchell: I'm so hungry I could eat a horse!
Red Skelton: I could use a helping of Trigger myself! With a side order of Roy Rogers! [to the audience] Tongue got wrapped around my eye tooth — I couldn't see what I was saying!