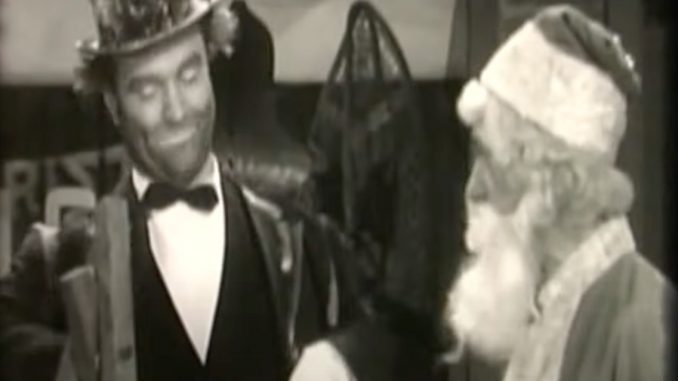 Christmas is a funny, sweet, and fast-paced episode of The Red Skelton Show. It's Christmas-themed, with appearances by Red, Clem Kadidddlehopper, and Freddie the Freeloader. It's frankly hard to believe they squeezed this much comedy in only 30 minutes! Enjoy!
In the Department Store Red Visiting Santa Claus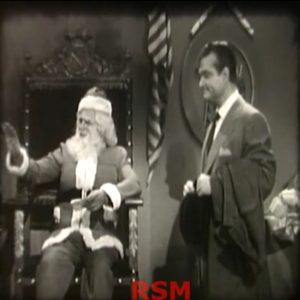 Christmas begins with Red Skelton visiting a department store Santa Claus — again. Apparently, Santa's getting tired of Red's revisions, as he leaves shortly after. But Red is joined bay Lucille Knoch and Ned Glass. There's some clowning around, as Ned talks about the deluxe electric train he's buying for Christmas. For his kids? He's not even married!
Different People Buying Toys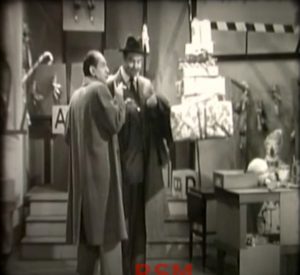 Next, Red demonstrates a gag that he plans to do on the show "in the future" with a stack of presents. After, Red does a short Mean Little Kid sketch, with Lucille playing the mother. He throws a tantrum over not getting aa new red ball. But she relents, and he tells the audience, the he knew he was going to get it! Finally, there's an excellent example of prop comedy, as Red and Ned look at a giant Christmas box. It's a very funny, surprising "what's in the box" routine.
Explaining Christmas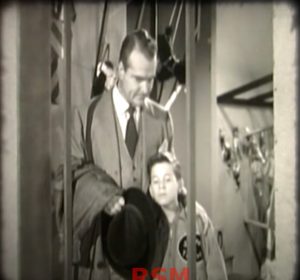 Next, Red interacts with a young boy at the store. Since he didn't get the catcher's mitt that he asked for last Christmas, he's disillusioned about the entire thing. Including all of the Santas that he sees during the season. Red tries to explain that those are helpers, and how everyone tries to help at Christmas time. He takes the boy to the window, and points out various individuals trying to help at Christmas time.
This leads to the major part of the episode, as Red plays three different characters, each of whom are trying help in their own way. His French character, Jacques de Jerque, Freddie the Freeloader, and Clem Kadidlehopper. Though how much "help" Clem is, is clearly debatable. And Freddie's more or less shamed into helping.
Dressing the Window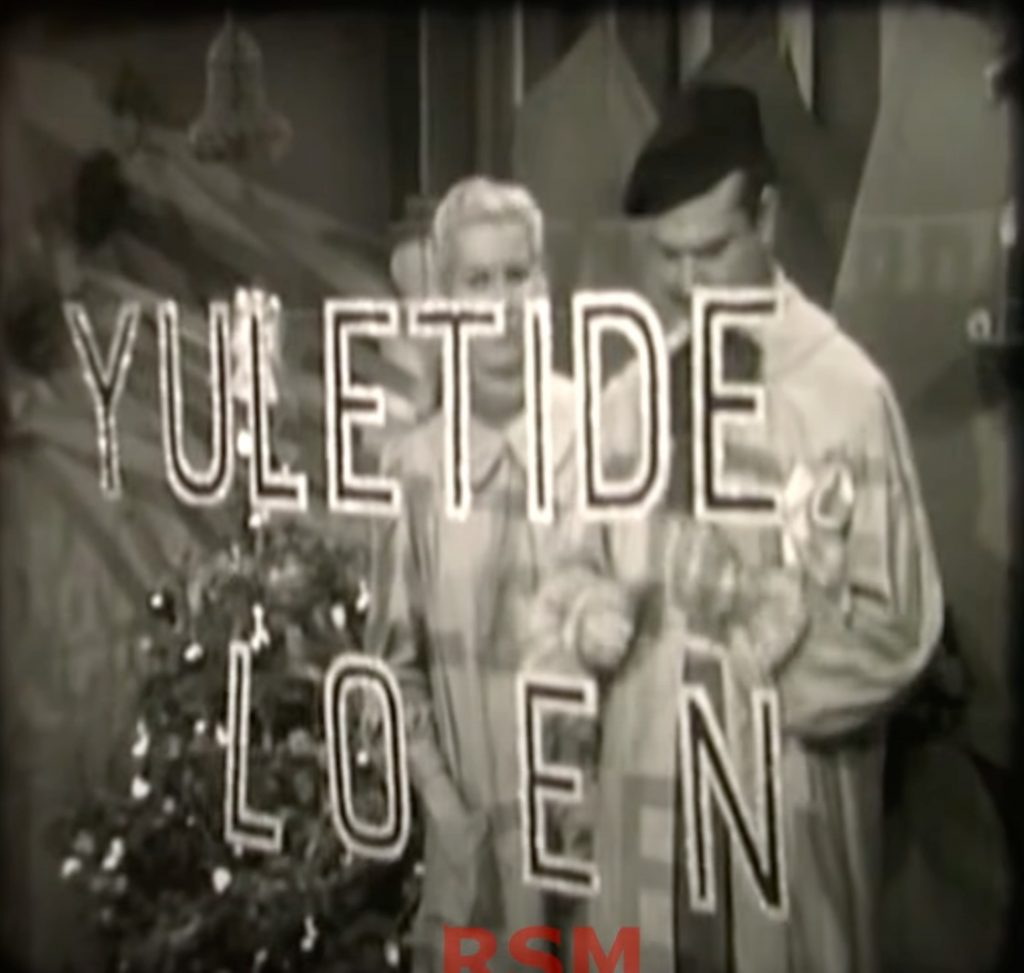 A Tide commercial that's both funny and seasonal. Red, as Pierre, is helping Lucille Knoch. They're putting up letters on a store display, spelling (at first) Yuletide Noel. But he adds letters, and rearranges them to read, "Yule Love Tide"
Freddie the Freeloader (First time with top hat and tails)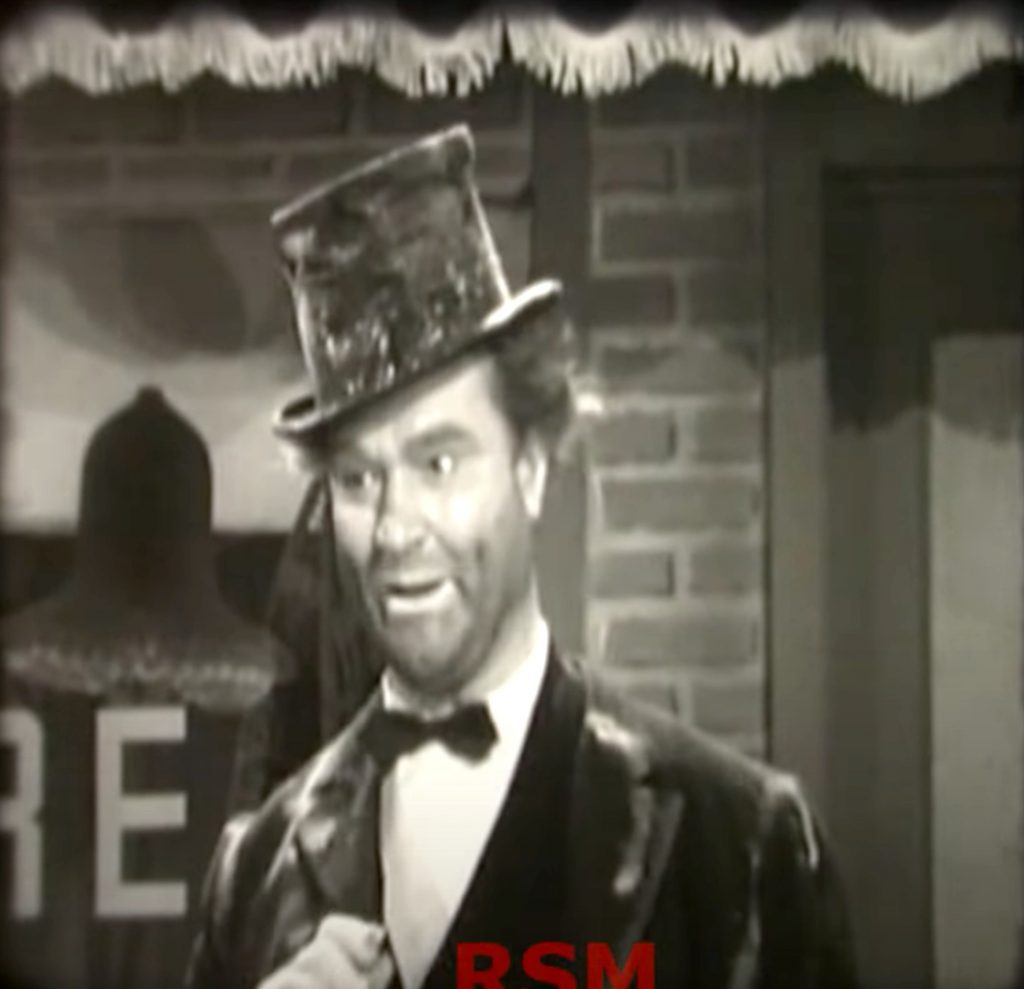 But Freddie the Freeloader's mind isn't on helping as much as it is on mooching. He goes to a Santa Claus, ringing his bell to gather donations for the needing into his kettle. Freddie tries to persuade him that, since he's needing, Santa can just give the money to him and cut out the middle man! Santa's not buying it. When Santa walks away for a bit, Freddie "borrows" a bell and kettle, and starts collecting donations.
He's stunned when one man gives hundreds of dollars! But before Freddie can abscond with it, a lady from the charity organization arrives. She thanks him for his good work, and reminds him of all the children he's helping. Freddie's never stolen from children, so the soft-hearted Freddie the Freeloader lets her take the money. But then, his larcenous nature kicks in, and he "gives" a man a wallet — with his own initials already! That he's pickpocketed. And, that he pickpockets again as the man walks away!
The Post Office (Clem)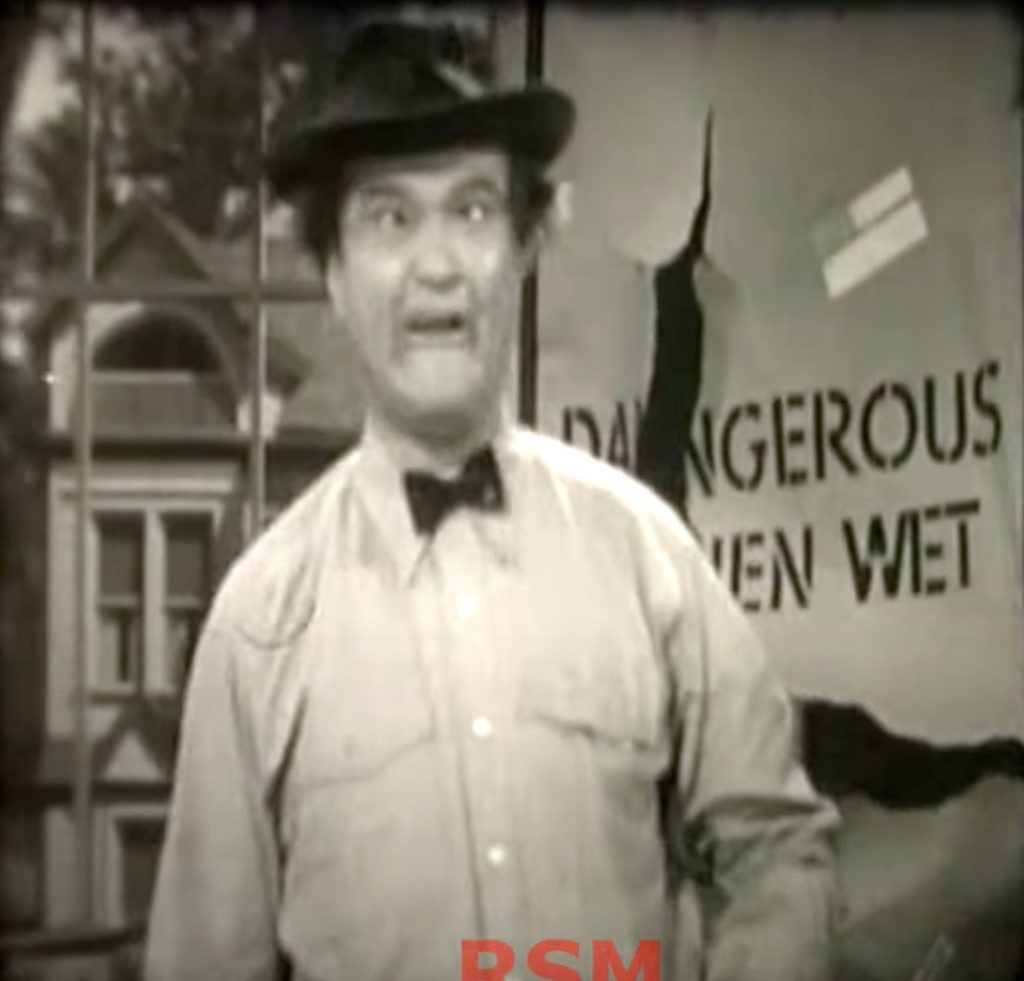 Clem Kadiddlehopper is working at the Post Office during the Christmas rush. And generally making a massive mess of things. Some highlights include stamping his co-worker's "delicate" package, and mailing their telephone to New York! But then, at the end, there's a large "monster" package …. That's following Clem! With two hair arms breaking out! So, Clem runs for his life.
How is Clem helping? By quitting! And the young boy declares that he's rediscovered the Christmas spirit, and he's buying his mother a present. A catcher's mitt!
Christmas message
"Christmas is a time of good cheer. It's a holiday marked by the giving and accepting of presents and warm fellowship. But beyond the cloud that separates the good spirit from good thinking, many of us have forgotten the true meaning of the word 'Christmas'. Christmas is the birthday of the Christ child, and not a holiday for the greedy. One of the greatest presents mankind could receive this Christmas Day would be peace on Earth, happiness and understanding throughout the world. And if we all tried, we could have it. Good night, God bless, and from all of us – Merry Christmas to all of you."

Red Skelton
Cast
Red Skelton … self / Mean Little Kid / Freddie the Freeloader / Clem Kadiddlehopper
Lucille Knoch – herself / Mother in Mean Little Kid sketch / window dresser
Ned Glass – department store