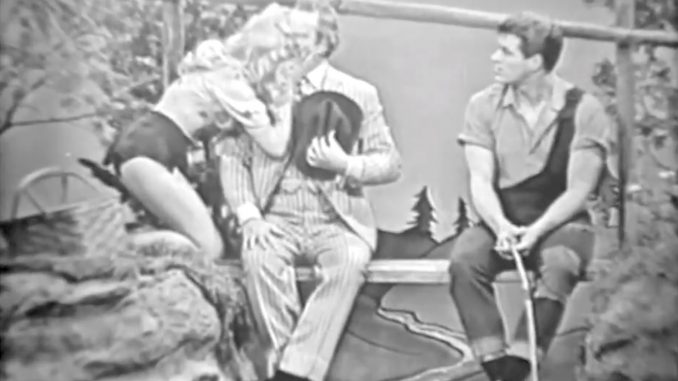 Clem in Dogpatch – The Red Skelton Show, season 9, with Al Capp, Stubby Kaye, Leslsie Parrish
Clem in Dogpatch is a tie-in to the movie, Li'l Abner. It begins when Clem Kadiddlehopper visits cartoonist Al Capp, desiring to visit the mythical town of Dogpatch.
Clem in Dogpatch
The sketch begins when Clem visits Al Capp in his office. Clem wants to visit Dogpatch. Al tries to convince him that it's imaginary. But, Clem gets there anyway.
Stubby Kaye sings about the founder of Dogpatch, Jubilation T. Cornpone. Afterward, Daisy Mae is talking to her heartthrob, Li'l Abner. And he accidentally pokes himself with the hook on his fishing rod. Daisy Mae kindly offers to kiss it and make it better …
"No kissin'! Kissing can lead to engagement, engagement to wedding, and before you know it, we'd be goin' steady!"

Li'l Abner
Daisy Mae wishes for a strong, handsome, intelligent young man — but Clem walks in!
Clem is madly in love with Daisy Mae, but she doesn't reciprocate. She wishes that Li'l Abner loved her like that. Marryin' Sam suggests that she gets Abner jealous by having a stranger kiss her. And the only stranger in town is Clem …
Clem visits Li'l Abner while he's fishing. "Sit a spell." "I may as well sit, cuz I can't spell!" Daisy Mae comes by to make Li'l Abner jealous by kissing Clem. Which does nothing to Abner, but Clem all but passes out!
Daisy: "… hominy grits."
Clem: "How many grits? I don't know how many. Four or five ought to be enough, I guess."
Act II
While Clem visits Marryin' Sam (a funny bit, beginning with the doorbell), Daisy Mae visits Nightmare Alice. She gets a potion to make a man fall madly in love with the first woman he sees.
Li'l Abner doesn't want to drink the water from the well, since it has "fallout". "I saw Pappy lean over the well, and seen his teeth fall out!" Li'l Abner and Daisy Mae go into the shack. But Clem comes by, drinks the potion and …. Falls in love with a pig!
After the marriage ceremony, the show cuts back to the office of Al Capp. He asks Clem if he enjoyed his visit to Dogpatch. And the sketch ends with Clem leaving with his pig bride!
Cast
Red Skelton … Clem Kadiddlehopper.
Al Capp … Self. The creator of the "Li'l Abner" comic strip.
David Rose and His Orchestra … Themselves
Art Gilmore … Announcer
Stubby Kaye (Cat Ballou) … Marryin' Sam. The local preacher (and singer).
Peter Palmer … Li'l Abner. The handsome, young, allergic-to-marriage central character of the comic strip, play, and movie.
Leslie Parrish (Three on a Couch) … Daisy Mae. The lovely young woman who keeps chasing Li'l Abner. But, he keeps getting away. So she tries to make him jealous by marrying … Clem?
The Skelton Dancers … Themselves
Songs
Opening musical number by the Skelton Dancers, "Welcome to Dogpatch"
Jubilation T. Cornpone. Sung by Stubby Kaye and the Skelton Dancers.
"If I Had My Druthers", sung by Peter Palmer.