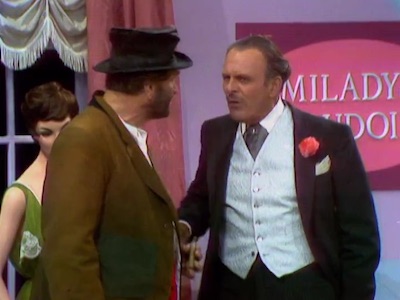 Clothes Make the Bum – The Red Skelton Show, season 17, with Terry-Thomas and Nancy Wilson, originally aired October 17, 1967
In Clothes Make the Bum, Freddie the Freeloader accidentally gets involved in a fancy department store fashion show. Despite the best efforts of Terry-Thomas and Nancy Wilson!
Monologue | Clothes Make the Bum | Classic | Comedy Blackouts | Silent Spot | Cast | Music
Monologue
Jokes about Twiggy
[Editor's note: Twiggy was a model and actress, noted for her very thin look]
Twiggy's gonna make a movie! She's gonna play the part of Lady Godiva. Who do you think was the second choice? Don Knotts!
When I was in London last summer, I went to a party and Twiggy was there. We sat around and ate on the floor. A big dog walked in, he looked at Twiggy and says, "Well, they're serving my meals in bigger bowls now!"
Did you hear what happened to Twiggy the other day? Terrible. She's been walking like this [bent over] for four days now. She was taking a bath, and somebody pulled a plug. And she got stuck in the pipe for three hours. With a girl like that, you don't mess around with a roto-rooter!
In Washington, they're talking about sending foreign aid … to Twiggy. Well, why not? She's an underdeveloped area!
Did you realize that little Twiggy only weighs 92 pounds? And when she puts on stretch pants, she's got a terrible problem, you know. What to put in the other leg!
The fashion's all the Twiggy look. The girls are losing so many curves, you know, pretty soon the boys will be boys …. And the girls will too!
Mini skirts
I was reading one of those "advice to the lovelorn" columns, and it says, "My measurements are 38-22-36, I have flaming red hair, and I wear nothing but mini skirts. What should I carry with it?" And the answer was, "A police whistle!"
I don't want to say anything against the mini skirt, but I've had sweaters that hung lower.
The way it's going now, that the dresses are going higher … I don't know which is going higher, the girls' dresses or my eyebrows!
I don't want to brag, but anytime I see one of those girls in a mini skirt I say, "Get thee behind me, Satan!" And that way I can get a better look!
The hem lines are getting higher and the neck Lins are getting lower. Heaven forbid they ever meet!
Whatever happened to the good old days when girls wore lavender and lace? The only time you see lavender and lace nowadays is when Liberace pulls out his handkerchief.
Tent dresses
The girls are wearing those new tent dresses. There's a laugh for you! They're straight up and down, straight up and down. I know one girl was wearing one of those dresses, she's from the South. And she walked in and said, "Is that you all?" I says, "Is that all you?"
My wife got one of those tent dresses, and she didn't know it …. 'Til she got home and two elephants was following her.
Can you imagine wearing one of those dresses? "My dear, that's a lovely dress you're wearing. From Paris?" "No, it's from Barnum & Bailey."
Clothes Make the Bum
Act I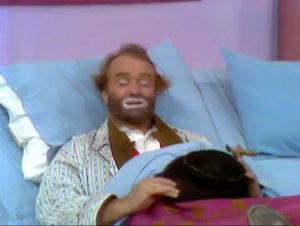 Clothes Make the Bum begins with Freddie the Freeloader breaking into a department store. He's simply looking for a place to sleep. It's a funny bit, as he brushes his teeth (with electricity — not an electric toothbrush), reverses his coat to reveal his pajamas, and lies down in a bed for the first time in years. And, promptly falls asleep.
In the meanwhile, Horace Fussbudget (Terry-Thomas) comes in to prepare for the upcoming fire sale, and puts a mannequin in the bed next to Freddie. Freddie, dreaming, starts talking to the mannequin. He holds her hand …. And unintentionally pulls her arm off! Horace tries to intervene, but the store manager (Milton Frome) misunderstands …. And thinks that Horace is sleeping on the job! He summarily demotes him to lady's clothing. And their fire sale is about to begin!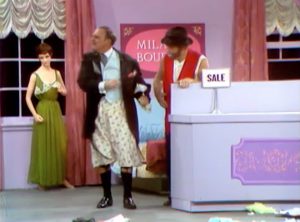 Soon, the department store's fire sale begins. And it's a chaotic, funny scene. Freddy actually loses his coat to the frenzied shopper. But Horace has it worse! He literally loses his pants! "Bring back my trousers!" And, despite his work, he's demoted again! Now, he's in charge of the department store's upcoming fashion show. But, he appreciates Freddie's attempts to help him …. Which leads to the fashion show.
Act II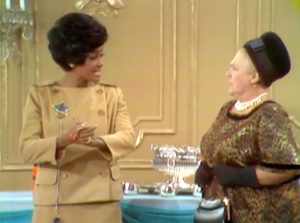 At the fashion show, the audience meets the store detective (Nancy Wilson). She's very funny, with telling a joke with a straight face, making it even funnier. One of the patrons let's her know that Freddie's hiding under the buffet table …. So, she climbs under the table as well, and the chase is on! The actual fashion show is a funny, enjoyable disaster — in no small part thanks to Freddie the Freeloader.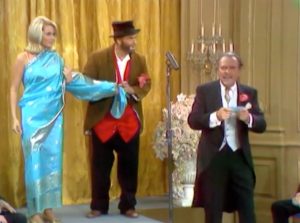 He's hiding under the buffet table at first. Later, he's dancing with one of the older patrons of the fashion show …. And then he gets more involved, accidentally! He actually ends up on the stage (while running from the store detective and store manager). He tries to match Horace's description of the model's outfit. Then, he accidentally unravel's a lovely model's sarong!
In the end, poor Horace Fussbudget is fired …. And Freddie kindly invites him to live with him at the dump as a bum! And, Horace agrees, ending the skit.
Classic Red Skelton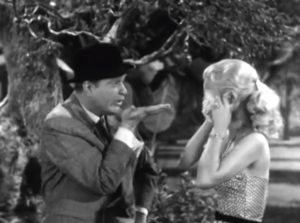 As Weepy, Red performs at a germophobe in a park. In love with the lovely Lucille Knoch. But he's afraid to touch her! So, he puts a mask on her, sprays her down, and blows her a kiss! And this is decades before the Covid-19! Proves that everything old is new again.
Comedy Blackouts
The Air Conditioner – Red wants to buy a van that's very cold from Terry-Thomas.
The Psychiatrist – Psychiatrists Nancy Wilson and Terry-Thomas try to convince Red that he's not a chicken.
The Argument. – the arguing couple see a man being dragged off to prison. Why? For shooting his wife! What did he get? Two weeks! So the husband drags the wife off stage, and we hear a shot! "Two weeks, and then they hang me!"
Silent Spot – Pop's Grocery
Red plays his elderly Pops character as an old grocer besieged by complaining customers. But frankly, we can't blame them for complaining, given how Pops treats his customers!
Photo gallery for Pop's Grocery – the silent spot in "Clothes Make the Bum"
Cast
Music
Nancy Wilson sings, 'Up Tight' and 'Music That Makes Me Dance.'
The Tom Hansen Dancers are featured in a production number based on the song 'Taco Holiday' by Red's musical director, David Rose.