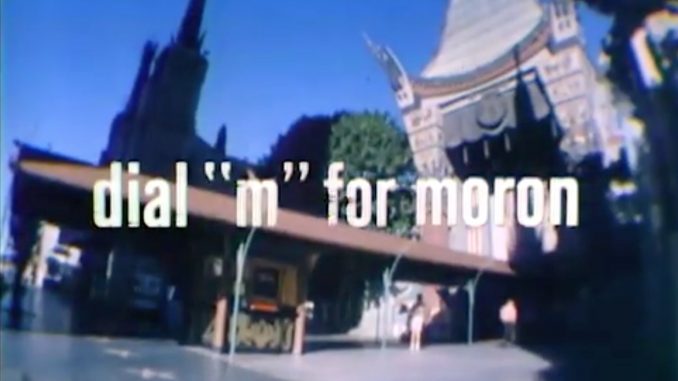 Dial M for Moron – The Red Skelton Hour season 17, with Phyllis Diller, originally aired January 23, 1968
Dial M for Moron – Can Clem Kadiddlehopper help a once-great silent film actress (Phyllis Diller) make her comeback movie? What's a cow got to do with it?
Monologue | Dial M for Moron | Classic Red Skelton | On Stage | 1 Minute Dramas | Jokes | Cast
Monologue
We've got Phyllis Diller on our show tonight. She's a woman of her word …. When she says she's going out to the kitchen to scare up something to eat, she means it!
She went to the beach, and two big dogs were staring at her. One says, "You trying to figure out which of us are gonna bury her?" He replies, "No, I'm trying to figure out who dug her up in the first place!"
She says to me, "Don't you think my skin has a silken thread effect?" I says, "Yeah, but who tangled it all up like that?"
Even President Johnson has the flu. He spends half the time sneezing, and the rest breathing on Bobby Kennedy!
Red ends with a pantomime of a lonely man, who makes a snowman as a companion. But makes the mistake of bringing it inside …. By the fire!
Act I – Dial M for Moron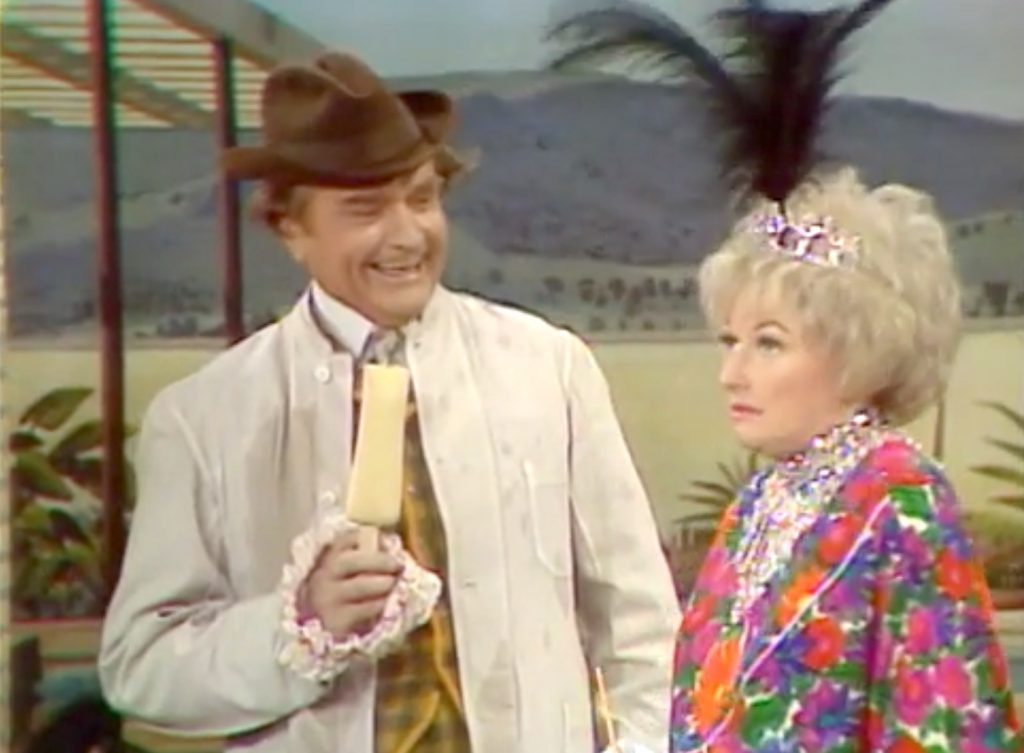 At a poolside party thrown by Hollywood's Stanley Starker, Clem Kadiddlehopper show up as the ice cream man. He knocks the butler into the pool — twice — and puts freezing ice cream in Stanley's hand. Clem leaves, and silent film star Greta Gargoyle comes in. She wants to make a comeback, but Stanley resists. To prove that she still has it, she tries to entice the butler. And he jumps into the pool to escape! Since Greta's rich, he'll let her finance the comeback picture. But she has to take an average man off the street, and turn him into her leading man. So of course Clem comes in! Before you can say "Don't sit on that stove," he's her new leading man!
Act II – Dial M for Moron
In Hollywood, Greta Gargoyle is filming her comeback movie. With Clem Kadiddlehopper as her leading man. Of course, Clem is his normal disastrous self. He's playing a matador, Greta's love interest. And he's supposed to bring the bull for the bullfight scene. Which rode in his sidecar! Why? Because it's not legal for him to drive! And when he brings in the "bull", it's actually a cow! So, they have to switch to the fake bull. And then Clem's told to put makeup powder on anything shiny. And the bull's eyes are shiny!
So, the "bull" has an enormous sneeze, and the front end of the costume goes flying! But Greta's okay with that …. The person in the back half of the bull costume is her ex-husband, Fang! So they start dancing. Then, the front half comes in, and starts dancing with Clem. And the sketch ends, with a hilarious line: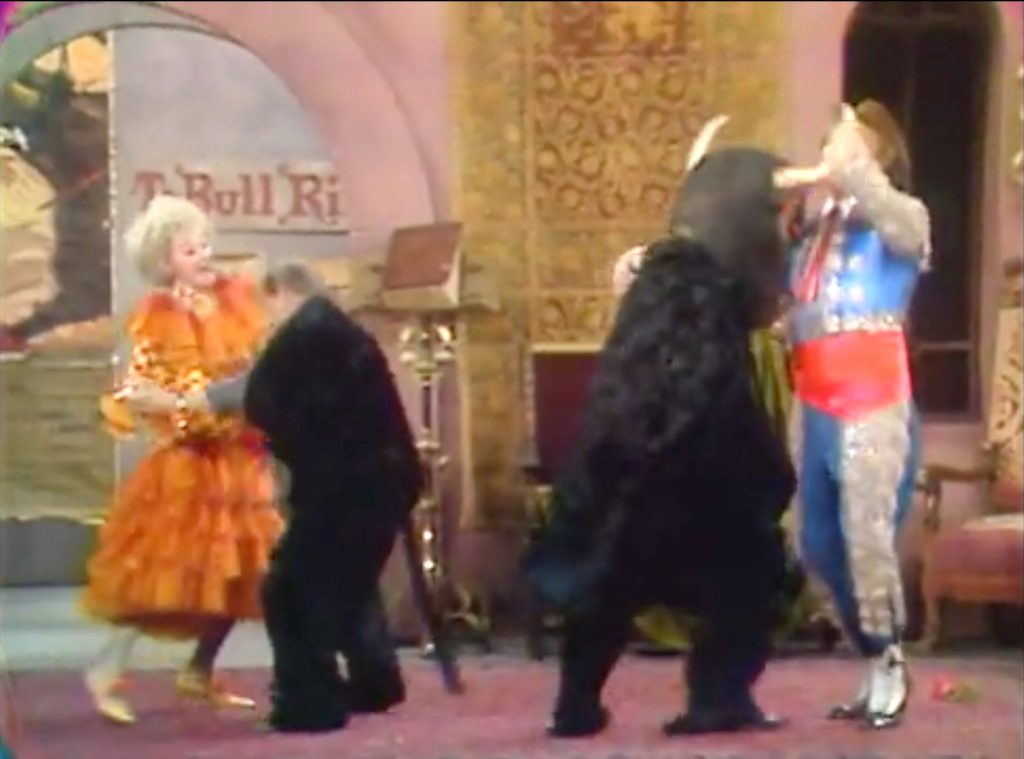 Greta Gargoyle: [as they're dancing with the men in the bull costume] It's the perfect Hollywood movie! A boy, a girl …
Clem Kadiddlehopper: And a lot of bull in between!
Classic Red Skelton
First, a short, punny Tide commercial – French Hand Laundry
Then an absolutely hilarious boxing sketch with Cauliflower McPugg and a young Charles Bronson!
The singing quartet, The Sportsmen
Red Skelton and Phyllis Diller on Stage
Phyllis Diller: It doesn't bother me one bit that men don't find me gorgeous.
Red Skelton: Yes they do. You know, beauty's only skin deep.
Phyllis Diller: Yeah, and I've been peeling since the summer of '36.
Red Skelton: [talking about his skinny cousin, Clara]. Last week we had turkey, and afterward two guys each grabbed her by the leg and started to make a wish!
Phyllis Diller: That's my kind of wish! Two guys grabbing me by the legs!
One minute dramas
Cast of characters
Red Skelton … Self – Host / Clem Kadiddlehopper
The Alan Copeland Singers … Themselves
David Rose and His Orchestra … Themselves
Phyllis Diller (A Bug's Life, Mad Monster Party) … Self / Greta Gargoyle
Milton Frome (The Nutty Professor, Pies and Guys) … Stanley Starmaker
Art Gilmore … Self – Announcer (voice)
Flip Mark … Bit Role
Lou Rawls … Self – Guest Vocalist
David Sharpe … the Butler
Tom Hansen Dancers … Themselves
Beverly Powers (The Comedy of Terrors) … One Minute Dramas Cue Card Girl
Alton Ruff … Dancer
Jokes
Act I Jokes
Stanley Starmaker: Do you know your clumsiness just knocked my butler into the pool?
Clem Kadiddlehopper: No, I don't know any of them protest songs.
Clem Kadiddlehopper: [commenting on a starlet's leopard print bikini] That leopard sure found a nice home, didn't he?
Greta Gargoyle: [looking at beautiful starlet] Take away your gorgeous figure, and her beautiful face, and what have you get? Me!
Act II Jokes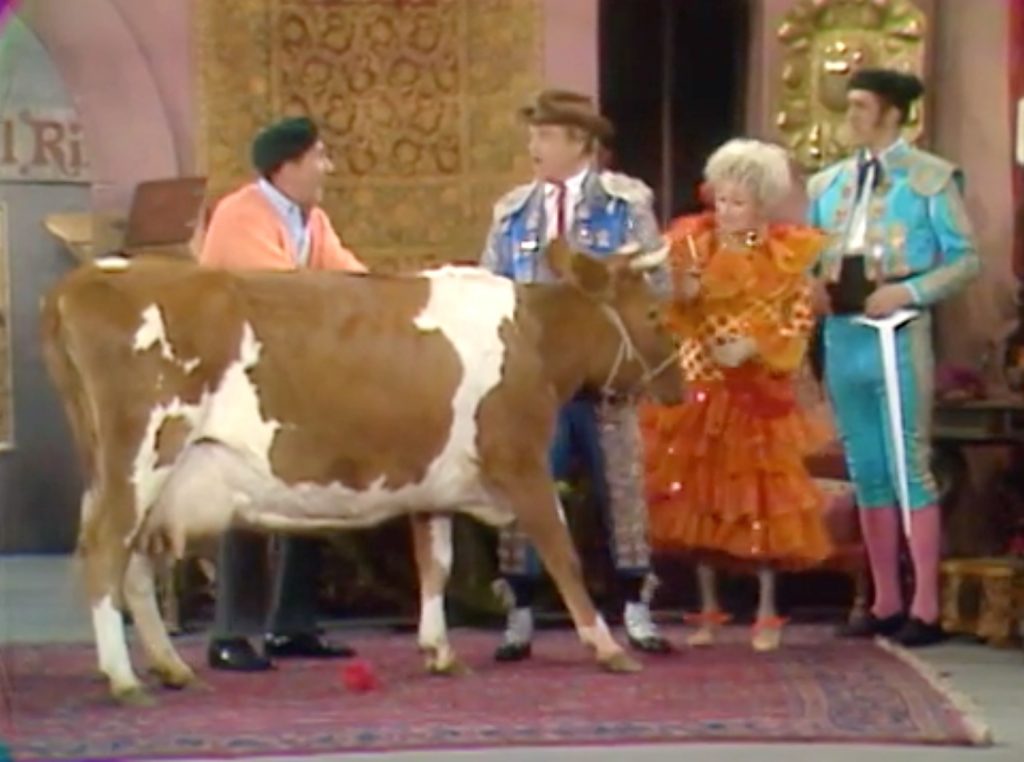 [Clem has brought in a cow, instead of a bull] Stanley Starmaker: Get that broken down old biddy out of here!
Greta Gargoyle: I'm going, I'm going!
Stanley Starmaker: Not you, it!
Clem Kadiddlehopper: Okay, I'm leavin'..
Stanley Starmaker: No, the cow!
Clem Kadiddlehopper: You mean the udder fella?