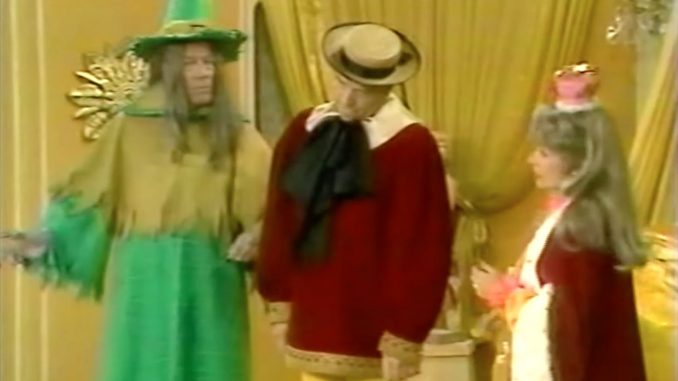 Fairy Tales for Old Children, The Red Skelton Hour, with Cyril Ritchard, Jane Powell – season 17, originally aired January 30, 1968
In Fairy Tales for Old Children, Red portrays Junior Cavendish (the Mean Widdle Kid) and also Junior's younger brother. While babysitting for his sibling, Junior dreams up fairy-tale sketches to entertain him.
Dance: "Three Blind Mice" (Jane Powell)
"Aladdin"
Pantomime version of "Peter Peter Pumpkin Eater."
"Rip Van Winkle"
Beauty and the Beast
"Sleeping Beauty"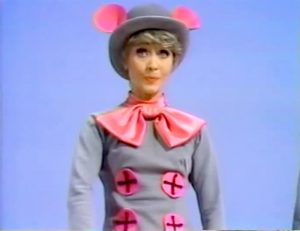 Three Blind Mice
Jane Powell, along with two other dancers, do an extended song and dance to the tune of Three Blind Mice, followed by You Should Have a Mouse in Your House.
Aladdin and the Lamp
Cyril Richard as Aladdin, and Forsooth as the idiotic Genie who keeps granting his wishes, with wrong consequences. A very funny bit.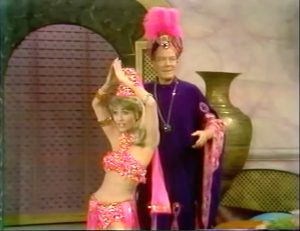 The poor but honest Aladdin rubs a lamp, and gets Forsooth — the idiot genie. Although his wish for wealth and a palace is granted, he's hungry. So he wishes for a turkey leg …. And Forsooth changes one of his legs! Soon, that's resolved, and he wishes for what he truly wants — a girl. And so, the lovely Natasha appears! But be careful for what you wish …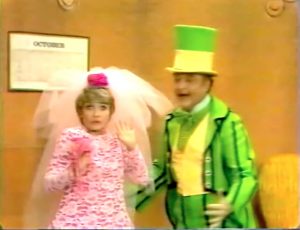 Peter, Peter, Pumpkin Eater
A silent skit about a pair of newlyweds living in a pumpkin … And they have to deal with one interruption after another. Ending with the normal-sized farmer trying to carve out the pumpkin for Halloween!
Rip Van Winkle
Red, as Rip Van Winkle, awakens after one hundred years to TV, protests, hippies, and miniskirts. And, the bikini!
Young boy: [carrying portable TV] TV is something you buy, and then you see things.
Rip Van Winkle: Yeah, that's TV? We used to call it booze.
Beauty and the Beast
An extended musical number with Cyril Ritchard as the Beast, and Jane Powell as Beauty. A funny selection of songs that go well with the dancing, such as The Beast looking into the mirror and singing "That Face", "Just the Way I Look Tonight", Beauty singing to him, "Do I Love You Because You're Beautiful", "No Two People Have Ever Been So in Love", etc. Then, love's true kiss breaks the curse, and he's human! And she's repulsed! But true love conquers all …. Very enjoyable.
Sleeping Beauty
Junior, playing the part of Prince Charming, awakens 'Sleeping Beauty' – and the witch (Cyril Richards) takes it personally! It's a very funny routine, possibly the funniest of the entire episode. Special kudos to Jane Powell, who nearly cracked up Red Skelton on live TV!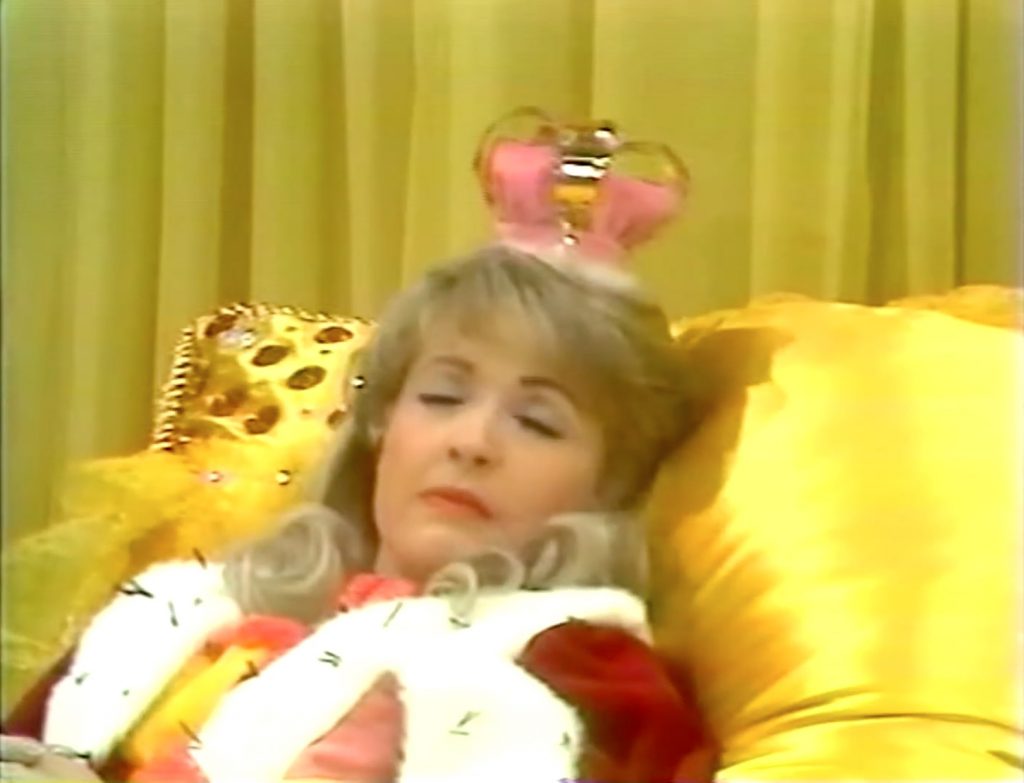 Trivia
The elaborate fairy-tale sets on this program were designed by Sidney Rushakoff.
Songs
Song highlights include 'Three Blind Mice' and a medley of tunes from Tschaikovsky's 'Sleeping Beauty Ballet.'
Cast
Red Skelton … Self – Host / Forsooth / Junior Cavendish / Junior's Little Brother Gregory / Rip Van Winkle
The Alan Copeland Singers … Themselves
Eve Brent (The Green Mile)
Patrick Campbell … Sleepy House Guest
David Rose and His Orchestra … Themselves
Art Gilmore … Announcer
Jane Powell (Royal Wedding, Seven Brides for Seven Brothers) … Natasha / Mrs. Peter Peter Pumpkin Eater / Sleeping Beauty
Janos Prohaska
Cyril Ritchard (The Daydreamer, The Hobbit 1977) … Aladdin / Beast / Witch
Ruth Scott – Junior & Gregory's mother
David Sharpe- Junior & Gregory's father
Tom Hansen Dancers … Themselves
Brad Trumbull (Crime of Passion)
Randy Whipple
Dick Winslow (Tom Sawyer 1930)
Alton Ruff … Dancer
Quotes
Forsooth: [to Aladdin] Those are rooster eggs! They're from Russia. They don't care who you are, you've got to meet the quota!
Rip Van Winkle: [seeing a girl in a bikini for the first time]. Well, now I know what they mean by "topless" …. I almost lost my head!
Junior as Prince Charming: Why can't I lift you up?
Sleeping Beauty: I'm a heavy sleeper!
Junior: [laughing] That was my line!