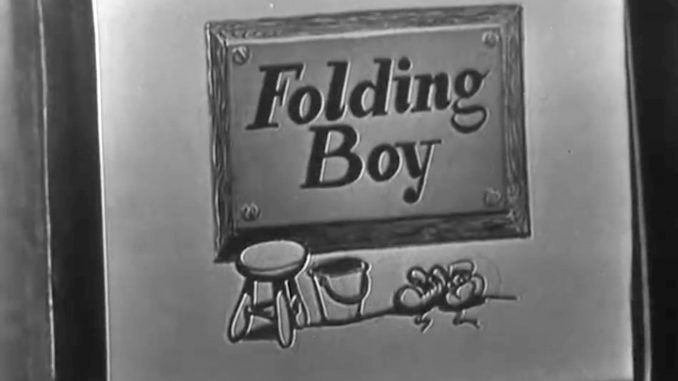 Folding Boy — has Cauliflower McPugg actually won his first boxing match? What happened to the referee? Also Weepy in the Mountains, Red's pantomime
< Tornado Deadeye | Let's Talk About Father >
Monologue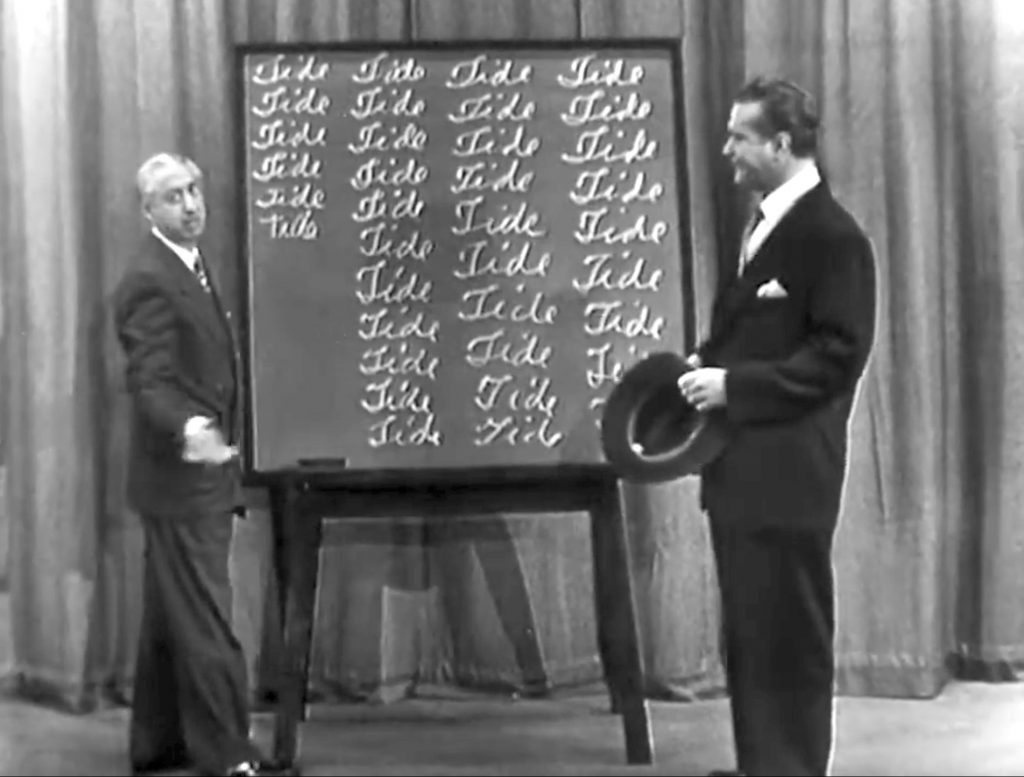 Conductor David Rose makes a rare on-screen appearance at the beginning of the show. "Keep moving, Bub."
Red reminds the audience about how Benny Rubin misspelled "Tide" last week. The curtains open, showing Benny handwriting "Tide" on a gigantic chalkboard!
Red pantomimes how people get into bed differently.
Skelton Film Scrapbook – Weepy in the Mountains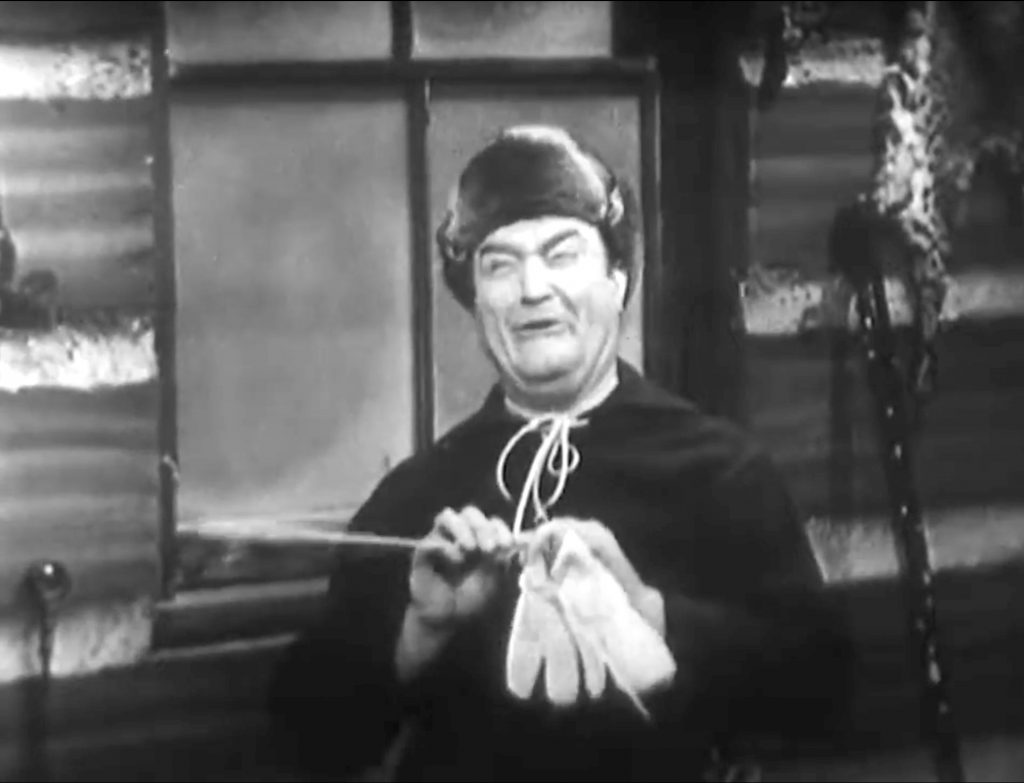 Having bought a ski lodge in the mountains, Weepy is naturally enough complaining about everything.
It's always so cold, I had to jack up the cows to milk 'em.
Guy bent over to pick up his teeth, and froze to death. We had to bury the poor sucker in a drum!
Weepy's knitting a glove for his milking cow.
After a running gag of "too soon", someone's at the door. And Weepy sends Michael Ross to get supplies.
You can make friends with a grizzly bear? One of the ski lodge members did. He made friends with a bear? Yes. Did he like him? He must have – he ate all of 'em!
Tide commercial!
Twelve bottles of liquor and a loaf of bread? Why you silly jerk, what are we gonna do with all that bread?
Skelton Film Scrapbook – Folding Boy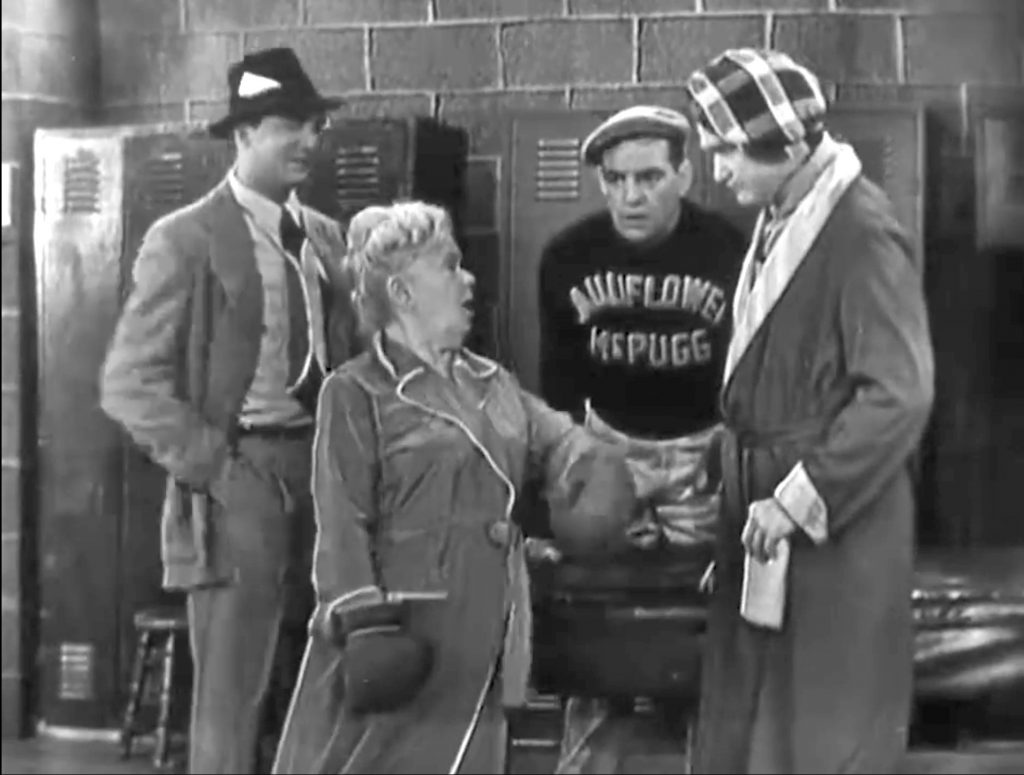 Surprisingly, Cauliflower McPugg manages to win a fight! Nobody's more surprised than his manager — except McPugg! It's a very funny sketch, with a good mixture of verbal comedy and slapstick.
I'm an old newspaper man …. There's no money in old newspapers.
I'm from The Bugle. Well, blow, would ya?
How long have you been in the fight game? This is a game?
There was a mouthpiece in my kisser? Them lawyers'll do anything to make a buck.
I fought a kangaroo in Australia. Did you win? No, the sneaky little bugger had friends in his pocket!
And of course, the punch drunk hears the Good Humor truck, canaries, flamingoes, and the phone when it's not ringing. And, it turns out that McPugg punched out the referee!
Slapstick:
McPugg pretending that his hand's still in the boxing glove when his manager takes it off.
"Strong" massage after the fight.
Getting a crick out of Cauliflower's neck.
Then lovely Lucy Knoch comes in, to throw herself at Cauliflower McPugg. When he rejects her, she gives him …. A subpoena! The Morons of America want him to retire! Even though he's the secretary. And the sketch ends with his opponent – an elderly woman — coming in to demand a return match!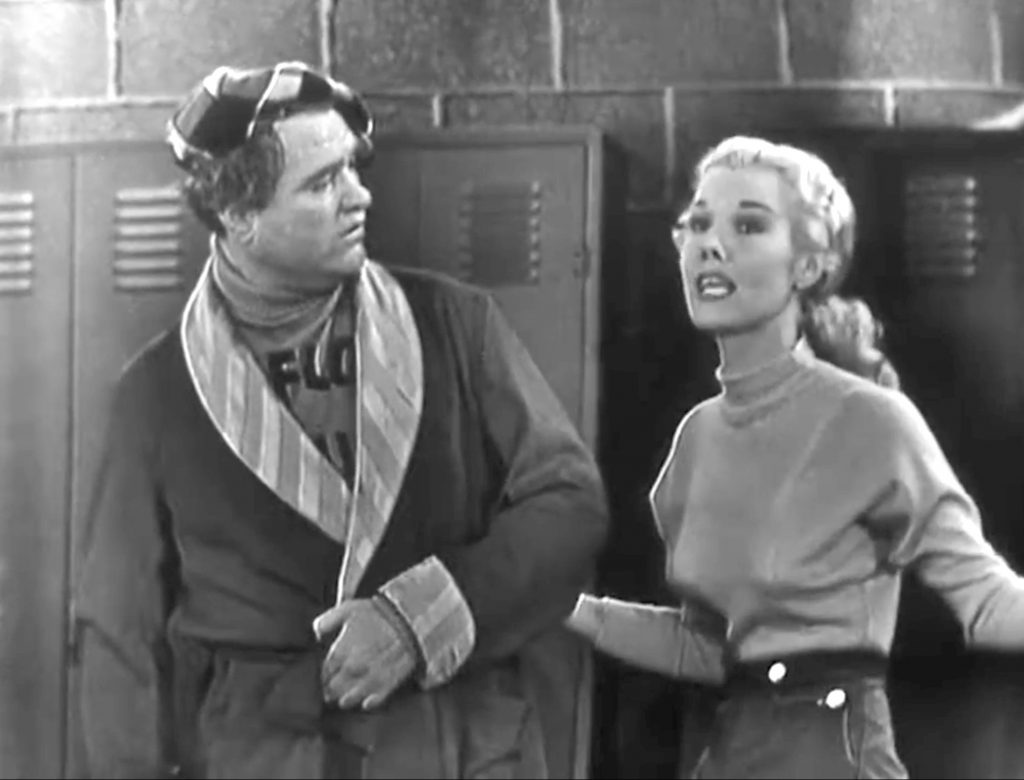 Cast of characters
Red Skelton … Self – Host / J. Weepy Numbskull / Cauliflower McPugg
David Rose and His Orchestra … Themselves
Lucy Knoch (Executive Suite) … Woman in Folding Boy Skit
Frank Kreig (All Ashore) … Man Bringing Supplies in Mountain Sketch
Bob LeMond … Self – Announcer (voice)
Pat McGeehan … Self – Announcer
Gil Perkins … McPugg's Manager in Folding Boy Sketch
Michael Ross (D.O.A., Attack of the 50 Foot Woman) … Man Bringing Supplies in Mountain Sketch / McPugg's Manager
Benny Rubin (Bright Lights, Income Tax Sappy) … Man at Blackboard
Edmund Penney (The Ballad of Cable Hogue) … Sports Reporter in Folding Boy Skit (uncredited)