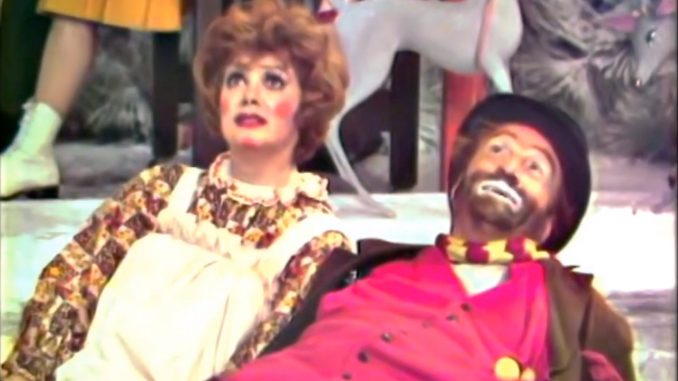 Freddie and the Yuletide Doll – The Red Skelton Show with Cara Williams, season 11
Freddie and the Yuletide Doll – lonely on Christmas, Freddie fantasizes that an abandoned rag come comes to life as his companion. A sweet, and bittersweet, Christmas episode.
In Freddie and the Yuletide Doll, Freddie the Freeloader is all alone on Christmas. Then Freddie the Freeloader finds a Raggedy Ann doll that's been dropped by a shopper. Freddy daydreams the doll coming to life, as the lovely Cara Williams. And a courtship of sorts happens, with Freddy at his finest … Playing a tune on Christmas tree ornaments, skating with the Doll on ice, etc.
Of course, this bliss is rudely shattered at the end when he wakes up, and the shopper retrieves the doll. A truly bittersweet episode, made all the more poignant in that it's silent. Neither Freddy, the Doll, nor the shoppers and other people utter a single word. Although there is some nice singing by some strolling Christmas carolers.
Monologue
Christmas
Welcome to our Christmas show. I got some wonderful presents this year. Georgia gave me some Johnson's Wax, a can of Misola, some Liquid Swan, and a carton of Marlboros. That's not what she really gave me, but that's the way the rewrite came back from the sponsors!
I'm kind of happy tonight. My sponsor signed my new option. I was so excited I almost dropped my gun!
[Georgia] was walking around all month, holding our her little finger as a hint, see. I got the message. So I got her a nail clipper!
Valentina wanted something to drive, you know how kids are in school. "I want something to drive!" So I got her something. A nail!
You notice how a lot of the kids this year, they did extra work to earn money? I know one little fellow in Beverly Hills, he delivered papers for five weeks. But he skipped every Thursday and Sunday, because that was the chauffeurs day off!
There was one little teenager came up to my door, and he says, "Mr. Skelton, for a dollar I can promise you that on Christmas there will be forty boys with changing voices to sing Christmas carols on your lawn. And for five dollars I can promise you that they won't!"
Someone gave me an unusual gift. It's a membership to an outfit like Alcoholics Anonymous, you know, but this one has to do with Traveling Anonymous. When you're out of town and your lonesome, and you want that touch of home – you call up, and they send a woman over and she nags ya!
Weather
The weather out here's just great. I was walking up the street and a fella says, "Hey, that's a nice blue serge suit you got on." I says, "It's a white Palm Beach – that's me showing through."
They're awful touchy out here about their weather. The Chamber of Commerce said to me, he says, "If you don't get on the air and tell everybody how warm it is out here, I'll stab you with an icicle!"
The weather back East, did you hear about this, was really freezing. There was one football game where it was so cold, when the team went in for a huddle, they didn't come out again.
Football
Did you know they tried [American] football in England? It didn't work out, though. Whenever one team called a T formation, the other side didn't know what to do with the cups and saucers!
You know, some of my happiest days of my life were on a football field. I know they were happy because my teeth smiled at me from all over the field.
I'll never forget the first time I got the ball. A 200-pounder hit me from the left, a 300-pounder hit me from the right. And that's nothin' – you should have seen what happened to me when I got out of the dressing room!
Gertrude and Heathcliffe
Gertrude says, "Well, Heathcliffe, I got something for Christmas for you. Something I've been wanting to give you for a long time." He says, "What's that?" She, says, "A divorce! And you can have the little one." He says, "You mean …?" She says, "Yes! I'm giving you the bird!"
Music
You Stepped Out of a Dream, Music by Nacio Herb Brown, Lyrics by Gus Kahn,Sung by The Robert Mitchell Boy Choir
Wishes Will Make It So, Sung by The Robert Mitchell Boy Choir
Joy to the World, Lyrics by Isaac Watts, Music adapted and arranged by Lowell Mason, Sung by The Robert Mitchell Boy Choir
Winter Wonderland, Music by Felix Bernard, Lyrics by Richard B. Smith, Sung by The Robert Mitchell Boy Choir
Silver Bells, Written by Jay Livingston and Ray Evans, Sung by The Robert Mitchell Boy Choir
Skater's Waltz, Written by Emil Waldteufel, Sung by The Robert Mitchell Boy Choir
When You Wish Upon a Star, Written by Ned Washington and Leigh Harline,Sung by The Robert Mitchell Boy Choir
But Not for Me, Music by George Gershwin, Lyrics by Ira Gershwin,Sung by The Robert Mitchell Boy Choir
Invitation to the Dance, Music by Carl Maria von Weber, Scoring adapted from the orchestration by Hector Berlioz, Performed by Red Skelton and Roberta Lubell, Played by orchestra conducted by David Rose
Cast
Red Skelton … Freddie the Freeloader.
Cara Williams (The Great Diamond Robbery) … Raggedy Ann
David Rose and His Orchestra … Themselves
Bob Duggan … Police Officer
Ross Ford (Project Moonbase) … Well-Dressed Man
Art Gilmore … Announcer
Emmaline Henry (I Dream of Jeannie) … Well-Dressed Girl
Ray Kellogg … Santa Claus
Roberta Lubell … Ballerina / Spectre of Rose spoof
The Robert Mitchell Boy Choir … Choir
Pat Rosson … Little Boy
Trivia
The "Yuletide Doll" portion of this show was repeated as part of the Red Skelton Hour show the following year (12/25/62).