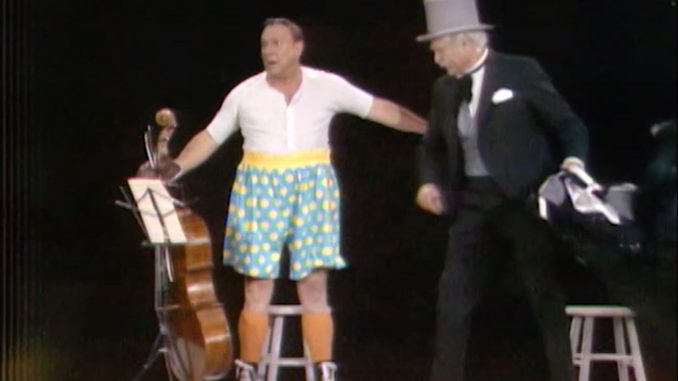 Goodbye Mr. Gyp – The Red Skelton Hour season 15, with Jackie Coogan, originally aired April 5, 1966
In Goodbye Mr. Gyp, con artist San Fernando Red (Red Skelton) tries get the soft-hearted Humphrey T. Humble (Jackie Coogan) into the boxing ring. But all he wants to do is play his cello!
Monologue | Goodbye Mr. Gyp | Classic Skelton Scrapbook | One Minute Dramas
Monologue
Little kids
Two little kids were talking. One of them says, "Why is it you reads all the time? All you does is read, all the time you read. You gonna get so smart, that someday you may be President." The other kid says, "Well, it's just one of those chances I'm going to have to take."
IRS
Then there was a lady, said to her little boy, "Why are you saying such naughty words?" He says, "I'm not saying naughty words. I'm not saying anything naughty at all. I'm just doing impersonations." "Who are you impersonating?" "Dad, doing his income tax."
Hey, did you know that last year President Johnson had to borrow $100,000 to pay his income tax? I won't say what happened, but they repossessed Lady Bird!
This year at the department, they have three ways to measure your income: gross worth, net worth, and Leavenworth!
Guy looked at my returns, and said "You've got it listed hear that you spend $5,000 more than you earn. How do you do that?" I says, "You ain't married, huh?"

I says, "What do you allow for your wife?" He says, "$600." I says, "I'll take her."

A guy says, "You sure buy a lot of expensive presents for your wife Georgia, don't you?" I says, "Yes, I sure do." He asks, "Are you saving anything for your old age?" I says, "Yes — my marriage."
Last year, I didn't sign. that IRS form, and sent it back. I was only following the instructions. It said: "Send this income tax blank".
And do you know what I did with my estimate tax? I didn't sign my name to that either. I figure, if I gotta guess how much I'm gonna earn, let them guess who's earning it.
Gertrude and Heathcliffe the two seagulls are talking. "Say, did you notice, every year at this time how the people complain about income taxes? And they're doing it for us." Heathcliffe says, "The taxes are for us?" "That's what they say — taxes is for the birds!"
Red concludes with a pantomime about a man painting his living room.
Goodbye Mr. Gyp – Act I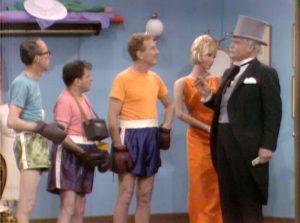 San Fernando Red cons Agatha & Christy, owners of a dress shop, into running away from their shop – with the aid of a mouse. So that he can use it as a training gym that he's "rented" out to various boxers.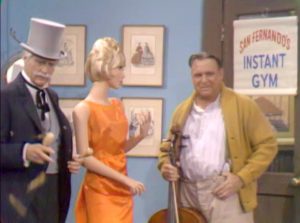 Unknown to him, the gentle Humphrey T. Humble (Jackie Coogan) had already arranged with the ladies to come and play his cello at the dress shop. San Fernando Red tries to have the boxers throw Humphrey out … But Humphrey accidentally knocks them all out with a single punch!
Goodbye Mr. Gyp – Act II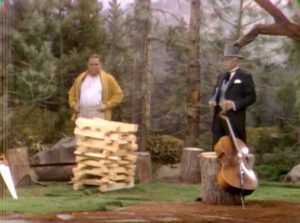 Back at his lumber camp, Humphrey Humble is serenading his fellow lumberjacks. Until San Fernando Red shows up! Despite San Fernando's jokes, Humphrey still has no interest in fighting. He then demonstrates his fast way of clearing the trees – funny prop comedy. Until S an Fernando manipulates him into destroying his cello! And Humphrey still doesn't want to fight … So San Fernando tricks the illiterate Humphrey into signing a fight contract! He tel ls him that it's a contract to play cello at a garden … Owned by Mr. Madison, a square.
Classic Skelton Scrapbook
J. Newton Numbskull – It's Magic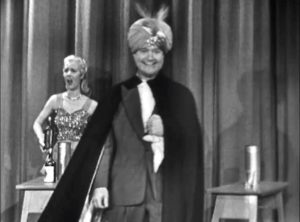 In a funny bit, J. Newton Numbskull performs as an inept magician, assisted by Lucille Knoch. He tries to hypnotize her, and fails …. But succeeds in hypnotizing himself! Moving on, he then does his "famous paper ball" trick. He then does a famous comedy magic trick, the passe passe bottles. I've seen the same trick "done wrong" by Laurel and Hardy, and Abbott and Costello. But never funnier, as Lucille intentionally sabotages the trick.
Streets of Laredo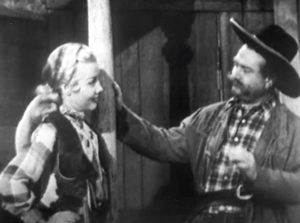 Like many of the early skits, it turns into a Tide commercial. A very funny Tide commercial, in fact, that ends with Sheriff Deadeye singing.
Lucille: Tell me, Deadeye, what you been doing?
Deadeye: I've been working at that ranch with the contented cows.
Lucille: What do you do?
Deadeye: Oh, I just stand there and let them look at me. And they're contented … that they're cows.
There's a gun duel over Lucille, and of course Deadeye cheats. The dying man asks Deadeye to sing him a song, and he complies with "The Streets of Laredo". Of course, the white sheet he's wrapped in is too dirty, and so it's Tide to the rescue!
Topsy Turvy
An early version of the Topsy Turvy room, where Willie Lump-Lump's wife tries to scare him out of drinking.
Goodbye Mr. Gyp – Act III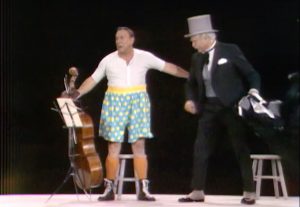 Finally at Madison Square Garden, San Fernando Red brings Humphrey Humble on stage. Poor Humphrey still thinks he's there to perform as a cellist — "cello in the round". But San Fernando rips off his tuxedo, leaving him standing there in his underwear.
Humphrey: I can't play a cello with gloves.
San Fernando Red: That's funny, baseball players play with gloves.
Humphrey: [pause] For a minute there I thought I had you.
Soon, the reigning champion, K. O. Pectate, comes out to start the match. Despite San Fernando egging him on, Humphrey still doesn't want to fight. But that's okay! K. O. Pectate plays the fiddle, and the two start a duet. San Fernando is upset, until they tell him that K.O. makes $1,000/night with his fiddle, and Humphrey makes $500/night with his cello!
On Stage – one minute dramas
At a shoe store, Red plays a customer buying a new pair of shoes, while Jackie plays the sales clerk. "Is that cow hide?" "No, sir, that's genuine Australian kangaroo." "You're putting me on." "No, try them out." So, Red stands up and starts hopping in place. "Should I wrap up your old shoes?" "No, just put them in my pouch!" So Jackie puts the shoes in Red's waistband and they both hop off stage.
Songs
The Doodletown Pipers perform 'Wait Till You See Her' and 'Zip-A-Dee-Doo-Dah.'
The Silent Spot
In the Silent Spot, Red mimes a husband trying to keep a neat, clean house while his wife is away.
Cast
Red Skelton … Self – Host / San Fernando Red / Gertrude and Heathcliffe
The Alan Copeland Singers … Themselves
Jackie Coogan (The Addams Family, The Kid) … Humphrey T. Humble
The Doodletown Pipers … Guest Vocalists
Paul 'Mousie' Garner … Boxing Student
Bern Hoffman … Lumberjack
Johnny Silver … Ring Announcer
Olan Soule … Boxing Student
Doodles Weaver … Boxing Student