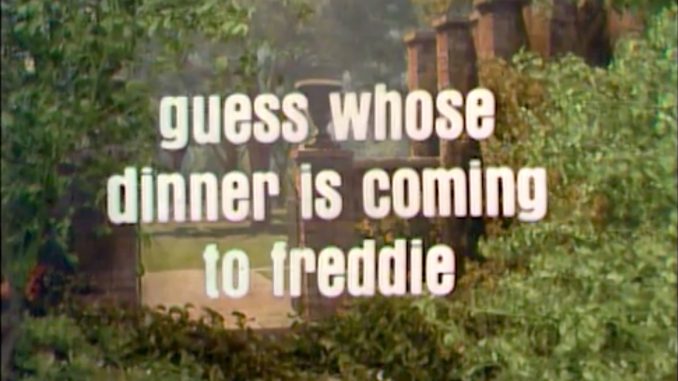 Guess Who's Dinner is Coming to Freddie? The Red Skelton Hour, with Van Johnson, season 18, originally aired October 1, 1968
In Guess Who's Dinner is Coming to Freddie? Freddie the Freeloader tries to con a meal out of a movie director. But almost gets the man fired!
Monologue | Guess Who's Dinner is Coming to Freddie | Olio Spot | Silent Spot | Music | Cast | Jokes
Monologue
Beach
I spent the weekend down at the beach. I finally found out what happened to all those women who say, "I've got nothing to wear". They go down to the beach and wear 'em.
Look at those bikinis, those mini-bikinis and micro-bikinis. I says to my wife, "Have you ever seen anything like this before?" She says, "Not without English subtitles, no."
You know what's popular down here in California is surfing. That's like necking — once you know what you're doing, you're too old for it!
You know what a lot of kids do down here, they buy those second-hand hearse to carry their surf boards down to the beach, see. They sit up in the front, put the surf boards in the back. Well the other day there was a couple of them driving this hearse, see, and they stop at a red light, and there was a little couple watching in the car next to 'em. And one says, "Mom, don't look, don't look, there's a hearse there with somebody in the back." She says, "Oh? Who is it?" He took another look at the surf board, he says, "I can't see the face, but I think it's Twiggy."
And people down here, they don't build sand castles anymore at the beach, and I'll tell you why. The minute you build one, some guy comes around, puts a property tax on it.
I was trying to teach a pretty girl to swim, until a police officer came back & told us to get in the water.
My wife got made because I gave a girl mouth-to-mouth resuscitation. I admit the girl hadn't been in the water yet …. Why wait til the last minute?
Celebrities at the beach
And Phyllis Diller was down there (at the beach). She's a mess, I'll tell ya! The tide went out, and never came back!
She's sitting at the beach, and two dogs come up and look at her. The first says, "You trying to figure out which one of us is gonna bury it?" He replies, "No, I'm trying to figure out who dug it up in the first place!"
Phyllis Diller is really skinny. Her chest got sunburnt and her back peeled!
Liberace was down at the beach, he got in trouble. They caught him putting bath salts in the ocean.
Old Dean Martin was there, laying on his elbow, trying to blow the foam off the beach.
Don Knotts was there. He was floating, and a dog thought he was a stick, he brought him in! He didn't mind that, but a little boy kept throwing him back!
Gertrude and Heathcliffe
Gertrude and Heathcliffe, the two seagulls. they're down there, see. And she says, "I can't take this cold weather on the beach in California, these cold mornings. I'm wearing red flannels." He says, "Red flannels? But you're a seagull! You're supposed to be white!" She says, "I'll put it on under my feathers." She did, and she says, "How do I look?" And he says, "You better zip up — you look like a robin red breast."
Guess Who's Dinner is Coming to Freddie?
Act I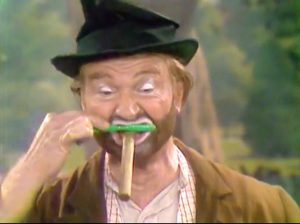 Guess Who's Dinner is Coming to Freddie begins with Freddie the Freeloader waking up on a park bench. He's still in his pajamas, and goes through his morning routine. It's very funny, as he pushes birds out of their birdbath to wash up. Then, he brushes his teeth — with his cigar still in his mouth!
And, a film crew is setting up in the park. Down-on-his-luck director J. L. Van Freckle (Van Johnson) needs his next film to be a hit! And Freddie decides to hit him up for some money:
"Can you spare a dime for a blind man?"
"You've got one eye open!"
"Okay, give me a nickel."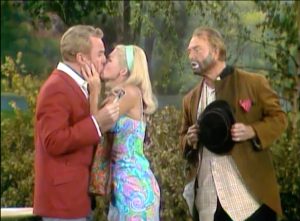 But Freddie misunderstands, and thinks that J.L. needs money. So, he generously offers to teach him how to panhandle! The first attempt with Tex fails. But the second, with a young woman reacting to the handsome J.L. Not only does she keep kissing the handsome J.L., she keeps giving him money! Only to run off, to get more to give him. And poor Freddie is left standing there watching, wondering what he's doing wrong.
J.L. runs after her, to give her the money back. And then, Freddie has an interaction with a police officer. "I hear the pitter patter of little flat feet." After getting the idea of getting a job with the movie people, Freddie does an imitation of Richard Burton. Ending the act with the police officer chasing after him.
Act II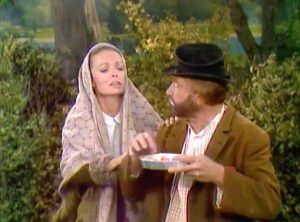 J.L.'s shooting schedule is 30 minutes late, waiting for the tramp actor to arrive. At that moment, Freddie the Freeloader enters, knocking into a prop man carrying a grandfather clock. "Why don't you look where you're going?" "Why don't you wear a wrist watch like everybody else?" J.L. mistakes Freddie as a method actor, living the part of a tramp. "Where did you get that face? It came with the body. It was a birthday present from my mother."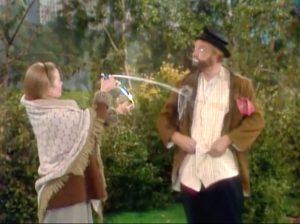 In the scene, Freddie will play the part of a tramp, who hasn't eaten for two days. And Freddie hasn't! They're going to rehearse his scene, where the starving Freddie is supposed to give his food to the lovely star of the movie. But once Freddie starts eating, he doesn't plan to stop!
It's a very funny scene, as the starlet grows increasingly upset with the greedy Freddie. It turns into a food fight, as she sprays him with a seltzer bottle. He takes it from her, intending to spray her back …. But only manages to spray himself worse! And that's when the producer drops by …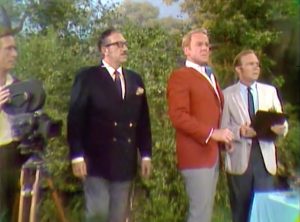 The producer then congratulates J.L. on his "comedy" scene, and offers to sign him up for additional movies. The grateful director gladly gives Freddie a fresh plate of food. And then, a hungry dog wanders by. And the soft-hearted Freddie shares his meal with the dog, ending the scene.
The Olio Spot
Red Skelton and Van Johnson do a pun-laden, vaudeville style dance routine. Check the Jokes for some of the groaners. There's a very funny bit when they mix up the jokes on the cue cards. One of the hazards of live television!
The Silent Spot – Wax Museum
In the Silent Spot, titled 'Wax Museum', Red plays his elderly Pops character. He's the new janitor at a wa museum. There, he goes off on a flight of fancy, playing with, dancing and dueling with the wax figures.
Music
The Letterman perform a medley of 'Goin' Out of My Head', 'Can't Take My Eyes Off You', and 'Never My Love.'
The Tom Hansen Dancers interpret David Rose's 'Waltz of the Bubbles.'
Cast
Red Skelton … Self – Host / Freddie the Freeloader / Gertrude and Heathcliffe / Wax Museum Janitor
The Alan Copeland Singers … Themselves
Pepe Brown … Boy With Baseball Bat in Park
Henry Corden (A Flintstone Christmas) … Movie Producee Grimshaw / Wax Museum Proprietor-Silent Spot
David Rose and His Orchestra … Themselves
Sam Edwards (Twelve O'Clock High) … Assistant Director
Ross Ford (Project Moon Base) … Police Officer
Joan Freeman (The Reluctant Astronaut) … Cynthia. The actress whose big scene Freddie is ruining!
Art Gilmore … Self – Announcer (voice)
Van Johnson (The Caine Mutiny, In the Good Old Summertime) … Self / J.L. Van Freckle
The Lettermen … Themselves – Guest Vocalists
Pat Priest (Munster Go Home!) … Generous Woman in Park. She's very affectionate to Van Johnson!
John Todd Roberts (Boy, Did I Get a Wrong Number!) … Boy in Park
Jokes
The Olio Spot
Red Skelton: Say, Van, how do you feel?

Van Johnson: I don't feel very well.

Red Skelton: Maybe you have acute indigestion?

Van Johnson: Oh, handsome maybe, but not really cute.
---
Red Skelton: Since you're not feeling well, what did you eat for dinner last night?

Van Johnson: Twelve oysters.

Red Skelton: Were they fresh?

Van Johnson: They didn't say anything to me!

Red Skelton: What'd they look like when you took them out of the shell?

Van Johnson: You're supposed to take them out of the shell?
---
Red Skelton: What is a polar bear?

Van Johnson: It's a big white thing that sits on ice and eats fish all day. Why?

Red Skelton: My uncle just died and they want me to be a polar bear. But I ain't gonna sit on ice and eat fish for no dead guy!
---
[Red tells Van in advance two jokes he wants to do. Why did the chicken cross the road? To get to the other side! Why does a fireman wear red suspenders? To keep his pants up!]

Red Skelton: Why did the chicken cross the road?

Van Johnson: To keep his pants up!
Trivia