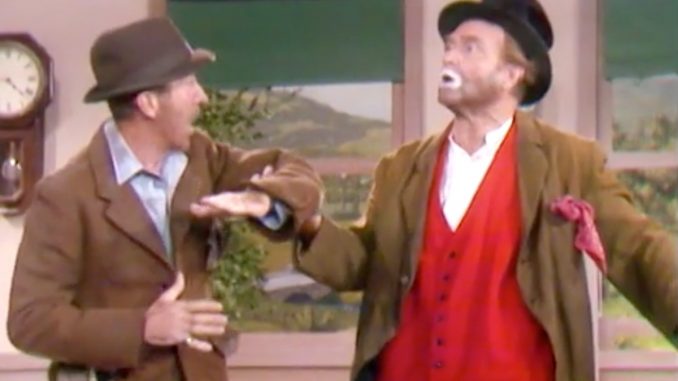 How to Succeed in Loafing Without Really Trying, with Gig Young – The Red Skelton Hour, season 16, originally aired September 13, 1966
In How to Succeed in Loafing Without Really Trying, Freddie the Freeloader gets recruited by an old school chum to star in a TV commercial for mattresses. What could go wrong?
Monologue | How to Succeed in Loafing without Really Trying | Silent Spot | Music | Cast
Monologue
I saw a woman over at the farmers' market a while ago, shopping, and to keep cool she had on a 2-piece outfit. Earrings!
There was a little boy over there, walking around, and he was crying. I asked what's the matter, and he says, "I lost me mommy." I said, why didn't you hold onto her hand? He says, "I couldn't reach it." I said, why didn't you hold onto her skirt? He says, "That's shorter than her arm!"
My wife, Little Red, she was driving downtown the other day, and there was a nursery truck in front of her that had a big tree hanging from the back of it on a boom. And the boom broke, and smashed the front of the car in! So the guy says, "Well, we have insurance, they'll take care of it." She says, "Never mind that, just get me a witness to tell my husband that a tree hit my car!"
Little Red and I went on a vacation. When she married me, she said it was a vacation. Well, that's not exactly how she put it. "When I married you, you were my last resort." That's what she said!
We're flying at 30,000 feet, and I asked the little Rabbi next to me, are you going to have a drink? "Oh, no, too close to the home office."
We flew to Italy, and I met Sophia Loren. There's a Roman that wasn't built in a day!
How to Succeed in Loafing Without Really Trying
Act I
How to Succeed in Loafing Without Really Trying begins with Freddie the Freeloader (Red Skelton) and his hobo friend Mugsy (Don Brodie) breaking into a public school room. They're simply looking for a place to sleep for the night. It turns out that this is actually Freddie's old school! There's a funny bit, as Freddie turns a pull-down map into a hammock to sleep in. And Mugsy? He gets to sleep beneath. The "lower berth" as Freddie calls it. But as they're trying to fall asleep, more people show up …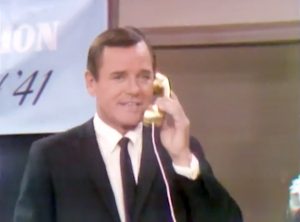 It's a group of Freddie's old school mates! They're here to plan for a school reunion. Then comes in Paul Pusher (Gig Young), who's gone on to become a very successful, and wealthy, businessman. And, it turns out, he and Freddie were best friends, when they were back in school. And for their friendship's sake — and the sake of the school's honor — he decides to make Freddie an executive in his corporation!
Act II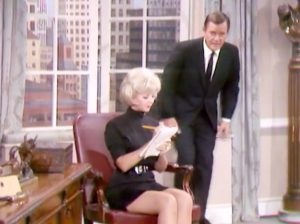 Freddie the Freeloader is still allergic to work …. But Paul Pusher's chauffeur (Dick Martin) has tracked him down! And he brings Freddie in — bench and all. Paul tries to get across the point that Freddie is expected to show up at work on time, all on his own. He's a Vice President in Paul's company now, after all.
Paul proceeds to demonstrate, with Freddie's unwitting help, a new product — Hobo a Go-Go. A spray that sets up a repelling barrier on park benches! Poor Freddie acts as though he's being electrified. Then, Paul announces Freddie's first task at the firm. Since Freddie's made an occupation out of sleeping, Paul's going to use him in a television commercial, promoting Pusher Products' new mattress. What could possibly go wrong?
Act III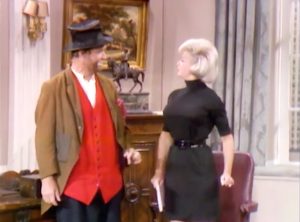 Paul's secretary comes to collect Freddie for shooting the commercial. There's some good-natured banter between them:
"Well, I never!"
"Oh, you must have."
"With all those curves, she can still deliver a straight line."
Then, Freddie goes to shoot the commercial. Unfortunately, there's a table of food there for after the shoot is complete. But Freddie doesn't wait, and fills his stomach with the food. The very spicy food! Causing his to suffer from a severe stomach ache. And ruining the shoot of the commercial, since he's as comfortable on the bed as a cat on a ferris wheel!
Silent Spot – Nervous Groom
In the Silent Spot, Red mimes a nervous groom exasperated by his rented tux. The rental shop keeps getting his order wrong …. Hilariously wrong! Pants too big, and suit too small. So, he sends it back, and it's pants too small, and suit coat too big! And it gets worse from there …As the poor bundle of nerves prepares for his wedding.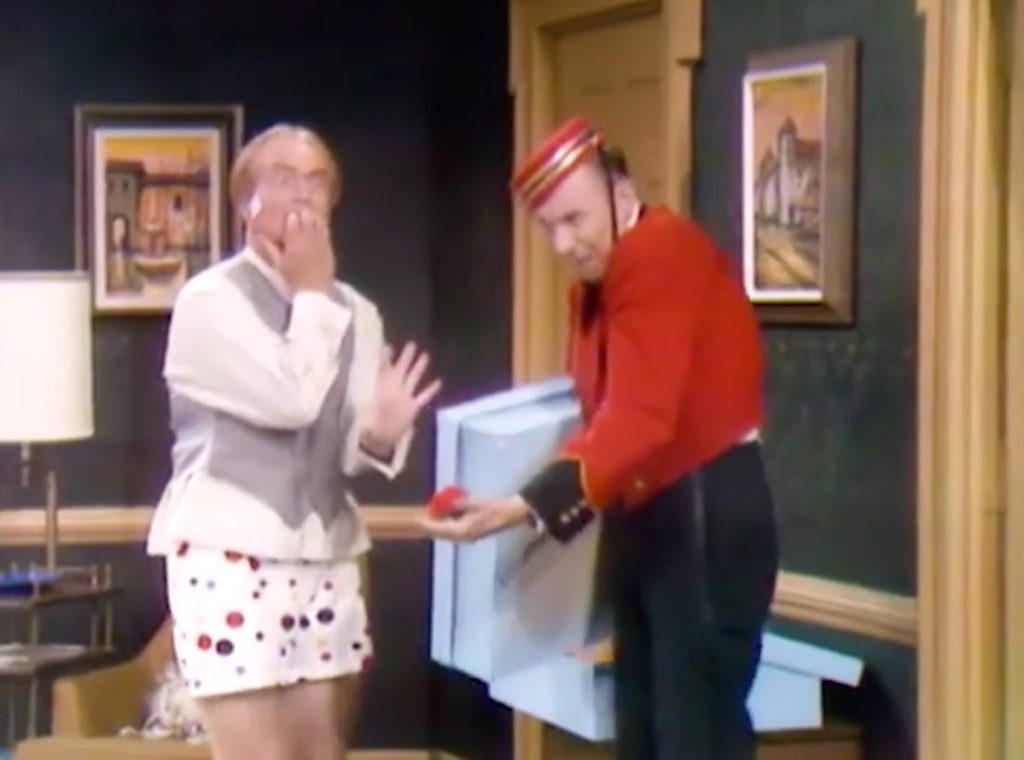 Music
Johnny Rivers sings, "Poor Side of Town" and "Secret Agent Man".
The Alan Copeland Singers and Tom Hansen Dancers perform "Since I Met You."
Cast
Red Skelton … Self – Host / Freddie the Freeloader
The Alan Copeland Singers … Themselves
Don Brodie (Hot Lead and Cold Feet) … Muggsy
Irwin Charone (Cactus Flower) … Freddie's classmate
David Rose and His Orchestra … Themselves
Art Gilmore … Self – Announcer (voice)
Chanin Hale … Paul Pusher's secretary
Peggy Rea … Freddie's classmate
Dick Martin (Laugh-In) … Paul's chauffer
Johnny Rivers … Guest Vocalist
David Sharpe … Miss Magruder — Freddie's teacher
Tom Hansen Dancers … Themselves
Gig Young (That Touch of Mink) … Paul Pusher