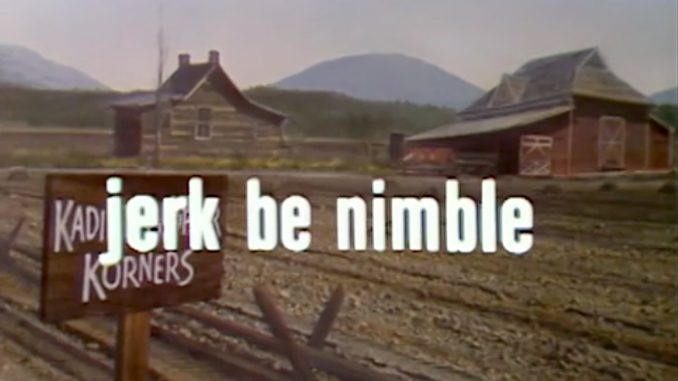 Jerk Be Nimble – The Red Skelton Hour, season 16 – with Janet Leigh, musical guest star Dionne Warwick
In Jerk Be Nimble, Clem Kadiddlehopper bakes a cake that's so light, it floats away! And an Eastern European Dictator wants to use that to power their rocket to space!
Monologue | Jerk Be Nimble | On Stage | Silent Spot | Cast | Jokes
Monologue
Gertrude and Heathcliffe were talking. He says, "You know what I'm gonna do? I'm gonna have myself a new sports car." She says, "Yeah? How you gonna get it?" "I'm crossing a seagull with a six-pound box of bicarbonate of soda." "What kind of car do you think you're gonna get?" He says, "A Thunderbird!"
Jerk be Nimble – Act I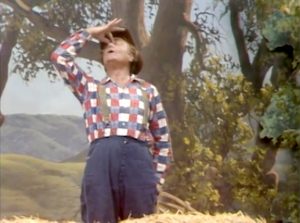 Jerk be Nimble begins with Clem Kadiddlehopper hiding from the chore of bailing hay. His Pa has to play "hide and seek" to find him — which he does, with a pitchfork! Clem tosses the pitchfork away, and kills their rooster! How will they know when to wake up in the morning? With Clem's new drum! He'll bang it, and someone will shout "Quit banging on that drum! It's 5:00 o'clock in the morning!" And Clem demonstrates, and Grandpa and Grandma Kadiddlehopper walk on stage!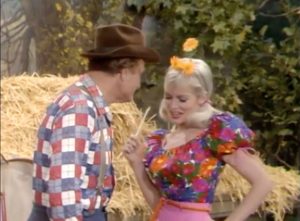 No sooner does Grandpa come on then …. He sends Pa Kadiddlehopper to his room! They want to pass on the secret recipe of the Kadiddlehopper cake, to win the first prize at the county fair. Grandma starts reciting the recipe, but falls asleep — "Nap time!" Grandpa starts to complete the recipe, but he falls asleep as well! So Clem calls his lovely girlfriend, Daisy June (Janet Leigh) to wake him up. She kisses Grandpa on the forehead, and he jumps up, reciting the rest of the recipe, which Clem writes on the ground with Grandpa's walking stick. And the shovels the dirt into a barrel!
Jerk be Nimble – Act II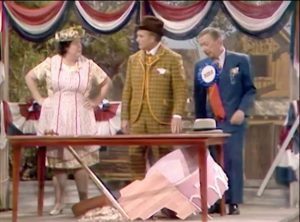 At the county fair, the portly Mrs. Applehip is about to win the cake contest. But Clem dashes in at the last moment with his gigantic cake, smashing hers — and the table. After some insults, the judge gives Clem three minutes to bake another cake! After some prop comedy, Clem and Daisy June do just that. And the cake is so light … it floats away!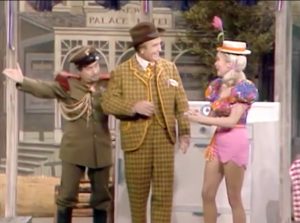 The judge disqualifies it, saying you can't just what you can't see. Clem replies, "What about a bathing suit contest?" Then, an East European Dictator pops out. He'd been lurking behind, but now makes Clem a business proposition. He wants to use Clem's recipe to launch a man into orbit! "Wouldn't it be easier to just feed him radishes?" But Clem, Daisy June, and the dictator walk off anyway.
Jerk Be Nimble – Act III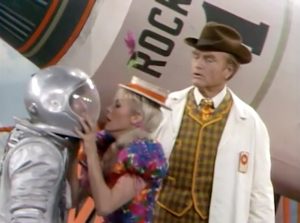 In the European nation of "Bankruptia", the dictator plans to have one of Clem's cake attached to the bottom of a rocket, and send a man into space! As Clem says, "You're sending a rocket up with a cake pasted on the back, and you're calling me crazy?" The astronaut comes, and he's turning purple! Daisy June reads his lips: "Tell … that idiot … he's standing on my air hose!"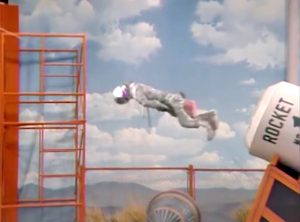 When it's time to launch the rocket, the Dictator makes the mistake of having Clem do the countdown. "I can't even count up!" But eventually Clem cuts the rope holding down the missile and …. Nothing happens. Clem pushes the cake further into the rocket and …. The astronaut flies out the front, sitting on the cake! After a moment, he bounces back to Earth, and the sketch ends with everyone chasing Clem.
Classic Red Skelton Sketch
On Stage – Red Skelton and Janet Leigh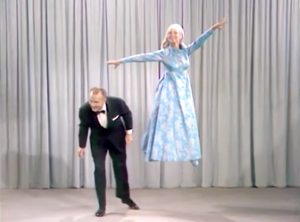 Janet Leigh joins Red Skelton on stage. After a few short jokes about her film, "Bye Bye Birdie", Red comments about how athletic male dancers must be to lift their female partners in the air. No, it's just leverage. But at my age, I don't have much leverage left! So, they demonstrate how "easy" it is, on the count of three!
The Silent Spot – The Pharmacy Burglary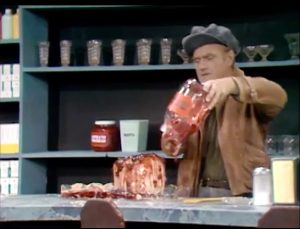 In the Silent Spot, Red plays a burglar who breaks into a pharmacy, to rob it. It's a very funny, fast-paced sketch, with lots of prop comedy! I especially enjoyed the "magical" safe where the money's kept. After, Red makes the mistake of making himself a gargantuan banana split …. And squirting parts of it at the camera! Which he eats offscreen even though he hears the police patrolman. It ends with him sneaking out of the building …. And right into the waiting patrol wagon!
Jokes
Clem Kadiddlehopper: [after Pa has poked in the behind with a pitchfork when Clem is hiding from work] You sure know how to rear a son, I'll tell ya!
Pa Kadiddlehopper: Ya want me to call you a doctor?
Clem: That won't make me a doctor just cause you call me on. This ain't California, you know.
Clem: [taking a rag, shining Pa's shoes while he's bailing hay] This is an old proverb – making hay while the son shines.
Pa Kadiddlehopper: [Referring to Clem's drum] You paid two dollars for that?
Clem: Yeah, can you beat that?
Grandpa Kadiddlehopper: Grandson, we ain't getting any younger …
Clem: You know anybody who is?
Clem Kadiddlehopper: I didn't know you had legs that went all the way up to your hips!
Daisy June: Well, they have to stop somewhere!
Act II
Mrs. Applehips: [after Clem's crushed her cake] You've flattened my mocha!
Clem Kadiddlehopper: Sure takes quite a strain off your corset, don't it?
Mrs. Applehips: I put everything I had into that cake!
Clem: [looking at the portly woman] Oh, don't give me that stuff. You've got enough left over for a bakery!
East European Dictator: In my country, I am known as the whole works. [pause] Then they shoot the works!
Act III
Clem Kadiddlehopper: [to the Dictator] You have no money in your country? Why don't you say something nasty about the United States, and they'll send you some.
Cast of characters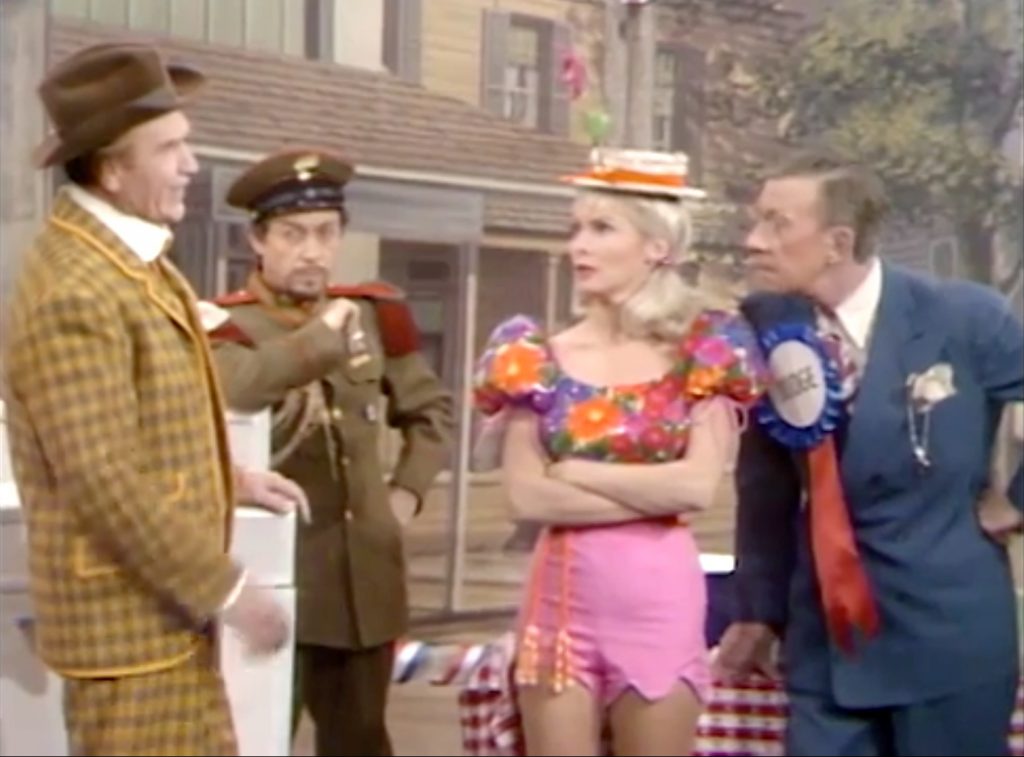 Red Skelton … Self – Host / Clem Kadiddlehopper / Gertrude and Heathcliffe / Pharmacy Burglar
The Alan Copeland Singers … Themselves
Jan Arvan (20 Million Miles to Earth) … Paw Kadiddlehopper
David Rose and His Orchestra … Themselves
Art Gilmore … Announcer (voice)
Florence Lake … Grandmaw Kadiddlehopper
James Millhollin (No Time for Sergeants, The Ghost and Mr Chicken) … Baking Contest Judge
Peggy Rea (The Waltons) … Mrs. Applehips – Baking Contestant
Vito Scotti (The Aristocats) … Eastern European Dictator
David Sharpe … Grandpaw Kaddiddlehopperp
Tom Hansen Dancers … Themselves
Dionne Warwick … Self – Musical Guest
Songs
Dionne Warwick sings, 'Walk On By' and 'People.'