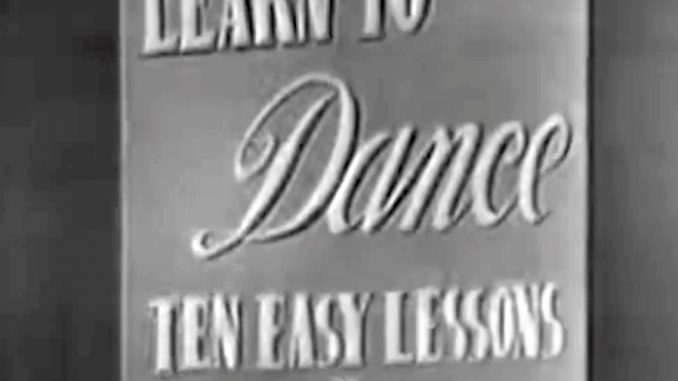 Learn to Dance in Ten Easy Lessons or One Hard One – The Red Skelton Show, season 1, originally aired December 30, 1951
Learn to Dance in Ten Easy Lessons or One Hard One – with Clem Kadiddlehopper learning to dance, Red Skelton and Lucille Knoch demonstrate My First Dance, and Red and Lucille are Marooned together in a Tide commercial.
Monologue | My First Dance | Pantomime | Marooned | Learn to Dance in Ten Easy Lessons or One Hard One | Conclusion
Monologue
It never rains in California…
A lot of things happened out here in California this week. I won't say it rained a little …. A lot of the sunshine did go down the drain, though.
Santa Anita opened — that's a big race track we have out here. It opened and I went out to watch the horses swim around the track …
The rain didn't seem to bother anyone going to Santa Anita. When they found out back in Washington how much money they took in at the track yesterday, Truman wants to throw out Congress and put in horses!
Post Christmas
Christmas is over now. I got a pair of shoes from Georgia, a pair of socks from Valentina, and a pair of shoe strings from Richard. My feet had a very Merry Christmas.
Little boys
There were a group of little boys were talking, and I overheard them. "What does your father do for a living?" "He's a banker. What do your pop do?" "He's an architect, he puts up big buildings." He turns to Richard, "What does your father do?" He says, "Oh, you wouldn't be interested." "No, what he do, what he do?" "Not too much of anything …. Any he does, they laugh at him."
Red then does a funny pantomime on how to imitate a drunk …. So that on New Years, the people who don't get drunk won't feel left out!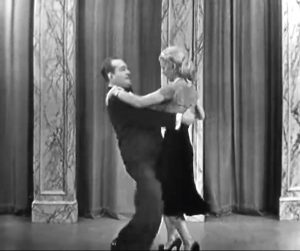 My First Dance
Red Skelton, as a nervous young man at his first dance. Lucille Knoch is his unfortunate dance partner. "You're very light on my feet." He steps on her feet, slips on his new shoes, has his belt give out, etc.
At the end, Red asks, "May I have the last dance with you?" Lucille simply responds, "You just had it," and walks off.
Red then takes a moment to talk with the audience about the lovely Lucille Knoch from Nashville, Tennessee. He then talks about lovely girls, and segues into the next segment …
Pantomime of a girl getting up in the morning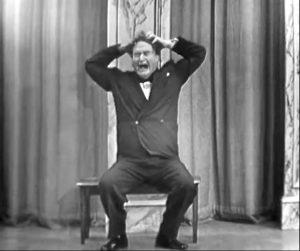 Red stated that his father first did this pantomime for the Hagenbeck Wallace circus, 50 years prior. He also performed it in the movie Bathing Beauty. Either way, it's a hilarious pantomime that has to be viewed to be appreciated.
It deals with the girl getting up, stretching, fixing her hair, applying cold cream, makeup and lipstick, etc.
The part where Red pantomimes putting on a girdle is laugh out loud funny all by itself! And of course, putting on a dress. That zips up in the back, of course. And then, stockings. And finally, fixing "her" hair.
Skelton Film Scrapbook – Marooned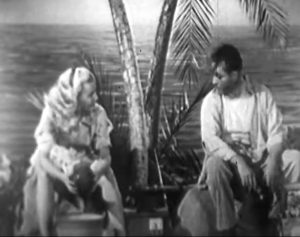 Marooned is a very funny Tide commercial. It deals with Lucille Knoch and Red Skelton being shipwrecked on a desert island for two years. There's a lot of verbal humor in a short amount of time.
Lucille Knoch: Two years on this island, without seeing a human being.
Red Skelton: I'm with you, dear.
Lucille Knoch: [looks at him] Like I said, two years on this island, without seeing a human being.
Red Skelton: Sitting here all day, all night, two years nothing to do, nothing to do.
Lucille Knoch: [Simply looks at the audience and shakes her head]
And, of course Tide saves the day, making Red's shirt sparkling white so a passing ship can see it.
Learn to Dance in Ten Easy Lessons or One Hard One
Clem enters the dance studio of "Hermes Panhandler", to learn to dance.
Clem Kadiddlehopper: What's the first lesson? How to dance?
Hermes Panhandler: How to breathe.
Clem Kadiddlehopper: I always wanted to learn how …. We were poor.
Clem Kadiddlehopper: I'm a wallflower now. Whenever we go to a dance, they always build a pot around me. They say: "There's Clem Kadiddlehopper, always half potted."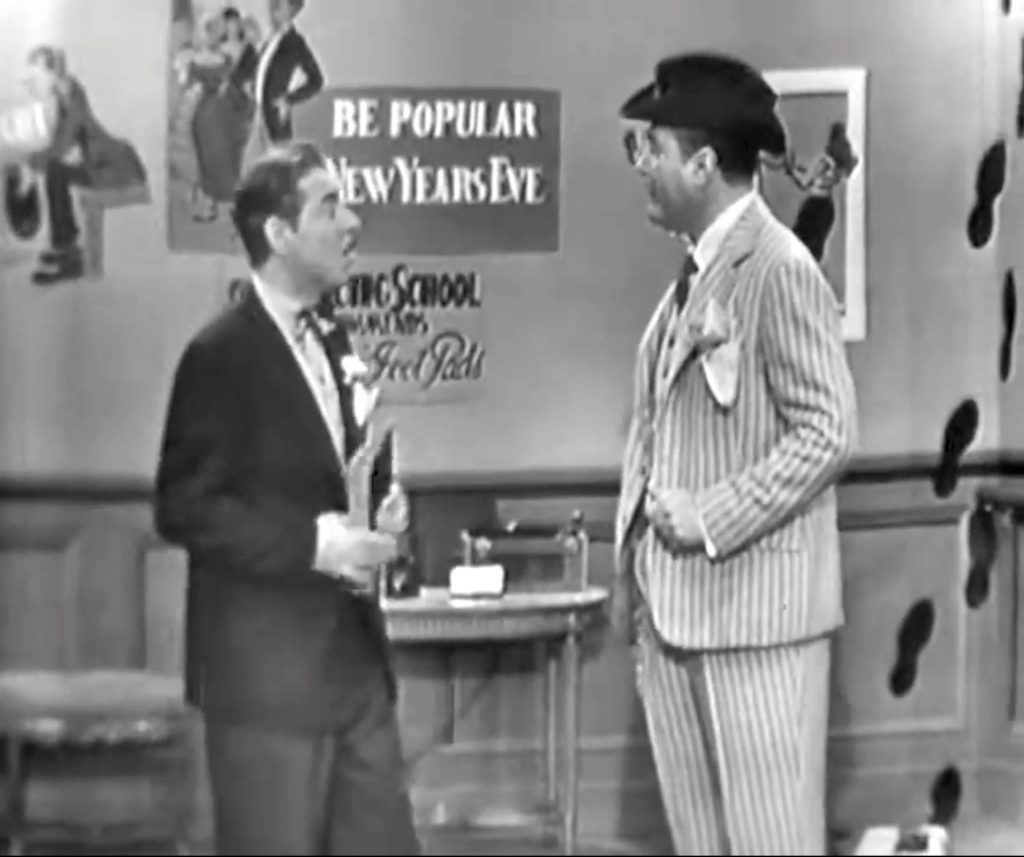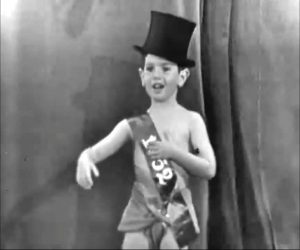 Conclusion
Red wishes the audience a happy new year, when he's seemingly grabbed by the ankles and pulled back through the curtain. Baby New Year 1952 (Richard Skelton) comes out and announces, "Oh well, we've all got to go sometime!"
Cast
Red Skelton … Self – Host / Clem Kadiddlehopper
David Rose and His Orchestra … Themselves
Lucille Knoch (Executive Suite) … My First Dance, Castaway
Bob LeMond … Announcer
Pat McGeehan … Self – Announcer
Shirley Mitchell (The Clown) … Miss Bop – Dance Instructor
Richard Freeman Skelton … Baby New Year 1952
Trivia
The name Hermes Panhandler is a play on Hermes Pan, known for his choreography with Fred Astaire.
Red's young son, Richard, appears as Baby New Year.
Buster Keaton was uncredited as one of the writers.