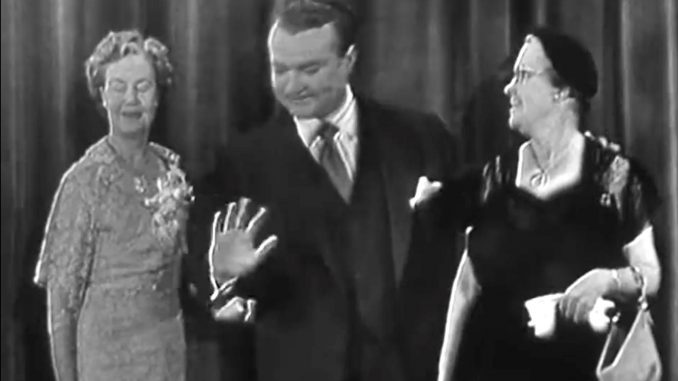 Let's Talk About Mother – The Red Skelton Show, season 1, originally aired May 11, 1952
Monologue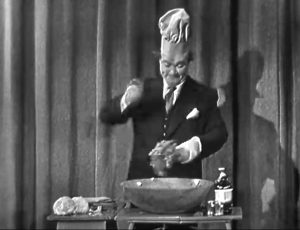 In his opening monologue, Red thanks New American Weekly and Vogue Magazine for complimentary articles on him and the New York Academy of Arts and Sciences for giving him the Michael Award.
[talking about his recent trip to San Francisco] They have wonderful places to eat up there, and it's very reasonable. In fact, I found one place there where you can eat dirt cheap …
I came home and I said to Little Richard, "Hey, Richard, come here." "Okay, don't call me 'Richard' anymore. I have changed my name to Irving." "Irving?" He yells, "Richard broke a lamp in the living room, and I don't want nothing to do with it."
Then the cat comes through, and he looked awful funny. I said, "What did you do, give that cat a poodle haircut?" He says, "I cannot tell a lie, so I will not answer. But that cat looks much better since getting a poodle haircut. Dogs come up and kiss him on the back of the neck."
Telling a story from a cabbie: a guy paid me $50 to drive him off the bridge so he could commit suicide. Crazy, huh? I'll say so! My medical bills were $150!
He then pantomimes a chef making a salad.
Skelton Scrapbook – Weepy the Cluck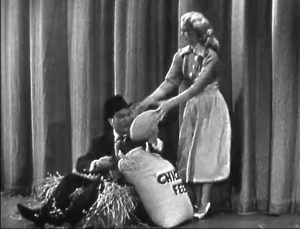 Red presents J. Weepy Numbskull trying to hatch an egg! He's desperate to become a "mother" for Mother's Day. Eventually, he gives the gigantic egg he's trying to hatch to Lucille Knoch, and she leaves. Benny Rubin comes in as the County Commissioner. He's trying to give away prizes to various people from the county fair. As normal, it turns into a Tide commercial.
Let's Talk About Mother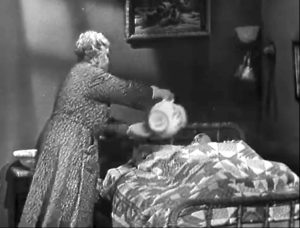 In another Skelton Scrapbook, named "Let's Talk About Mother", Red explains to pal Gil Perkins about what Mother does to keep her family going. It's a fairly comedic sketch, starting with Mom being the first to get up, and then having to rouse the family. Next, she prepares food for her uncaring family — They don't leave any for her! She does the work around the house, is taken advantage of — and ignored — by the family, and she's the last one to bed. And, she's happy.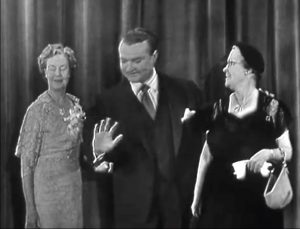 At the end of the program, Red introduces his mother, Ida Mae, and mother-in-law, Gladys Davis.
Cast
Red Skelton … Self – Host / J. Weepy Numbskull
Jane Darwell (The Grapes of Wrath, Mary Poppins) … Mother in Mother's Day Skit
David Rose and His Orchestra … Themselves
Gladys Davis … Self – Red's Mother in Law
Lucy Knoch … Lady Waiting for Bus in Weepy Sketch / Daughter in Mother's Day Skit
Raymond Largay (April in Paris) … Father in Mother's Day Skit
Bob LeMond … Announcer
Pat McGeehan … Self – Announcer
Edmund Penney … Son in Mother's Day Sketch
Gil Perkins (Batman: The Movie) … Man Listening to Mother's Day Talk
Benny Rubin … County Commissioner in Weepy Sketch
Ida Mae Skelton … Self – Red's Mother