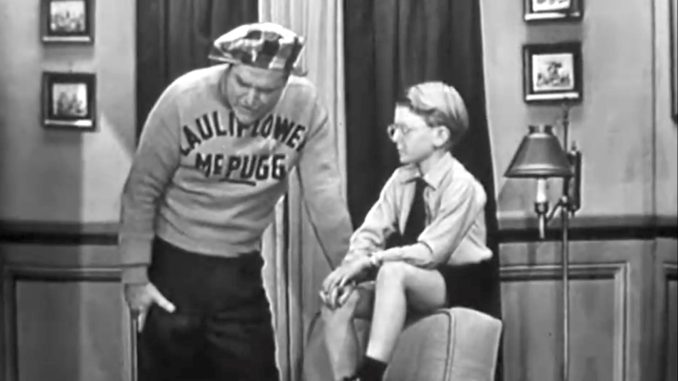 McPugg the Babysitter babysits for a precocious child, Clem Kadiddlehopper sells shaving cream on a commercial, Red dances opera?
Red Skelton's monologue is quite short tonight, to make room for the sketches. But he does tell the story of a young man who wants to eat a worm for dinner! Cook it first, I ain't eating it raw! You try it first, Dad …
Clem Kaddiddlehopper's Smoothola shaving cream commercial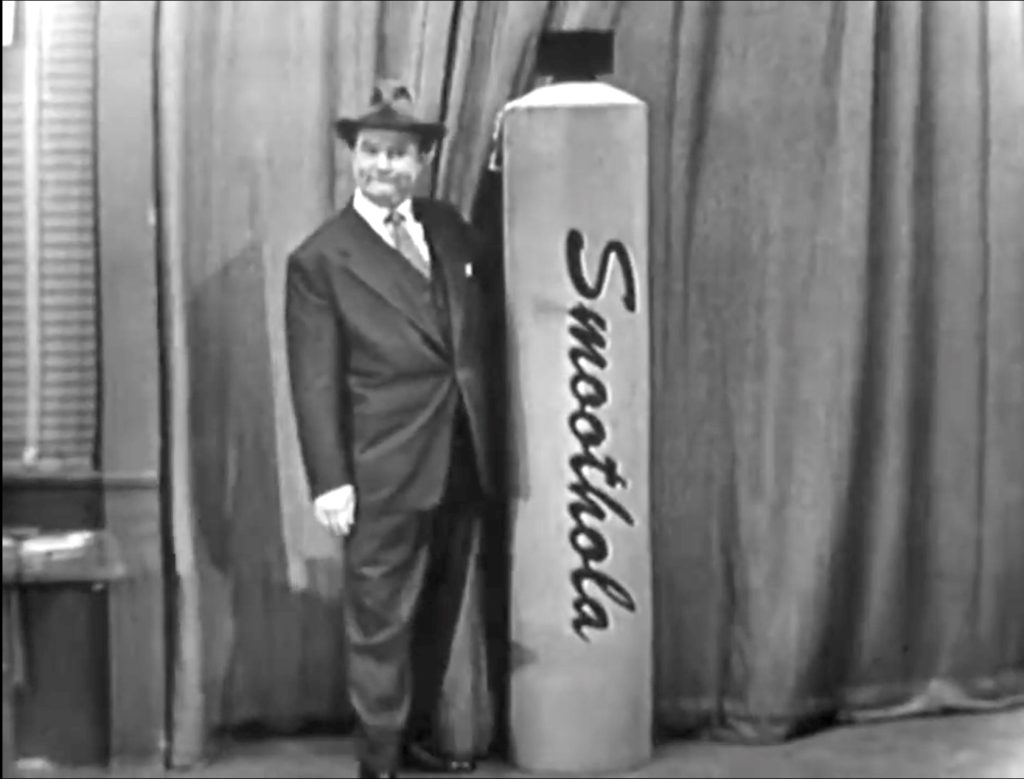 Clem Kadiddlehopper sells Smoothola Shaving Cream on a TV commercial. With the "help" of an audience volunteer, whom he lathers up — and leaves lathered! There's a lot of prop comedy, as the "easy opening" tube won't open, even with a sledge hammer! Which he hits himself in the head with. "It feels so good when it stops hurting!"
"Buy Smoothola. Look dull, fell dull, buy it and be stupid!"
The Babysitter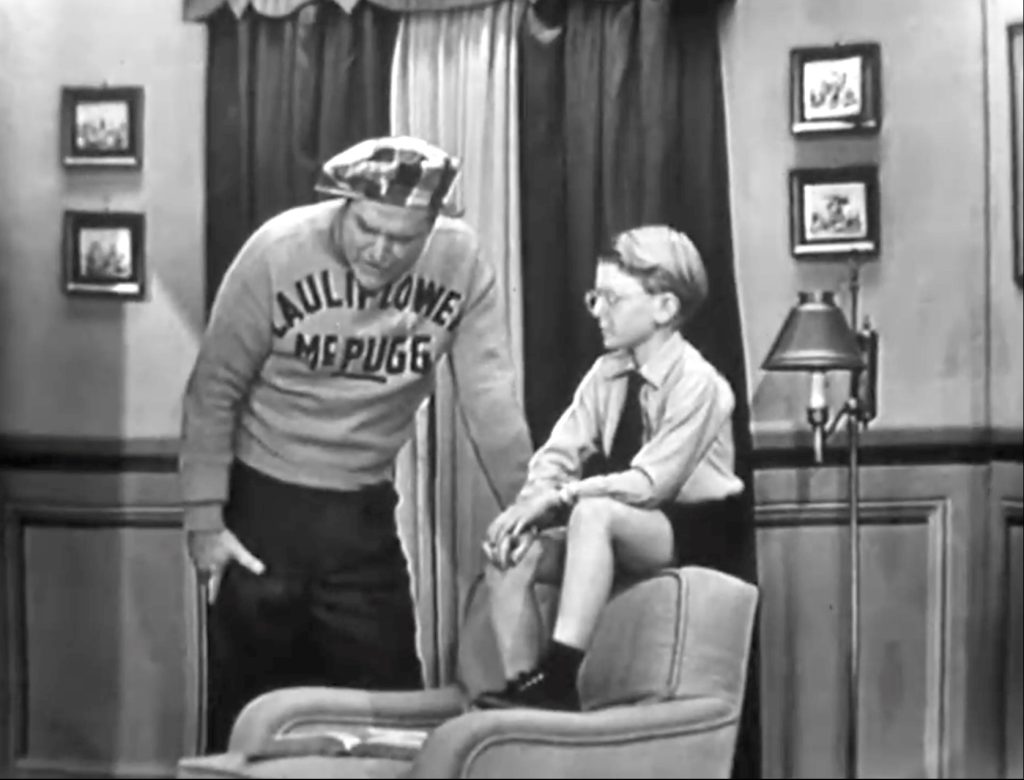 Cauliflower McPugg's hired as a babysitter by the Jones family, so the parents can go out for an evening. And, of course, he's warned that there are a lot of breakable valuables in the apartment …. "Too soon, too soon." Which becomes a running joke. And he insists on giving the "baby" – a child roughly ten years old — a baby bottle. Then the child wants a story. Which is interrupted by the cuckoo clock. For once, Cauliflower actually hears a bird! So he sets it free, throwing out into the hallway with a "clunk!" sound. "What's he been eating?" Finally, the young man distracts him into taking a bath, while goes out to the Paladium! Cauliflower comes out, in a towel — and the poor antique bust finally gets it!
Tide's In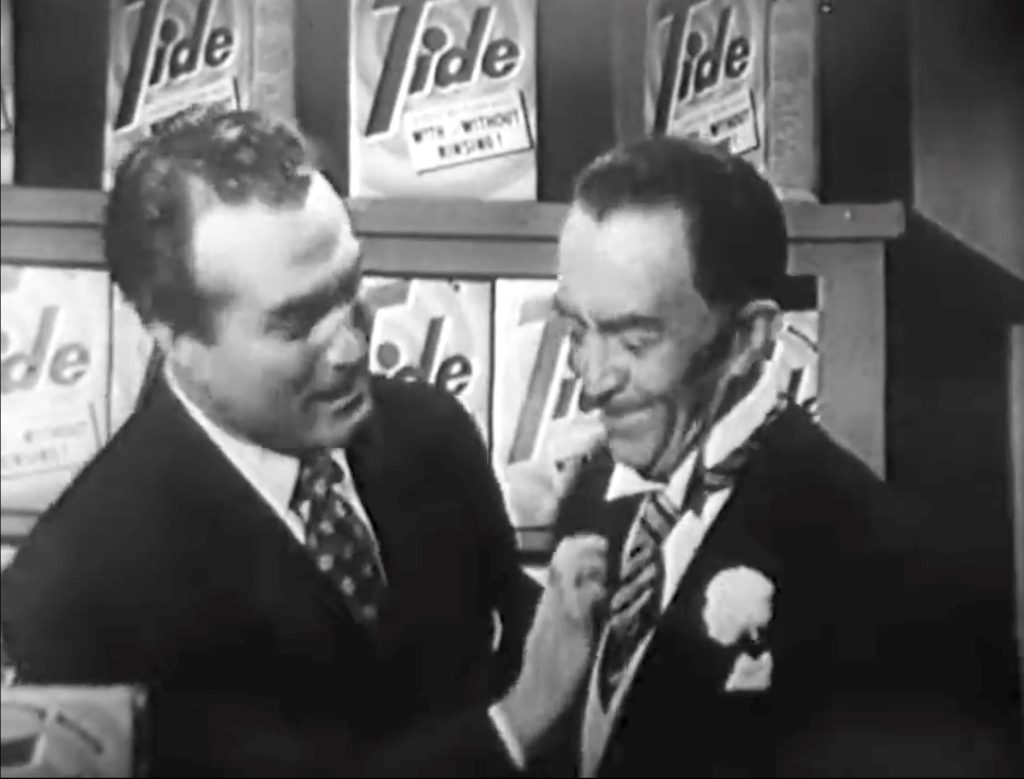 The commercial is called "Tide's In" for obvious reasons. Red's a salesclerk at a department store … Who has to man the counter when the new shipment of Tide comes in! And when they open the doors, a mob comes in and takes every box! Red's a mess — but he's kept one box for himself! Until a customer comes in and takes it!
Specter of the Rose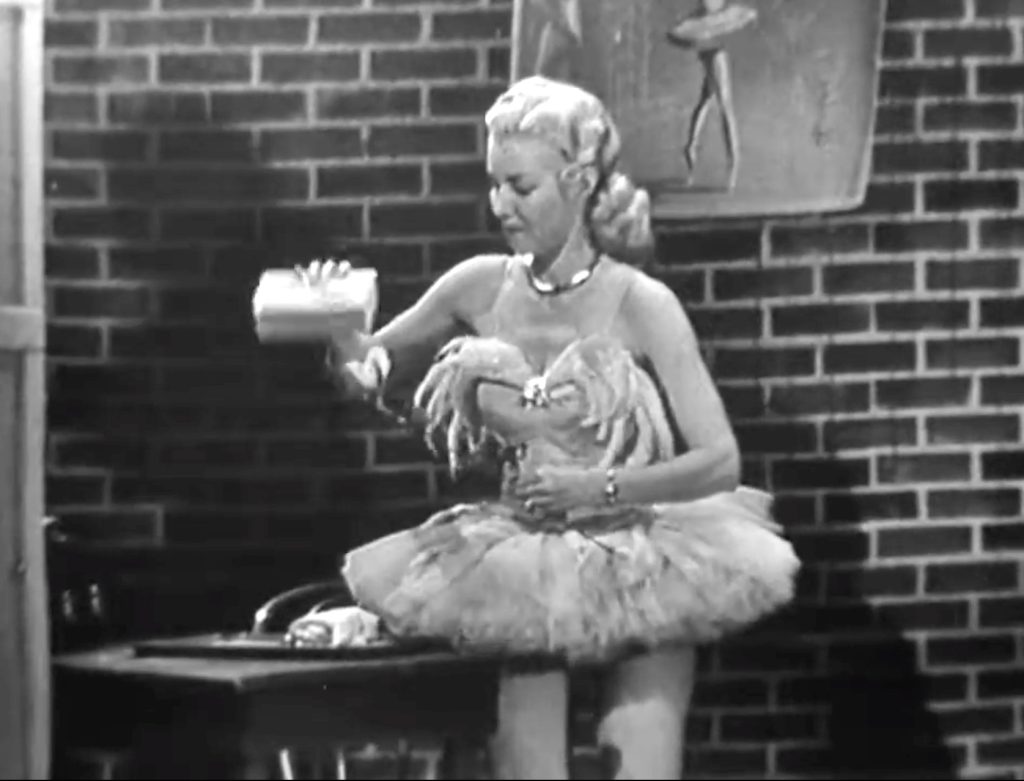 Prima ballerina Nana Gollner and Red perform a slapstick pantomime of the famous ballet. It begins with a spurned Lucy Knoch doctoring the rose prop — with pepper! Lots of pepper! Which leads to a fair amount of the comedy during the ballet number, as Red sneezes, Nana holding her finger under his nose, him doing the same for her, etc. And finally sneezing the flowers off his costume! A very funny routine.
Cast of characters
Red Skelton … Self – Host / Clem Kadiddlehopper / Cauliflower McPugg
David Rose and His Orchestra … Themselves
Nana Gollner … Self / Specter in Rose Skit
Lucille Knox … Ballerina / Specter in Rose Sketch (as Lucy Knoch)
Bob LeMond … Self – Announcer (voice)
Pat McGeehan Pat McGeehan … Self – Announcer
Edmund Penney … Mr. Jones / McPugg Sketch
Gil Perkins … Psychiatrist Making House Call
Buddy Piper … Man With Shaving Cream / Clem Skit
Marian Richman … Mrs. Jones / McPugg Skit
Jerome Sheldon … Store Manager / Tide Commercial
David Stollery … Rodney Jones / McPugg Sketch