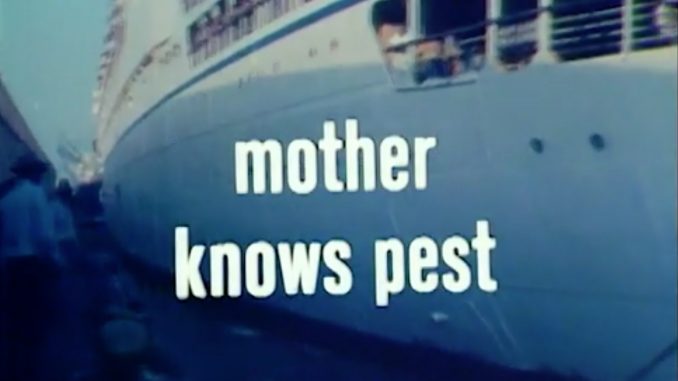 Mother Knows Best AKA Mother Knows Pest, with Audrey Meadows – The Red Skelton Hour, season 16, originally aired October 11, 1966
Mother Knows Pest – Junior the Mean Little Kid's mother is looking for her newest husband on an ocean cruise. And Junior wants to "help"!
Monologue
Columbus
When Columbus discovered America, all he found was berries and nuts. Now, there's no berries.
Politics hasn't changed too much. His project was a sort of a poverty program. It was financed by the government, see. When he started out, he didn't know where he was goin', when he got there, he didn't know where he was, when he got back, he didn't know where he'd been!
Queen Elizabeth of Spain, she's the one who financed the trip, you see. Well, I don't want to cause any scandal, but that's the last time money went from Europe to America!
Italy
Did you see that photo of Sophia Loren on the magazine cover a few weeks ago? Oh boy …. I tell you, the only thing I think is flat in Italy is the pizza!
Red had been having a recurring dream. He dreamt that he was the emperor of Rome, and Sophia Loren was Cleopatra. And people would yell, "Julius! Seize her!" [Caesar]. But his wife Little Red must has been listening, because she kept saying, "Brutus! Brutus! Brutus!" [mining her hitting him in his sleep]
Gertrude and Heathcliffe, the two seagulls
"Did you hear what happened to Minnie the cow?" "No, what happened to Minnie the cow?" "She went to the beach, laid down on her back, and got sunburnt. Well, when the old farmer went to milk her, he looked at he and says, 'How now, brown cow?'"
Mother Knows Pest, aka. Mother Knows Best
Act I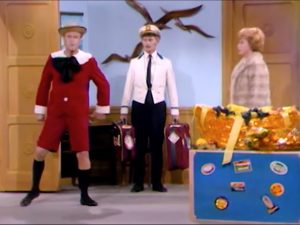 Mother Knows Pest begins with the Junior the Mean Little Kid's mother going on an ocean voyage. She's looking for her next husband.
[looking at the large fruit basket – a gift from her former husband, Louis]
Mrs. Cavendish: Was he my twelfth or thirteenth husband? Oh, I remember! He was Louis the fourteenth!
Junior has snuck aboard the boat, to wish his mother a good voyage. And, to cause a fair amount of chaos, of course. He misses the last bell to get off the ship, and he's stuck on board. So, Mrs. Cavendish hires a rather large crew member, Shipshape, as a baby sitter. But Junior simply takes this as a challenge! And too, he's off …
Act II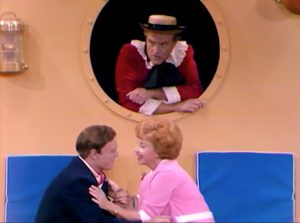 Mrs. Cavendish begins looking for her shipboard romance. After bypassing a bald man, she picks a likely candidate. Young, handsome, and of course, rich. Junior decides that he needs to interfere, however. He wants her to choose the ship's captain instead. That way, he'll get to pilot the boat!
So, he decides to interfere with his mother's choice. By picking up the man's toupee! After playing with it, he makes sure that his mother sees the man's bald spot. And, plays shuffleboard with the toupee! And then, begins speaking with the captain. At first, the captain isn't interested. But Junior's mother is quite wealthy, after all …
Act III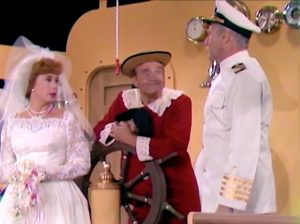 The captain of the ship runs to the presumed safety of the boat house. Because Junior has been chasing him all over the ship, trying to get him to marry Junior's mother! But, the captain's not safe there! Junior follows, and the captain runs and hides. Leaving Junior alone with the poor seaman steering the ship.
With the help of the megaphone, Junior convinces the poor seaman to jump overboard. It's a funny moment, as apparently something changed after rehearsal! Soon, Junior is making sure that the captain and his mother are in each others' arms …. By turning the wheel steering the ship madly, forcing them to careen from one side to another! The captain promotes Junior to captain of the ship — so he can go down with it as the ship sinks, ending the skit!
Classic Red Skelton Sketch – On the House
It's a funny sketch, as three drunks (all played by Red Skelton) try to get a free drink from a bartender — played by Rod O'Connor, Red's announcer from his radio show.
Silent Spot – The Ambassador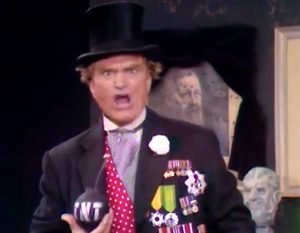 Red plays the latest ambassador to the fictional nation of Blowupskia — where there's one humorous assassination after another!
Cast
Red Skelton … Self – Host / Junior Cavendish – the Mean Widdle Kid / Gertrude and Heathcliffe / Ambassador-Silent Spot
The Alan Copeland Singers … Themselves
Shirley Bassey … Self – Guest Vocalist
David Rose and His Orchestra … Themselves
Milton Frome (The Nutty Professor, Pies and Guys) … Cruise Ship's Captain
Art Gilmore … Self – Announcer (voice)
Bern Hoffman (Li'l Abner) … Shipshape – Cruise Ship's Crew Member
Ida Mae McKenzie … Passport Clerk / Silent Spot
Audrey Meadows (The Honeymooners) … Mrs. Cavendish
Midori … Japanese Visitor – Silent Spot
Bill Shannon … Bald Suitor for Mrs. Cavendish
Roy N. Sickner … Cruise Ship's First Officer
Gilchrist Stuart (The Sound of Music) … Cruise's Ship's Steward
Tom Hansen Dancers … Themselves
Music
Shirley Bassey sings, 'I Could Have Danced All Night' and 'The Shadow of Your Smile.'