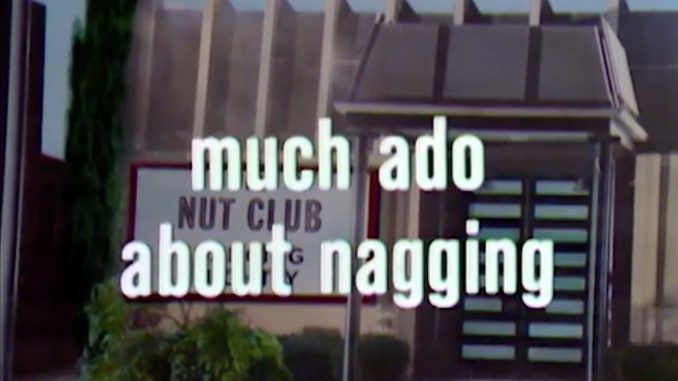 Much Ado About Nagging, The Red Skelton Hour with Godfrey Cambridge, season 16, originally aired October 4, 1966
In Much Ado About Nagging, George Appleby gets a job as waiter at the "Nut House", where he meets comedian Laugh-A-Minute Louie. Louie needs to get some marriage insult jokes, so George invites him home. But his wife Clara frustrates him by refusing to insult George! At first …
Monologue | Much Ado About Nagging | On Stage | Silent Spot | Jokes | Cast
Monologue
Everything ages so fast out here in California. I planted a tree here last year – and it's dead already.
[About the California sunshine] I get up every morning with the sun. I haven't slept for the last three days.
Age
I was walking down the hall, and a little lady comes up to me, "You're Red Skelton, ain't ya?" I said yes. "You must be about sixty years old." Why would you say that? "My son's thirty years old, and he's only half nuts."
Inflation
"Are you concerned about inflation?" Only when eating Mexican food.
Inflation … the only way you can buy a two-pound steak anymore is with three pounds of money!
Things are so high now, when you see a guy with a gravy stain, you don't know if he's sloppy or bragging.
Remember when you could get a hamburger for a dime? You can still get a hamburger for a dime, but I won't tell you how much meat's in it …. You can eat it on Friday!
I saw a butcher on the street the other day, and I said, "I saw the prices at your shop – you should be ashamed of yourself!" He says, "I saw your show – you should be too!"
Even eggs have gone up …. Which makes it rather rough on the hens.
Two chickens were talking. One says to the other, how much do you get for your eggs? 80 cents a dozen. How much do you get? 70 cents a dozen. Why don't you lay bigger eggs and get paid more? She says, I should exert myself for a dime?
Shopping
Prices haven't stopped the women from shopping. My wife, for instance, every time she goes into a store, it's "Charge! Charge! Charge!" I says, Why don't you retreat a little?
Much Ado About Nagging
Act I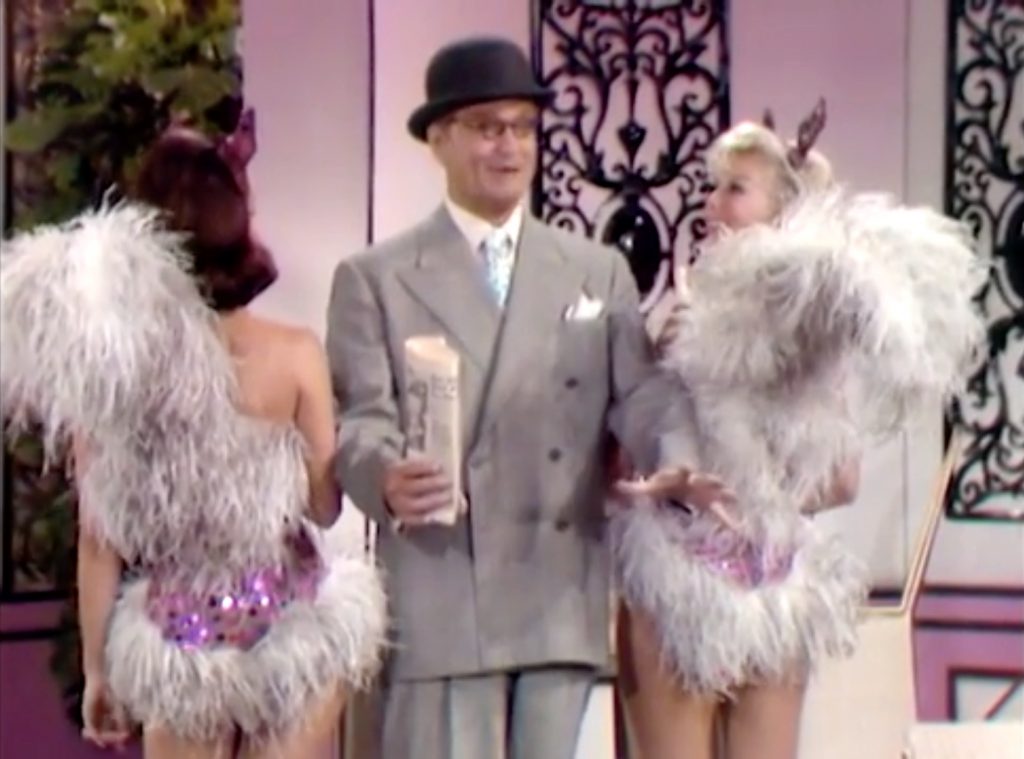 Much Ado About Nagging begins with the henpecked George Appleby applying for a job at the Nut Club. It's a very funny segment, with lots of fast-paced humor. The "Nut Club" is an obvious reference to the Playboy Bunny clubs of the time, with pretty girls here dressed as "squirrels". George is looking for a job as a waiter, but misunderstands the managers instructions to the auditioning girls …. And starts to strip! Despite this, he gets hired as a waiter. Trouble comes when one of the love squirrels asks him to help zip up her outfit …. And he gets his tie stuck in her zipper! That moment is when his controlling, jealous wife Clara comes in!
There's a hilarious bit, where George provides the "arms" for the lovely girl. But Clara isn't fooled for long. After some slapstick abuse, George is reunited with "Laugh a Minute Louie" (Godfrey Cambridge), a comic auditioning. His jokes are so bad, they're hilarious! But, the manager feels that the "in" thing are marriage insults. So, Louie will visit George's house, for the constant barrage of insults from Clara!
Act II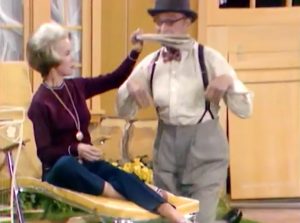 At the Appleby house, Clara continues her normal abuse of her husband George …. Assisted by her mother! There's some slapstick, as George is going to barbecue some steaks.
"Good heavens, I haven't seen so much meat since Jackie Gleason put on a bikini! You know, that was one of the biggest hangovers he ever had."
The two steaks are for Clara and her mother. What does George get to eat? After he's finished, he can lick the grill!
But, it's "kindness to animals week". So, Clara decides to treat George kindly for the rest of the day! At first, this puts a crimp in Louie & George's plan. But, her nasty nature finally comes out, and Louie starts writing down his new material.
Act III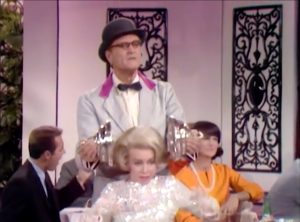 The best-laid plans of mice and men often go astray …. And when Clara comes to see the show at the Nut Club, George is afraid. With good reason! George tries to prevent Clara from hearing Louie's insults, but to no avail. And soon, the two are insulting each other at the club — to the delight of the audience!
Clara: I should have married that x-ray technician!
George: Well, he's the only one that saw anything in you!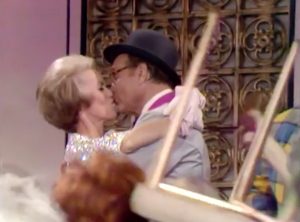 Then, Louie pulls them on stage, to introduce them as his new comedy team, The Fighting Appleby's! Their fighting's contagious, as the various married couples in the audience start fighting, as George and Clara kiss, ending the sketch.
Classic Red Skelton sketch – the Rivero Quintet
South of the border singing and dancing act.
Skelton's Film Scrapbook – Pasquale's Hotel
On Stage Red Skelton and Godfrey Cambridge
Red: What are you doing with that mirror?
Godfrey: The doctor told me to watch my weight.
To help him lose weight, Red has him go into a steam cabinet.
Godfrey: I feel like a blueberry in a bottle of milk.
Red: You're gonna lose five pounds every second.
Godfrey: Hey, Red, are you sure this thing works?
Red: If it don't you get double your blubber back.
And, when they're done …. it's worked a little too well!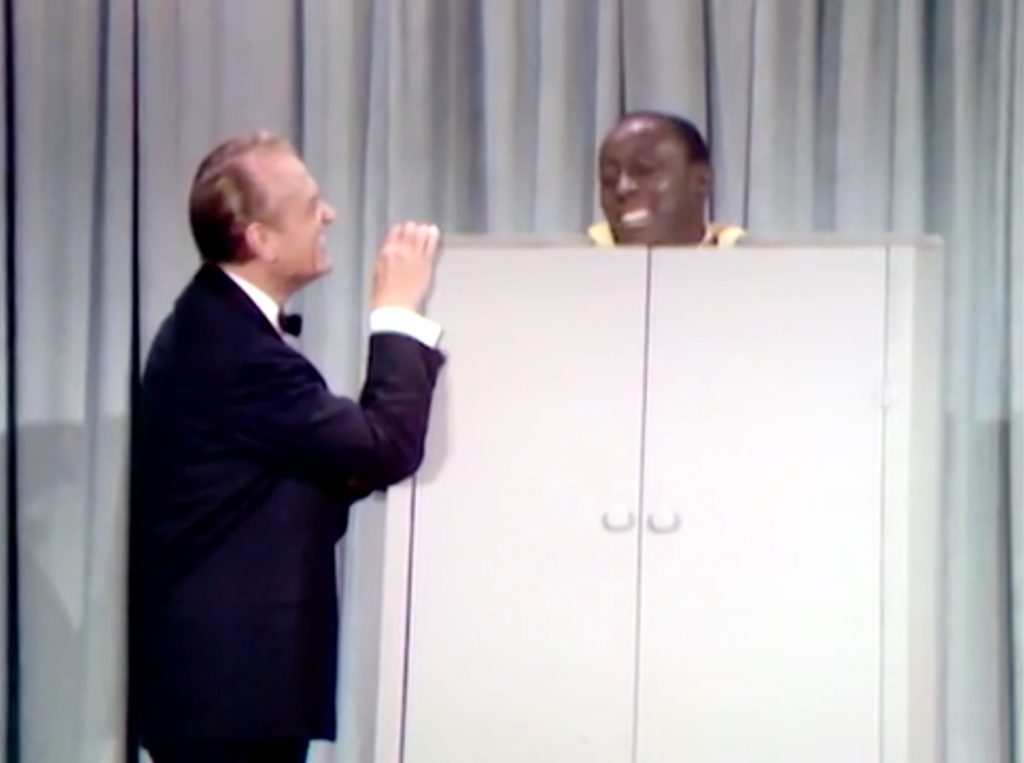 The Silent Spot – day at the beach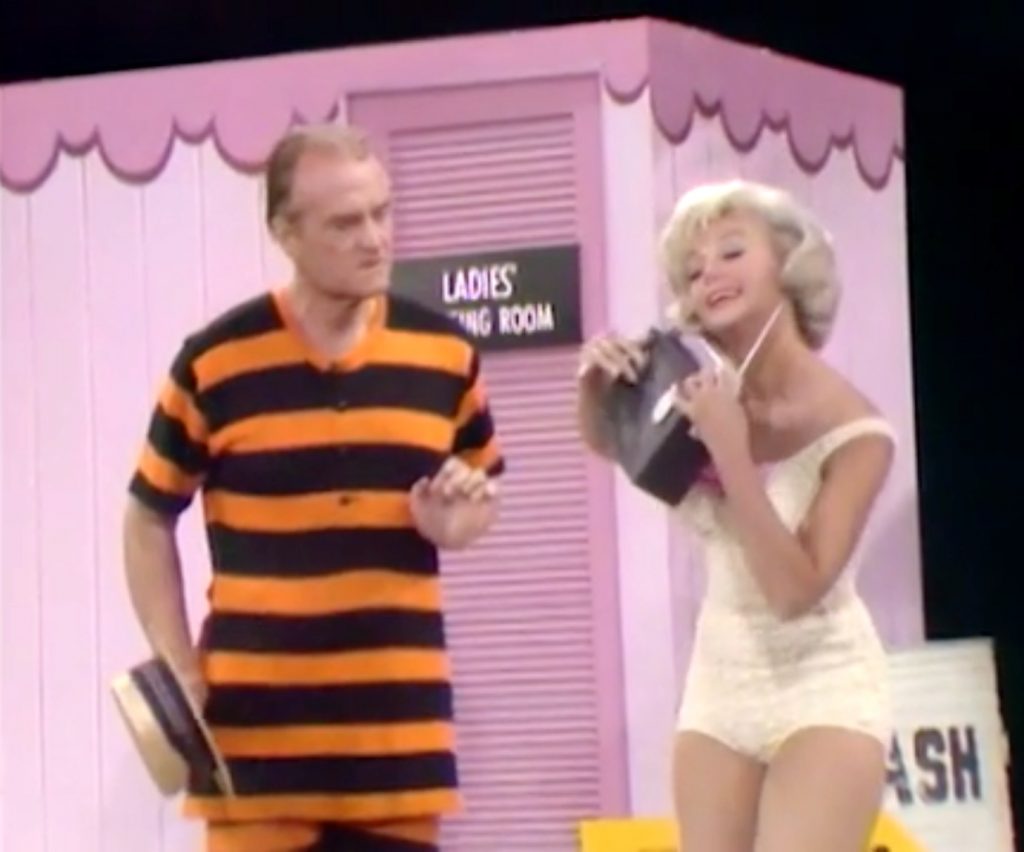 Jokes:
Laugh-a-Minute Louie's audition
Louie: My mother called me Louie, 'cuz I was the fourteenth!
Louie: Do you know how to make a Venetian blind? Poke your finger in his eye!
Louie: My wife went to West Indies. Jamaica? No, she went of her own accord!
Speaking of whiskey, it may shorten your life, but you get to see twice as much in half the time.
Louie: [to George Appleby, who's interrupting his audition] I don't know what I'd do without you, but I'd sure like to try.
Club Owner: [to George] Get your hand off of me, or I'll knock you flatter than his last joke.
George: I've got the meanest wife in the world. She gave me an electric blanket, and made me sleep in wet pajamas.
Louie: Shocking!
George: And that's not all. She then screwed a light bulb into my navel, and sat there and read.
At the barbecue
Mother-in-law: George, I want my steak rare!
George: If it was any rarer, you could give it a transfusion!
George: [to Louie] She's madder than a near-sighted porcupine married to a pin cushion!
Clara: I've never heard of a hospital for trees!
George: You mean you've never heard of Cedars of Lebanon?
George: Clara hasn't been this nice to me since she mistook me for the milkman.
Louie's insults at the Nut Club
My wife went to college. She graduated Summa Cum Loud Mouth!
My wife's a magician! She can turn anything into an argument.
Some men are hen pecked. I'm buzzard battered!
Ten years ago, I asked for her hand in marriage. And her hand's been in my pocket ever since!
Cast
Red Skelton … Self – Host / George Appleby / Masher at Beach-Silent Spot
The Alan Copeland Singers … Themselves
Jan Arvan (20 Million Miles to Earth) … Owner of The Nut Club
Gayle Caldwell … Self – Guest Vocalist (as Jackie and Gayle)
Godfrey Cambridge … Laugh a Minute Louie
Jimmy Cross … Drunk at The Nut Club
David Rose and His Orchestra … Themselves
Jan Davis … Tall Dancer
Art Gilmore … Self – Announcer (voice)
Chanin Hale … Auditionee at Nut Club / Sunbather -Silent Spot
Emmaline Henry (I Dream of Jeannie, Divorce American Style) … Clara Appleby
Charlott Knight (20 Million Miles to Earth) … Clara Appleby's Mother (as Charlotte Knight)
Jackie Miller … Self – Guest Vocalist (as Jackie and Gayle)
Tom Hansen Dancers … Themselves
Mary Foran … Chubby Woman at the Beach-Silent Spot (uncredited)
Songs
Jackie and Gayle perform, 'The Mood I'm In' and 'I'm in a Dancing Mood.'