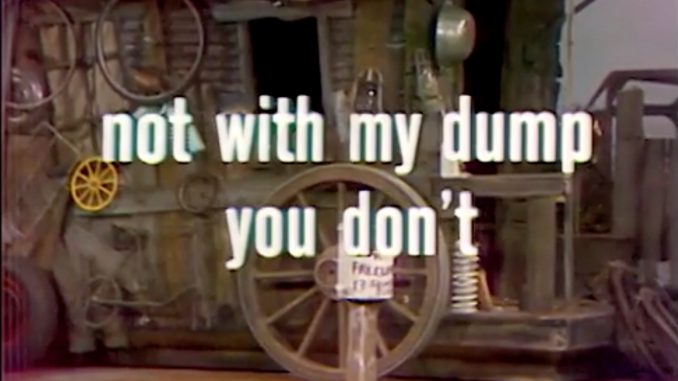 Not With My Dump You Don't – in this episode of The Red Skelton Hour, Terry-Thomas condemns Freddie the Freeloader's shack as an eyesore! Then, it's on to Washington …
Monologue | Not with My Dump You Don't | Classic | On Stage | Silent Spot | Songs | Jokes | Cast
Monologue
I'm fighting off a cold that was designed for a horse.
My teeth are chattering so bad, I broke two cups trying to drink tea!
Visual humor – Red pretends to open a bottle of medicine, drink a tablespoon full, then jump up and down — "Forgot to shake the bottle again".
A guy comes up to me and says, "Is it true you can't speak above a whisper?" [whispering] "I can't speak above a whisper." The guys says, "Good, this is a stick up."
This one little lady says, "My brother had a bad cold, I gave him maple syrup, some sulfur, and half a glass of kerosene." I said, "That'll kill me!" She says, "It might … it killed my brother."
[Talking about the climate in Palm Springs] I was talking with Jack Benny, he says, "I've been here five years, and I haven't paid a single doctor's bill." I said, I know … The doctors told me!
A funny pantomime on the different types of sneezes. Including passing out umbrellas for the people in the front row!
Not with My Dump You Don't – Act I
Freddie the Freeloader is preparing to leave on vacation, with his two hobo pals. The police even give him a going away present — the key to the city jail. But, all's not well! A member of the Beautify America committee comes by …. He orders his underling, Farquardt Smythe Farquardt (Terry-Thomas) to condemn Freddie's shack! After some clowning around with nailing a "condemned" sign on Freddie's shack — and repeatedly hitting Freddie in the head with a hammer — after mentioning that the next project is highway 444, they all leave …
Not with My Dump You Don't – Act II
Freddie the Freeloader's shack has become a mobile home. With the help of his two hobo pals, who are pulling it down the road! However, they're about to unintentionally ruin Farquardt's chance at a Highway Beautiful award. After a lot of clowning around, verbal humor, and Red Skelton and Terry-Thomas nearly bringing each other to tears with laughter, the good-natured Freddie tries to help.
Farquardt picks up a patch of flowers, and puts it inside Freddie's bathtub. Next, they put a lovely curtain around it, and some ribbon on Freddie's shack. Lastly, Farquardt covers Freddie with a yellow cloth! Just in time for the committee to come by. Impressed, they want Farquardt to come to Washington D.C. to get the reward directly from the President! So he's off, and after causing an accident, Freddie and his pals are on the road to Washington D.C.!
Not with My Dump You Don't – Act III
Freddie the Freeloader and his pals appear on the White House lawn. Just in time to ruin Farquardt's award ceremony! After a running gag of "borrowing" an elderly ambassador's cane so he falls down, Freddie identifies himself as the "yellow blob" in the photo of Farquardt's beautified roadway. After some atrocious chicken puns, Freddie gives an impassioned speech about the hobo — the gentleman of the road. "You'll do anything to steal a scene, won't you?" But it's all a ruse to give his hobo pals time to raid the White House kitchen! The sketch ends with Farquardt joining Freddie on his road trip.
Classic Red Skelton Sketch – Weepy the Cluck
Red presents J. Weepy Numbskull trying to hatch an egg! He's desperate to become a "mother" for Mother's Day. Eventually, he gives the gigantic egg he's trying to hatch to Lucille Knoch, and she leaves. Benny Rubin comes in as the County Commissioner. He's trying to give away prizes to various people from the county fair. As normal, it turns into a Tide commercial. A very funny sketch, by the way.
On Stage
Terry-Thomas joins Red Skelton on stage, bearing gifts. The first is an enormous tea bag! If Red puts it in his pool, he'll have the largest cup of tea in the world! Then, from a gift-wrapped box, Terry-Thomas pulls out the model of a car. What is it? An Edsel. Why? Because with all that tea, you're going to need a lemon!
Silent Spot – The Old Photographer
In the Silent Spot, Red pantomimes his elderly Pops character as an old photographer. He's behind on his rent, so she comes into his shop to look for him. It's a funny scene, as Pops is hiding under a table. The table slowly moves toward the door, and when the landlady tries to lean on where the table was, she falls down! Eventually she catches him, and makes him pawn his camera. But then, a customer comes in!
So, Pops goes and rather violently takes back the rent money. The landlady literally climbs a telephone pole to get away from him …. Until Pops starts cutting it down! She throws the money down, Pops gets his camera back and … alienates the customer, who leave in a huff! So, he has to pawn the camera again …
Then, another customer comes in … This time, it's a man with his parrot. So, Pops again violently takes the rent money back. This time the landlady ends up in a garbage container! But when the parrot bites Pops, he tries shooting it with a shotgun! The customer flees, the landlady thinks he's going to shoot her! She's all but faint, so Pops leads her to sit in a chair — which falls apart! He gets her in another chair, and is going to offer her a drink to calm her nerves. But he takes a sip first, then another …. Finally she gets a drink, and kisses Pops! Then she wants her photo taken! An example of the Rule of Three. But, she spills his flash powder on the ground, so when Pops takes the photo, there's a small explosion! She's knocked for a loop, ending the skit.
Songs
Musical guest star Joanie Somers sings, "Girl Talk" and "When I'm Not Near the Boy I Love."
Jokes
Act I
Freddie the Freeloader: [To Terry-Thomas]What's the idea of saying I look peculiar? From a guy that parts his teeth in the middle!
Farquardt Smythe Farquardt: [leaving] Cheerio!
Freddie the Freeloader: Corn Flakes to you, sir.
Act II
Farquardt Smythe Farquardt: They're paying him 1,000 dollars a week to beautify the roads? That's what I call highway robbery.
Freddie the Freeloader: We'll just be here long enough to depreciate your property, then we'll shove off.
Act III
Freddie the Freeloader: We made it to Washington, and that's more that Nixon did!
Cast of characters
Red Skelton … Host / Freddie the Freeloader / Old Photographer-Silent Spot
The Alan Copeland Singers … Themselves
Don Brodie (Hot Lead and Cold Feet, Diary of a Madman) … Muggsy – a Hobo
David Rose and His Orchestra … Themselves
Milton Frome (Batman the Movie, The Nutty Professor) … George Smythe
John Gentry … Police Officer #2
Art Gilmore … Announcer (voice)
Ray Kellogg … Police Officer #1
Buddy Lewis … Ratsy – a Hobo
Ida Mae McKenzie … Member Beautification Committee / Customer-Silent Spot
David Rose … Musical Director
David Sharpe … Ambassador / Landlady-Silent Spot
Joanie Sommers … Guest Singer
Terry-Thomas (It's a Mad Mad Mad Mad World, Robin Hood) … Farquardt Smythe Farquardt
Tom Hansen Dancers … Themselves