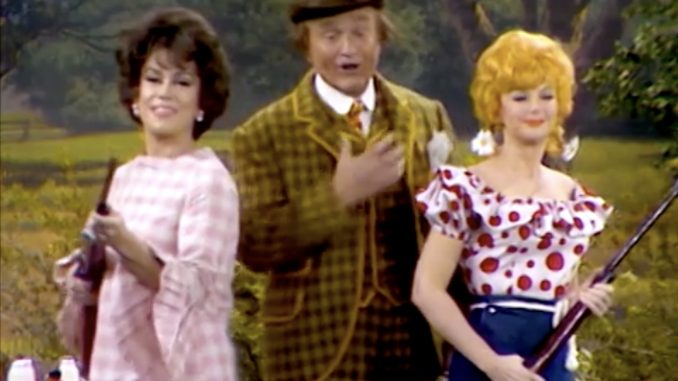 Once Upon a Dunce – The Red Skelton Hour season 16, with Jack Albertson, Patrice Munsel, originally aired May 2, 1967
In Once Upon a Dunce, Clem Kadiddlehopper is too shy to propose to his girl, Daisy June. So Pa Kadiddlehopper contacts a newspaper advice columnist for help. But she falls in love with Clem! Will there be a duel?
Act I
At the Kadiddlehopper farm, Clem Kadiddlehopper is "helping" Pa Kadiddlehopper with the chores. An older customer wants some orange juice, so Clem squeezes the tree! And the juice flows into a large glass jug — but there's a 5 cent deposit on the bottle. The man doesn't want to come all the way back for a measly 5 cents, so Clem pours the juice into his hat. But there's some more left, so he turns the hat over, pouring the rest into the brim – and spilling the orange juice on the ground, of course.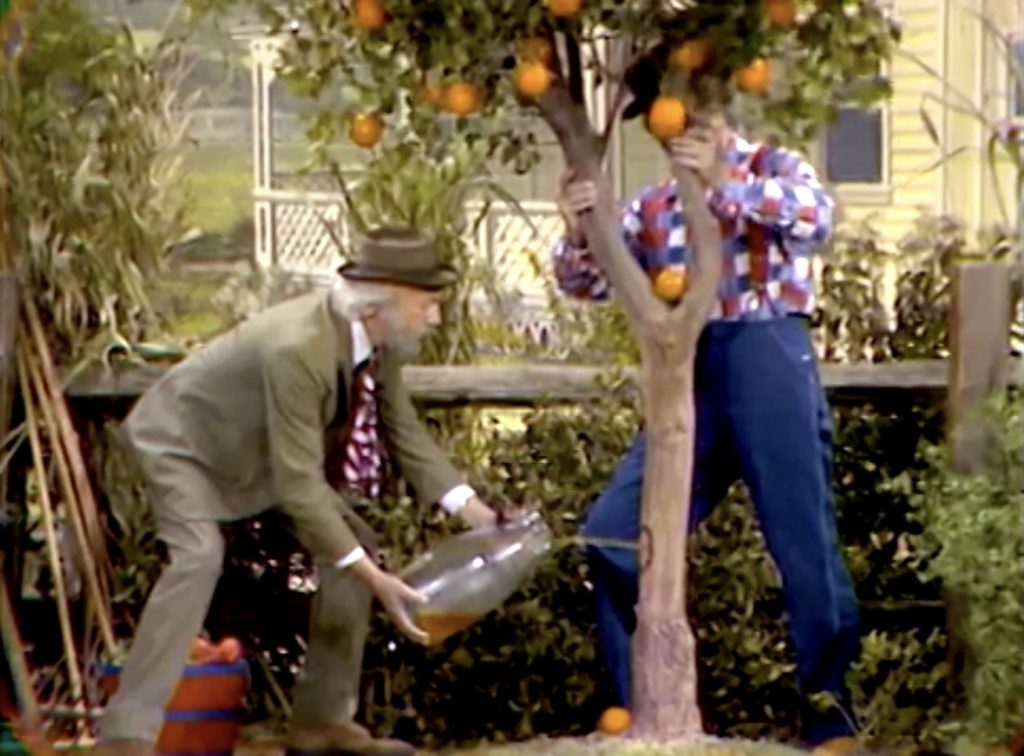 Then the lovely Daisy June comes to visit, but Clem's painfully bashful. Despite her best efforts, she leaves without him, waiting for his telephone call. And finally, a letter arrives for Pa. It's from Constance Cupid, who writes an "advice for the lovelorn" newspaper column. And she can't believe that Clem is as dumb as Pa wrote in his letter. "I don't know, you've wrote some pretty dumb letters …"
Act II
After some slapstick – including ripping the sleeves off her coat – Constance Cupid tries to teach Clem how to propose to Daisy June. She has Ma Kadiddlehopper stand in for Daisy June, leading to some slapstick with a large wooden spoon being applied to Clem's head. Until Constance breaks it over his head!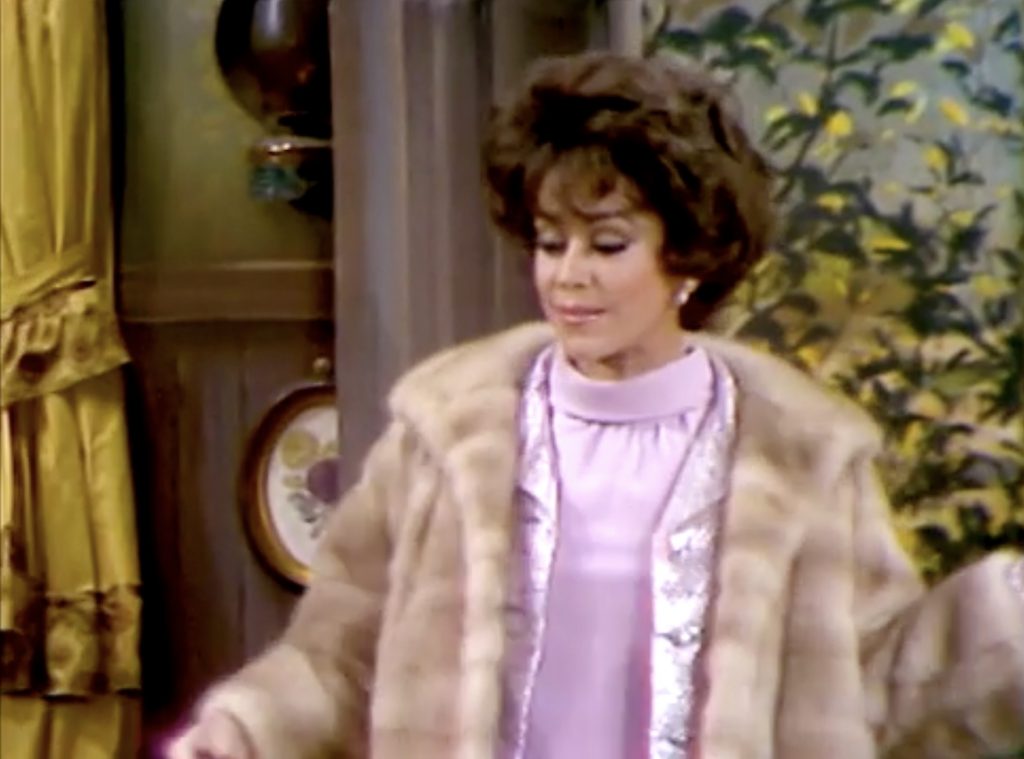 Then, Constance makes the mistake of pretending to be Daisy June. She kisses Clem, pushing him into the stove — and he thinks he's in love! "I felt that kiss clear down to my back pocket!" And they rotate around and kiss again — and Constance thinks she's in love! "I felt that clear down to my back pocket, too! And I don't even have a back pocket!" Daisy June walks in, sees Clem kissing another girl, and pulls the rifle off the wall! Instead, tomorrow at the picnic, there'll be a duel …
Act III
At the duel, there's the normal slapstick, including a funny tug of war joke with Clem. Then, Constance shows up, and when they kiss, it blows the top off the bottle of soda that Clem was holding! Finally, it's time for the duel …. Until Clem says that he'll marry the winner, and they'll have lots of kids, that will all look like him! And that's enough to cause both ladies to give him up!
"I feel like the Dodgers! I just lost a double header!"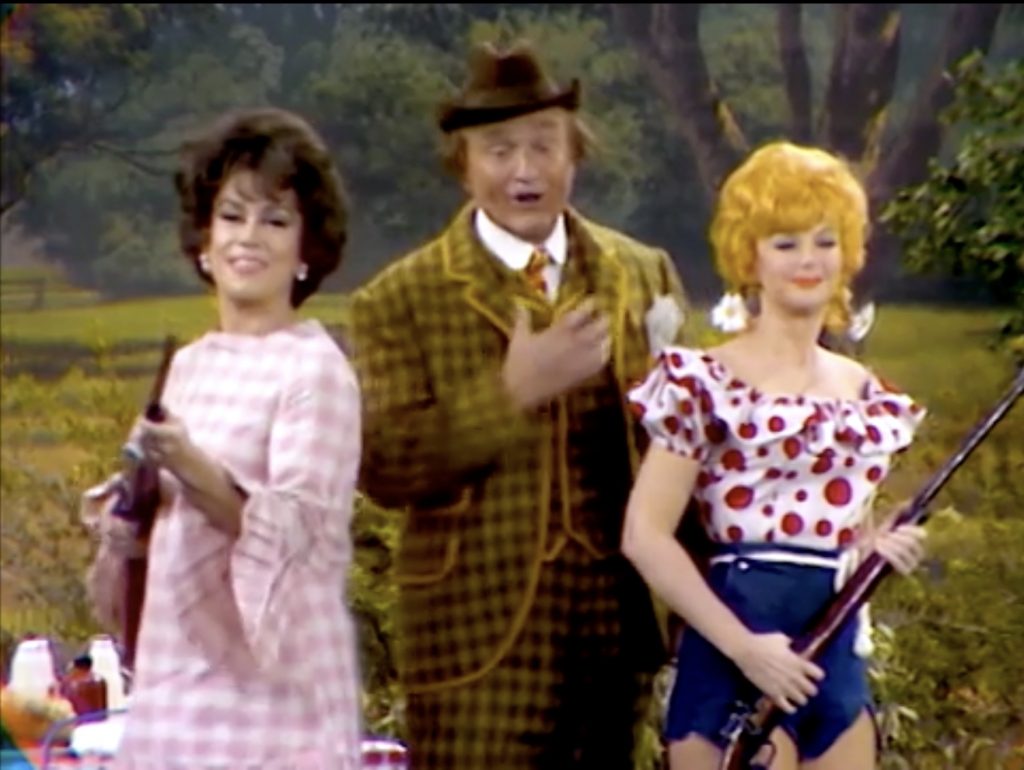 Classic Red Skelton Sketch – Tornado Deadeye
Tornado Deadeye is replay of a Deadeye sketch from season 1, with Lucille Knoch, Shirley Mitchell, and Benny Rubin. Benny does a very entertaining seated tap dance routine.
Songs
Patrice Munsel joins the Alan Copeland Singers and Tom Hansen Dancers in the production number "That's Life."
Act I Jokes
Daisy June: Wouldn't you like to rest your lips on mine?
Clem Kadiddlehopper: My lips ain't tired …
Act II Jokes
Constance Cupid: [having unknowingly knocked Clem to the floor] I love your rug! When did you shoot it?
Pa Kadiddlehopper: Well, I didn't, but it shore gives me a good idea …
Clem Kadiddlehopper: I was born in a hammock … my Ma was a real swinger!
Ma Kadiddlehopper: Clem, you're never gonna marry Daisy June! You're gonna have to marry yourself!
Clem Kadiddlehopper: I got better taste than that!
Act III Jokes
Constance Cupid: Clem, I don't know why I'm fighting a duel over you. Can't we settle our problems like civilized people?
Clem Kadiddlehopper: You mean, go to war?
Cast of characters
Red Skelton … Self – Host / Clem Kadiddlehopper / Mr. Haight
The Alan Copeland Singers … Themselves
Jack Albertson (Willy Wonka and the Chocolate Factory) Jack Albertson
David Rose and His Orchestra … Themselves
Art Gilmore … Announcer
Chanin Hale (A Guide for the Married Man) … Daisy June
Patrice Munsel (Melba) … Constance Cupid
Tom Hansen Dancers … Themselves