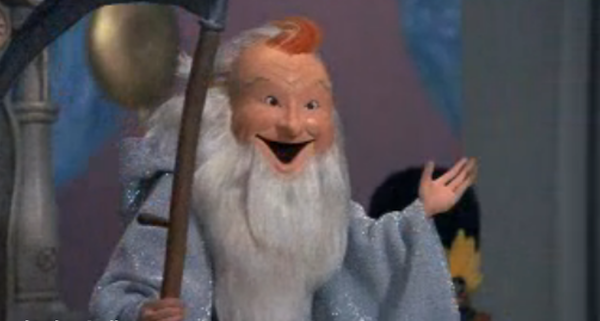 Rudolph's Shiny New Year (1976) starring the voice talents of Red Skelton, Frank Gorshin, Morey Amsterdam and Harold Peary
 Synopsis of  Rudolph's Shiny New Year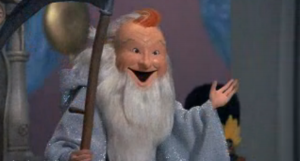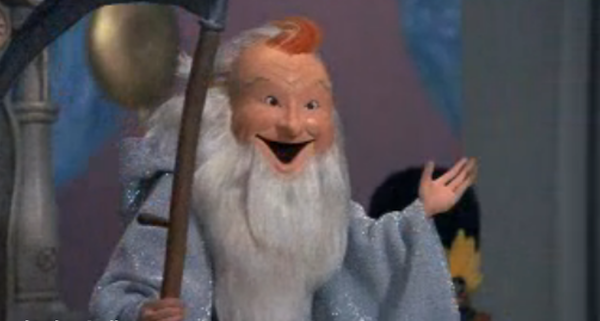 Fresh from saving Christmas, Rudolph the red nosed reindeer is sent by Santa to help Father Time find the baby new year, Happy, who has run away only 6 days before the end of the year — without the baby new year, the old year will remain forever. Rudolph learns that the evil Eon (ugly buzzard) is also searching for Happy, so that Eon's thousand-year old life will never end. With the help of previous years 1 Million B.C. and Sir 1023, and 1776, Rudolph searches through the islands of the Archipelago of Last Year and races against eon to ensure a Happy New Year.
Review of  Rudolph's Shiny New Year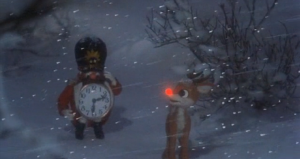 First off, I have to say that — as an adult — I'm not a fan of the Rankin-Bass animated Christmas specials — although I was when I was a kid.  I'm willing to make an exception in the case of Rudolph's Shiny New Year, primarily due to the nostalgia for the great voice talent.  In addition to Red Skelton, who provides the voices for Father Time/narrator and Baby Bear,    there's also Frank Gorshin (the Riddler to Adam West's Batman), Morey Amsterdam (Buddy from  The Dick van Dyke Show), and Harold Peary (radio's  The Great Gildersleeve). The basic story has Rudolph traveling through the Archipelago of Last Years, visiting the previous New Years, several of whom come along on the quest — as Happy, the baby new year keeps running away as people who keep laughing at his large ears. The reason for having sent Rudolph becomes crystal clear, of course, as he can sympathize with the childhood rejection. I frankly wouldn't sit and watch it by myself, but with my youngest daughter or my grandson, it would be a fine way to spend a winter afternoon.

Editorial review of  Rudolph's Shiny New Year courtesy of Amazon.com
Rudolph is legendary for saving Christmas, but did you know he saved the New Year as well? While Santa Claus is recuperating from  his December sleigh ride, he receives a letter from an old friend, Father Time. Seems that Baby New Year is missing, and if the little tyke isn't found, Old Year will continue on forever–a catastrophe for Father Time, whose job it is to keep things moving forward. A search party is essential, yet with such thick fog, there's only one reindeer fit for the job. "Rudolph with your nose so bright, you've six days left to set things right," says Santa. Trouble hits immediately when Rudolph discovers that Aeon the Terrible, a big-beaked monster bird, is also searching for the missing baby. Rudolph gets help from a giant whale and a good-natured caveman, who dish up plenty of song and dance in between narrow escapes in their race against the end-of-the-year calendar. Sound far-fetched? Perhaps, but it contains as much magic as its predecessors,  Rudolph the Red-Nosed Reindeer  and  Santa Claus Is Comin' to Town, all produced and directed by Jules Bass and Arthur Rankin Jr., and written by the esteemed Romeo Muller. The same stop-motion animation we've grown to love is here as well, and narrator Red Skelton has as trusted a voice as Burl Ives and Fred Astaire. While the New Year holiday will never be as celebrated as Christmas, this title is a welcome addition to any Rankin and Bass collection of holiday films.  –Lynn Gibson
Trivia for  Rudolph's Shiny New Year
Red Skelton recreated his popular radio character "Junior" for the voice of the Baby Bear on Fairy Tale Island.
According to Frank Gorshin, who voiced the knight Sir 1023 (Ten-Two-Three), his voice work was all done in one day.

Happy, the Baby New Year, becomes the year "Nineteen-Wonderful"