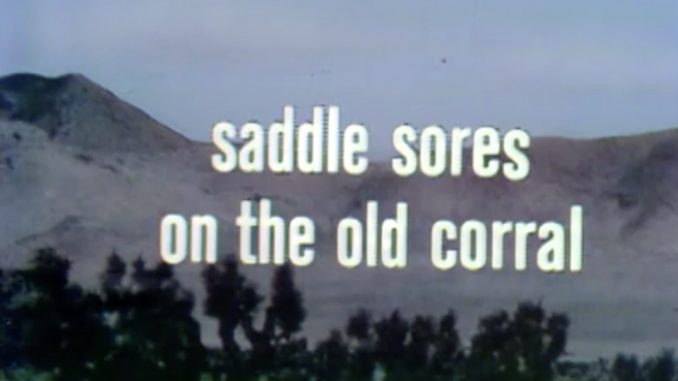 Saddle Sores on the Old Corral – The Red Skelton Hour season 17, with Stanley Holloway, originally aired September 19, 1967
Saddle Sores on the Old Corral – can Deadeye swindle British millionaire Stanley Holloway out of his inheritance, by pretending to be his long-lost brother?
Monologue | Saddle Sores on the Old Corral | One Minute Dramas | Cast | Songs
Monologue
I miss my wife's cooking … whenever I get a chance.
In Los Angeles, we're getting more tourists than ever before. You can tell because Lawrence Welk's had to send out for some more bubbles.
Freeways and driving jokes
Speaking of the tourists, they've found out that 40% of the people live on the farm, and 40% live in the cities. And the other 20% are stranded on the freeway.
People really get stuck on the freeways out here. There was one lady, had seven kids in the car, and she was stuck there, and she didn't have any diapers. She had to use seat covers for seat covers.
And here in California you got to be careful when you drive. Be careful, don't ever drive on the sidewalks, you may hit someone taking a sobriety test.
And they're trying to pass a law out here, you can have your choice of the gas chamber or 1 hour on the Hollywood freeway.
For those who don't know what the San Fernando Valley is — it's a liquor store.
Childhood jokes
They've got a lot of those trailer parks out there. When I was a kid, we lived in a trailer. And I don't think my folks liked me, because every time I'd go out to play, they'd move to another town. It was the first time in the history that a home ran away from a little boy.
They was always trying to get rid of me, you know. They used to take pictures of me on a bear skin rug. And it was a live bear, by the way.
And I was never popular when I was a kid, never very popular, in school for instance. And I could never figure this out. Because I was the first one to always hold up my hand. And once, to answer a question.
Gertrude and Heathcliffe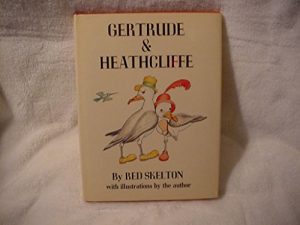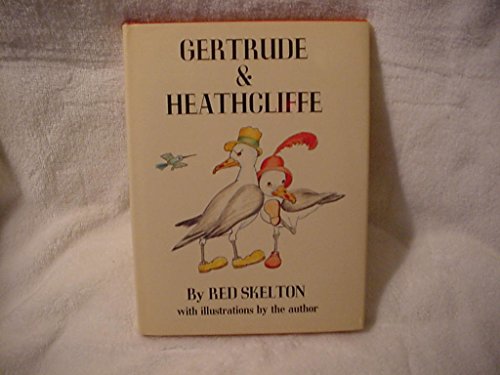 Two seagulls, Gertrude and Heathcliffe, see, [flapping his arms like wings] They flew up to San Francisco, and they're sitting on top of the grandstand, they're watching a football game. And the referee goes out on the field, and he's giving a signal for illegal use of the hands [flaps his wings]. Gertrude says, "Look at that dirty thief, he's stealing Red Skelton's stuff. Or is that Skelton down there in a striped suit?" He says, "I've seen Skelton, and he should be in a striped suit!"
Act I – Saddle Sores on the Old Corral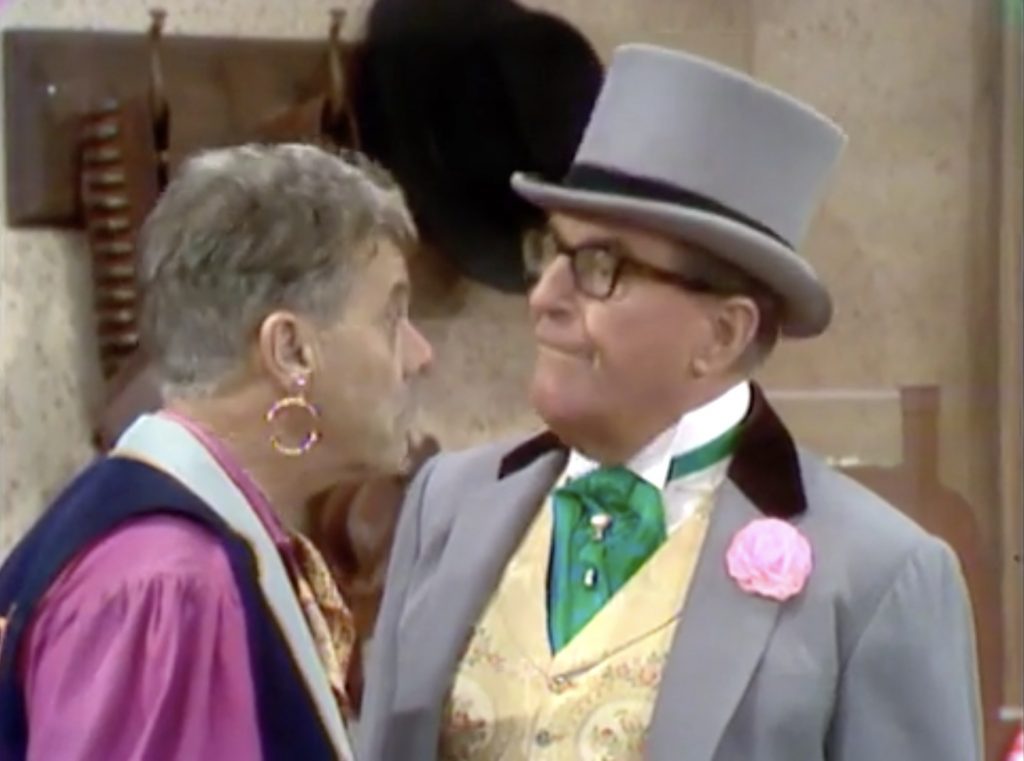 In Saddle Sores on the Old Corral, Sir Whitecliff of Dover (Stanley Holloway) comes to Cactus Gulch, where he's looking for his long-lost brother. In comes Deadeye, who first tries to get a whack at the free sandwiches, and then the saloon girls. And he "demonstrates" how they need to protect themselves from a dirty old man! But the girl demonstrates with a couple of punches and a bottle broken over his head! Then, Deadeye hears about Sir Whitecliff's quest, and decides to pretend to be the lost brother, in order to get half the inheritance! But how were they separated? Why, he must have been stolen by gypsies! So, it's off to the gypsy camp …
Act II – at the gypsy camp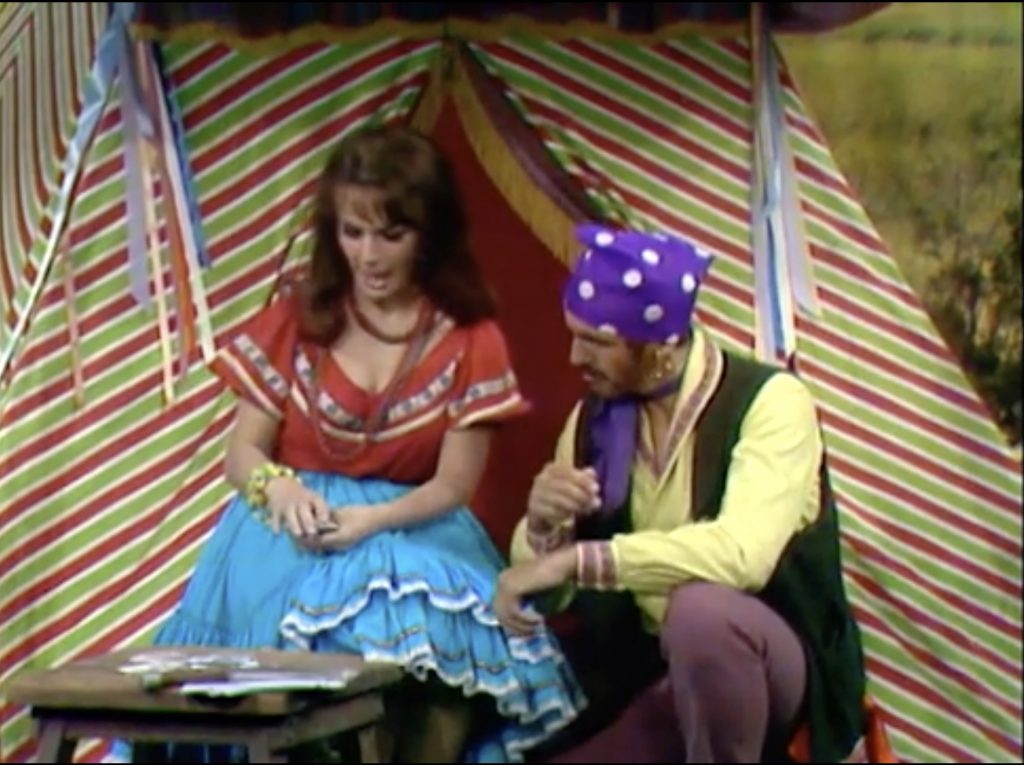 At the gypsy camp, the gypsy queen's cards foretell imminent disaster! Then, Deadeye arrives! He wants to pretend that gypsies stole him from his English family as a child. So, he makes the mistake of asking the drunken gypsy to pierce his ear! Then, he tries to bribe the elderly gypsy to lie to Sir Whitecliff about him …. But "she's" actually Sir Whitecliff in disguise! But one final test — a true gypsy can make his violin weep. So, after a little bit of prop humor, it gets even sillier, and ends the sketch.
Classic Red Skelton
Red replays the segment from "Let's Talk About Father" complete with the Tide commercial.
One Minute Dramas
Stanley Holloway and Red appear in a string of quickie skits, poking fun at British humor, court musicians, and TV commercials.
Archery contest — whoever can shoot their arrow highest will win!
TV commercial – how to tell the boss he has bad breath?
Marching Band Drum
Music
Cast of characters
Red Skelton … Host / Sheriff Deadeye / Gertrude and Heathcliffe
The Alan Copeland Singers … Themselves
Bea Bradley (How Sweet It Is!) … Little Emily
Brasil '66 … Musicians
Jimmy Cross (Ship Ahoy, The Amazing Colossal Man) … Inebriated Gypsy
David Rose and His Orchestra … Themselves
Bob Duggan … Minor Role
Kelton Garwood … Gypsy Leader
Art Gilmore … Announcer (voice)
Stanley Holloway (My Fair Lady) … Self / Sir Whitecliff of Dover
Ray Kellogg … Bartender
Tanya Lemani … Gypsy Girl
Sergio Mendes … Self
David Rose … Orchestrator
Tom Hansen Dancers … Themselves