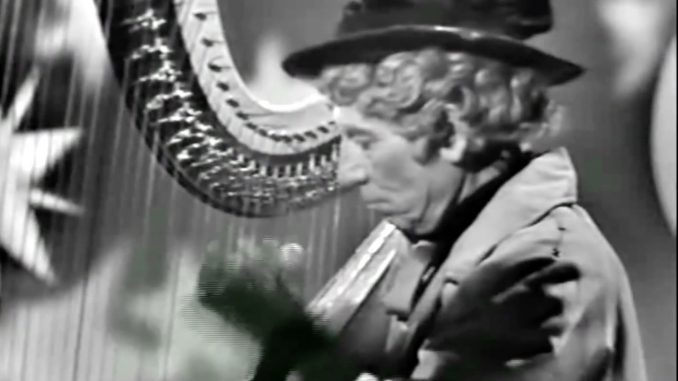 Somebody Up There Should Stay There with Harpo Marx, The Red Skelton Hour season 12, originally aired September 25, 1962
In Somebody Up There Should Stay There, guest Harpo Marx plays a bumbling guardian angel who is sent down from "Up There" to help henpecked husband George Appleby (Red Skelton) escape the wrath of his nagging wife, Clara (Virginia Grey).
Monologue | Somebody Up There Should Stay There | The Silent Spot | Music | Trivia | Cast
Monologue
Welcome to our new hour show. We're really excited about it. We were even going to pray for it's success, but the Supreme Court said we couldn't. But they did give me permission to keep my fingers crossed!
I don't know why they don't let kids pray in school. When I went to school we prayed. Of course it didn't do any good — the schools were all fireproof.
So anyhow the new television season has started, and that used to mean that the entertainers are coming back to work. Now it means that the doctors' vacations have ended. TV programs are really loaded with doctor programs, you know the only medical program that wasn't sold was Kennedy's!
You know, I've seen so many of these doctor programs that I could take out my own appendix! … And from the back!
You know, the big news in California now is the population explosion. And this time next year California will be the most populous state in the Union. I've been watching it happen. I was down at the beach the other day, when the tide went out. Three hours when it came back in, there was no room!
There are now a car and a half for every family in California. Now that may sound strange, but one trip on the freeway — bang! You got half a car.
Somebody Up There Should Stay There Act I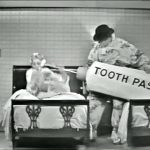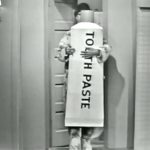 Somebody Up There Should Stay There begins with George Appleby trying to get ready for bed. His wife, Clara, has bought the large economy size of toothpaste. Which George accidentally squirts on Clara! Which quickly leads her beating George once again. So, George cries out for help …
Somebody Up There Should Stay There Act II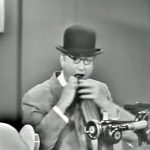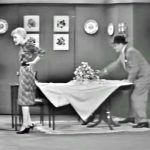 At the Appleby house, George is hemming Clara's skirt. Unfortunately, he's accidentally sewn it to the table cloth! This soon results in Clara's skirt getting ripped off, and George trying to fix the hem again. Unfortunately, this time he sews his tongue to the skirt!
In Heaven, an overworked angel hears George's cry for help. But, he's short-handed. Against his better judgement, he sends … Harpo Marx! Angel Harpo has a bad track record:
He told George Washington that the only person he could trust was Benedict Arnold!
He told Abe Lincoln to get those theater tickets!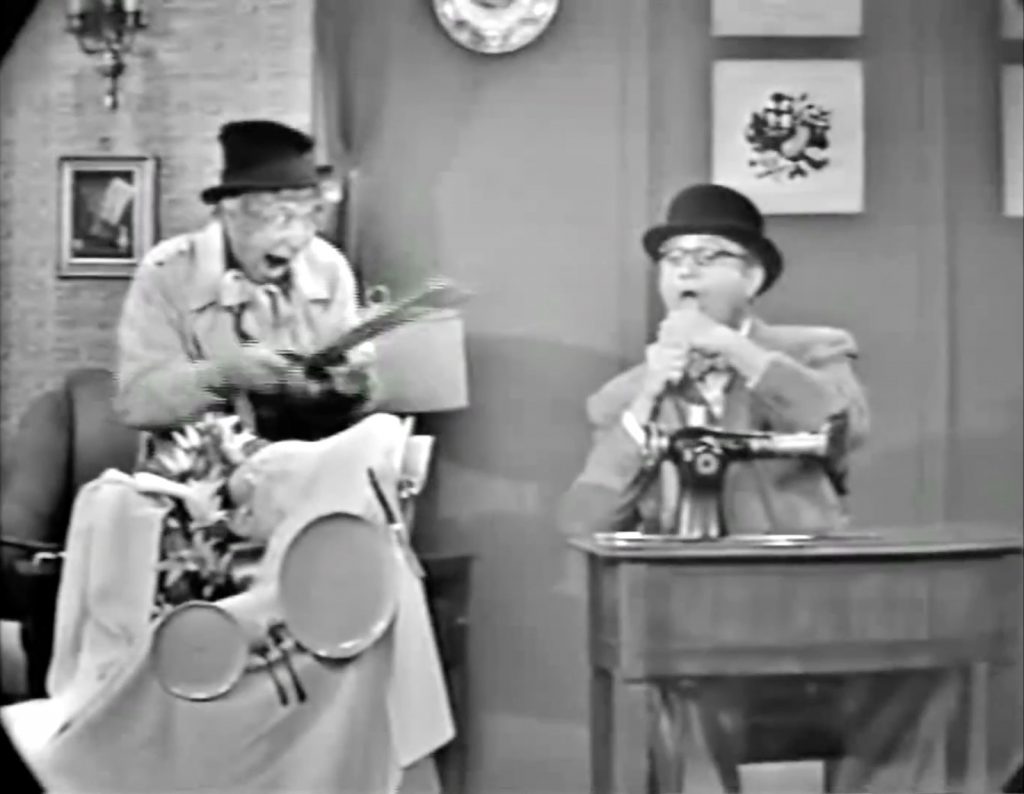 But Harpo's warned that this is his last chance …. Fail again, and he'll be demoted "downstairs". Once there, inept George Appleby has sewn his tongue to Clara's skirt! So, Harpo pulls out a giant scissors to "help" …. By cutting off George's tongue! But it's okay! He puts it back!
Somebody Up There Should Stay There Act III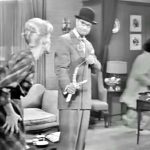 Soon, Angel Harpo is "helping" in various ways. He hits Clara in a backside with a slingshot …. Which he puts into George's hands! Clara can't see him, so she thinks George is crazy. But when Harpo buttons Clara's lips … literally … George is ecstatic! Until he inadvertently wishes she could speak again.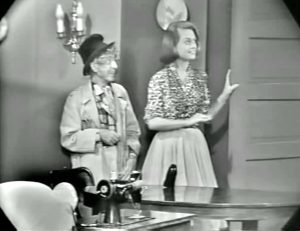 Finally, Harpo makes George happy, by granting his wish … and making Clara beautiful and young (Dyan Cannon). And, George can't believe it! He is finally happy, after 15 years of marriage …. Until he offhandedly wishes that old Clara could see him now! So, Harpo brings her back!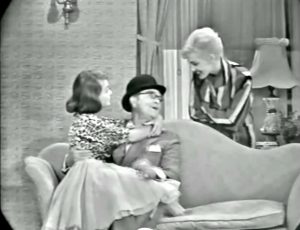 At first the two Clara's fight each other: "Don't you call my husband and idiot!" "Don't you call my idiot your husband!" Until they decide to gang up on George! Things go from bad to worse, as poor Harpo has blown his last chance …. And he's about to be sent "downstairs". The devil himself shows up to escort Harpo. And George decides to come along, to escape the fury of the two Claras!
The Silent Spot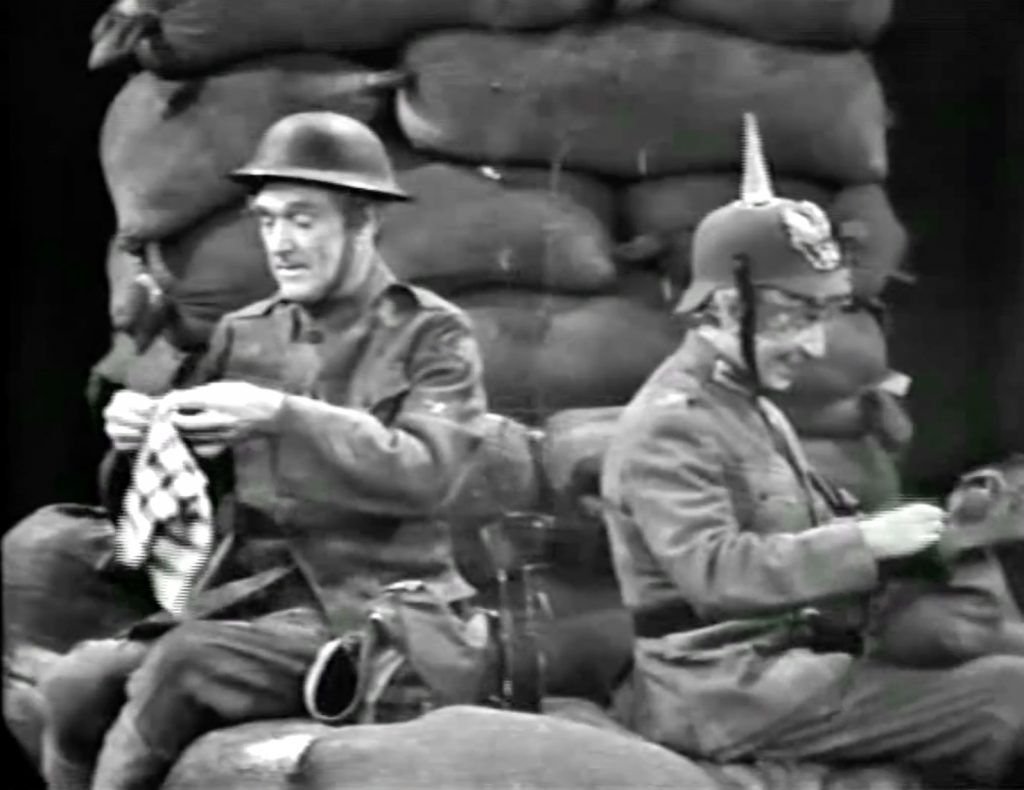 Christmas Truce is this episode's Silent Spot. Red Skelton portrays an American soldier during World War I. On the opposite side, separated by a thin wall of sandbags, is Harpo Marx, a German soldier. In this hilarious, silent skit, the two learn to make friends, not war.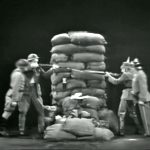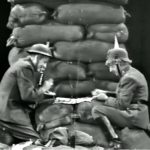 Including a hilarious moment when they play checkers, with Harpo cutting the buttons off of Red's shirt with his bayonet (for the checker pieces, of course). With an excellent ending, as the two privates are forced to fire upon each other by their respective superior officers.
Music
Musical highlights included Harpo's harp solo of his own composition 'Guardian Angel'
Mahalia Jackson's rousing 'Come On, Children' and 'I Asked the Lord',
The Modernaires' 'Clap Yo' Hands'
The ensemble production number '4:20 AM.'
Trivia
Red Skelton launched his 12th year in television with this episode and an expanded version of his long-running comedy/variety series from thirty minutes to a full hour. Reflecting the fact that Red now had an extra half-hour to play with, his show was rechristened The Red Skelton Hour.
The title is from the expression of gratitude, with God blessing someone. "Somebody up there likes me".
This was the first episode co-produced by Red Skelton's company Van Bernard Productions.
Cast
Red Skelton … Self – Host / George Appleby / Gertrude and Heathcliffe
Harpo Marx (A Night in Casablanca) … Guardian Angel
Virginia Grey (Whistling in the Dark) … Clara Appleby
Billy Gray … Mr. Carmichael
Dyan Cannon … Clara The II
Jimmy Cross … American Officer
Jack Benny … himself (Cameo at the end of the episode)
Mahalia Jackson … herself
The Modernaires … Themselves