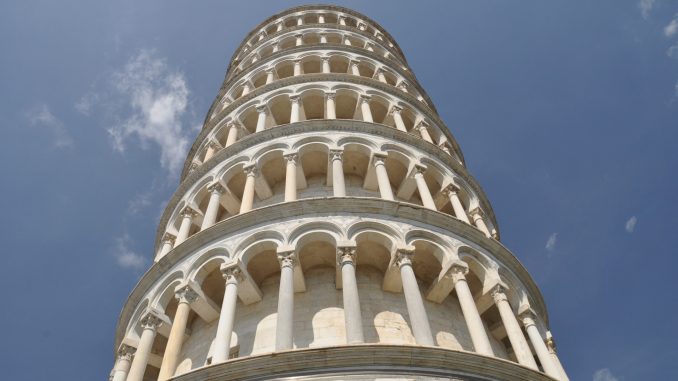 Stupidity Italian Style, guest starring Petula Clark – The Red Skelton Hour, season 15, originally aired May 17, 1966
In Stupidity, Italian Style, Clem Kadiddlehopper gets drafted into the Peace Corps. Then, he accidentally straightens the Leaning Tower of Pisa … Thereby ruining Italy's tourist trade! Can Petula Clark set things right?
Monologue | Stupidity, Italian Style | Silent Spot | Classic Red Skelton Sketch | On Stage | Songs
Monologue
Jokes about the summer replacement series, The Hippodrome
Red asks the fire eater, how did you ever learn to eat that hot stuff? Answer: It was easy, I used to be the chef at LBJ's ranch.
I did an act with an educated donkey when I was just a kid. How much is 2+2? (imitates stomping 4 times) Come on boy, one more!
Red asked the owl outside of his window what book he's going to publish? Hoo's Hoo.
Gertrude & Heathcliffe: I hope Elizabeth Taylor's never president of the United States. Why not? Can you hear the press talking about her husband, Dickie bird?
Pantomime about a fashion show.
Stupidity, Italian Style, Act I
Peace Corps – instead of a punch card, somebody fed the computer a piece of Swiss cheese. And so, Clem got selected! "The Peace Corps can't use you. You'll have to go back to the farm." "Back to the farm? After I kissed the pigs goodbye?" "Kissing pigs are better than kissing girls. Girls will kiss and tell on you … though pigs will squeal on you sometime." Pa Kadiddlehopper arrives, demanding they don't send him back to the farm! Clem demonstrates the wrong way to saw a log – a very funny bit. So off to Pisa, where he can't possibly do any harm …
Stupidity, Italian Style, Act II
Major Domo (Romo Vincent) charging tourists to take photos of the Leaning Tower, when Petula & Clem arrive. Clem's destroying the street with his plow. A misbehaving prop table is unintentionally hilarious. Pizza: a manhole cover coated with cheese. Clem planting "pizza seeds". That suffering waiter! "Pizza, otherwise known as Italian hub caps!" Looking at the Leaning Tower: "It looks like Dean Martin on Saturday night!" So, with a car jack, he straightens out the tower. And, Clem is arrested!
Stupidity, Italian Style, Act III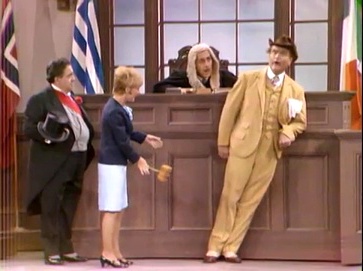 Clem on trial. Petula: "I plead for clemency!" Clem: "She knows my whole name!" Petula: "You must apologize. I appeal to you as a woman." Clem: "You don't appeal to me as a man!" Then, Clem sneezes, the tower falls down. Clem: "Did you think it was going to fall up?" Petula hits him on the head, and voila – the leaning tower of Clem, their new tourist attraction!
Classic Red Skelton Sketch – monologue
At school, Ricard and Valentina have to recite.

Richard: Come, come, my turtle dove, let's throw a skunk in the tunnel of love.
Valentina's story about Little Red Walking Hood.

Pantomime of Willie Lump-Lump walking to his house and making something to eat.
Clem and Petula Clark on stage
Short people have longer arms than tall people …
Teases Petula about dropping her 'h'. She returns with pointing out that only the English have a word to rhyme with orange. "The thing that keeps the door swinging open, the door 'inge."
They joke about the Dodgers, and she walks off stage.
Silent Spot
And in the Silent Spot: Red plays a none-too-bright, klutzy TV repairman. Repairing poor Reta Shaw's television set, while damaging most everything else. Plugging it in, nearly electrocuting them both. Playing with the old-style TV rabbit ears. Using her hair rollers as antenna. Using a ladder as a clown proper for more damage. He goes upstairs to fix the outside antenna, nearly collapsing her ceiling. He "tunes in" her laundry washer, and turns the TV into a washing machine.
Songs
Trivia
Originally scheduled to air on March 15 1966, this episode was pre-empted by the Gemini VIII space crisis. It eventually aired on May 17, as the final entry of the season,
Cast of characters
Red Skelton … Host / Clem Kadiddlehopper
Jan Arvan … Pa Kadiddlehopper
Petula Clark … Senorita Luigi
James Lanphier … Russian Representative
James Millhollin … Peace Corps Officer
Ernest Sarracino … Italian Judge
Reta Shaw … Homeowner with broken TV (Silent Spot)
Romo Vincent … Major-Domo