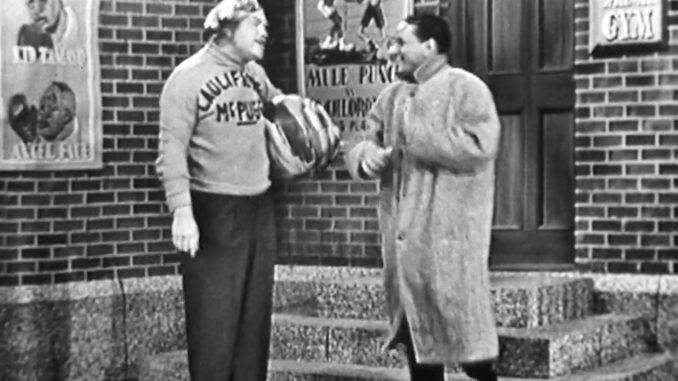 Red does a football coach interview reenactment as (Weepy) J. Newton Numbskull. Cauliflower McPugg in The Bouncer.. The Golfer and The Corpus Delicti sketches, plus a Milton Berle cameo.
Red Skelton's Monologue
I took Richard and Valentina over to the library, and they were looking at a book. And Valentina kept coming over with sheets of paper, and I said, "Where'd you get that?" And she says, "There's a book over there that I'm interested in, but it's too heavy, I can't lift it. So I'm bringing it over one page at a time."
They saw a picture of a statue of General Grant, and Richard says, "Oh boy! Look! Hopalong Cassidy!" I said, "That's not Hopalong Cassidy, that's General Grant! One of the greatest Americans that ever lived." He said, "Oh yeah? If he's so great, how come he not on television?" I said, "He's been dead a long time." He says, "So is vaudeville, but it's on television!"
This leads up to a "recreation" of an interview Red supposedly saw on TV, with Weepy — J. Newton Numbskull.
Interviewing Coach Weepy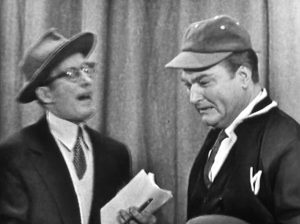 "This is the Frankie and Johnny College. It's sort of a low-brow William and Mary."
"It's that football team of ours. Twenty years, and we haven't made one lousy touchdown."
"I though we'd go to the Rose Bowl this year, but we didn't even get an invitation to the LaBrea Tar Pits."
I thought we'd make a good showing when we played Mrs. McGillicuddy's School for Girls …. They were the dirties bunch of players I've ever seen! One of them picked up one of my players, and threw his leg right into the grandstand. And everybody yelled, "Hurray! He gained a yard!" And I says, "No, he didn't he lost a foot."
We got nosed out … 106 to nothing.
Cauliflower McPugg as The Bouncer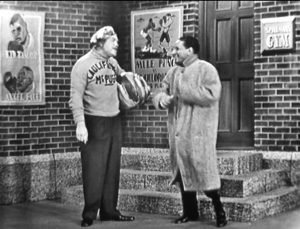 Cauliflower McPugg has been hired to be the bouncer at a dance. The dance is put on by the wrestlers and boxers, so Cauliflower is actually a fit for this. First, his friend "Granulated Robinson" shows up, and goes into the dance. And then a moment later, he shows up again. "Did I just go in there?" As Cauliflower says to the audience, "I hope I never get that punchy."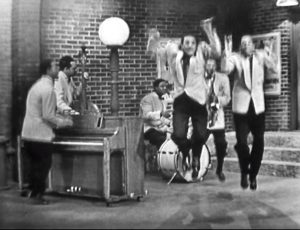 Next, the band The Treniers show up. They're the music for the dance. While Cauliflower goes in to check, The Treniers perform Go, Go, Go – very energetically! After, Cauliflower McPugg comes out, and tells them to bring their instruments in through the stage entrance. As the piano goes by, Cauliflower removes his hat and asks, "Anybody we know?" A coffin joke that Red makes throughout the years.
There's a lot of short, funny bits. Including where Cauliflower has to go inside to stop Left O'Sullivan. But he puts on glasses first, since everyone knows you can't hit a man with glasses! Everyone except Lefty, apparently.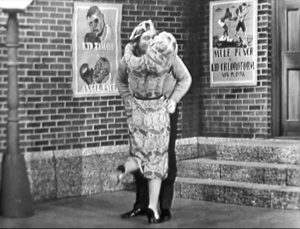 Then, he's putting out some bread crumbs for his imaginary birds, including a piece held between his lips. Lucille Knoch comes by, gives him a big kiss, and dashes inside to the dance! Cauliflower McPugg addresses the audience: "So you think I'm punchy, do ya?"
Skelton's Film Scrapbook – The Golfer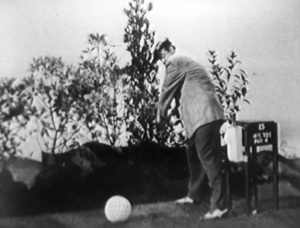 Red, with the aid of his caddy, gives a demonstration on how to golf. A very funny, prop-laden comedy bit! Going from a small, large, to ridiculously large golf ball …. Until Red can actually hit it! Punny comedy as well, not to mention his poor golf caddy!
Eventually, as Red puts a dirty towel into the golf ball washer, it turns into a Tide commercial. Not only does it come out cleaner …. It's now bigger!
Skelton's Scrapbook – The Corpus Delecti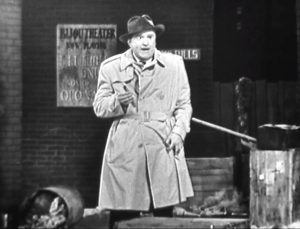 Red as gangster "Horrible Humphrey", with the aid of two of his fellow gang members, need to dispose of …. something. There's a lot of comedy, both prop & verbal. With a runny gag of the frightened Humphrey running through a wall in fear! One of my favorite bits is when another gangster arrives. Ain't you Mickey the Rat? I used to be … But then I moved uptown. Now I'm Michael the Rodent.
Conclusion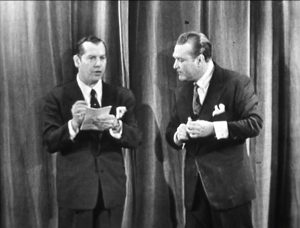 After Red's typical "dragged through the curtain by his ankles" bit, he comes back on stage for a moment. As Milton Berle makes a cameo appearance — to steal Red's jokes!
Red Skelton Jokes
As one of The Treniers passes Cauliflower McPugg, he gives him five and says, "Solid, man." Cauliflower replies, "No, I used to be solid, I'm a little flabby now."
Man: That's no wrestler, that's my girl!
Cauliflower McPugg: She got long hair and a beautiful robe, I thought it was a wrassler.
Man: You fought in Tarzana? How'd you come out?
Cauliflower McPugg: As usual, on stretchers.
Cauliflower McPugg: This guy, I had him scared to death, boy. I really had him scared. He thought I was dead!
Cauliflower McPugg: You think I'm punchy though, huh? You should see that wrassler that's in here. That poor sucker, I feel so sorry for him. Every day he reads his newspaper and comes out and throws it in the garbage can over there.
Man: What's wrong with that?
Cauliflower McPugg: There's no garbage can over there! I know, I moved it over there! [points to an empty spot for the imaginary garbage can]
Cast of characters in The Bouncer
Red Skelton … Self – Host / Cauliflower McPugg / Horrible Humphrey / Golf Pro / Weepy (J. Newton Numbskull)
Milton Berle (It's a Mad Mad Mad Mad World) … Self
Charles Bronson (The Dirty Dozen) … Perky – Boxer in McPugg Skit (as Charles Buchinsky)
David Rose and His Orchestra … Themselves
Lucy Knoch (Executive Suite) … Woman Who Kisses McPugg
Bob LeMond … Announcer
Pat McGeehan … Self – Announcer
Edmund Penney … Man at Gym Door-McPugg Skit / Henchman-Delicti Sketch
Gil Perkins
Dick Ryan (Born to Be Bad) … Newspaper Reporter-Weepy Skit / Caddy-Golfer Sketch
The Treniers … Themselves – Song & Dance
Trivia for The Bouncer
Written by Buster Keaton
Charles Bronson also makes an appearance as a boxer in The Clown.
In his opening monologue, Red thanks the editors of Radio/TV Daily for naming his program as Best Comedy Show on TV.