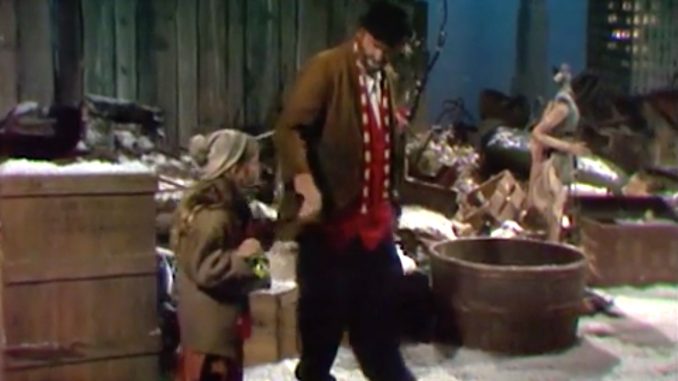 One Christmas, Freddie the Freeloader finds A Christmas Urchin outside his shack in the city dump. She's looking for a father for Christmas … Can Freddie provide a Christmas miracle?
A Christmas Urchin is a funny and sweet Christmas special of The Red Skelton Hour. Surprisingly, I actually remember watching this when I was five years old. That's the level of staying power that this episode has.
The basic story has a young girl outside Freddie the Freeloader's shack. She's dressed in rags, and hungry. The softhearted Freddie takes her in for the night, since she won't tell him where she lives. In turns out that she's searching for a new father.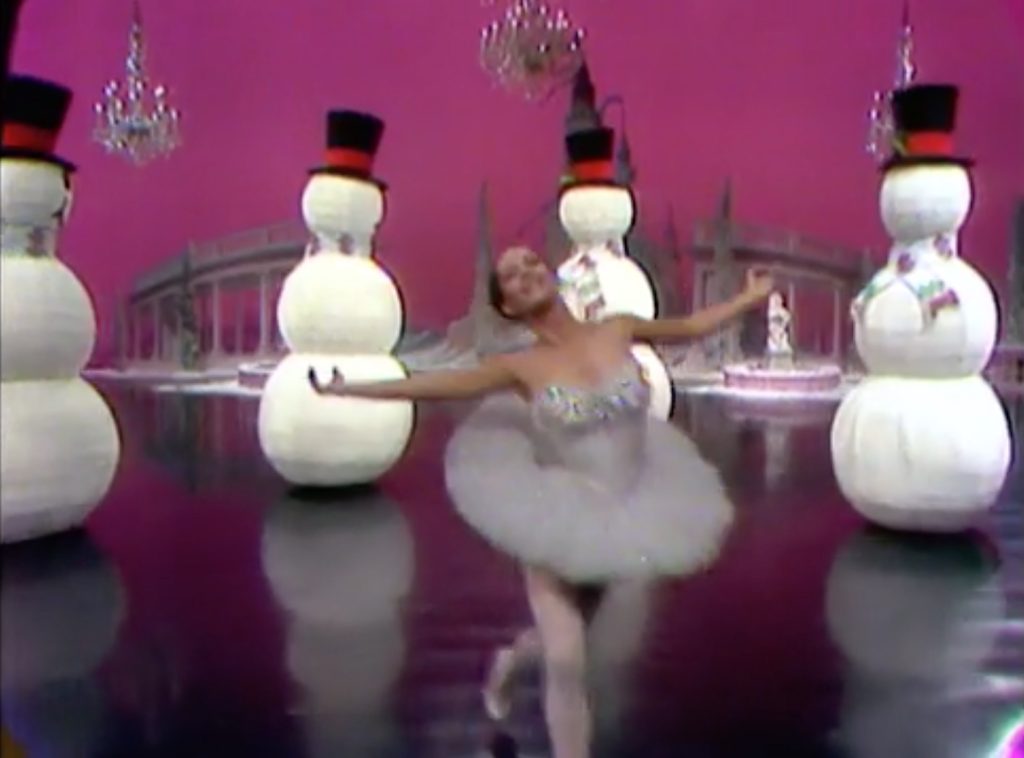 Freddie reaches out to Police Sergeant McGoogle who owes him a favor — since Freddie left his precinct! Between the two of them, they find her home. And her mother's ill from malnutrition, and their apartment is nearly devoid of furniture. Freddie to the rescue!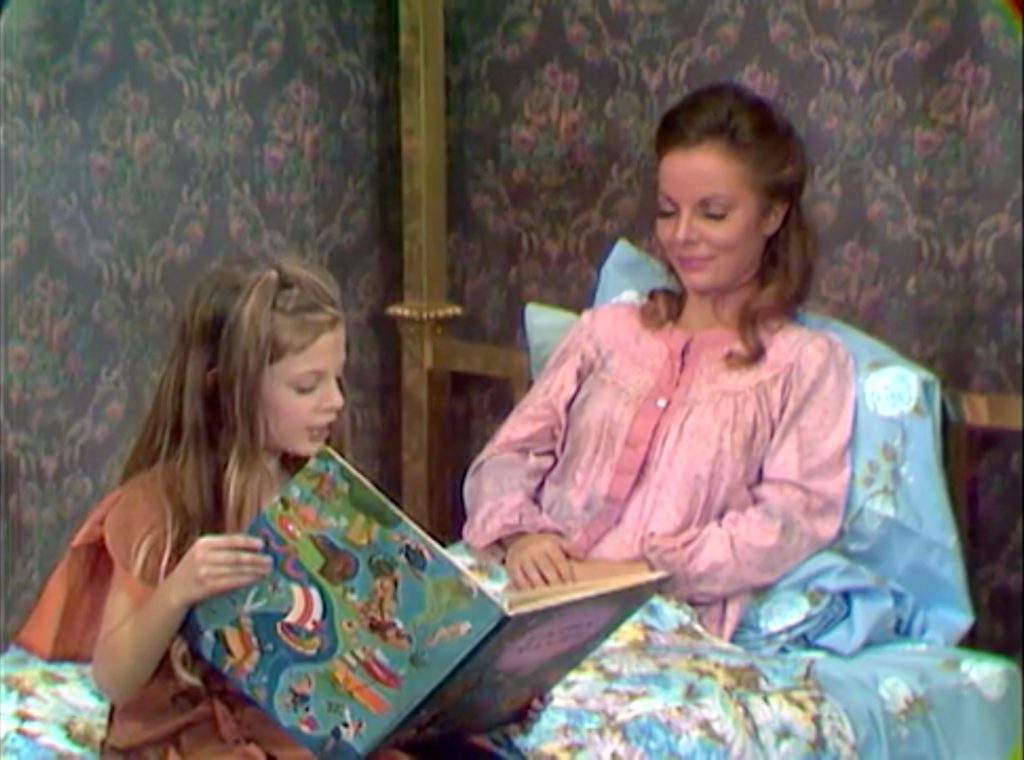 First, Freddie goes to a fancy restaurant, and with the help of a length of rope, purloins a dinner for the hungry lady and child. McGoogle's given Freddie two dollars to buy some food, so Freddie gives him his change — two dollars! He freeloads wholesale, after all. Then, Freddie swindles some furniture movers to deliver furniture to the "wrong" address, so the family has furniture — for a time, at least.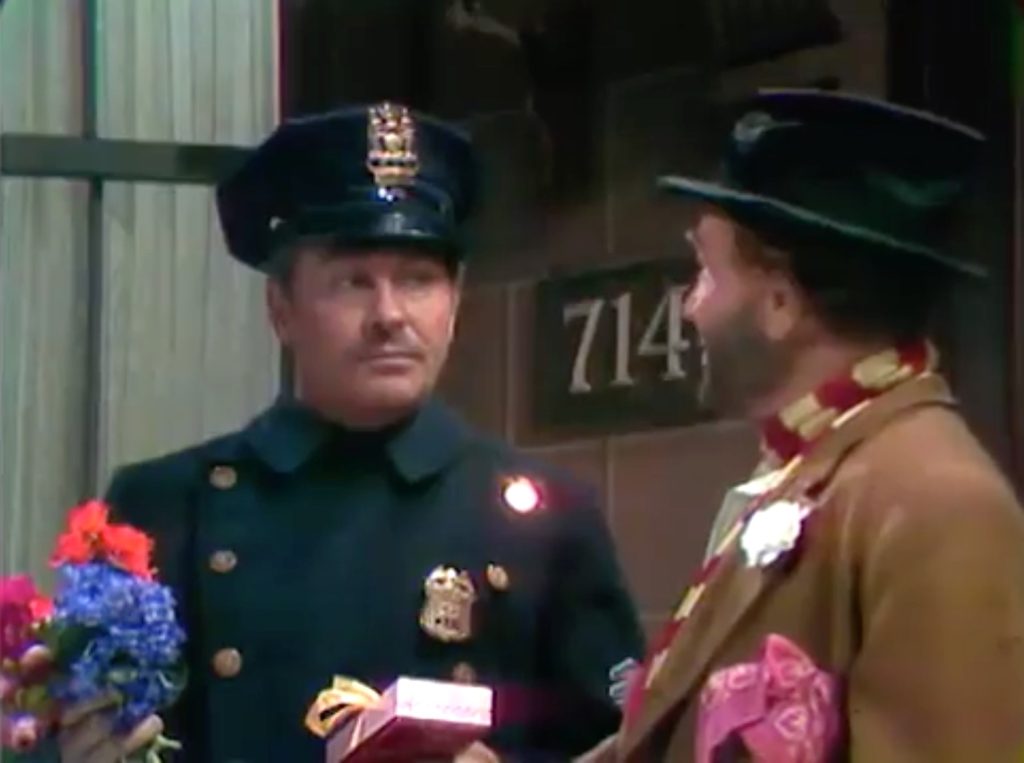 And during all this, the kind-hearted McGoogle has been falling in love with the widowed mother. But, he's shy. So, Freddie intervenes again, and gives him a push into proposing! Making McGoogle, the widowed mom, and the urchin all very happy. McGoogle even asks Freddie to be the best man at the wedding. But, since it's going to be held at the police academy, Freddie politely refuses.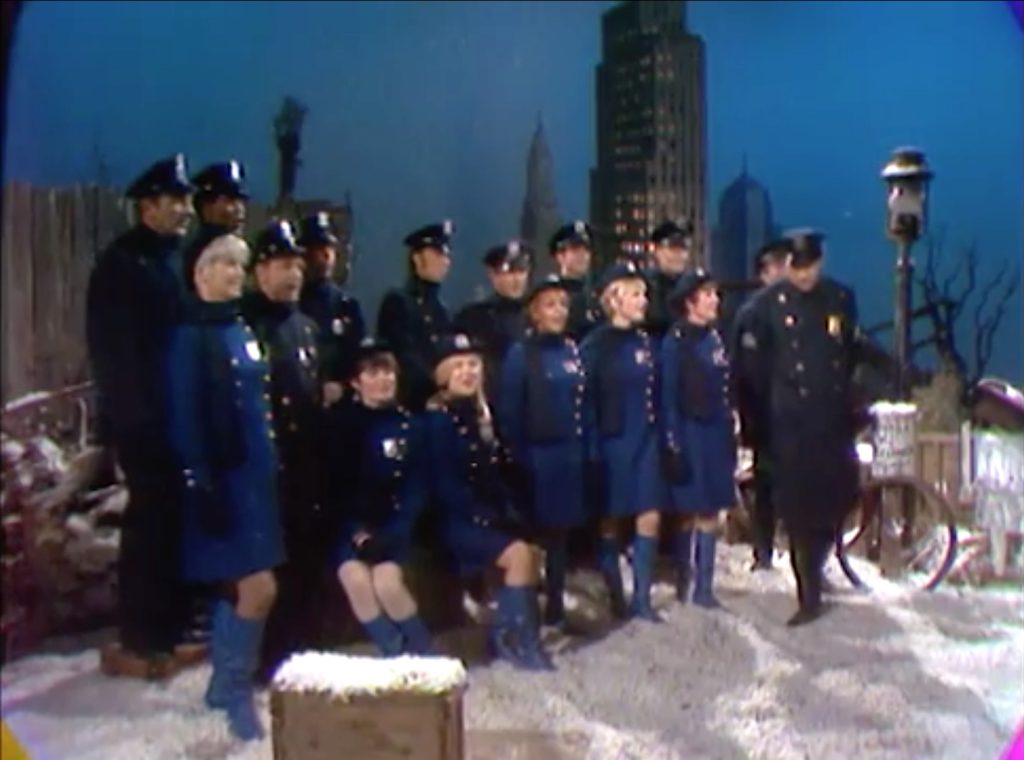 Cast of characters
Red Skelton (The Clown; Whistling in the Dark) … Self – Host / Freddie the Freeloader
Arline Anderson … Mrs. Hartley
David Rose and His Orchestra … Themselves
Joan Freeman (The Reluctant Astronaut) … Kathleen Berry – Widowed Mom
Art Gilmore … Announcer (voice)
Jillana … Prima Ballerina
Howard Keel (Lovely to Look At; Texas Carnival) … Police Sgt. Timothy McGoogle
Ysabel MacCloskey … Generous Matronly Woman
Linda Sue Risk … Judy Berry – the Little Urchin Girl
Gilchrist Stuart (The Sound of Music) … Andre the Doorman
Billy Beck … Maitre'd (uncredited)
Paul Bradley … Restaurant Patron (uncredited)
Bess Flowers … Restaurant Patron (uncredited)
Bern Hoffman … Furniture Mover (uncredited)
Songs
Howard Keel, as police sergeant McGoogle, sings a medley of Christmas tunes with a police choir:

Red Skelton's own composition, "The Night Before Christmas"

Jiliana performs David Rose's 'The Tiny Ballerina'.