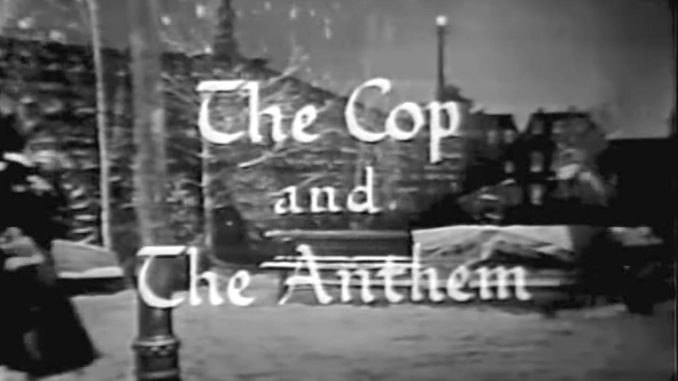 The Cop and the Anthem – The Red Skelton Show season 4, originally aired December 21, 1954
"The Cop and the Anthem" is based on a famous story by O. Henry, with Red Skelton's Freddie the Freeloader trying unsuccessfully to get arrested, in order to have a warm place to spend the winter. "30 days hath September, April, June, and Freddie the Freeloader!"
After several comedic failed attempts, the episode ends with Freddie the Freeloader outside of a church, where he hears a youth choir singing Christmas carols, and the words touch Freddie's heart. He resolves to turn his life around and fine a job, and become a productive member of society … until the unforeseen happens.
Act I
Freddie the Freeloader is sleeping on a park bench, as the snow falls. He's comedically cold, and even "borrows" a blanket from the horse of a horse-drawn carriage. But, the soft-hearted Freddie returns it …. Once the horse complains! Soon, he and his hobo pal Mugsy are warming themselves over a "fire" (Freddie's lit cigar). Mugsy tries to convince Freddie to join him in riding the rails to Florida. But, Freddie has his own plan. He plans to get arrested, and get 90 days in jail – warmth, food, and clothing!
Act II
In a classic, hilarious bit Freddie is pretending to be an eccentric millionaire at an expensive restaurant. He's gnawing on the skeleton of a duck, but takes a moment to antagonize a rich society woman. He starts hiding in his pockets the French pastries, and orders fine cigars and brandy. Waiter: "These are Florida's Finest." Freddie: "The kind I normally use, I find on the floor-o." Soon, it's time to pay the bill. Freddie looking
at the check is excellent clown comedy as he reads first the front, then the back, then along the edges …. And finally holding it flat to read the last on the edge of the check! He, of course, has no money to pay, and expects to be sent to jail. But, the kind-hearted manager spoils his plan, but refusing to have him imprisoned on Christmas Eve!
Next, he tries to steal an umbrella from a passerby. But, it turns out that the umbrella didn't belong to him! After a short conversation with Mugsy, he tries to break a window. But the occupants of the shop chase someone running out of the store! Then, he goes into a jewelry store, trying to trip their burglar alarm. But, after putting a (stolen) bracelet in his pocket, a pickpocket steals it! And a cop catches the pickpocket, and takes him to jail!
Act III
But, Freddie is nothing if not persistent. After a final conversation with Mugsy, he decides to be a masher, and bother a woman in the park. Unfortunately, he's chosen a female masher! It's a funny scene, with a police officer telling her to move along. Freddie then gets the idea to kick the police officer, but slips on a banana peel — twice!
Finally, outside of a church that evening Freddie is about to turn in a false fire alarm. "90 days or a fine of $500, or both. Not only can I go to jail, but I can pick up some money!" But then, he hears the Christmas music being played inside. "In Excelsis Gloria", and "O Little Town of Bethlehem".
The hymns touch Freddie deeply, and he repents of his ways, and is determined to turn his life around. And then … he's arrested for loitering, and gets 90 days in jail!
It's a wonderful episode, based on one of O. Henry's best stories, The Cop and the Anthem.
Cast
Red Skelton … Freddie the Freeloader
Mary Treen (It's a Wonderful Life) … Girl in Park
Maurice Marsac (King of Kings) … Waiter
James Burke (At the Circus, Maltese Falcon) … Second Policeman
Louise Arthur … Miss Wilson, Saleslady
Rickey Kelman (Critic's Choice) … Johnson, Choirboy
Jan Arvan (20 Million Miles to Earth) … Shopkeeper
Ernest Raboff … Shopkeeper
Gilchrist Stuart (The Sound of Music) … Man with Umbrella
Phil Arnold … Bald Man
David Rose and His Orchestra … Themselves
James Flavin (King Kong, Mighty Joe Young) … Jessup
Gavin Gordon (The Bride of Frankenstein) … Manager
Allen Jenkins (Five Came Back) … Muggsy
William Meader … Passenger With Bass