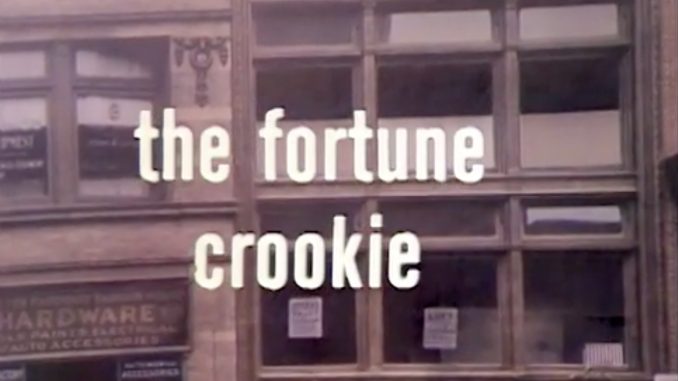 The Fortune Crookie – The Red Skelton Hour season 16, with Jackie Cookie, Ozzie and Harriet Nelson. Originally aired January 17, 1967
In The Fortune Crookie, San Fernando Red and his assistant Curly operate a photography studio where they match lonely clients with families. And Ozzie and Harriet Nelson make the perfect family!
Monologue | The Fortune Crookie | On Stage | Silent Spot | Jokes | Cast
Red Skelton's Monologue
Never pick up a hitchhiker! I picked up this guy and I says, "Would you like a ride? Where're you going?" He says, "Tijuana". I says, "I'm only going to Palm Springs". He says, "I'll drop you off".
I went down to Mexico for change and rest. The bellboy got the change, the hotel got the rest!
I got a beautiful suntan down there, but when they gave me bill I turned white as a sheet!
In some places in Mexico, they still have those human sacrifices, you know, where they throw 'em into the volcano and stuff. If you're gonna go see this …. Be careful what line you get in.
If they like you down in Mexico, they give you a nickname. They gave me a nickname. Tell me, what's a "gringo"?
You know what they call Dean Martin? Souse of the border!
They don't have champagne flights, they have Tequila hops. And I had a wonderful flight … They tell me.
Red ends with a pantomime of the greatest bullfighter in the world.
The Fortune Crookie – Act I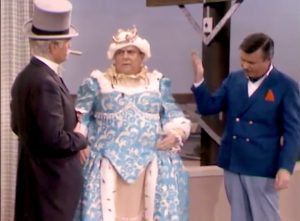 In The Fortune Crookie, the crooked San Fernando Red is running his current scam. Rent-A-Relative! With the help of his assistant Curly (Jackie Coogan), he sets up photos of alleged family for people to use. For one instance, a man comes in who's told his wealthy fiancee that he's got the royal family in his blood. So Curly puts on a queen's dress, and poses with the man sitting on "her" knee! Later, a hood comes in, and wants San Fernando to supply the perfect family, so he can win the Perfect Family Contest.
The Fortune Crookie – Act II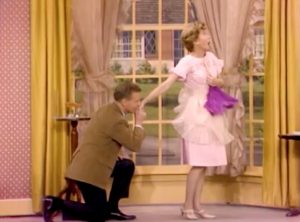 San Fernando Red seemingly finds the perfect family – Darling & Dearie Lovebird, played by Ozzie and Harriet Nelson. They're a funny, but sweet, couple. San Fernando is soon able to swindle convince them to pose as the perfect parents, for the Perfect Family Contest. And the hood agrees to pay San Fernando $50 for his services. Since he hopes to win $50,000! So San Fernando throws him out, and decides to take his place in the contest!
The Fortune Cookie – Act III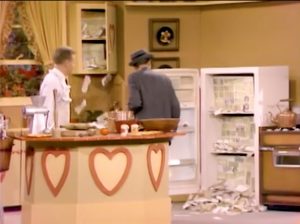 But it turns out that the kindly, sweet, Lovebird family isn't the Perfect Family after all. They have one, "small" imperfection. They're counterfeiters! Dearie Lovebird cooks the counterfeit, while Darling Lovebird cooks it to dry in the oven! It's a hilarious scene, as San Fernando Red finds out shortly before the judge for the contest arrives. And, on cue, all of the cupboard doors (and refrigerator) pop open, disclosing the fortune in bills! The judge leaves, ending the sketch.
Classic Red Skelton
Tide commercial from It Takes All Kinds – The Red Skelton Show season 1
On Stage – Ozzie and Harriet Nelson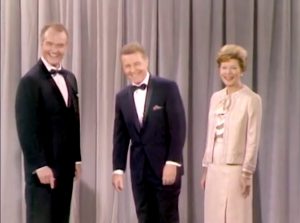 Red Skelton invites Ozzie and Harriet Nelson on stage. He reminds the audience that in 1941 — 25 years earlier — they appeared on his radio show with Ozzie as orchestra leader, Harriet as vocalist, as well as in comedy sketches. So, they'll do a short old-time radio sketch for the audience.
There's a lot of clowning around with the old-time microphone, making fun of how they've all become nearsighted …. And they all share one pair of glasses as they read the script! Which is an excuse to tell a pun about a cow that gives buttermilk. That's impossible! No, it's not — what else can a cow give but her milk?
Silent Spot – The Bungle Bee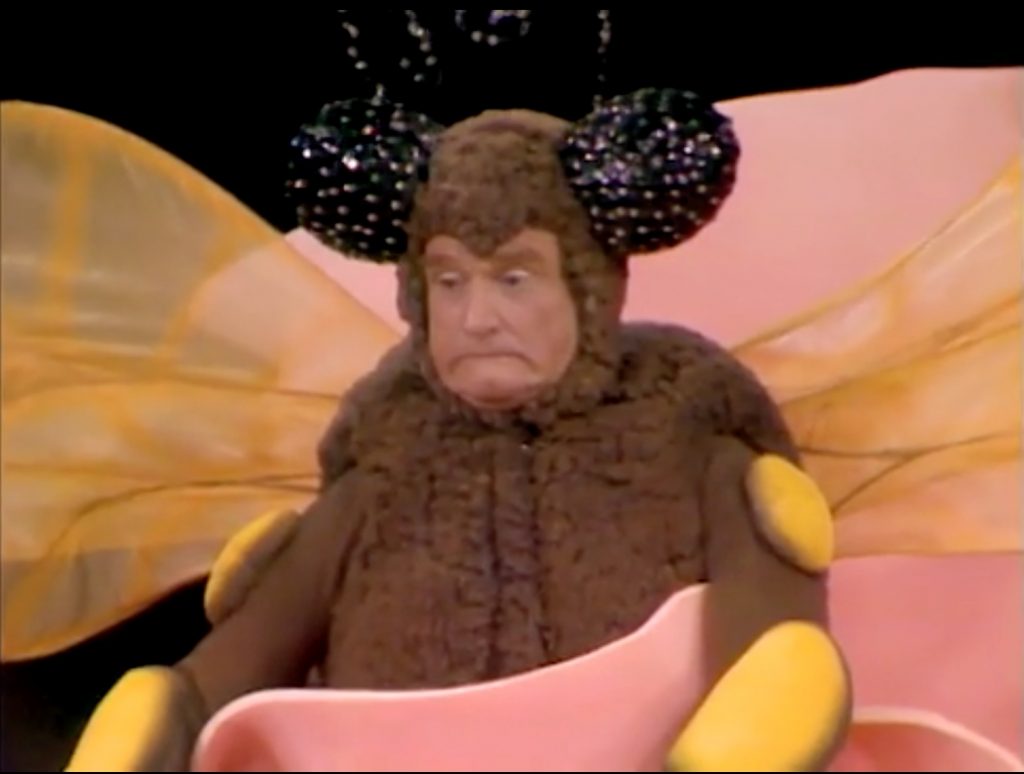 Red mimes a busy bee with a nagging queen bee, trying to woo a pretty girl bee, and a spider trying to snare him in his web. It's a very funny routine, showing the bee's morning routine — including shaving? Having to fetch honey for the pushy queen bee, and being rebuffed by the pretty girl bee. Until he rescues her from the spider, that is!
Music
Barbara McNair sings, 'Hi, Lilli, Hi, Lo' and 'Walking Happy'.
Jokes
Dearie Lovebird: Son, what are you doing with the ironing board?
San Fernando Red: I'm pressing my luck!
Judge: I've never seen so much money! Where'd it all come from?
San Fernando Red: Would you believe J. Paul Getty's piggy bank?
Judge: No.
Darling Lovebird: This month's alimony for Zsa Zsa Gabor?
Judge: No.
Dearie Lovebird: Renting picket signs to the college students?
Darling Lovebird: With all this money, do you know what you'll be worth?
San Fernando Red: Yeah, Leavenworth!
San Fernando Red: [looking at the counterfeit bills — George Washington, Abe Lincoln, and … Ricky Nelson!] Well, I guess you're the perfect parents after all. Everybody wants their son to be president. The way things are going in show business, he may make it!
Cast of characters
Red Skelton … Self – Host / San Fernando Red / Bumblebee-Silent Spot
The Alan Copeland Singers … Themselves
Jackie Coogan (The Kid, The Addams Family) … Curly – San Fernando's Assistant
David Rose and His Orchestra … Themselves
Stephen Dunne (Mother Wore Tights) … Paul Prudence
Art Gilmore … Announcer
Chanin Hale … Honey Bee-Silent Spot
Ida Mae McKenzie … Queen Bee-Silent Spot
Barbara McNair … Self – Guest Vocalist
Harriet Nelson (Follow the Fleet) … Dearie Lovebird
Ozzie Nelson (The Adventures of Ozzie and Harriet) … Darling Lovebird
Louis Quinn … Hood Seeking Family
Olan Soule (The Towering Inferno, Superfriends) … J. J. Smith – Contest Judge
Tom Hansen Dancers … Themselves
Trivia
Ozzie and Harriet Nelson co-starred with Red Skelton on his radio show, Avalon Time.
The title, "The Fortune Cookie" is a take on the phrase, "fortune cookie". It's quite fitting, given the Lovebird's counterfeit fortune, and San Fernando Red's crookedness.