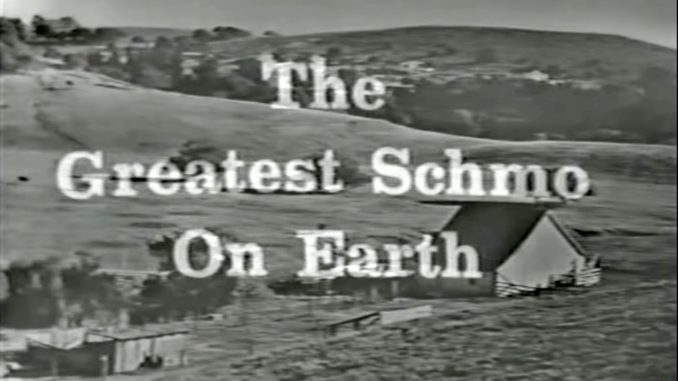 The Greatest Schmo on Earth, The Red Skelton Hour season 12, with Juliet Prowse and Phil Harris, originally broadcast October 16, 1962
"The Greatest Schmo on Earth" Season 12 Episode 02 Juliet Prowse joins Red Skelton in the comedy sketch Searching for his wandering sweetheart Daisy June (Juliet), Clem Kadiddlehopper (Red) finds her working as a carnival fortuneteller. And the owner of the carnival (Phil Harris) is in love with her!
Monologue | The Greatest Schmo on Earth | Silent Spot | Songs | Cast | Trivia
Monologue
In case you're wondering why the CBS eye is bloodshot tonight, it's in honor of our guest – Phil Harris.
And our other guest is Juliet Prowse, in case you're wondering why my eyes are bloodshot!
Pretty girls don't bother me. I was over in Honolulu, see, and over there the girls wear these grass skirts, and I used to sit around and watch the brush fires …. Until somebody stole my cigarette lighter!
Parking at the Dodgers stadium
The Dodgers have been a great unifying force here in Los Angeles. They brought all the people together in Los Angeles …. On the parking lot!
Hey, they got a great system for handling parking out there. If you've got a box seat they put you in the yellow zone, and if you've have a reserved seat they put you in the green zone. If you have a bleacher seat — they put you in the Twilight Zone!
The people with foreign cars, they're the ones that are lucky, those little sports cars. They can sit there with them in their lap!
Incidentally, for those that want to get to the Dodgers stadium, it's very easy. When you get to Los Angeles, you go up to the freeway …. Now the freeway is the only road that's ever been built to travel 65 miles per hour, except during the rush hour when you travel 65 hours in one mile!
Baseball
I understand that President Kennedy is going to attend one of the ball games this year. He's going to sit back and watch somebody else catch it for a change!
I used to play ball. Well, I wasn't exactly a ball player. I was a bat boy for the Vincennes Bloomer girls. What a bunch of old bats they were! And none of them played ball …
Hey, I saw some little kids playing ball, and I said, "What's the score?" He says, "77". I said, "77 to what?" He says, "I don't know, we haven't been up to bat yet."
A little kid was umpiring, and he said, "Ball one, ball two, ball three, ball four! You's out!" He says, "What do you mean, I's out?" He says, "The bases loaded — I got no place to put you."
Gertrude and Heathcliffe
Did you hear about the two seagulls, Gertrude and Heathcliffe? They're flying over the stadium, see, and Gertrude says, "What's that? What's that?" He said, "What's what?" She said, "That thing through the air." He says, "It's a baseball." She says, "Thank goodness, I thought I was laying a hemstitch egg!"
The Greatest Schmo on Earth
Act I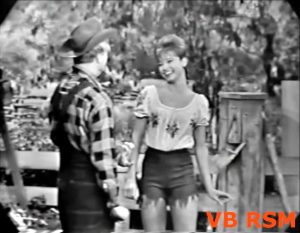 The Greatest Schmo on Earth begins with Clem getting his head stuck in a bale of hay. "I'm looking for a noodle in a haystack!" But Pa Kadiddlehopper "helps" him by poking him with a pitchfork! "I've got two extra navels! Now I can carry three flags in the parade!" Then, Clem's lovely girlfriend Daisy June (Juliet Prowse) comes by. After a very funny bit where she keeps trying to sit close to Clem — and he keeps avoiding her — she wants to know his intentions. "Will you, or won't you, marry me?" "To do, or not to do, that is the question …"
So, Clem sits down to think up an answer. "Can you imagine me thinking? Say, there's a television first!" And he thinks, and thinks, and thinks. And the seasons change while he's thinking — a very funny bit. Eventually, he comes up with an answer! But, where's Daisy June? Pa tells him that she left nearly a year ago to join the circus! So, off goes Clem to find her.
Act II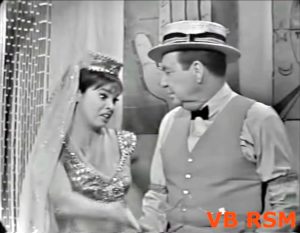 At the "Ringading Brothers" circus, Daisy June is working as a fortune teller. But her boss, John Ringading (Phil Harris) has a crush on her …. And he's insanely jealous! And, armed with a sword cane, as well. Once Clem arrives, he can't remember what the question he was supposed to think about was! But, he needs to pretend to be a literal dummy (mannequin) when Mr. Ringading comes back.
Daisy June: If you ever want to see that farm again, start acting like a dummy!
Clem: Well, that won't be hard to do …. I've got a forty year head start!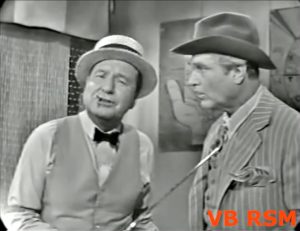 Daisy June knocks Clem unconscious as Mr. Ringading comes in. he wants to go over publicity photos with Daisy June, until he notices Clem. He's going to assault Clem, until she convinces him that it's only a dummy. "Baby, I should have known. There's nobody alive with a face like that!!" Unfortunately, Clem revives, and tries to help them decide on the photo! Mr. Ringling: "For the benefit of those who can't stand violence, there will now be a short interruption!"
Act III
But Daisy June intercedes:
Daisy June: If you kill Clem, I'll never talk to you again!
Clem: Me either!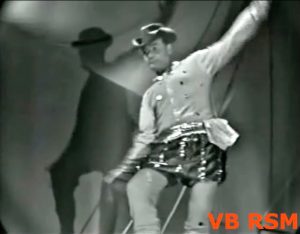 And so, Mr. Ringading decides to hire Clem for a job at the circus instead. A very dangerous job …. Going from the high wire, jumping and landing in a bucket! "About that bucket …. Any water in it?" "No …" "Good! 'Cause I can't swim!"
So, it's Clem on the high wire! It's a very funny pantomime bit, that has to be viewed to enjoyed. Red has some fun with his sound man as he's doing it as well. Eventually, John Ringading comes up the ladder, to cut the high wire — exactly as he described to Clem! But …. Clem is upset, because he missed the bucket! Despite having fallen 500 feet, Clem's all right. Must have landed on his head …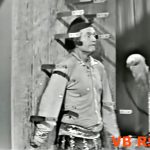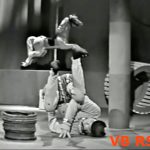 So, Mr. Ringading decides to use "the world's bravest idiot, Clem Kadiddlehopper" in his knife throwing act! "Are you ready?" "No, I'm Clem!" And the knives start flying! Twelve knives simultaneously, all of which narrowly miss Clem. "I have the feeling you're trying to tell me something …". Then, he throws a knife directly into Clem's chest! Leading to a comedic death scene. "It only laughs when I hurt!" His dying request to Daisy June? Bring in the cue card closer, so I can read it! And, ending the skit.
The Silent Spot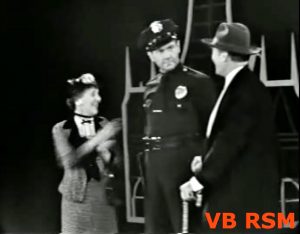 Red portrays an over-the-hill cowboy movie star. Formerly a Hollywood great, who has earned his star on the walk of fame. But now, forgotten. It's bittersweet, as he tries to interact with various passerby's — after shining his star on the sidewalk at Hollywood & Vine. But none of them remember him. And, a police officer gives him a ticket for littering, as well. Until an old woman comes by, with a photo of the cowboy in his heyday. Which the police officer remembers, from when he was a young boy! And so, he tears up the ticket and leave. And the elderly cowboy embraces his fan — "Mother!"
Songs
The Modernaires and Juliet Prowse – "Walk on the Wild Side"
Song-and-dance number "Got to Give Them Hoke."
Cast
Red Skelton … Self – Host / Clem Kadiddlehopper
Jan Arvan (20 Million Miles to Earth) … Paw Kadiddlehopper
Kathryn Card (Mrs. McGillicuddy on I Love Lucy) … Maw Kadiddlehopper
David Rose and His Orchestra … Themselves
Art Gilmore … Announcer
Phil Harris (Walt Disney's Robin Hood, The Jungle Book) … Guest
Paula Kelly … Guest Vocalist
The Modernaires … Themselves
Juliet Prowse (Can-Can) … Guest
The Skelton Dancers … Themselves
Trivia
Production Note: The video says "Show: No. 1" but it was the second show broadcast in the season. The first show of the season was the Harpo Marx episode.
The title is a parody of "The Greatest Show on Earth" – a reference to the Ringling Brothers circus. Doubly suitable since Daisy June has run away to the Ringading Circus.