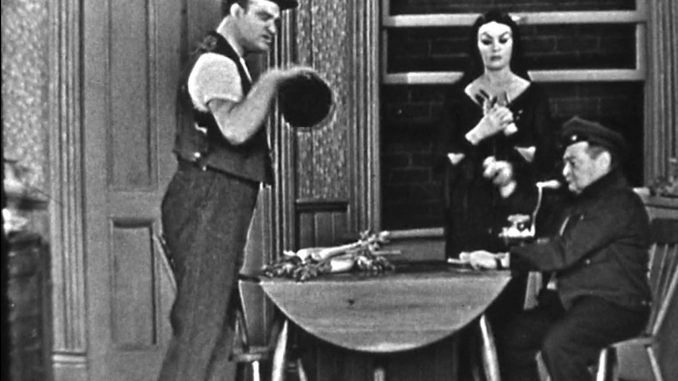 The Honeymooners Spoof, with Peter Lorre and Vampira – The Red Skelton Show, season 4, originally aired January 18, 1955
Peter Lorre wants Red Skelton to help him create … a comedy show! This results in a unique, funny Honeymooners spoof with Peter Lorre. Peter Lorre acts like an Addams Family-version of Ralph Kramden. Red Skelton plays an interesting version of Art Carney's character, Ed Norton. Favorite line: "Ralph's" wife (Vampira) asks him how his day was. Peter Lorre (who drives a hearse) replies, "Traffic was so bad, my passenger got out and walked!"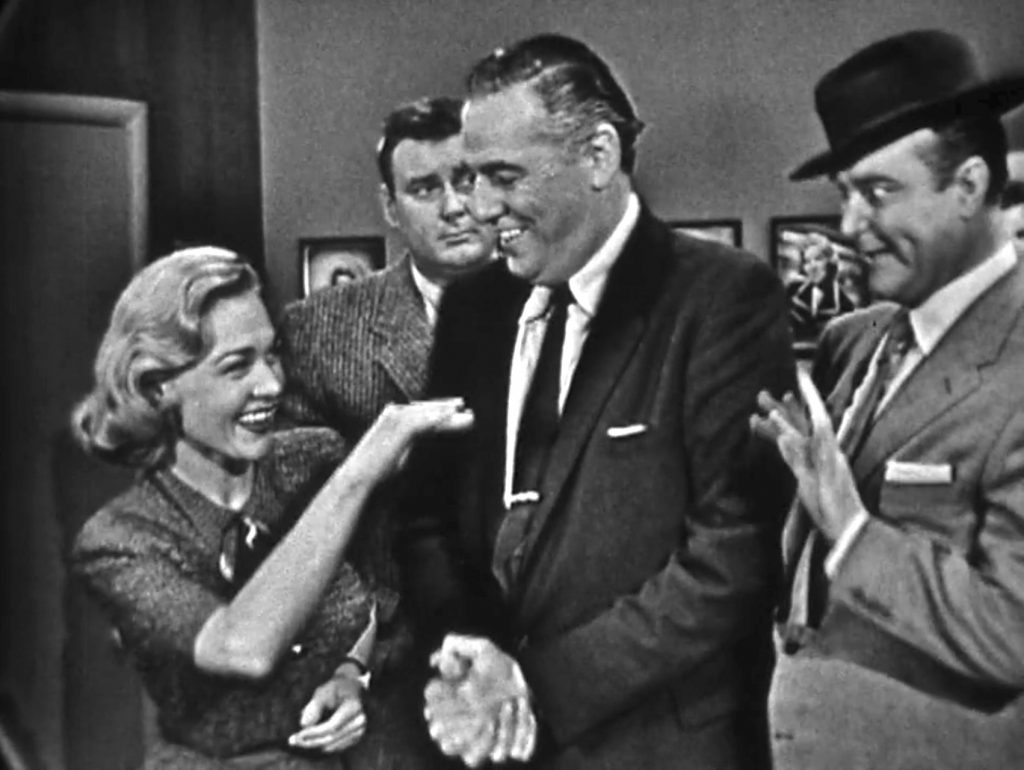 The sketch opens with Red visiting the executive committee of CBS-TV programming. Where he's told that Peter Lorre will be starring in a TV comedy and has asked for Red to be his technical advisor. Watching the executives attempt to butter up Red is quite funny. Soon, a message from Peter Lorre is delivered … by dagger! It reads:
"Skeleton,
[Red comments that he doesn't know how to spell] Oh, yes I do. I'll expect you at my house at the stroke of midnight. I live two blocks from the graveyard. Will dig you later."
Peter Lorre's house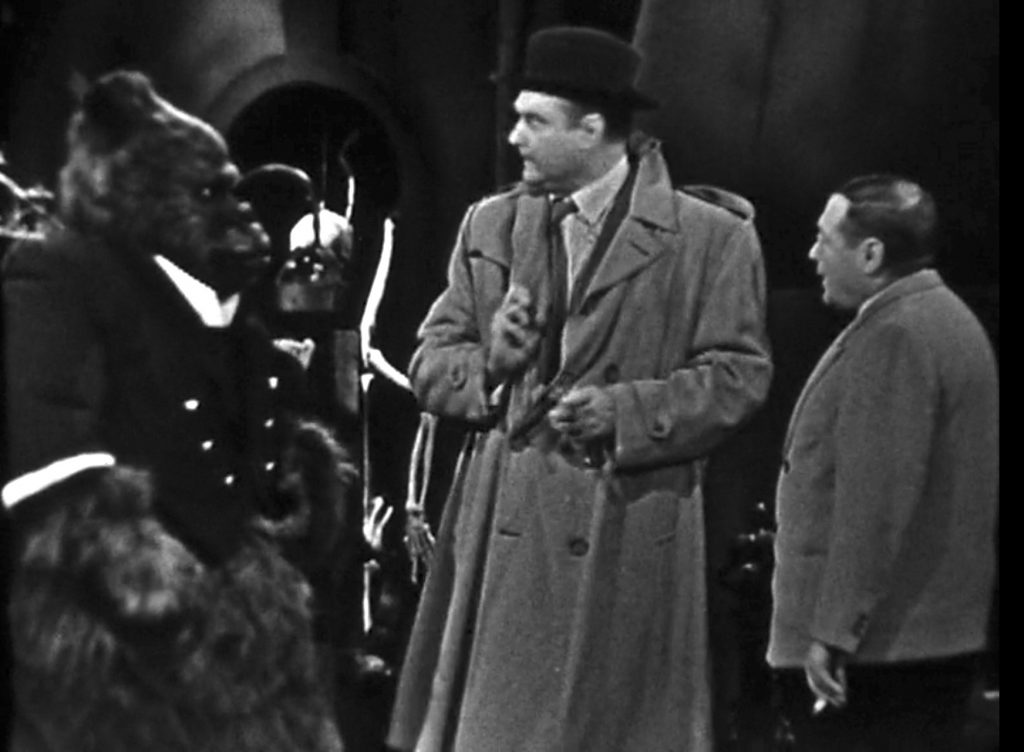 Red appears at Peter's mansion late at night. It's a very funny scene, between the Halloween atmosphere, meeting Peter Lorre's butler Meredith the Gorilla, and nearly getting strapped into an electric chair. His and Her chairs, of course. Shortly afterward, he meets Sam Skelton and Peter's lovely wife — Vampira.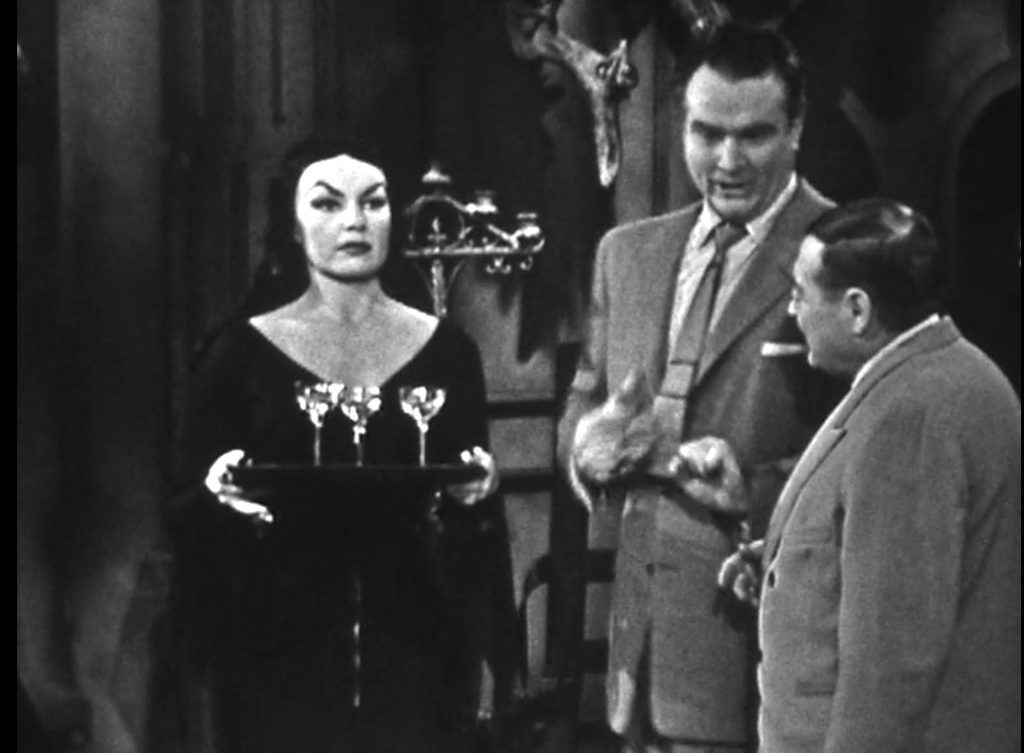 After a very funny bit where Peter and Red rehearse a joke — where Peter keeps getting it wrong — they work on a domestic comedy skit. Like The Honeymooners. So, Peter introduces his writers.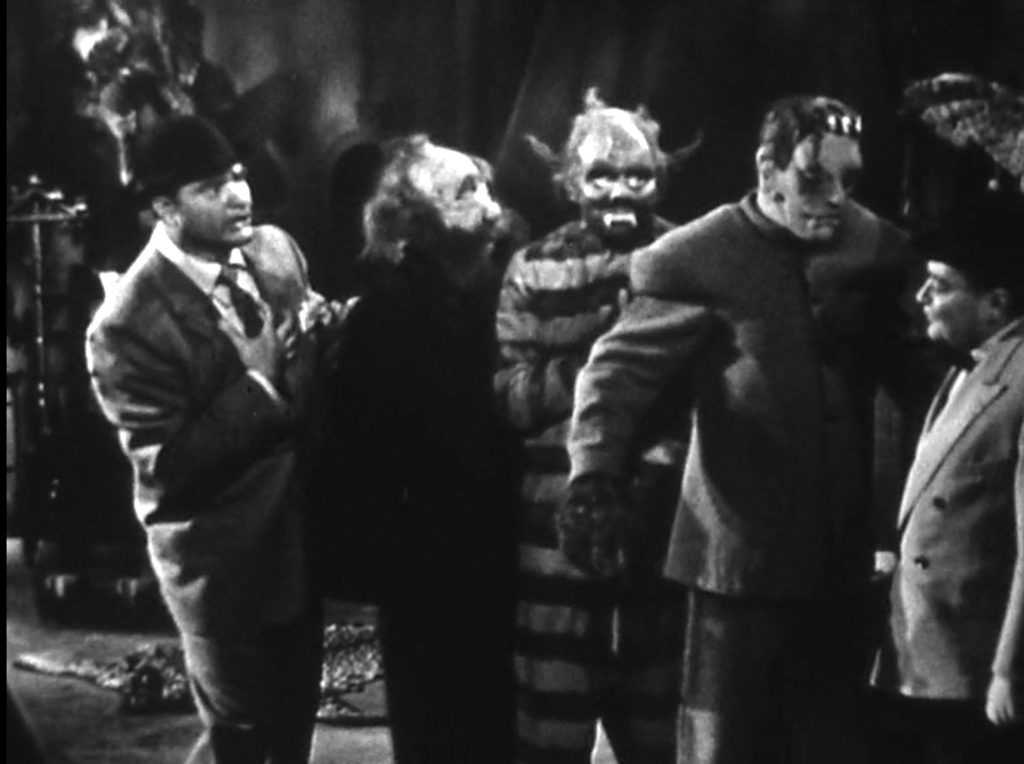 The Peter Lorre Show
This takes us to "The Peter Lorre Show", that begins with an entertaining, yet macabre, dance number. Peter then comes on stage, impersonates Jackie Gleason, and segues into the Honeymooners spoof.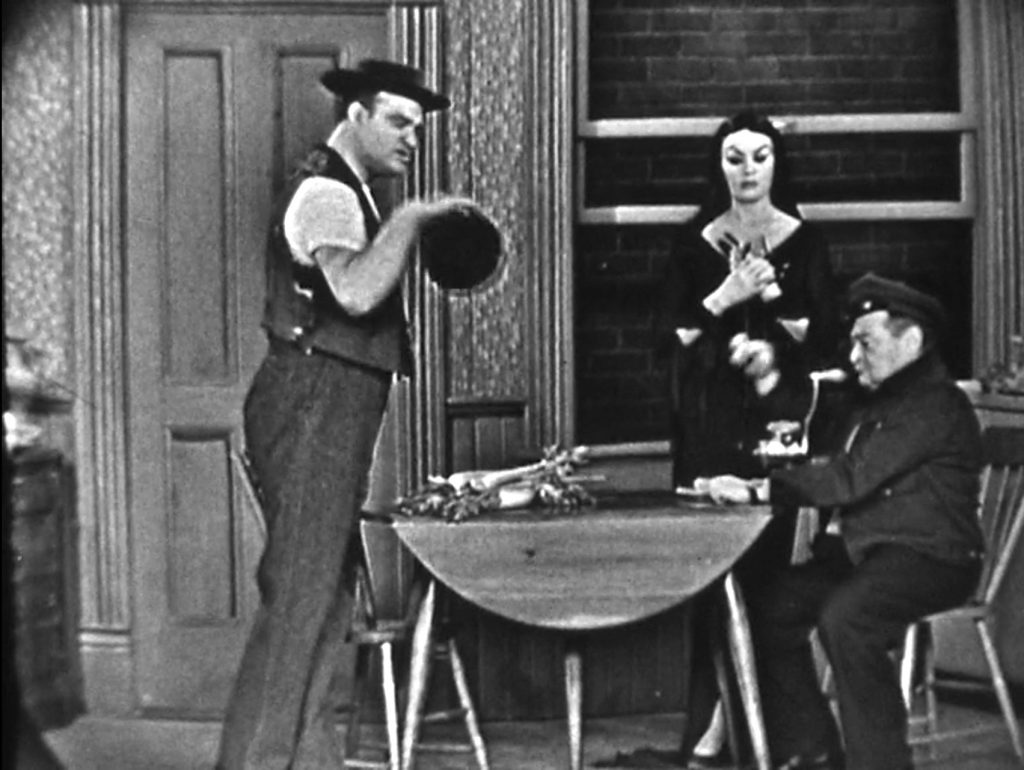 Peter plays the role as Jackie Gleason would, including Ralph Kramden of the Honeymooners. Vampira plays his wife Malice, Red himself as Ed Norton, and Muriel Landers as Ed's wife "Truxie". It's a very funny skit!
Trivia
The title refers to the Jackie Gleason skits, The Honeymooners.
The macabre dance is performed to In the Hall of the Mountain King". This is the tune that Peter Lorre's character whistled in his classic film, M.
Cast of characters
Red Skelton (Whistling in the Dark) … Self – Host / Ed Norton
David Rose … Self / 'Davy' Rose
David Rose and His Orchestra … Themselves
The Redettes … Themselves
Peter Lorre (Mad Love; Arsenic and Old Lace) … Self / Ralph Kramden / Jackie Gleason
Mary Beth Hughes (Holiday Rhythm) … Self / Alice Kramden / Mrs. Lorre
Muriel Landers (Doctor Dolittle ) … Trixie Norton
Michael Ross (Attack of the 50 Foot Woman) … CBS Executive (as Mike Ross)
Marian Carr (The Indestructible Man) … Secretary
George Barrows … Meredith–Gorilla
Ray Kellogg (The Twilight Zone season 5) … CBS Executive
Jack Boyle (Yankee Doodle Dandy) … Supporting Player
James Gonzalez (The Lucy Show) … Harry (as James Gonzales)
Beth Carter … Redette Dancer
Tex Brodus (South Pacific) … Supporting Player
William Meader … Supporting Player
Perk Lazelle … Supporting Player
Jo-Ann Dean … Redette Dancer
Bob LeMond … Announcer