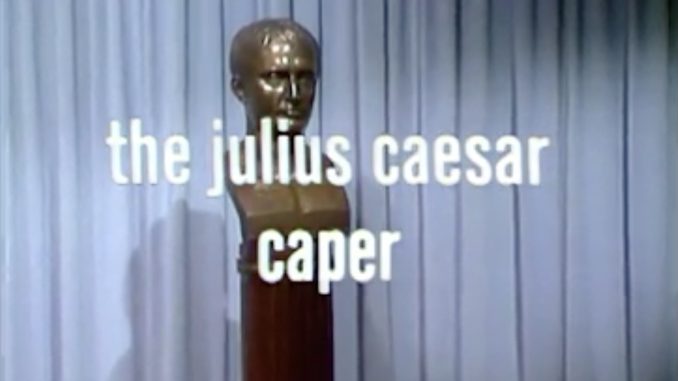 The Julius Caesar Caper – Forsooth reveals the "true story" of the death of Julius Caesar? E tu, Brute?
Monologue
I'm a little out of breath tonight. I just met a beautiful blonde out in the hall and the reason I'm out of breath is that I met her husband, too.
Frank Sinatra is my neighbor down in Palm Springs. And who do you think his guest is? Sofia Loren. Every day when it's about 80 she puts on slacks, and when it's 90 she puts on a bikini …. Come on 120!
The Julius Caesar Caper – Act I
Red Skelton's medieval character, Forsooth, finds himself in the time of the Roman Empire. He's working at a Roman bathhouse, where Emperor Julius Caesar is coming to take a bath, to celebrate his latest victory. The bathhouse owner is so excited, he'll use clean water! Cue Forsooth, here called "Obnoxious". After knocking someone else into the bath, he gives the Emperor a "massage" that makes his legs look like taffy! Then, Brutus shows up, and wants Caesar to address the Roman Senate. And Caesar makes the mistake of having Obnoxious come along as his body guard!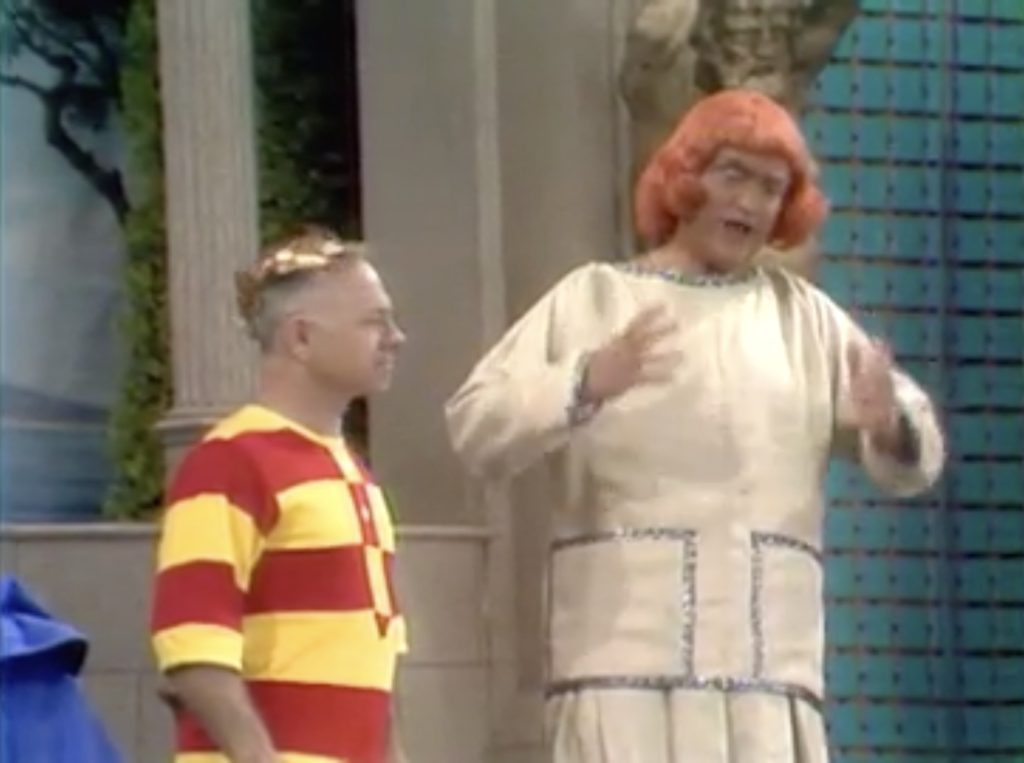 The Julius Caesar Caper – Act II
Brutus wants Julius Caesar to address the Senate as an excuse to assassinate him, of course. And his inept bodyguard Obnoxious is little help. He pulls Caesar's chariot onto the scene — which Caesar falls through. Chases a pretty maiden to "search" her — for security reasons, of course! The gavel's sabotaged, there's a deadly snake, and Brutus finally succeeds in in stabbing Caesar!
"I'm dying — just like this sketch."
"My life is passing before my eyes — oh, the alimony!"
Classic Red Skelton Sketch
The Clean Fighter from The Red Skelton Show season 2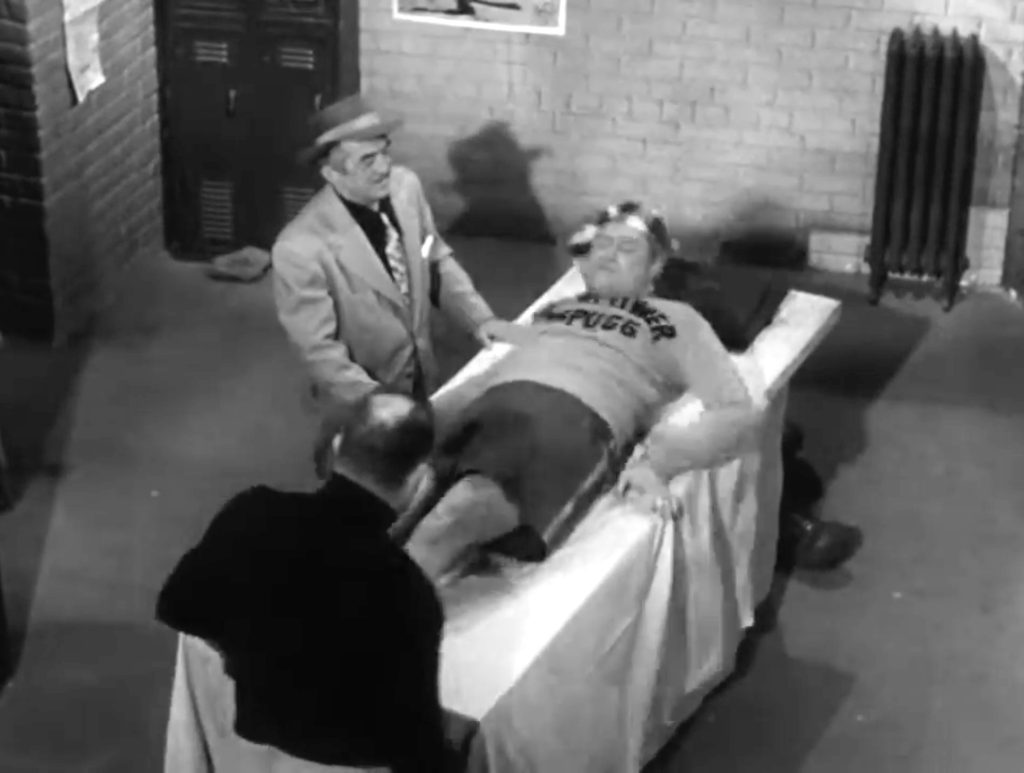 One Minute Dramas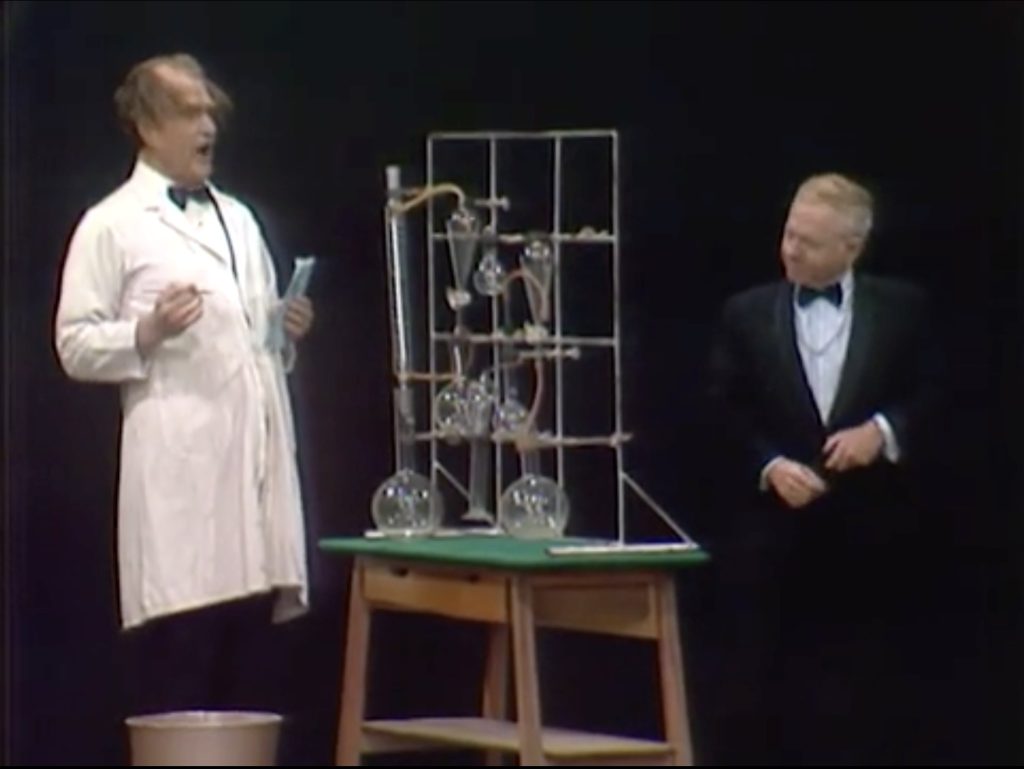 The Chemist – formula for a new explosion? It'll never work!
The Other Man – the husband comes home unexpectedly! I'm not nervous, I'm hungry. Well, I'll go to the deli. [knocks on door] What do you want Mickey?
The Time Capsule: opening the time capsule after 100 years. Out. comes elderly Mickey? Where's my sandwich?
The Silent Spot – His Mother-in-Law
Red squares off against his battleaxe mother-in-law. A hilarious, fast-paced sketch! Red's simply relaxing at home when his mean-spirited mother-in-law comes to visit — with her suitcases! They both despise each other — and she's eating him out of house and home! Very funny slapstick all the way through.
Then, Red gets an idea — he calls Relative Remover! And they send over one of their best agents — Frankenstein's monster! But … the mother-in-law is the monster's long-lost love! And they elope! And it seems like Red will finally get some peace and quiet. Until there's a knock on the door — they've gotten married! And they're moving in!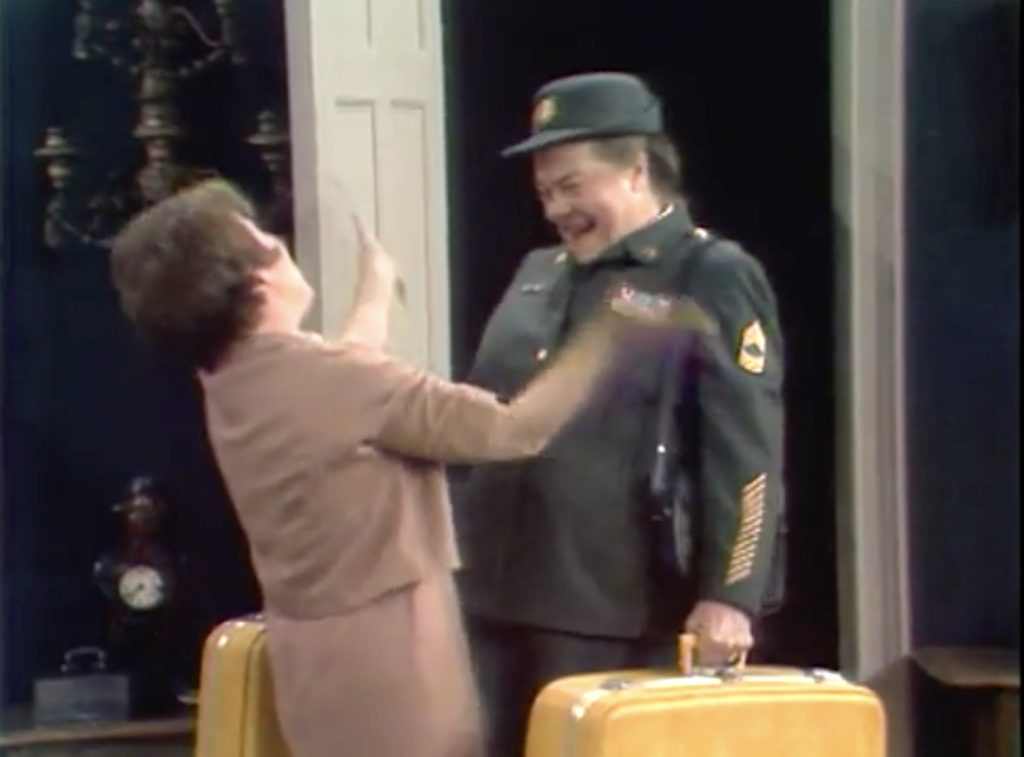 Songs
Lana Cantrell sings, 'I'm Falling in Love Again' and 'Bonnie and Clyde.'
The Tom Hansen Dancers join the Alan Copeland Singers to perform 'Big Beautiful Doll.'
Cast
Red Skelton (Whistling in the Dark;Bathing Beauty) … Self – Host / Forsooth
The Alan Copeland Singers … Themselves
Lana Cantrell … Self
Winnie Collins … Mother-in-Law — Silent Spot
Henry Corden (The Ten Commandments; A Flintstone Christmas) … Roman Bathhouse Owner
David Rose and His Orchestra … Themselves
Art Gilmore … Self – Announcer (voice)
Nancy Howard (Yours, Mine and Ours) … Wife — Silent Spot
Ray Kellogg (I Passed for White) … Brutus
Mickey Morton … Caesar's Herald / Frankenstein — Silent Spot
Tom Hansen Dancers … Themselves