The Next Time Try the Brain – The Red Skelton Show with Tennessee Ernie Ford, season 16, originally aired April 4, 1967
The Next Time Try the Brain – Clem Kadiddlehopper is trained in the chicken plucking Olympics by Loser Lumpkin (Tennessee Ernie Ford)
Monologue | Next Time Try the Brain | On Stage | Silent Spot | Jokes | Cast
Monologue
There were two drunks sitting at a bar at New Years Eve. They were showing pictures of their kids, and one guy says, "Oh, you're lucky. I'd give anything in the world if I had three kids. Anything in the world if I had three …. I've got twelve, you know." He says, "The stork visited our house quite often, you know." The other guy says, "Visited? I think the boy lives there!"
He says, "I got a lot of trouble with my family. I was walking up the street with the kids the other day, and a policeman came up and says, "You're under arrest." I said, "What for? I didn't do nothin'." He says, "You must have, with that crowd following you."
Drinking jokes
I don't drink any more. I don't drink any less …
I'm not against drinking – I'm up against it.
You know, I very seldom drink. I can't handle it, number one. The guy will come up, "Have a drink", I better not. "Come on, have one to be sociable." So, okay. A couple of minutes later a guy comes by and says, "Can I freshen that up for you?" I say, go ahead. The next thing I hear somebody say, "Did he have a hat?"
I love to spend New Years Eve at Dean Martin's house. It's sort of symbolic – as the New Year's coming in, Dean's passing out.
New Years
As the New Year's coming in, I stand next to the most beautiful woman in the room — my wife Georgia. [pause] This is a paid political announcement.
I come from a little town called Vincennes, Indiana, you know, and we never had any wild New Years Eve parties. In fact, no excitement at all. The place was so quiet, that sometimes we celebrated midnight around 8:45.
Our town was very poor, we didn't have any town drunks, so we all took turns.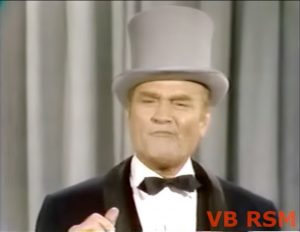 W. C. Fields
This is the way W. C. Fields would bring in the New Year. "Ah yes, here it is, here it is, 1968. Everywhere in the world except Russia. There it's still 1936. The last 30 years have refused to come in."
"I'm making three New Years resolutions. One, not to drink any more booze. Number two, not to carouse around with women. Number three, not to pay any attention to the first two."
I mixed a concoction for the party: Four dashes of gin, six dashes of vermouth, and a half a bottle of rye. I took a drink, went over and drew a picture of an automobile on the wall. Everybody at the party took a drink, got in the automobile, and I drove them home at a very early hour."
Act I – at the restaurant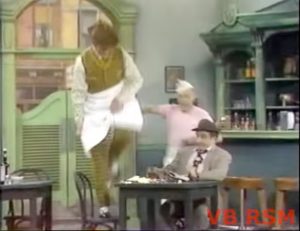 Clem Kadiddlehopper has a new job at a cafe. The cafe operator makes the mistake of telling Clem to bring a customer his pie — and step on it! Which Clem obediently does, of course. Then, the poor customer asks for split pea soup. But, their peas are happily married — Clem can't spit them them up! So he mashes them with his fingers, so his boss tells him to throw it away. Clem does so, right into the face of someone walking down the street! Which happens to be …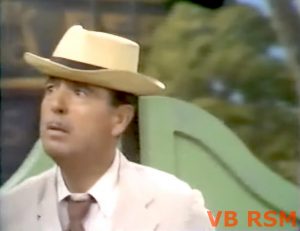 A down-on-his-luck Loser Lumpkin (Tennessee Ernie Ford) enters the cafe. After some verbal comedy between the two, Loser Lumpkin tells him that, 15 years ago, he was an almost-great chicken plucker for the American team in the Olympics. And, he'll coach Clem to victory!
Act II – at the Olympics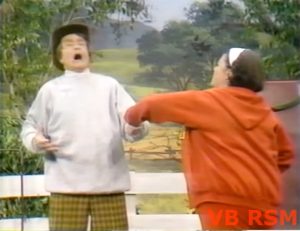 At the Olympics, Loser Lumpkin is acting as a coach. There's fun being made about the Olympics, with a lovely young lady as the "incentive" for the 100-yard dash. Clem does a short reprise of the fool and his feather routine. Then, Clem meets lady a chicken plucker from behind the Iron Curtain – Big Bertha Kropnik. And, she breaks Clem's fingers so that he can't compete!
Act III – the chicken plucking contest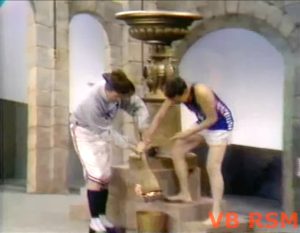 At the Olympics, Clem Kadiddlehopper "helps" the lighting of the torch — by putting the torch out! Then he "helps" by firing the starting gun at the runners for the 1,000 yard dash! And one of them runs through the audience! And steals the javelin-thrower's javelin ….
Then, it's time for the chicken plucking contest. First, Big Bertha Kropnik sets a new world record. But then it's Clem's turn, and he's beating her! She concedes, and hits Clem on the head with the trophy! Clem, dazed, starts plucking everything in sight, ending the skit.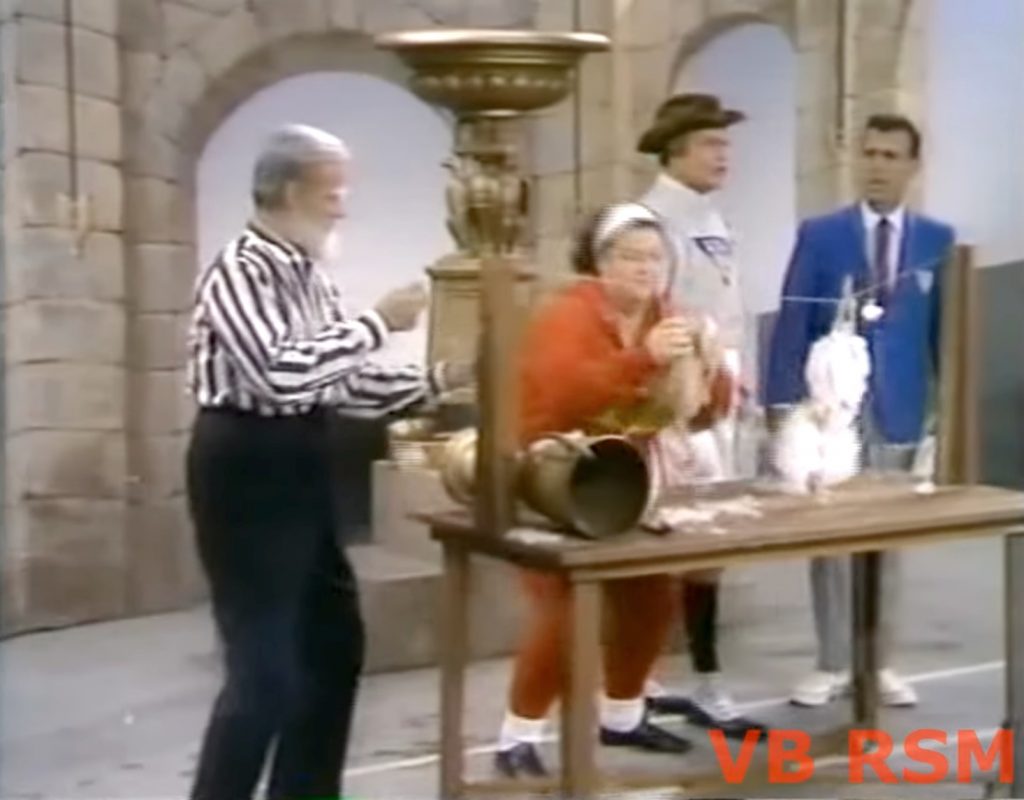 On Stage
After some verbal jousting, Tennessee Ernie Ford decides to demonstrate a new game that he's created. It's really a variation on The Whip Skit, using a large ball and chain instead of a whip!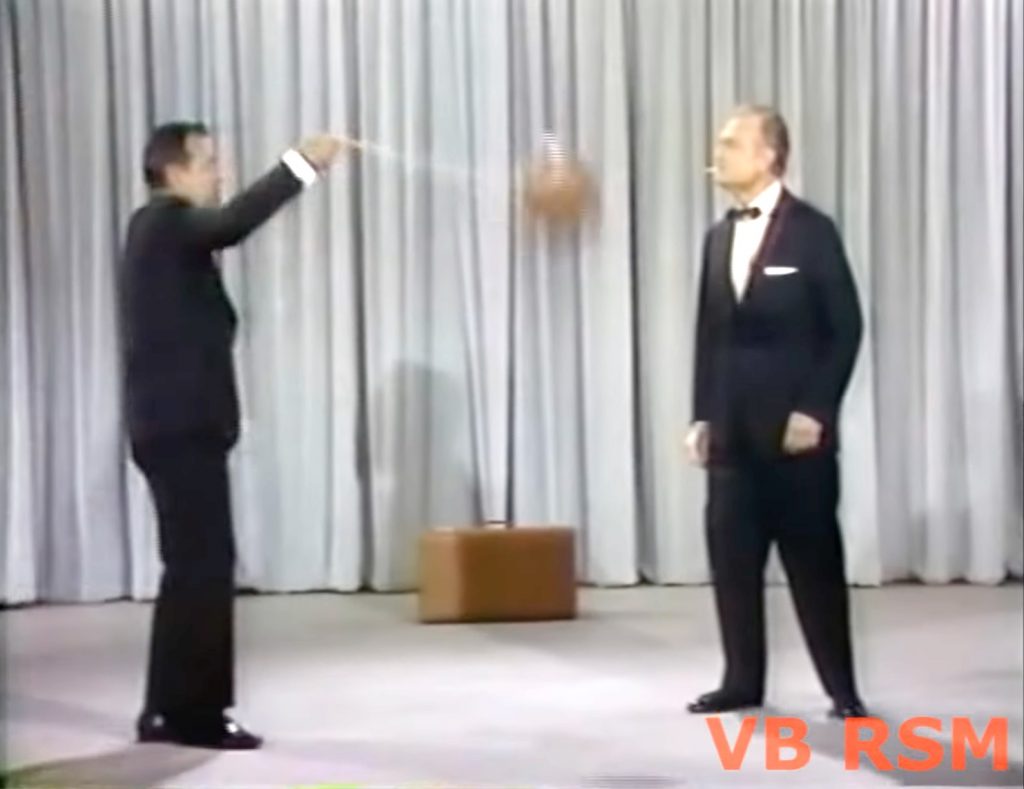 They follow this up with another classic skit, the snake bite kit. Which is really a portable bar in a suitcase.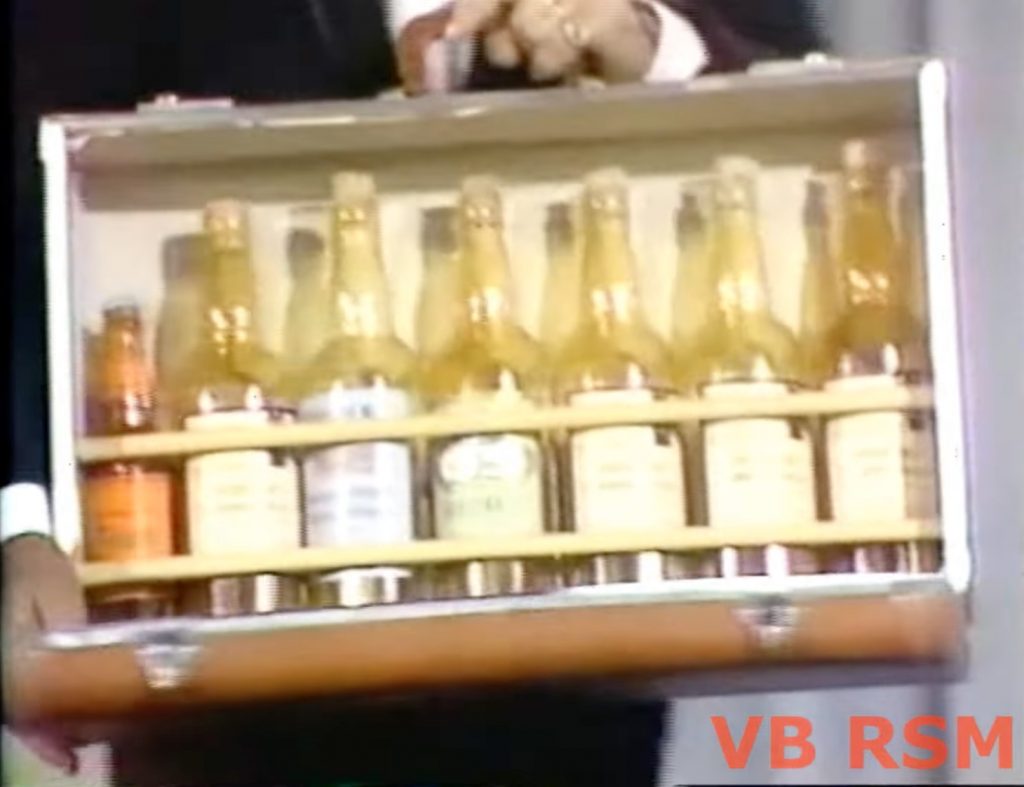 The Silent Spot – Taking Down the Christmas Tree
In the Silent Spot, Red plays a husband nagged by his wife to deal with the post-Christmas mess in the living room. In the process, he tries on his new robe (with mismatched sleeves), tries his new massage chair, and manages to throw the tree and ornaments out the door — and onto his wife!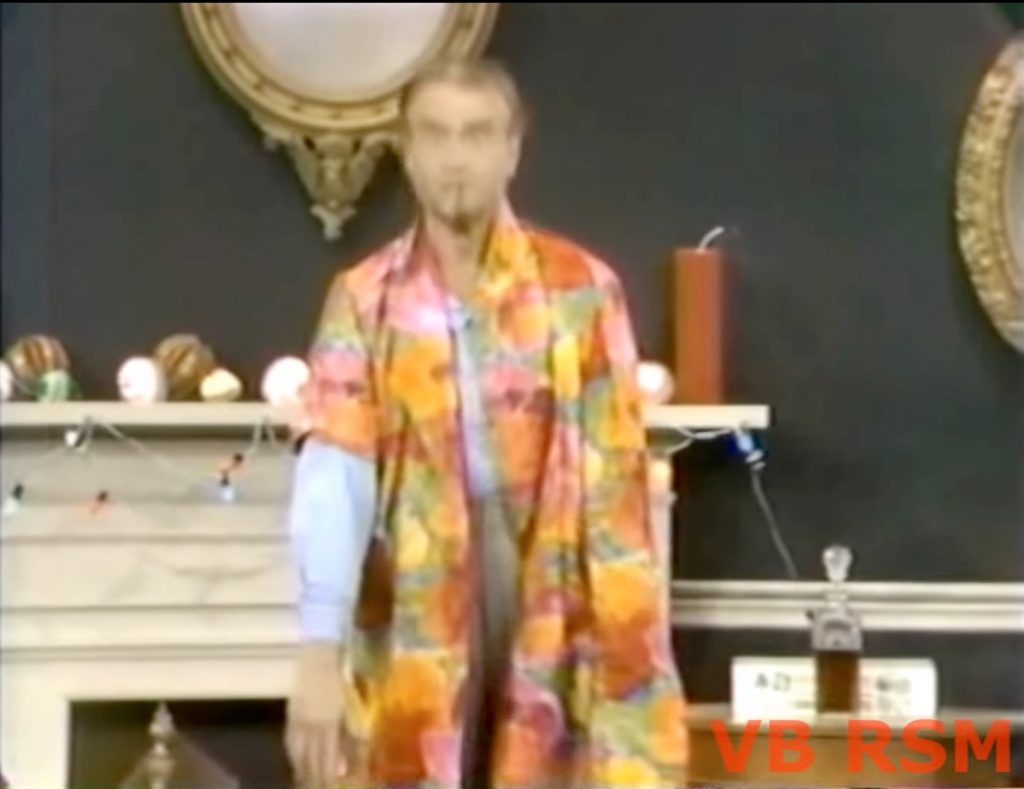 Jokes – Act I
Cafe Operator: Give him his pie, and step on it!
[Clem Kadiddlehopper does so – literally]
Cafe Operator: That's unsanitary!
Clem Kadiddlehopper: No, that's Boston Creme!
Cafe Customer: There's something in my soup!
Clem Kadiddlehopper: Eat around it.
Cafe Customer: It's a fly! What's a fly doing in my soup?
Clem Kadiddlehopper: [looks] Looks like the backstroke.
Cafe Customer: Get me some split pea soup instead.
Clem Kadiddlehopper: I'm sorry, all of our peas are married — we can't split 'em.
Loser Lumpkin: Thank you, stranger.
Clem Kadiddlehopper: I'm not a stranger – we met at the door.
Loser Lumpkin: You're the strangest thing I've ever seen.
Jokes – Act II
Loser Lumpkin: As we say in the feather plucking business, he's got a feather brain.
Loser Lumpkin: [to Clem] You're as light in your head as you are on your feet — and don't you forget it.
Loser Lumpkin: When do chickens lay a square egg?
Clem Kadiddlehopper: Right after they have a square meal.
Loser Lumpkin: I'm beginning to believe you are next to an idiot!
Clem Kadiddlehopper: Then I'll move away!
Act III Jokes
Loser Lumpkin: Clem, your IQ is lower than a caterpillar's skateboard.
Songs
Tennessee Ernie Ford sings:
The Alan Copeland Singers join the Tom Hansen Dancers in performing "Georgy Girl".
Cast of characters
Red Skelton … Host / Clem Kadiddlehopper / Husband in Silent Spot / Gertrude and Heathcliffe / W. C. Fields
The Alan Copeland Singers … Themselves
Patrick Campbell … Bjork – Olympic High Jumper-Clem Sketch
Jimmy Cross (The Amazing Colossal Man) … Cafe Operator – Clem Skit
David Rose and His Orchestra … Themselves
Ross Ford (Project Moonbase, Blondie's Reward) … Photographer-Clem Sketch
Tennessee Ernie Ford (The Tennessee Ernie Ford Show) … Self / Loser Lumpkin-Clem Skit
Art Gilmore … Announcer (voice)
Buddy Lewis (Chicago Confidential, Harlow) … Cafe Customer-Clem Sketch
Peggy Rea (The Waltons) … Big Bertha Kropnik-Clem Skit
David Rose … Self – Bandleader
Connie Sawyer (Dumb and Dumber, A Hole in the Head) … Woman in Blue Feathers-Clem Sketch
Tom Hansen Dancers … Themselves
Gary Waynesmith (Slaughterhouse-Five) … Olympic Javelin Thrower-Clem Skit
Don Crichton … Dancer
Bonnie Evans … Dancer
Currie Pederson … Dancer