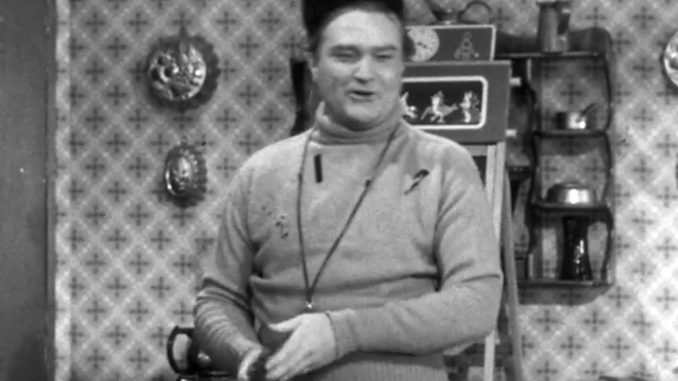 Weepy Talks Turkey features Red Skelton as Clem Kadiddlehopper as John Alden (whew!) in the first thanksgiving – "The Thanksgiving Turkey" – truly funny and highly recommended. Also, Coach J. Weepy Numbskull lectures his family on how to eat the Thanksgiving feast. Ending with Red addressing the audience on the meaning of Thanksgiving.
Pilgrims in the Stocks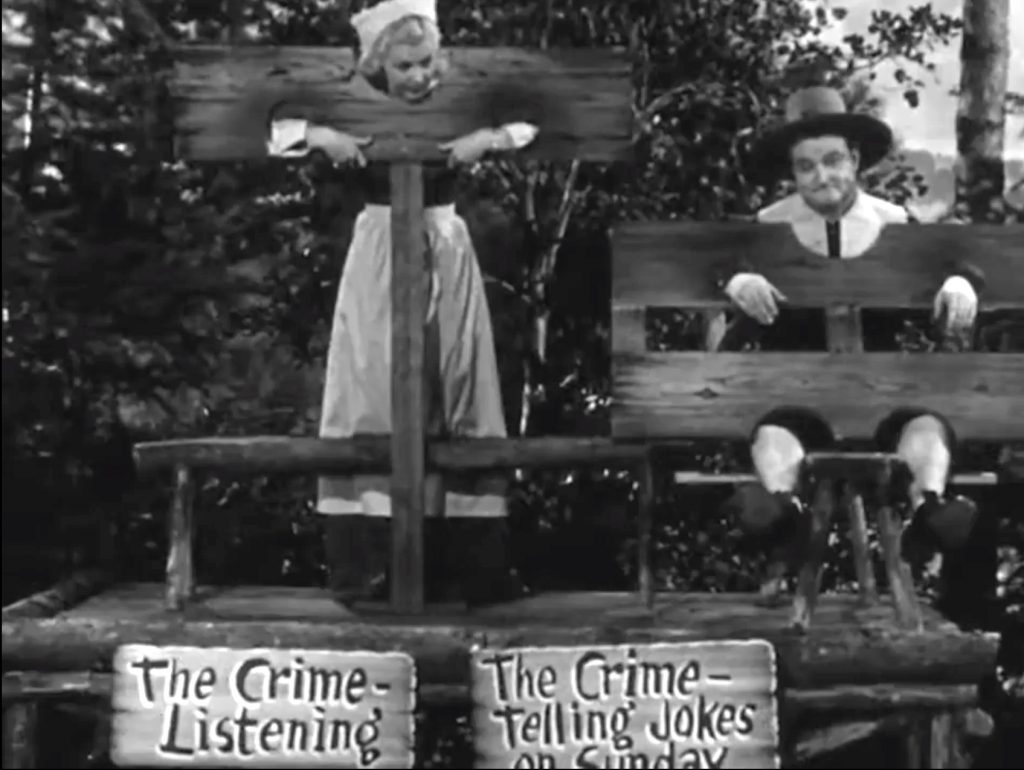 Instead of Red Skelton's traditional monolog, there's a joke-laden sketch. The opening skit features Red Skelton and Lucy Knoch as Pilgrims confined to the stocks with Red plagued by a misbehaving youngster. Their crimes are telling jokes on a Sunday, and listening to them. In between Red's jokes, a young boy comes by. He first steals Red's shoes. Later, he tickles Red's bare feet. He ends with giving Red a hotfoot, and "putting it out" with a bucket of water, soaking Red!
The Thanksgiving Turkey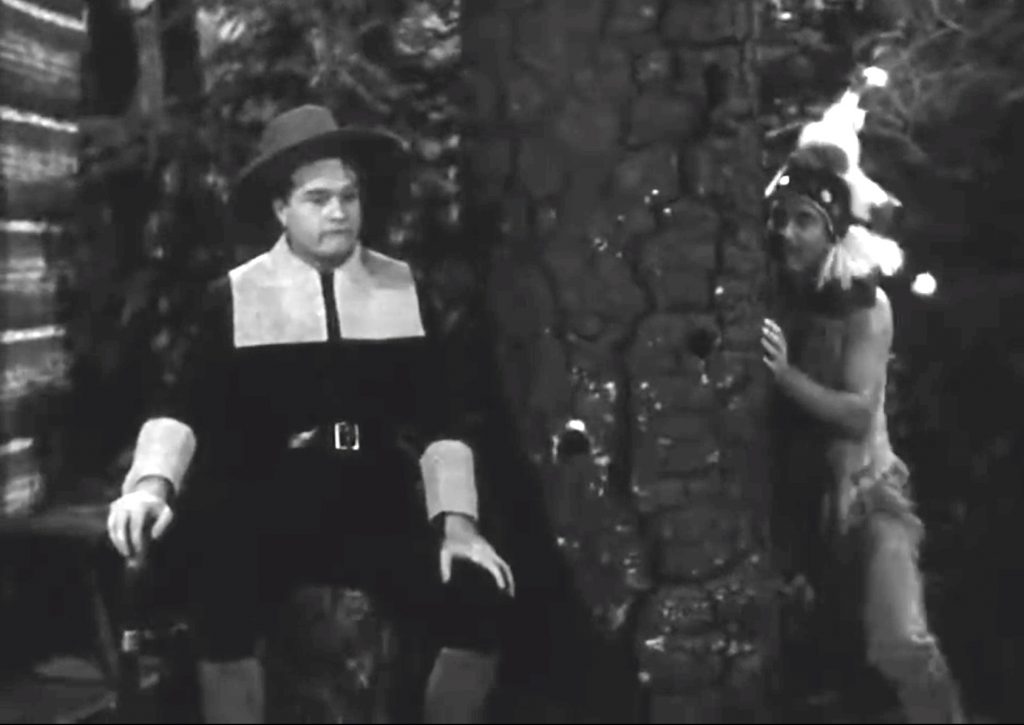 In "The Thanksgiving Turkey", Clem Kaddidlehopper (as Pilgrim John Alden) tells the story of Miles Standish and Priscilla Mullins. It's a funny bit, as Miles Standish coerces Clem/John into helping shoot a turkey for Priscilla. There's a funny routine with a "helpful" Indian. Next, there's a snow shower that's only targeting Clem, that Miles never sees. Clem/John proposes to Priscilla for Miles, but he falls for Pocahontas. And, of course, it morphs into a Tide detergent ad.
Weepy Talks Turkey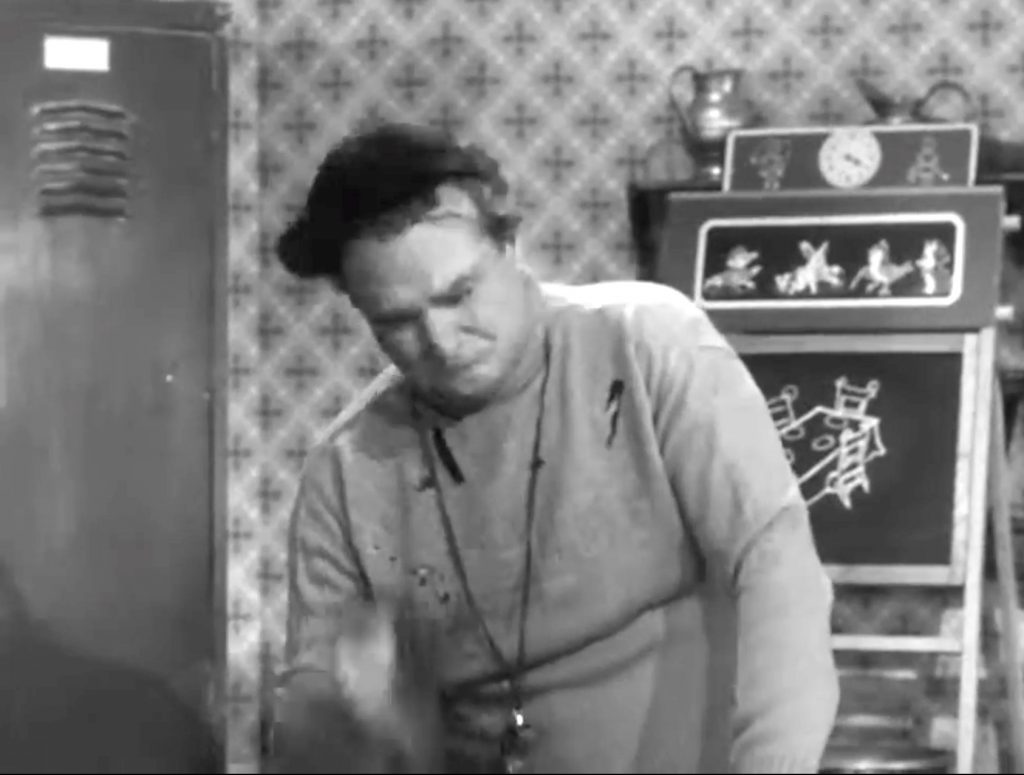 The main sketch, titled "Weepy Talks Turkey", has Red as football coach J. Weepy Numbskull. He lectures his family on the proper methods of eating the Thanksgiving feast at a relative's. Too soon, too soon …
Conclusion
In the closing, Red talks seriously about the Pilgrims, then warns of threats to our freedoms, on Red Skelton on Thanksgiving.
Jokes in Weepy Talks Turkey
Pilgrims in stocks
Red Skelton [in stocks] I'm a pilgrim, but I'm not gonna make much progress in this thing
Red Skelton: I'm in for robbing my little brother's bank.
Lucy Knoch: Well, that's nothing. I've taken money out of my little brother's bank.
Red Skelton: The First National?
[after the little boy has stolen Red's shoes]
Red Skelton: Hey! Bring my pumps back!
Lucy Knoch: Why dost thou wear pumps?
Red Skelton: 'Cause I have water on the knee!
Red Skelton: Plymouth's gonna rock tonight!
Last Thanksgiving, I'm out there, and my little turkey came up to me. I had him for a long time, and he came up to me, and he says, "Hey, Dad, come here. How far off is the execution?" I said, "Well you've got about three days." He said, "You hear from the governor yet?"
The Thanksgiving Turkey
The running gag of "history demands it".
Clem Kadiddlehopper/John Alden: I once one a prize for being bashful.
Miles Standish: What was it?
Clem Kadiddlehopper/John Alden: I don't know – I was too bashful to get it.
Miles Standish: You have to wind up with Priscilla! History demands it!
Clem Kadiddlehopper/John Alden: No, I'm going to wind up with Tide. Proctor and Gamble demands it!
Weepy Talks Turkey
[pulls out a football from a locker] Pity the poor hen that laid that!
Cast of characters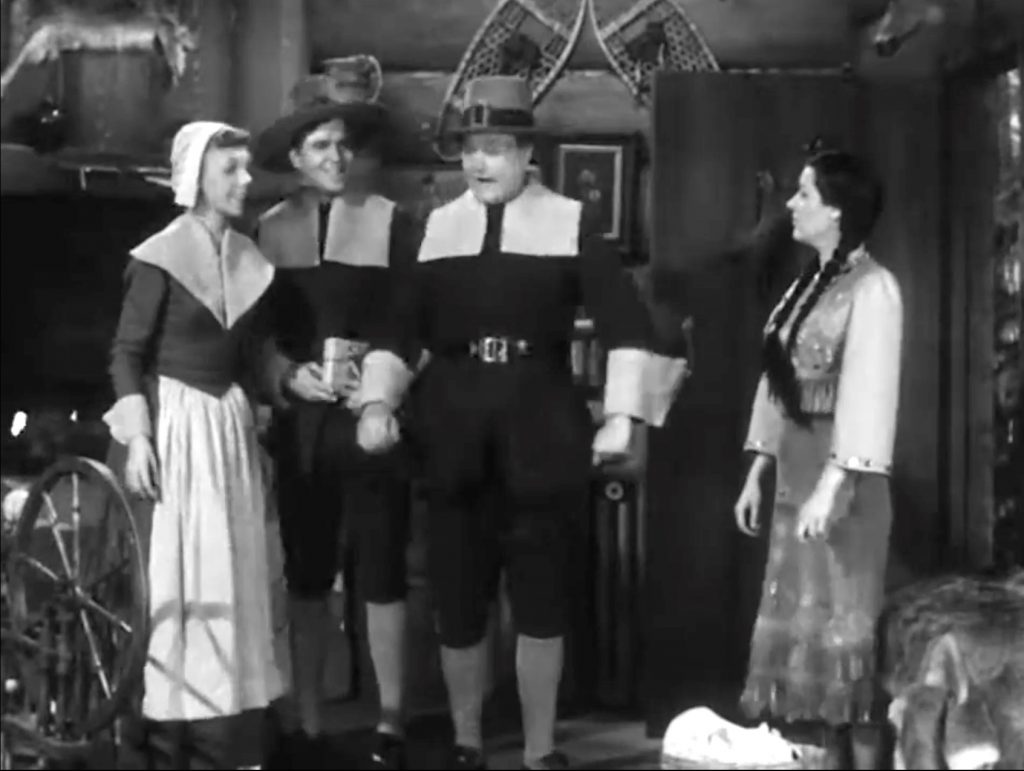 Red Skelton … Self – Host / J. Weepy Numbskull / Clem Kadiddlehopper
David Rose and His Orchestra … Themselves
Teddy Infuhr (The Bishop's Wife) … Weepy's Son
Lucy Knoch (Executive Suite) … Pilgrim Woman in Stocks
Bob LeMond … Announcer
Mickey Little (The Daring Caballero) … Weepy's Son
Edmund Penney (Walls of Fire) … Miles Standish-Turkey Sketch
Buddy Piper … Indian-Turkey Skit
Vici Raaf … Weepy's Wife / Pocahontas
Connie Van (The Far Country) … Priscilla Mullins